News
Digital Marketing Experts Join Godfrey's Team
Publish date: Mar 09, 2021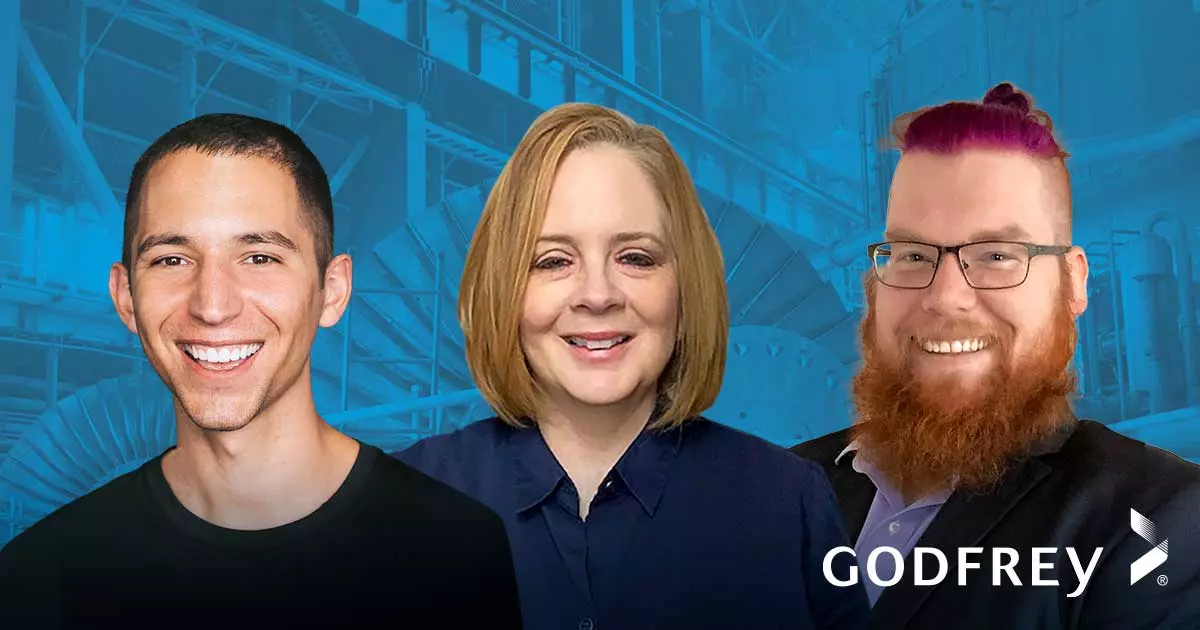 We're delighted to announce the addition of three team members: Digital Project Manager Andrew Charney, Digital Marketing Manager Mary Eileen Graczyk and Software Development Engineer Chris Robus.
"Before the pandemic hit, some B2B marketers were only dipping their toes in the digital waters. Now that customers' expectations are changing in the wake of COVID-19, those marketers are embracing digital to help deliver what customers need," said President Stacy Whisel. "We don't anticipate that slowing down anytime soon. And we're thrilled to welcome digital talent, Andrew, Mary Eileen and Chris, to the Godfrey team."
Meet Andrew
Digital Project Manager Andrew Charney leads day-to-day management of digital projects ranging from email campaigns and landing pages to microsites and websites. He works to build relationships with team members and clients using Relational Mindfulness.
Prior to joining Godfrey, Andrew worked as an account manager and strategist, simultaneously managing plans and projects for a diverse range of clients. He's earned a Bachelor of Science degree in media communications from Full Sail University.
What is your favorite thing about your career?
Endless opportunities to learn.
What is your favorite childhood memory?
Hiking and camping across the mainland United States.
If you could live in a book, TV show or movie, what would it be?
Game of Thrones (the books, not TV show).
Meet Mary Eileen
As our new digital marketing manager, Mary Eileen provides a wealth of digital experience, from SEO and social media to keyword research and content marketing. She puts her expertise to work aligning digital marketing solutions with our clients' challenges and opportunities.
Mary Eileen has worked as a digital marketing specialist and senior SEO account manager with several Lancaster-area marketing agencies. She earned an Associate of Arts degree in liberal arts from Montgomery County Community College, Blue Bell, PA, and a Web Design Certificate from Lancaster County Career and Technology Center.
What is your favorite thing about your career?
I love that every day is different. New challenges arise frequently, and I enjoy solving them.
If you had a warning label, what would yours say?
Warning: Grew up with 3 brothers, so I can hold my own.
Aside from necessities, what is one thing you could not go a day without?
Chocolate.
Meet Chris
An experienced web application developer, Chris serves as Godfrey's software development engineer. He works closely with team leads and B2B clients, designing and developing web, mobile and software projects that deliver results and meet the end user's needs.
Chris most recently worked in the higher education sector as a programmer/analyst II for Pennsylvania State University, State College, PA, and later as a senior developer with Bucks County Community College, Newtown, PA. He holds a Bachelor of Science degree in computer science from Salem International University, Salem, West Virginia.
What is your favorite thing about your career?
Finding solutions to weird and complex problems.
Do you have any hidden talents?
I really enjoy woodworking.
What did you want to be when you grew up?
Video game developer.
Please join us in congratulating Andrew, Mary Eileen and Chris on their new roles!