News
Godfrey Hires Front Desk Receptionist, Public Relations Coordinator and Traffic Manager
Publish date: Nov 16, 2016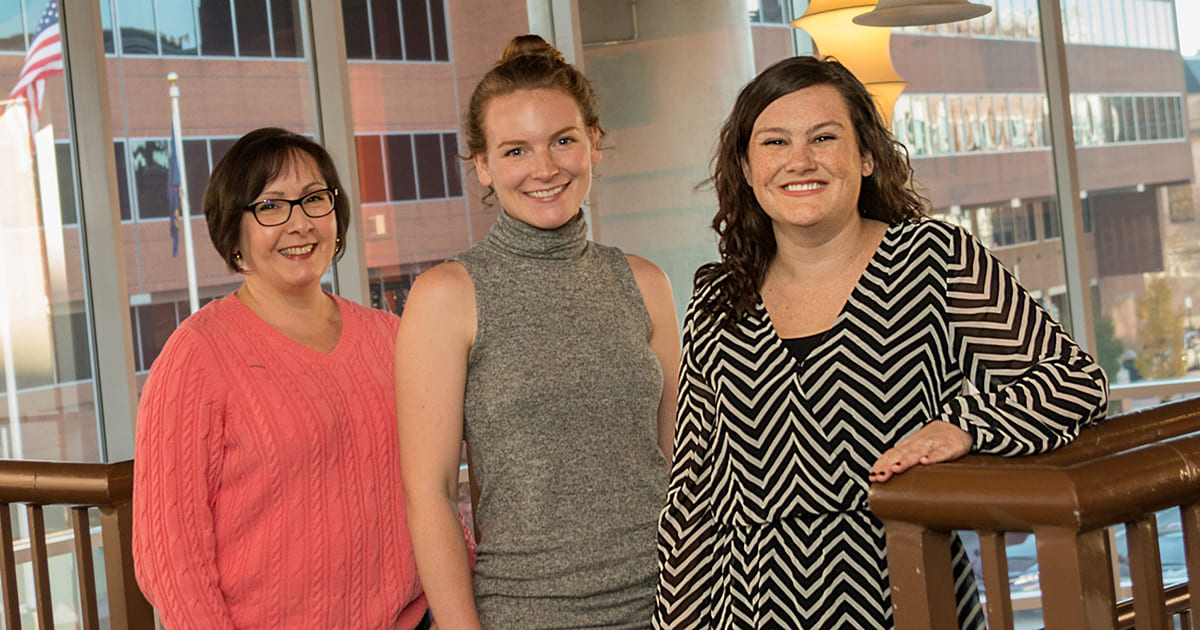 We're excited to welcome Donna Gerhold as our front desk receptionist, Logan Ross as our newest public relations coordinator, and Emily Lay as our newest traffic manager.
Meet Donna
Donna, our new front desk receptionist, is the real person who answers the phone when you call our office. Donna comes to Godfrey with nearly 15 years of business administration experience. Prior to joining the Godfrey team, she worked as an administrative assistant at Commercial Van Solutions, where she performed administrative support tasks for the office, and provided payroll and billing support. Donna is currently working toward a degree at Harrisburg Area Community College.
If you had a warning label, what would yours say?
Handle with care.
A random skill I'd like to have?
Speak Spanish fluently.
If you could time travel, would you go to the past or the future?
If I could know what I know now, to the past.
Meet Logan
In her role as a public relations coordinator, Logan assists the public relations account management team with project coordination and monitoring and reporting. Prior to joining Godfrey, Ross interned at LevLane Advertising in Philadelphia, where she supported the agency's public relations efforts. Ross graduated from Temple University with a Bachelor of Arts degree in strategic communications, with a concentration in public relations.
What was your first job?
My first job was at the Lampeter-Strasburg YMCA. I was a lifeguard and a swim lesson instructor, and I know I will never again be as tan as I was then.
You might be surprised to know:
I've found hundreds of four-leaf-clovers in my lifetime. It's a weird thing I've been able to do since I was very little. I can never find them when I'm trying, though.
If you could time travel, would you go to the past or the future?
Anyone who knows me can answer this: the past. I'm obsessed with history and frequently daydream about living in another era.
Meet Emily
Emily is responsible for traffic management within the agency. Prior to joining the Godfrey team, Lay was a digital marketing analyst at JPL, specializing in technical search engine optimization and a project manager at WebDrafter.com, where she prioritized incoming work and managed the workload and workflow of the marketing team. Lay graduated from Mansfield University of Pennsylvania with a Bachelor of Science degree in mass communication.
What was your favorite subject in school?
Does marching band count as a subject? Band class was always my favorite and it was something I stuck with through college. I played the clarinet.
What was your first job?
I worked at Hersheypark for seven seasons. I worked in Food & Beverage down by the Ferris Wheel. None of the stands I worked in are there anymore.
If you could live in a book, TV show or movie, what would it be?
I would love to live in Pawnee and work at the Parks and Rec Office. Ron seems like a great boss, and there would never be a dull moment with Leslie as a coworker! They need a traffic manager, right? (Parks & Recreation)
Welcome, Donna, Logan and Emily! We're happy to have you!