News
Godfrey Adds 3 New Team Members
Publish date: Nov 10, 2017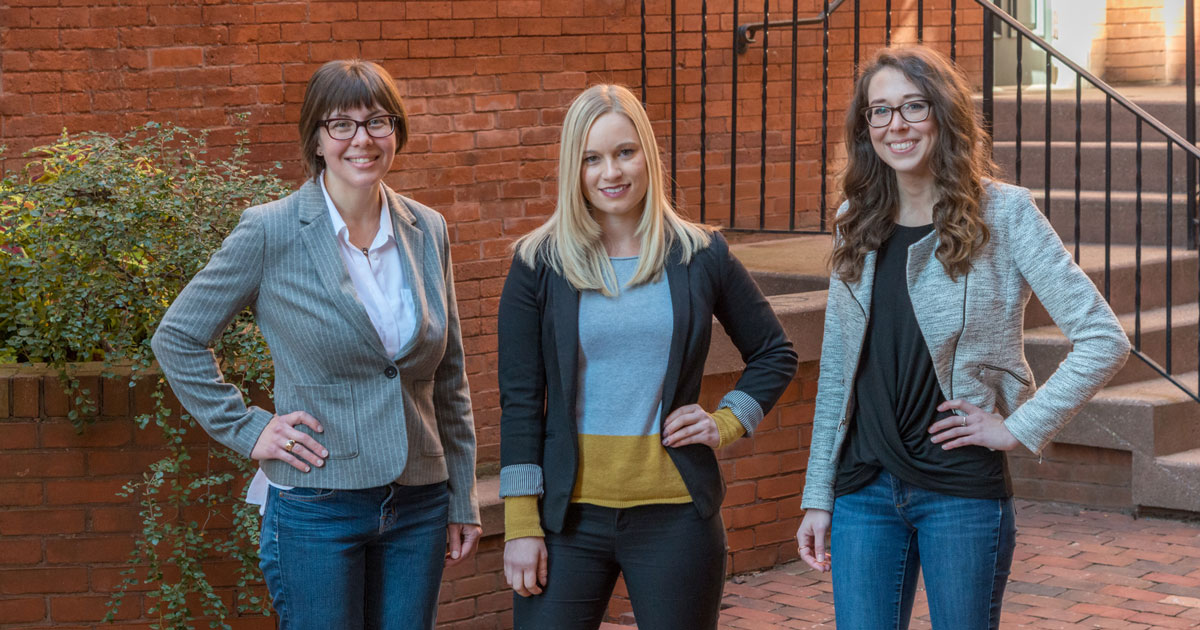 Three new members have joined the Godfrey team. Sarah Blaisdell as an associate account manager, Ariana James is joining us as a senior designer and JenMarie Macdonald is our new proofreader.
MEET SARAH
Sarah supports the agency's account service teams by coordinating agency resources and providing guidance on the execution of client program elements. She comes to Godfrey from Harrisburg-based Susquehanna Polling and Research, Inc., and its sister company, The Bartlett Group, where she worked as project manager and manager of corporate affairs. Sarah holds a Bachelor of Arts degree in journalism and public relations with a minor in French from Duquesne University in Pittsburgh.
What is your favorite childhood memory?
My favorite memories from childhood are probably growing up going to Sunday family dinners at my grandma and grandpa's house. I have a pretty big family, so it was fun going over every Sunday and devouring my grandma's homemade mashed potatoes and chicken pot pie (made the Pennsylvania Dutch way).
Tell us something people don't know about you?
I love IndyCar racing and would love to go to the Indianapolis 500 someday. Mario Andretti is my man.
What three items would you take with you on a deserted island?
Besides some necessities, I'd bring a pair of sunglasses, a sound system and some tunes – I would try to make it a good time regardless!
MEET ARIANA
Ariana works closely with creative, digital and account service teams to brainstorm, concept, front-end design and develop projects in accordance with client brand standards and industry best practices. Prior to joining Godfrey, she worked at Hershey Entertainment and Resorts as a digital designer. Ariana earned a Bachelor of Arts degree with a concentration in graphic and interactive design from Millersville University
If you could live in a book, TV show or movie, what would it be?
I would choose to live in the wizarding world of Harry Potter. I love the idea of being magical, and I've already taken the Sorting Hat quiz (I'm a Hufflepuff).
What is your favorite childhood memory?
My favorite childhood memory is all of the travelling I was able to do. My dad is a pilot, so I was fortunate to see so much of the country. Hawaii, Oregon, and Lake Tahoe are three of my favorite places from my travels!
If you could time travel, would you go to the past or the future?
I would travel to the past, specifically colonial times. I've always been fascinated with that time period, and I'd be up for wearing a bonnet, churning butter and attempting to speak in ye olde English.
MEET JENMARIE
JenMarie is accountable for content quality throughout the agency, with responsibility for reviewing, proofreading and editing all content. She brings to her position 14 years' experience in publishing and marketing, working most recently as the business administration manager for Svaroopa® Vidya Ashram in Downingtown, Pennsylvania. JenMarie holds a Master of Fine Arts degree in poetry from Naropa University, Boulder, Colorado, and a Bachelor of Science degree in journalism from Ohio University, Athens, Ohio.
What is your favorite thing about your career?
Growth and discovery are my favorite things. I've been given many incredible opportunities to cultivate skills I never imagined I would have, develop expertise in fascinating fields, engage and collaborate with brilliant people and expand my capacities for creativity, attention, awareness and equanimity.
Aside from necessities, what is one thing you could not go a day without?
Technically, two things: a notebook and pen.
What did you want to be when you grew up?
A day namer. When I learned the days of the week, I didn't realize the names repeated. I thought that someone had to name each new day and that this name was announced in the newspaper. For seven glorious days, I reveled in the names and imagined the brilliant careers of day namers. I even thought of a few names. On the eighth day (and one of the most disappointing days of my life), I asked what the day's name was. I was crestfallen to find out that it was the same name as a previous day, that the names that followed would be the same and that day naming is not a job.
Welcome, Sarah, Ariana and JenMarie! We're happy to have you on the team.