News
Godfrey Hires Clancy, Ellinger and Cusack
Publish date: May 20, 2019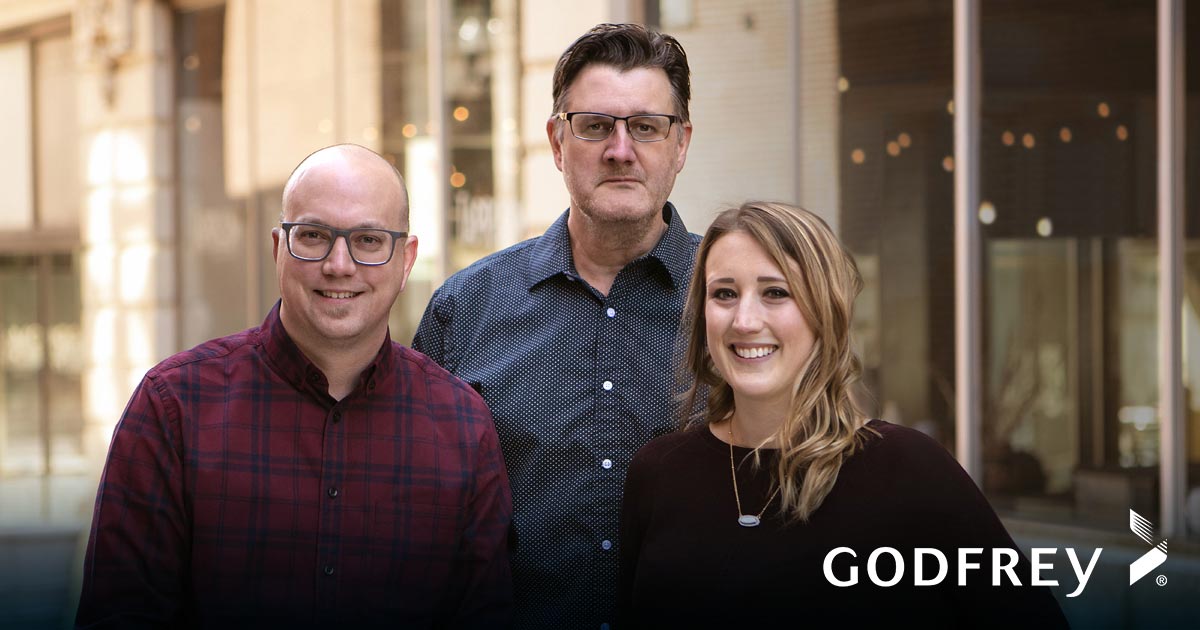 Godfrey recently added three new members to its team – Bryan Clancy, associate creative director; Michael Ellinger, production designer; and Erin Cusack, traffic manager.
Meet Bryan
Bryan has more than ten years of marketing experience and comes to Godfrey from Synapse Marketing Solutions where he served as vice president of creative and interactive. In his new role, Bryan will transform complex B2B concepts into creative solutions that effectively reach our clients' target audiences. He earned a Bachelor of Fine Arts in animation from The University of the Arts in Philadelphia.
What is your favorite childhood memory?
Going to the beach with my family.
If you had a warning label, what would yours say?
Warning: Not A Morning Person.
Describe yourself in three words.
Introvert, loyal, humble.
Meet Michael
Michael previously worked as the prepress manager for Triangle Printing. He has more than 25 years of experience in production design, working with a wide range of printing processes. At Godfrey, he will collaborate with creative teams to produce high-quality print and digital work, including brochures, ads, signage, direct mail and trade show graphics. Michael received a Bachelor of Science in business management from York College of Pennsylvania.
What is your favorite thing about your career?
I enjoy working with graphics and putting together different design work. It is like assembling a puzzle.
What did you want to be when you grew up?
A professional baseball player.
A random skill I'd like to have.
Be a virtuoso on the piano.
Meet Erin
Erin comes to Godfrey from Fig Industries where, as creative production manager, she oversaw both the creative and design teams. In her new role, Erin will ensure all projects are delivered to clients on schedule while keeping detailed project status reports for all assigned accounts. She received a Bachelor of Arts in organizational communication studies from Bloomsburg University.
A random skill I'd like to have.
The ability to speak any language!
If you could live in a book, TV show or movie, what would it be?
La La Land – I just love the colors and the costumes.
What three items would you take with you on a deserted island?
Wine, books and my phone!
Welcome to the team, Michael, Bryan and Erin!