News
Godfrey Hires Dickson, Loeper, Regolino
Publish date: May 01, 2021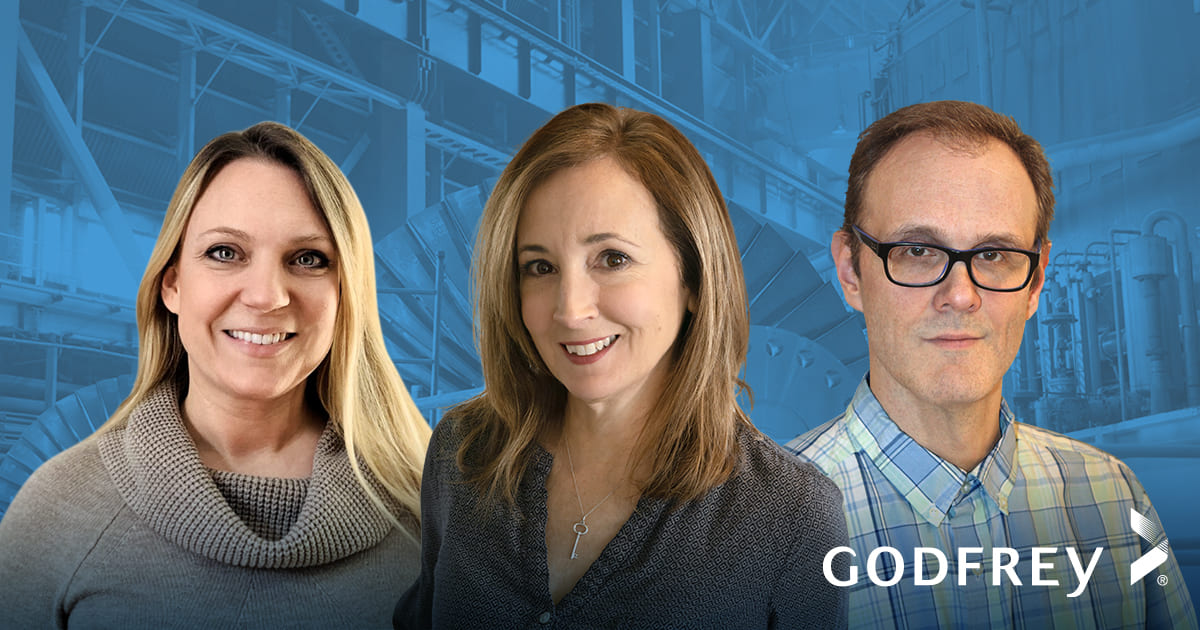 We're pleased to welcome three new members to the Godfrey team: Digital Marketing Manager Megan Dickson, Strategist Michele Loeper and Proofreader Anthony Regolino.
Meet Megan
Digital Marketing Manager Megan Dickson will leverage more than 10 years of digital experience to support our clients. From PPC to email to SEO, she uses data-driven strategies to increase traffic and lead generation.
Megan, who most recently worked for Philadelphia-area marketing agencies, holds a degree in Specialized Technology from Philadelphia's Hussian College. She has also earned several marketing certifications, including HubSpot Academy Inbound, Advanced Google Analytics, Google Ads Measurement and Google Ads Search.
Aside from necessities, one thing I can't go a day without:
Coffee.
My warning label would say:
Caution: LOUD!
Describe yourself in three words:
Outgoing, caring, fun.
Meet Michele
As a strategist, Michele Loeper works closely with our clients and internal teams to develop, implement and continuously optimize strategies that get results. She leverages research and data to drive a wide range of marketing programs for our B2B clients.
With both agency and brand-side marketing experience, Michele brings deep expertise in planning multichannel marketing strategies. She earned a Bachelor of Arts in communications from Pennsylvania State University.
Favorite thing about my career:
I love how my career constantly provides me with opportunities to learn. Whether I'm learning about a new industry or developing a new skill, there is an ongoing opportunity to stretch and grow in this career. This career challenges me in the best of ways, and it keeps me feeling young, too. What's not to love about that?
I collect:
I'm not much of a collector, unless you count stamps on a passport or airline miles. I love collecting memories from exploring new places and learning about new cultures. I'm a wayfarer at heart.
Describe yourself in three words:
Curious, adventurous, resilient.
Meet Anthony
Proofreader Anthony Regolino understands that a slight alteration or mistake can dramatically change an intended message. That's why he plays a critical role in assuring quality on a wide range of projects, from digital ads to slide presentations to technical articles.
With previous roles at Woodstream Corporation, Fox Chapel Publishing and Barron's Educational Series, Inc., Anthony brings extensive proofreading, editing and writing experience to our team. He earned a Bachelor of the Arts in Communication Arts and Media from Queens College in New York and was awarded a scholarship for the Dramatic Writing Program at NYU's Tisch School of the Arts.
The book, TV show or movie I would live in:
Growing up an only child, I used to wish I was one of the Brady Bunch.
Hidden talents:
Catching pennies that are stacked on my arm (saw it on Happy Days and practiced it) — I used to be able to catch about a hundred of them.
Describe yourself in three words:
Creative, lighthearted, geeky.
Please join us in welcoming Megan, Michele and Anthony to our B2B team!