News
Godfrey Hires Leal, Skinder and Mariscal
Publish date: Jul 11, 2019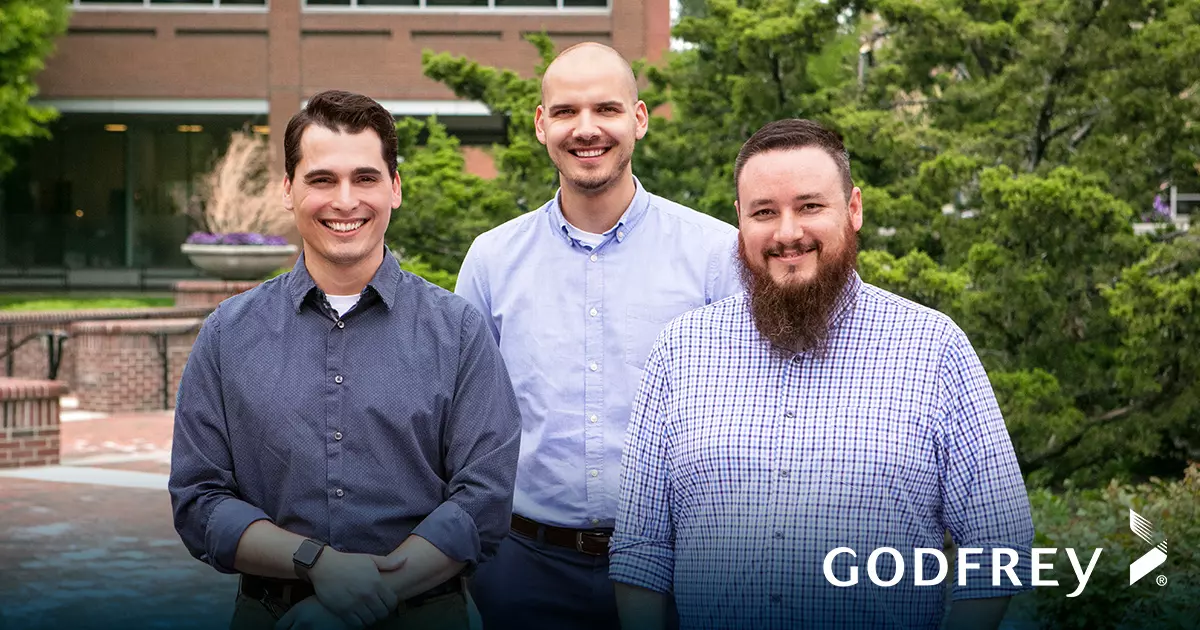 We recently welcomed three new members to our B2B marketing team – David Leal, senior designer; Goran Skinder, strategist; and Seth Mariscal, media director.
Meet David
David Leal comes to Godfrey from InnerWorkings in Pittsburgh where he worked as a senior graphic designer. In his new position, he will create impactful work for our clients that is smart, brand-centered and results-driven. David earned a Bachelor of Fine Arts from the University of Lisbon in Lisbon, Portugal.
What is your favorite thing about your career?
What I love the most about being a designer is to solve complex problems, collaborate with others, learn new things every day and to help bring powerful brands and messages to life.
Tell us something people don't know about you?
I was born and raised in Portugal. You know, next to Spain.
What three items would you take with you on a deserted island?
Suntan lotion, cooler with beer (and water), teleportation device.
Meet Goran
As strategist, Goran Skinder will work closely with clients and teams to develop messaging and channel strategies that successfully achieve business goals and marketing objectives. He comes to Godfrey from Listrak in Lititz where he worked as a digital marketing strategist. Goran received a Bachelor of Arts in Peace and Conflict Studies from Juniata College and is currently pursuing a Master of Science in Strategic Leadership from Elizabethtown College.
If you could time travel, would you go to the past or the future?
I would prefer to travel back to the past even though the unpredictability of the future would be interesting to experience. I'm a bit of a historian so traveling back in time to see some of the historical events that shaped my world view would be incredible to see live.
What did you want to be when you grew up?
A professional basketball player in the NBA. I grew up watching Michael Jordan and the Bulls, so that was my inspiration for that dream.
If you could live in a book, TV show or movie, what would it be?
I would love to live in The Office as just an observational character. It would be hilarious to watch bloopers unfold.
Meet Seth
Seth leads the development of paid media plans that drive results for the diverse range of industrial manufacturers we work with. He previously served as director of production for media at Synapse Marketing Solutions, Lancaster. Seth earned his Bachelor of Arts in Social Communications with a concentration in television and radio from Universidad Mesoamericana, Guatemala.
What did you want to be when you grew up?
Believe it or not, I wanted to be a butcher. The neighborhood I grew up in had a local butcher shop with a butcher we knew. I loved going there and watching him work.
What three items would you take with you on a deserted island?
A solar powered sat phone, permanent matches, a Swiss army knife. I figure I could call for help and, while I wait, I can make a fire and tools with the matches and the knife.
What is your favorite thing about your career?
I'm am endlessly curious and I get to find out interesting things every day.
Welcome to the team, David, Goran and Seth!