News
Godfrey Hires Poliski, Hernandez, Wagner and Kreider
Publish date: Jun 10, 2019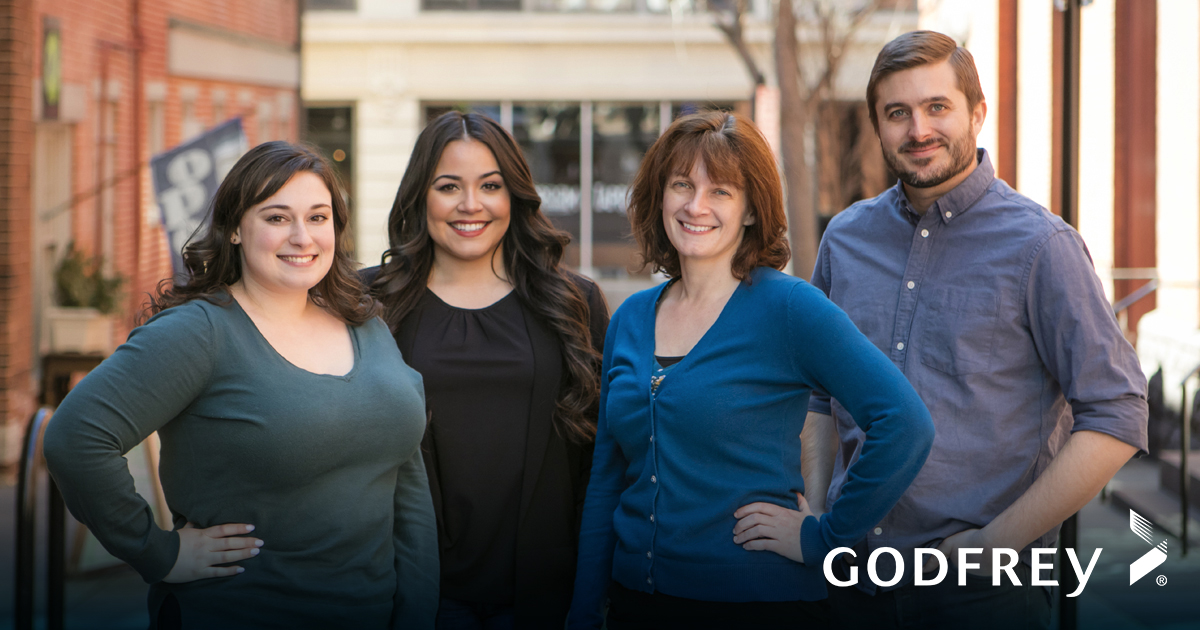 We recently welcomed four new members to our B2B marketing team – Sarah Poliski, public relations associate manager; Ivonne Hernandez, account manager; Amy Wagner, copywriter; and Scott Kreider, copywriter.
Meet Sarah
As public relations associate manager, Sarah Poliski helps our public relations managers organize and successfully execute our clients' PR programs. Most recently, Sarah worked as a content marketing specialist for Lancaster-based Kinectiv. She received her Bachelor of Science in business administration with a major in marketing from the University of Pittsburgh.
If you had a warning label, what would yours say?
Prone to flipping tables (or at least threatening to do so).
What did you want to be when you grew up?
A paleontologist – I was devastated when I found out that the word "triceratops" wasn't spelled tri-Sarah-tops. It kind of ruined the magic for me.
Tell us something people don't know about you.
I've always felt very connected to my Italian heritage. So, when the opportunity to study abroad in college presented itself, I jumped on it! I lived in Florence, Italy, for four months during my sophomore year.
Our new account manager Ivonne Hernandez serves as the key day-to-day interface with clients. She's responsible for researching, planning, proposing and managing their marketing programs. Ivonne comes to Godfrey from Donovan Connective Marketing in Lititz where she was a senior account executive and event manager. She earned her Bachelor of Science in speech communication with an option in public relations and a minor in sociology from Millersville University.
Meet Ivonne
Do you collect anything?
Yes, I LOVE mugs and water bottles!
What is your favorite childhood memory?
Visiting my family in Puerto Rico and attending the Fiestas Patronales that takes place in the town where my family lives.
If you had a warning label, what would yours say?
Caution: I may smack the person's arm who is next to me if I think something is funny.
Meet Amy
As copywriter, Amy Wagner develops content for everything from social posts to print ads to webpages. She aligns this content with each of our client's brand strategies and tone of voice. Amy most recently worked as a content strategist for New Heights, LLC in Leola. She received her Bachelor of Arts in corporate communications from Elizabethtown College.
What did you want to be when you grew up?
A professional writer!
Do you have any hidden talents?
Martial arts and crochet (not at the same time).
Do you collect anything?
Signed books from my favorite authors.
Meet Scott
Copywriter Scott Kreider creates compelling content to help our clients gain a stronger voice in the marketplace and create meaningful connections with their target audiences. He most recently served as marketing and communications manager for Aspire Ventures in Lancaster. Scott earned his Bachelor of Arts in English from Calvin College in Grand Rapids, Michigan.
Do you collect anything?
I do a lot of street photography, which often makes me feel like a collector of sorts.
If you could live in a book, TV show or movie, what would it be?
I'd probably choose to live in the forest from the movie Princess Mononoke.
What fad do you wish would come back?
Tropical shirts.
Welcome to the team, Sarah, Ivonne, Amy and Scott!