News
Godfrey Hires Simcoe, Wrye, Grzejka
Publish date: Sep 01, 2021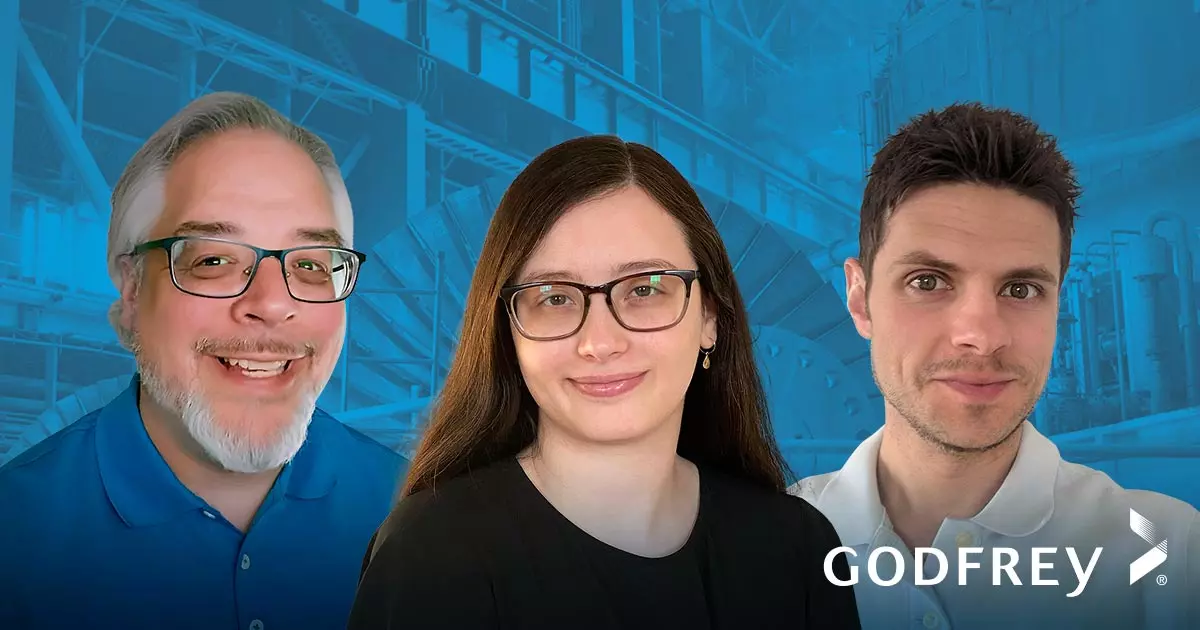 We're pleased to welcome three new members to the Godfrey team: Public Relations Copy Director John Simcoe, Senior Designer Alicia Wrye and Analytics Director Shaun Grzejka.
Meet John
As public relations copy director, John Simcoe manages and develops a wide range of PR copy, from Q&As and case studies to press releases and executive viewpoints. He's a skilled writer and copy editor who uses his extensive writing background to support our clients in industries like the built environment, chemicals, material handling and manufacturing.
John, who most recently worked for a global manufacturing company, has been a content specialist for B2C and B2B brands and previously worked as a news editor for almost 20 years. He earned a bachelor's degree in Communications with a minor in History from the State University of New York at Brockport.
What did you want to be when you grew up?
Most of all, I wanted to be a cartoonist for a daily comic strip. I still love to draw and write for fun.
What fad do you wish would come back?
It already did come back! Tons of people are playing Dungeons & Dragons again. Yay!
Tell us something people don't know about you?
I love trying new things, even if I'm horrible at them. Example: For about two years, I tried playing hurling, a sport that's popular in Ireland and has a league here in the U.S. I was a member of the Baltimore team, and I was awful.
Meet Alicia
Alicia Wrye is the newest member of Godfrey's design team. As senior designer, she works on a wide variety of digital and print projects for our B2B clients in the industrial manufacturing and life sciences industries. Her recent work has included digital advertisements, investor relations collateral and a sustainability report.
In her last position, she served as a visual designer for an agency in the Allentown, PA, area. Alicia graduated from Kutztown University of Pennsylvania with a Bachelor of Fine Arts in Communication Design and concentration in Graphic and Interactive Design. She has also earned several awards, including a National Gold American Advertising Award (ADDY). Alicia also served as a volunteer with Design-a-thon, a 24-hour collaborative project that creates quality designs for nonprofit clients.
What did you want to be when you grew up?
A children's book illustrator.
What is your favorite thing about your career?
Seeing the positive impact design can have on people.
How would you describe yourself in three words?
Passionate, friendly and creative.
Meet Shaun
Analytics Director Shaun Grzejka brings more than a decade of digital marketing experience to the Godfrey team. His experience in Google 360 Analytics, Tag Manager and enterprisewide analytics platform implementation supports our reporting and dashboard needs as well as the evolving needs of our clients.
Shaun most recently managed the web and analytics department for one of the nation's largest healthcare providers. He earned a Master of Business Administration from Argosy University and a Bachelor of Science in Public Relations from West Virginia University.
What's your favorite thing about your career?
It's always changing and there's always room for improvement.
Do you have any hidden talents?
I can cook a wide variety of local and international cuisines without knowing or following a recipe.
What's a random skill you would like to have?
Moonwalking.
Please join us in welcoming John, Alicia and Shaun to our B2B marketing team!