News
Godfrey Mentoring Program Provides Personal Connection Throughout Pandemic
Publish date: Jan 04, 2021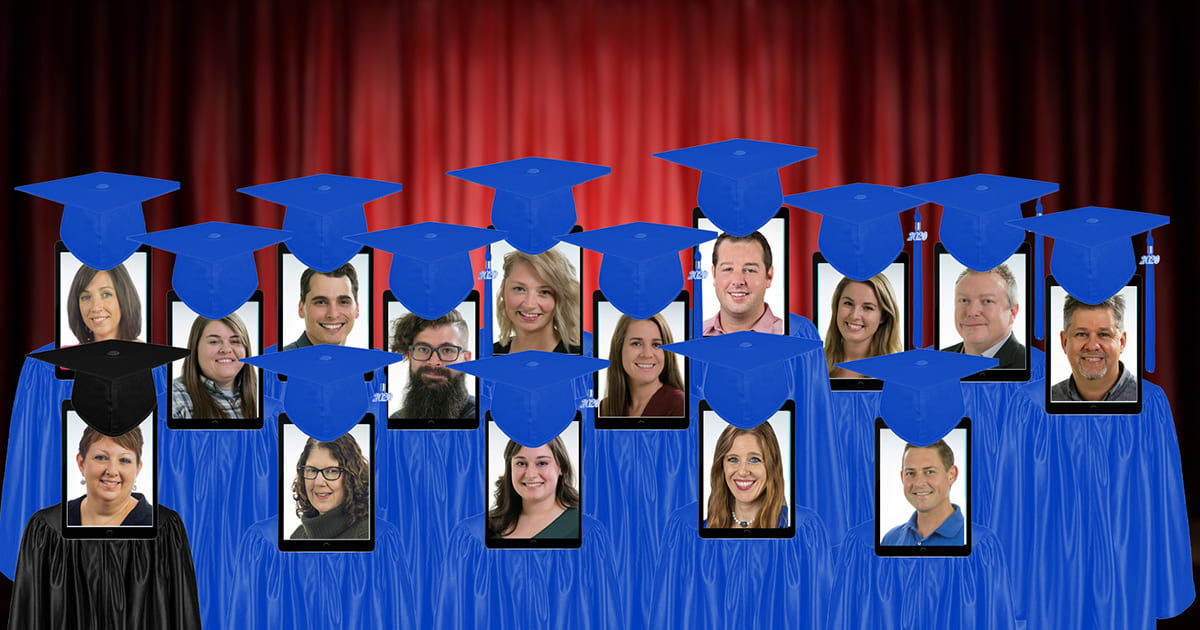 Social distancing may have driven us physically apart during the pandemic, but it often made the ways it's safe for us to come together even more meaningful. For its recent graduates, the mentoring program here at Godfrey was one of those valuable points of personal connection during an otherwise isolating year.
The pandemic arrived just as our 2020 mentoring class started meeting in person. Then, most of our team began working from home. Even though they were no longer in the same physical space, the 14 mentors and protégés continued to connect remotely the rest of the year. We congratulated them with a remote graduation ceremony complete with caps and gowns in early December.
In its fifth year, the Godfrey mentoring program is an opportunity for interested team members to share specialized B2B skills and cultivate professional relationships. Participants are strategically paired based on what they'd like to know and what they can teach. Once paired, the mentor and protégé get to know one another better, set goals and determine a meeting schedule to achieve those goals.
Senior Strategist Donna Harris is in her second year matching up team members and overseeing the program. "We may have marketers who have studied various complex B2B industries for 15 years or more and newer team members who would love to soak in that knowledge. Similarly, we have experienced marketers who jump at the opportunity to learn skill sets — certain digital marketing skills, for example — from other team members," Donna said.
Many of these mentoring partnerships set goals that benefit others in the agency and beyond. For example, mentor UX and Content Strategist Jenn Vitello and protégé Senior Copywriter Matthew Kabik focused on building a UX skill set while helping a local nonprofit improve their website.
"These are skills that can be applied immediately as they are working on projects, so it is great to see their teamwork come to life. We have a tremendous team of people who really live our core values — and our mentoring program speaks to our core value of fascination in particular," Donna said.
Even though our teams haven't been in the office together since March, the deeper connection the mentoring program provides has helped keep the spirit of partnership, another of our core values, and fascination in the B2B work we do alive.
While the program officially ends with graduation, there are a number of pairs who have found their partnership so valuable that they continue to meet. Mentor and Senior Vice President Erin Michalak and protégé Account Manager Erin Sullivan plan to keep meeting.
Erin Sullivan shared what made their partnership so beneficial: "I am happy I participated in the mentoring program because I was able to sharpen my skills to be a more proactive and agile account manager to better support our clients during a challenging year when it was most important. It also gave me the opportunity to focus on my own professional development and career goals with guidance and support even while working from home."
When many colleagues' paths only crossed as squares in a Zoom meeting, in a chat box or in an email update, the one-on-one experience of the mentoring program gave its participants even more than new skills. It gave them a deeper human connection that made working from home feel a little less isolating.
"An unintended consequence of this year's mentoring program is that it seemed to provide an extra point of personal connection as the Godfrey team adjusted to working from home," Donna said. "To have that extra element of support and camaraderie really seemed to help."