News
Godfrey Hires 3 New Team Members
Publish date: Aug 15, 2017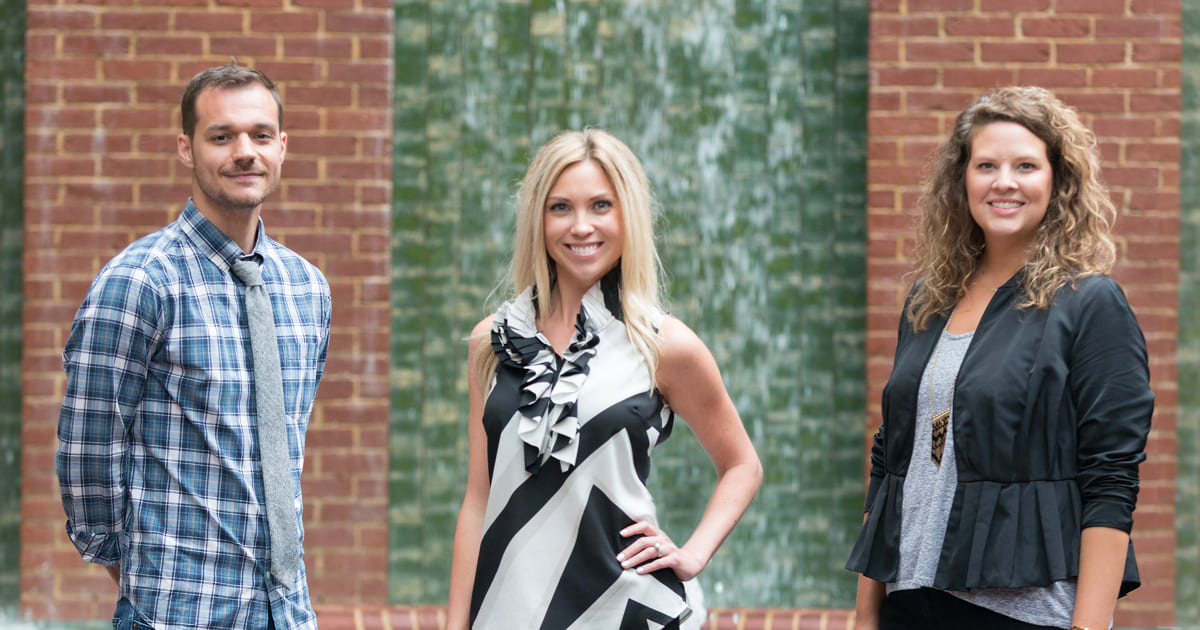 The Godfrey team has expanded by three! We're happy to welcome Eric Beckman as an art director, Jennifer Youmans as a senior designer and Taylor Bland as an account manager.
MEET ERIC
Eric is responsible for developing the visual execution of a strategy, concept or idea, as well as directing the visual personality and presentation of all client communications. A graduate of Bradley Academy for the Visual Arts, he comes to Godfrey with 10 years of interactive and web design experience from a variety of companies, including Disney Online Studios in California and Hershey Entertainment & Resorts. Eric attended the Art Institute of York.
What did you want to be when you grew up?
I wanted to be an archeologist in the worst way. Really, I just wanted to be Indiana Jones. When I was a kid, I used to tie a rope in the trees in our backyard and swing from branch to branch singing the theme song.
If you could live in a book, TV show or movie, what would it be?
I would live in "Doctor Who, " hands down, would be my favorite companion. It would be the greatest adventure of all time.
What three items would you take with you on a deserted island?
Knife, flint strike and duct tape (I've watched too much "Mythbusters " and "Man vs. Wild ").
MEET JENNIFER
Jennifer supports the creative team in advancing branding efforts through artistic concepts and implementation. Prior to joining Godfrey, she worked in graphic design for five years in Washington D.C. and Hong Kong. She graduated from York College of PA with a Bachelor of Fine Arts in Graphic Design.
What is your favorite thing about your career?
I love that, when done well, design is a communication tool powerful enough to bridge gaps between languages and cultures. I feel honored to get to create graphics that have the potential to solve problems, convey messages and give new perspectives.
What is your favorite childhood memory?
Every summer growing up (and now every other summer or so) my family would take a trip to Angola, Indiana, and spend a week at our old heirloom of a cottage on Lake James. I have the best memories of spending my days swimming, jumping off the dock, lunches on the pontoon boat and catching lightning bugs. Gives me the warm and fuzzies just thinking about it.
What did you want to be when you grew up?
Honestly? I wanted to be the person at fancy restaurants who used that spiffy tool to clean up crumbs from the white-cloth dining tables. Eventually I think I moved on to wanting to be a police woman or an astronaut, but I have to say—I still love a good clean space.
MEET TAYLOR
Taylor manages communications programs as our day-to-day interface with clients. Bland has over 10 years of experience in the marketing and advertising world, on both the agency and the client sides. B2B accounts she previously worked with include FedEx and Homewood Suites by Hilton. Bland graduated from Christian Brothers University in Memphis, TN, with a Bachelor of Arts in Applied Psychology, with an emphasis on Business.
What is your favorite childhood memory?
I wouldn't say it is my favorite, but my mom likes to remind me that my brother and I (like most kids) set out one day to make some money with a lemonade stand. However, I guess we didn't get the memo that lemonade stands are typically in the front yard, not the backyard. Maybe this is where my realization that there is a need for marketing began. And yes, of course, my mom spread the word to the neighbors. And I'd also like to note that I was 5.
Aside from necessities, what is one thing could you not go a day without?
Chapstick! I have some in basically every room of my house. Is that weird? Maybe I should have picked another question. Haha!
Tell us something people don't know about you?
A lot of people don't know that I was an extra in the movie, "Walk the Line."