Blog Post
60+ Best Free & Useful Digital Marketing Tools – Save Money and Time
Publish date: Sep 23, 2019
|
Reading time: minute

s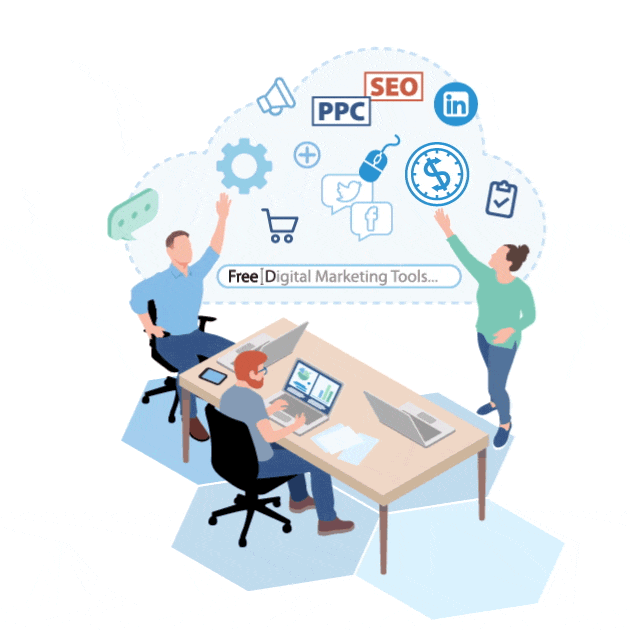 Streamline your digital efforts with this list of the best digital marketing resources you can use for FREE (with reviews). These are broken down by discipline: SEO, Content, Social, PPC, Email, etc.
Let's face it – some of the best digital marketing tools are expensive. Depending on your marketing efforts, company size or budget, it does not always make sense to invest in these premium tools (although they are often worth the price).
Fortunately, there are also some great and useful resources that you can use, or at least try, for free! This post lists and reviews some of the top free digital marketing tools to take advantage of.
At the end of this post, there is a full downloadable list that links to each of the free tools (if that is all you're after, click here to automatically scroll to the bottom of this post).
I'd also recommend bookmarking this post so you can easily access it.
I have segmented the tools out into the different disciplines and digital channels of marketing, so team members from all different roles in your organization can make use of this list.
CLICK THE INDEX BELOW TO GO RIGHT TO THE DIGITAL MARKETING CHANNEL YOU ARE INTERESTED IN:
FREE KEYWORD RESEARCH AND SEO TOOLS
FREE CONTENT PLANNING TOOLS
FREE CONTENT MARKETING TOOLS (OPTIMIZATION AND EDITING)
FREE PAID SEARCH TOOLS
FREE COMPETITIVE STRATEGY AND AUDIENCE RESEARCH TOOLS
FREE WEBSITE AUDIT AND SITE OPTIMIZATION TOOLS
FREE PAGE SPEED TOOLS
FREE LINK BUILDING TOOLS
FREE SOCIAL MEDIA TOOLS
FREE EMAIL MARKETING TOOLS
FREE LEAD GENERATION TOOLS
MISCELLANEOUS FREE TOOLS TO USE
THE BEST FREE TOOL EVER (LAST, BUT NOT LEAST)
As the digital marketing manager here at Godfrey, I use some of these tools daily, but these can be used by beginners and seasoned professionals alike for backgrounds in both B2B and B2C.
Let's get started.
Free Keyword Research and SEO Tools
Google Keyword Planner
If you haven't used Google's Keyword Planner for researching keyword search volumes and gather keyword ideas by now, you're way behind the curve. While its main purpose is to support your PPC campaigns for Google Ads, it can also lay the groundwork for your SEO efforts. I won't go into more detail about this one, because it's old news. This article from Google will tell you all you need to know about the program if you have questions or aren't familiar with the tool.
Keywords Everywhere
Keywords Everywhere is a free Chrome extension and Firefox add-on. This keyword research tool shows search volumes, CPC's (estimated cost-per-click, if you wanted to run paid ads for this term) and competition from other websites when you have the plug-in turned on.
Keywords Everywhere also gives you related long-tail keywords and similar terms (shown below).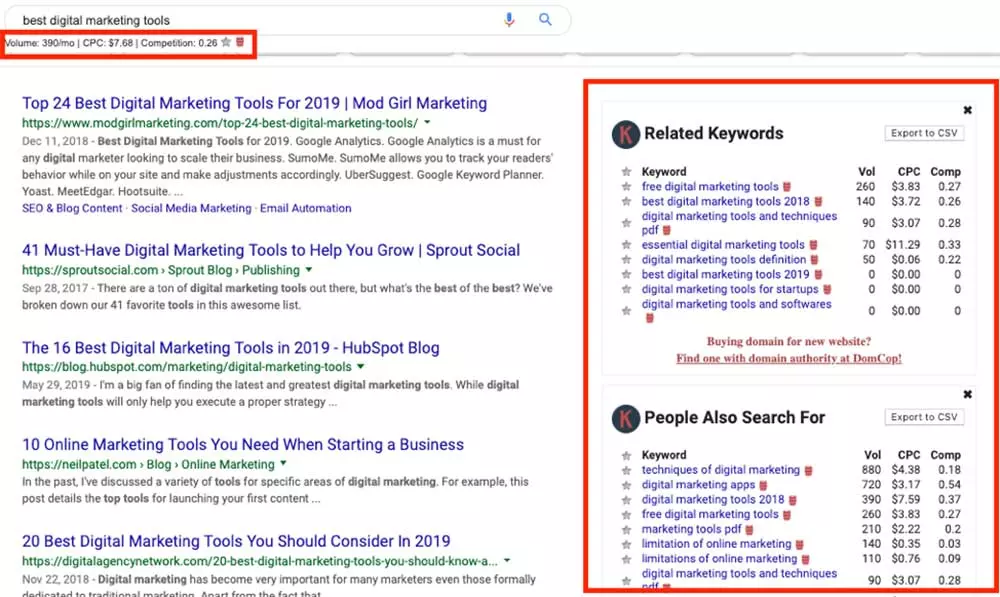 Another awesome usability feature of the Keywords Everywhere plug-in is that you can highlight words or phrases within your browser, right-click "Get Keyword Data For '[phrase here]'" and it gives you the data back for the highlighted keyword(s).
Here is an example when highlighting the term "search engine optimization" in this article from Sprout Social:

LSIGraph
LSIGraph allows you three free searches a day to find semantically related keywords. In the screenshot example below, the words "definition," "free," "essential" and "best" might be some unique words to consider adding to a post if trying to rank for "digital marketing tools."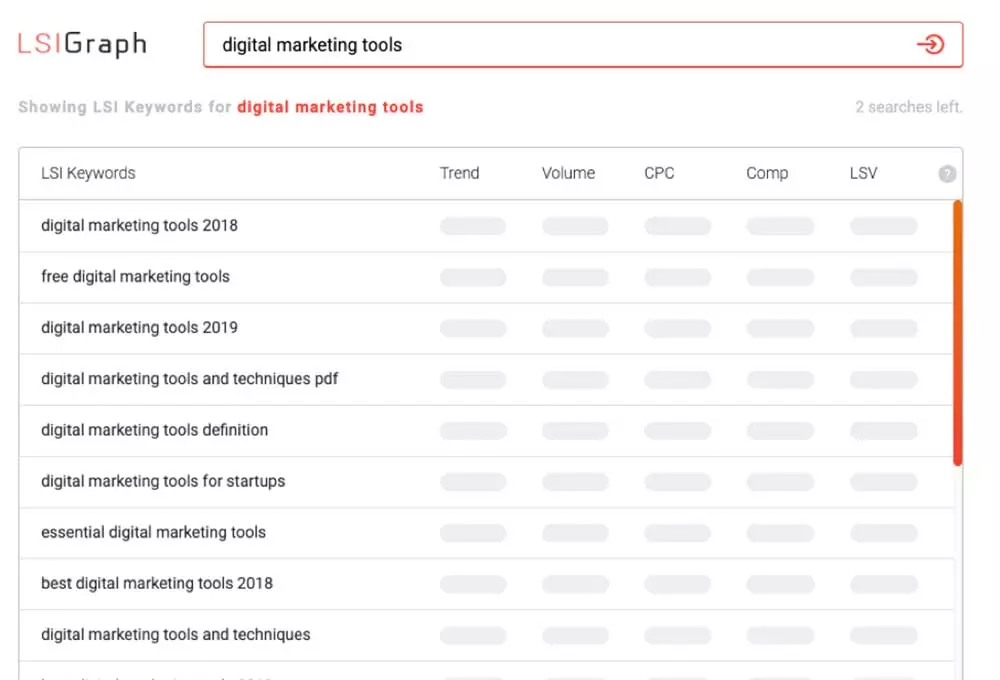 *Tip: You can also use thesaurus.com to find related words.
SEMrush Free
The free version of SEMrush is great for newbies who want to explore an all-in-one SEO and PPC tool. What sets this apart from Google Keyword Planner is the ability to see what landing pages keywords are ranking for and what position the pages are in Google (first page, second page, etc.).
P.S. The paid version of SEMrush is my absolute favorite platform to use, and I use it daily.
The free version gives users 10 free searches a day (keyword monthly search volumes, position rankings, domain overviews, etc.). You only get 10 results per search versus the paid account, which retrieves all the results.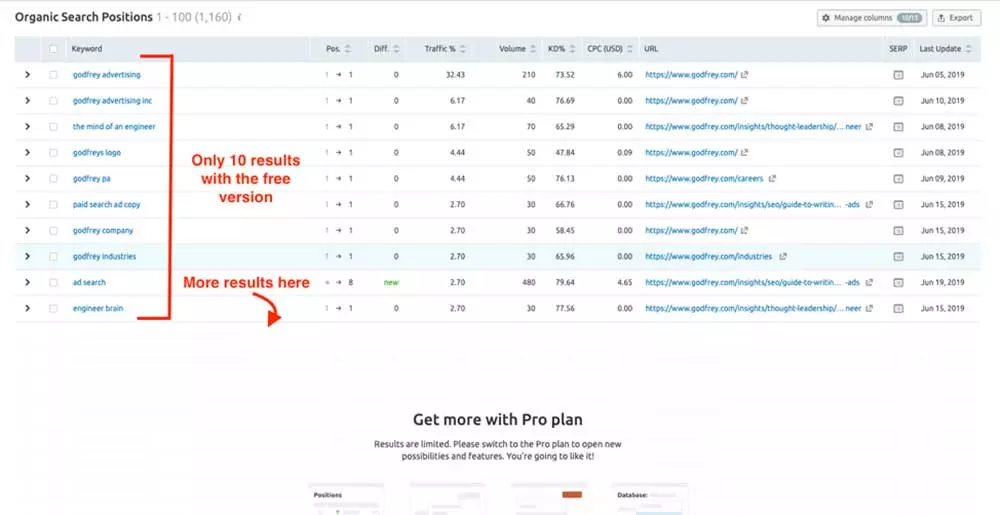 You can also set up one "project" (which is where you track keyword positions for a site, SEO ideas and more for a specified domain).
Bottom line, you are not able to get as in-depth as you would with a paid version, but this is great for beginners. This post has all the available capabilities associated with the free version of SEMrush.
Of course, if you have access, similar data based on actual website users can be found in Google Analytics when connected with Google Search Console, which I will get to in a minute.
WordClouds
WordClouds allows you to easily create a visual representation of what words or phrases are used the most in your keyword list. Use WordClouds to see which unique words are the most prominent in your keyword list.
Copyscape
Copyscape checks the web for plagiarism and copies of pages on the web.
Google Mobile-friendly Testing Tool
Does exactly what the name entails – it tests the mobile-friendliness of a URL.
Schema Markup Generator
Create structured data without being a programmer. Validate the code using Google's Structured Data Testing Tool (also free).
Free Content Planning Tools
AnswerThePublic
With AnswerThePublic, you can type in phrases and the platform will return different content questions and topics people are searching for. This is a great tool to assist with your content marketing strategy – especially if you are writing blog posts, FAQ pages or need to find topics for social media. It also gives insight into what your audience is searching for.
All you do is type the term into the search bar and the platform will provide you with a list of questions, prepositions, comparisons and related terms. (You can view these alphabetically, too, if you'd like.)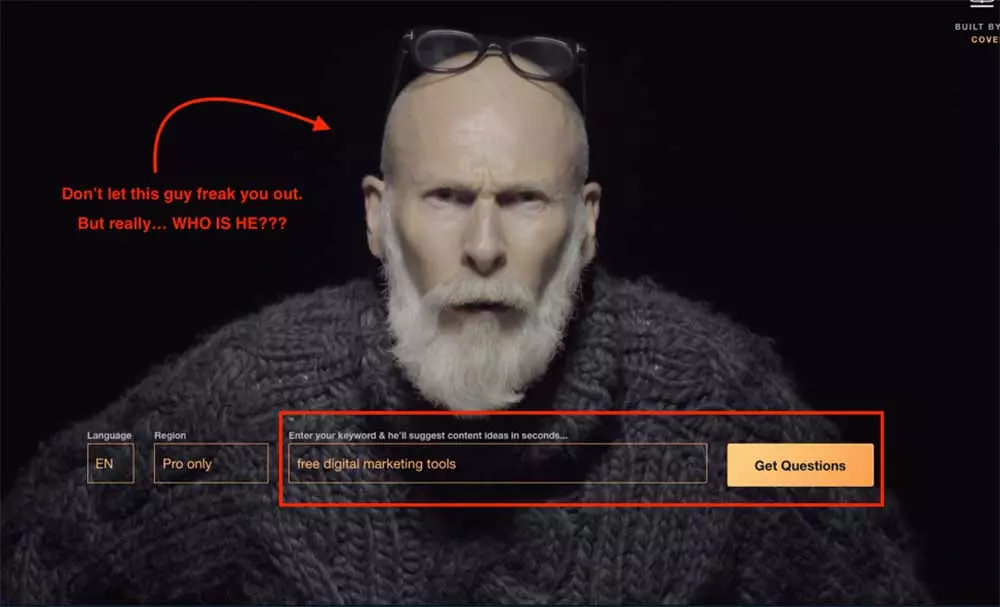 There are two different ways to view the results, either as raw data or as a visualization. I like the data version better (shocking for someone who lives and breathes SEO/PPC, I know).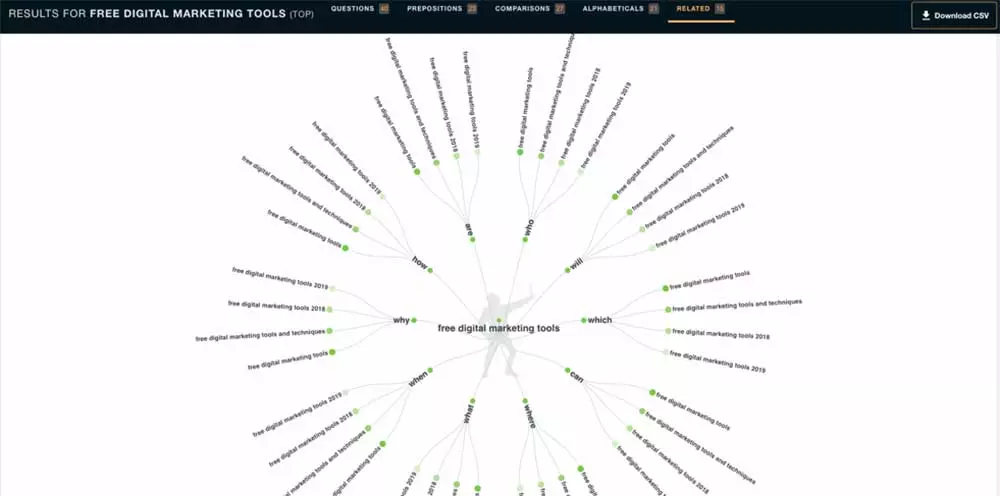 AnswerThePublic even lets you download this data as a CSV if you choose to do so.
BuzzSumo
BuzzSumo is a tool that helps you find popular, engaging, relevant content. You can write blog posts or articles based on what is trending or engagement-worthy with your audience. It lets you see how many people engaged with a piece of content (by typing in a search query), organized by social platform. This tool can also help you find industry- or topic-relevant influencers.

The free version of the BuzzSumo gives you a limited view of their content analyzer, trends, and influencer bio search functions. This is a great resource if you are looking to improve your inbound marketing efforts.
*Update: BuzzSumo no longer offers a free version but there is a 7-day free trial you can use to test out the tool (pricing here).
Google Trends
Make use of Google Trends to find (especially useful for eCommerce seasonality) ideas for fresh content specific to your niche or region.
Google Scholar
Google Scholar can be used to search for relevant market research content for your industry.
Free Content Marketing Tools (Optimization and Editing)
Grammarly
The Grammarly app automatically checks your spelling and grammar right on your browser. I really only use the Chrome extension, but there is also the Grammarly Editor, which allows you to store your documents or copy/paste within the platform. The app highlights the copy it believes is incorrect, offers corrections and allows you to change it seamlessly.
Grammarly also integrates with Google Docs, Microsoft Office, your desktop and your smartphone. It checks for plagiarism, but only in the premium version. This tool is great for quick proofing but should not replace a human proofreader.
Hemingway
Hemingway Editor App gives insight into what your article's readability is. Similar to Grammarly, it provides tips on how to improve your article and highlights sections that need some work. Here is an example of the app in action (using the first draft of this article).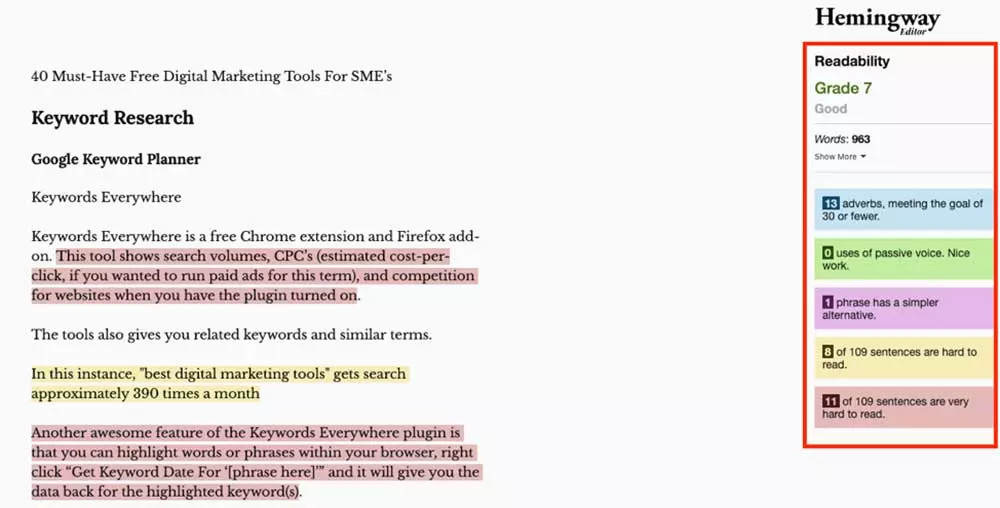 Yoast Real-time Content Analysis
Similar to Hemmingway, this tool will assess your content, but is more SEO-focused. You can add your keyword and blog content, and test out different title/meta descriptions.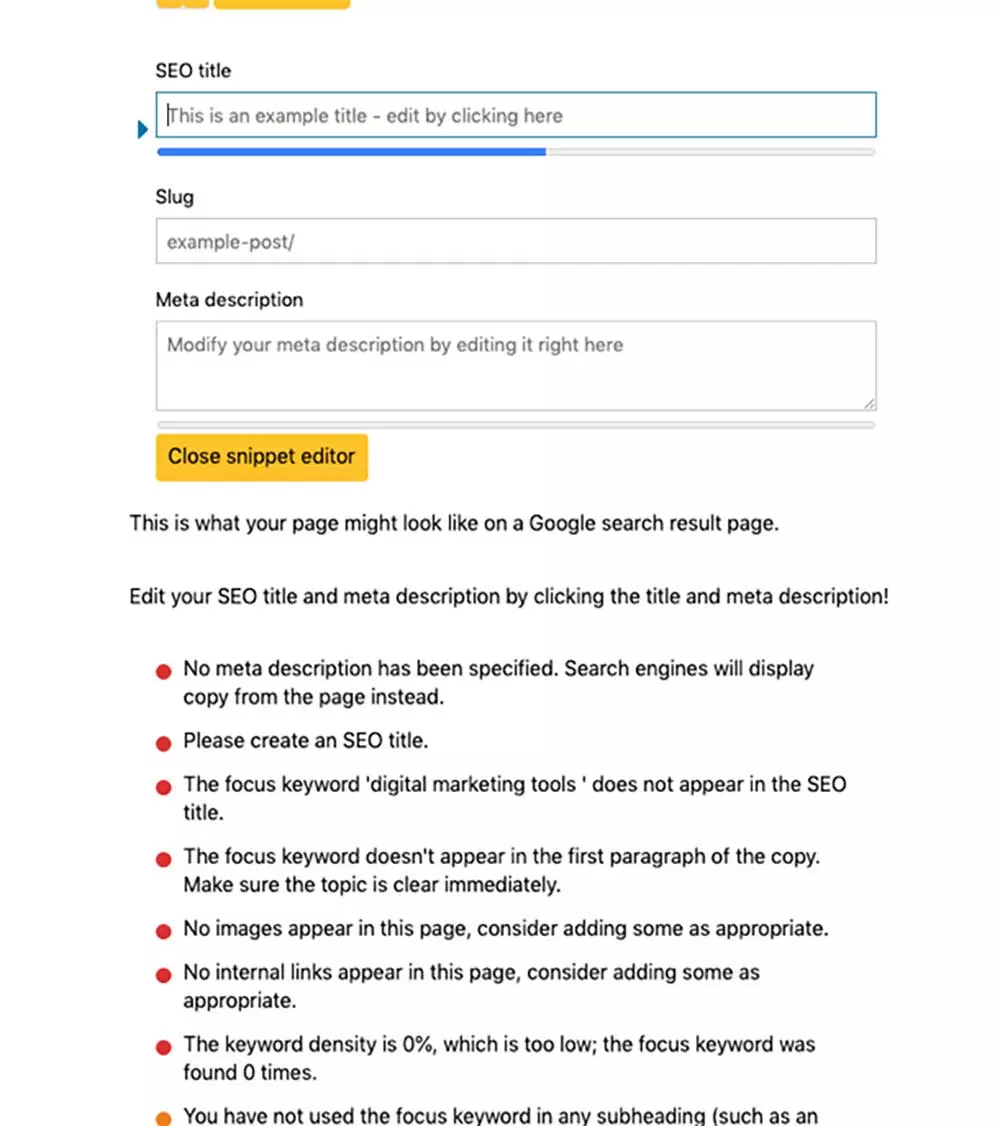 Yoast gives you recommendations on how to optimize the content for readability and SEO and gives all content a color score of green (good), yellow (meh), or red (bad) based on these factors.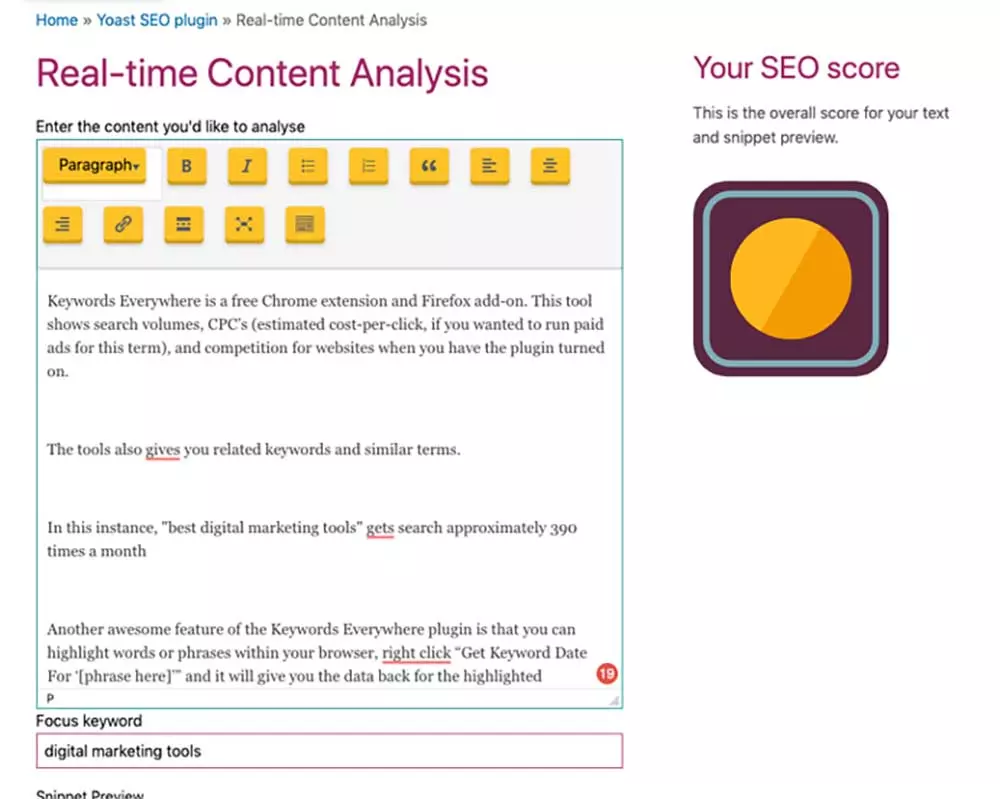 Word2CleanHTML
Word2CleanHTML does exactly what the name suggests. It allows you to take your Word content and converts it to HTML. So, all the H1s, H2s and additional formatting used to write your article in Microsoft Word seamlessly transfers over to your text editor.
Headline Swipe Files
Use Headline Swipe Files to improve CTRs and make content more engaging.
Diffchecker
Use Diffchecker to compare text files. With this tool, you can see what has been changed from the original text.
Coschedule Headline Analyzer
This tool grades your headline by analyzing factors such as a headline's word balance, length, keywords, readability and sentence structure. (Notice in the "Headline History" below that it took me a couple tries to get to a high score of 73!)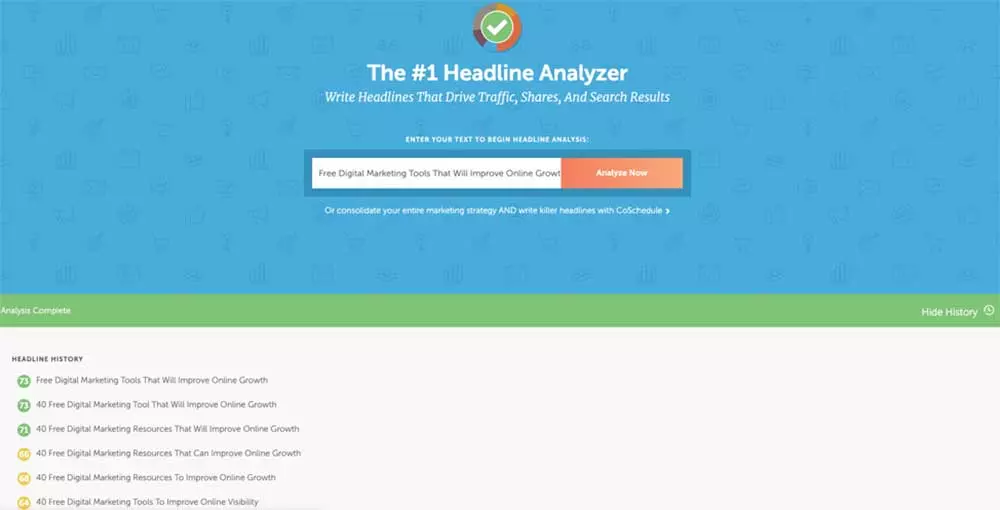 Hubspot Blog Ideas Generator
Can't think of a good title for your blog post? Need help coming up with some topics? This resource does the work for you.
CharacterCountOnline
CharacterCountOnline is a great online resource for character and word counts in real time. The screenshot below shows this tool working with the Grammarly editor.

Free Paid Search Tools
Google Ads Editor (Previously AdWords Editor)
This is a Google app that you download to your desktop. It allows you to make changes to your paid search ads and campaigns offline and post when you are ready. It is a user-friendly tool that will save you time when creating larger, more complex campaigns. It also catches any technical errors and won't let you post until they are corrected.
Microsoft Advertising Editor (Previously Bing Ads Editor)
This is the same idea as Google Ads Editor, but for your Bing ads.
Google Ads Scripts
There are a variety of paid scripts out there to make managing your PPC campaigns much more organized and efficient. One of my favorites is this tiered bid script that runs so you can make sure your broad match modifier, phrase match and exact match versions of a keyword are properly tiered (in most cases, you want to pay the least for BMM and the most for exact).
Karooya Expanded Text Ad Preview Tool
This tool lets you easily show clients how an expanded text ad will look on Google. You just plug in the headlines, descriptions, path, etc. (you can even add extensions) and the tool gives you a preview of the ad in real time.

Note: SEMrush and Google Keyword Planner are also in this category.
Free Competitive Strategy and Audience Research Tools
SimilarWeb
SimilarWeb is a free Chrome extension that allows you to "spy" on your competitor's web traffic. You can see their "rank," the estimated amount of traffic a site gets, along with what type of traffic they get (direct, social, referrals or organic). You can also see metrics such as competitors and similar sites, audience interests, traffic by country and much more.
The pro plan gives you unlimited results per metric, but the free plan only gives you five. In most cases, that's all you need.
This tool is also useful for link building and making sure you aren't reaching out to link farms or PBNs. You can identify these as sites with high direct/referral traffic and low monthly visits, short visit durations and high bounce rates.
Let's take a look at Facebook: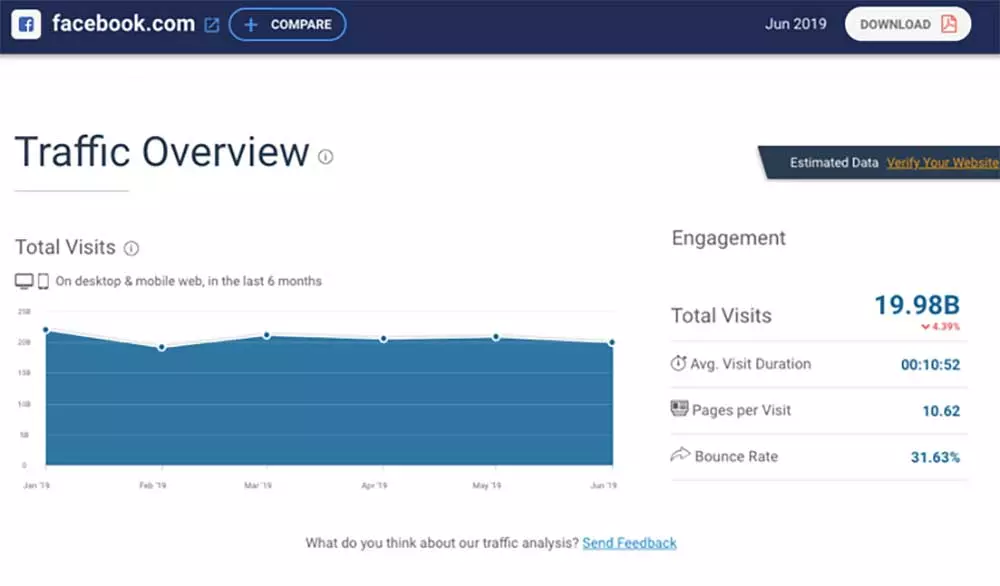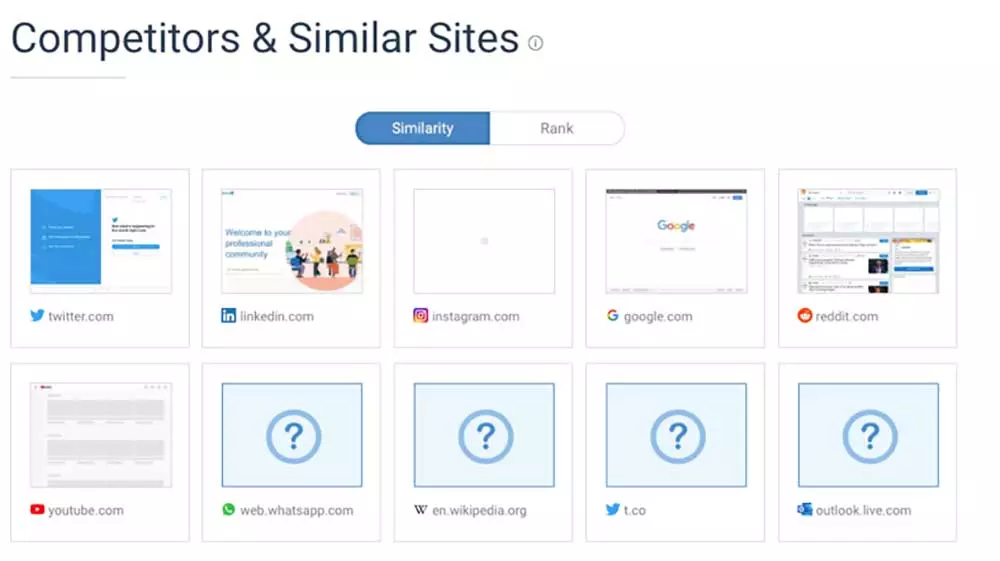 It is useful if you do not have access to a site's Google Analytics. Try it on your site here.
Mozbar
Mozbar allows you to see the page authority and domain authority of a website. This is useful when researching competitors or searching for potential backlink placements.

Once on the page, you can see additional items such as page title, meta description, link metrics, different markups found on the page (such as Schema, Open Graph or Twitter Cards):

Tip: Moz also has other free tools to take advantage of, such as a Link Explorer and their Online Presence Checker (for local SEO).
Google Alerts
You can set up Google Alerts to monitor different content with a specific keyword or phrase. This means you can set these up to send you notifications anytime your company, or your competitor, is mentioned. This free tool is also great for brand monitoring and link building, among other digital marketing tactics listed here.
SurveyMonkey
The free plan gives you unlimited surveys, but you can only have 10 questions per survey. Google Forms is another tool that can be used for surveys as well.
Free Website Audit and Site Optimization Tools
Hubspot's Website Grader
Hubspot's website grader will grade your site, or whatever site name you type in. You can do this multiple times at no cost at all.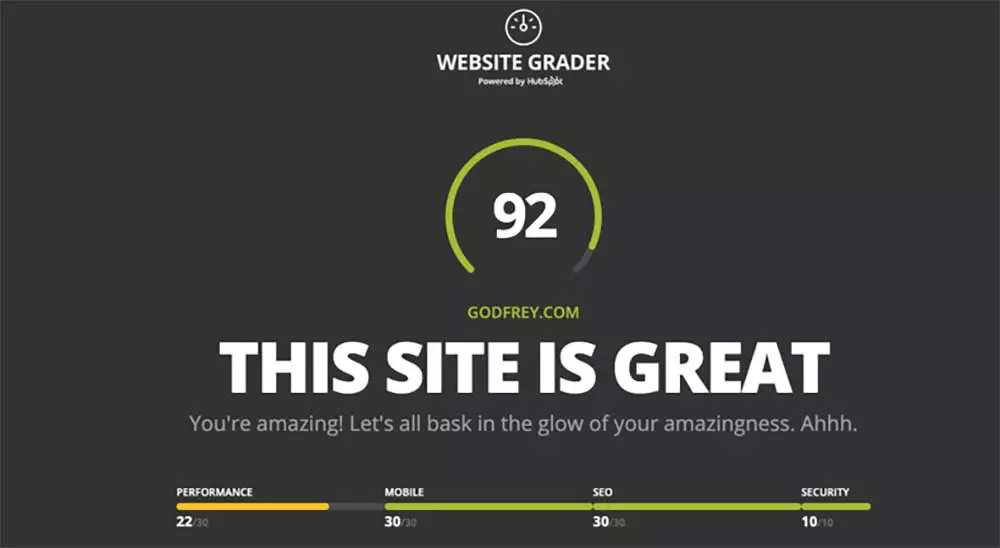 It also lets you see, in more detail, what needs worked on, so you can spend time uncovering what needs to be fixed.
Godfrey's, in particular, is related to the number of HTTP requests (mixed content):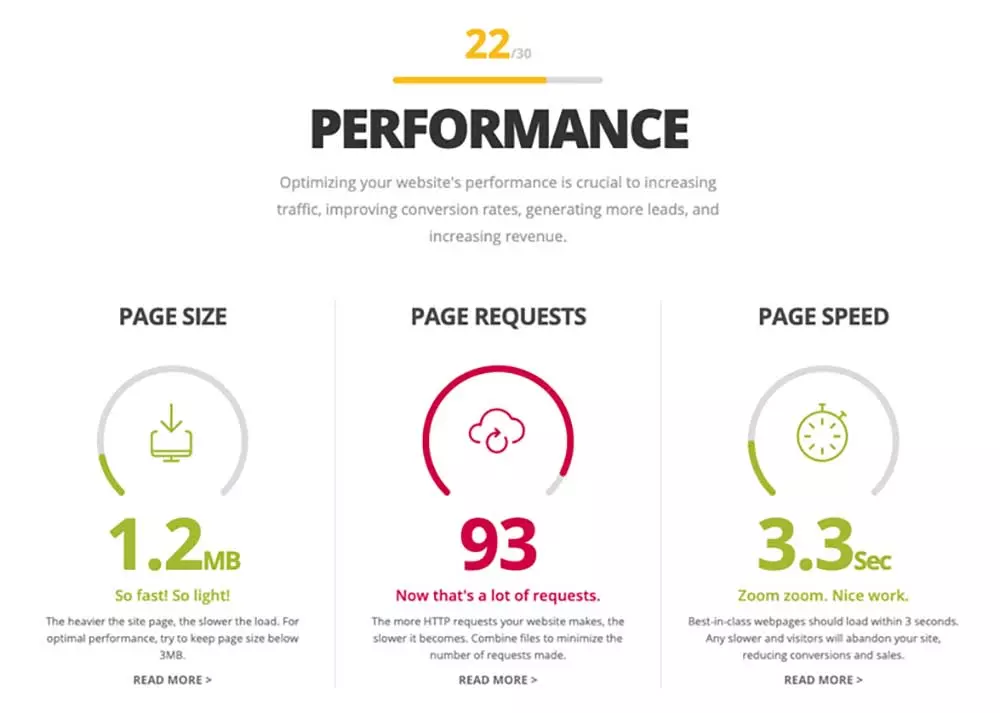 Built With
Built With is a technology look-up tool. It allows you to easily view what types of tracking, tools, analytics, widgets and other technology a site uses.
Here are some of the tools used on Godfrey's website, such as HotJar and SharpSpring: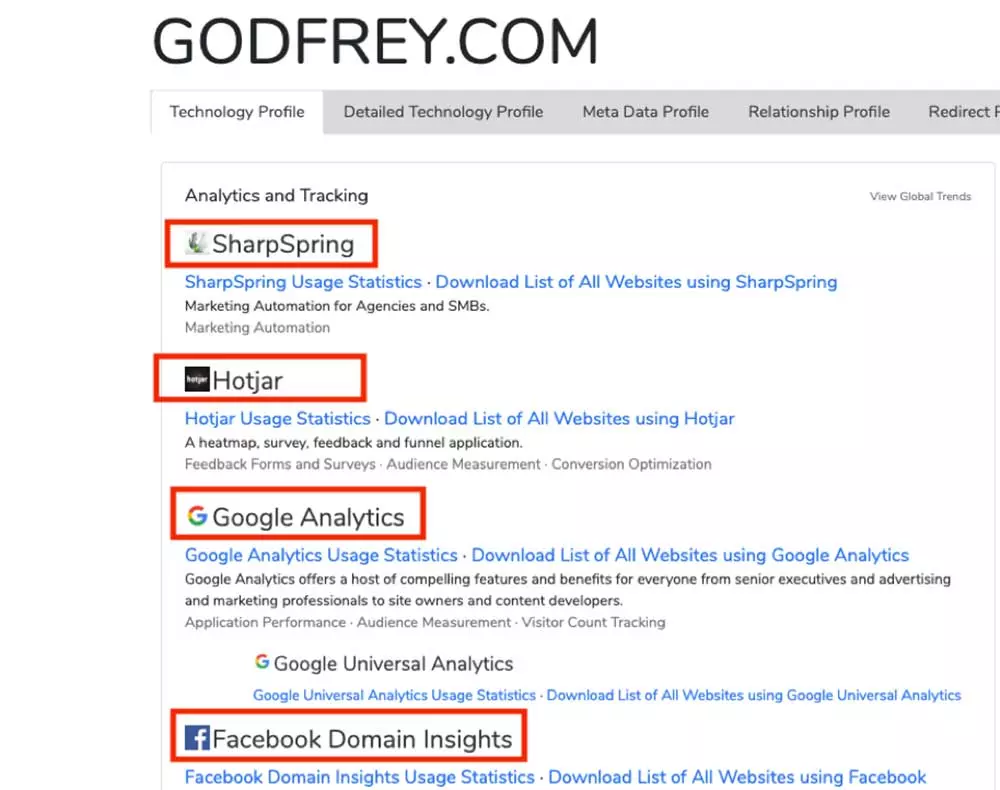 There's also a Chrome extension that can be used instead of going to Built With and typing in the domain.
A similar option and competitor is Ghostery, which also has a browser plug-in.
Archive.org
This resource can help you go back "in time" and look at old versions of a website to see what changes have been made.
Screaming Frog
The free version of Screaming Frog allows you to crawl up to 500 URLs per site. Depending on the size of the website you are reviewing, the 500 URL limit may hinder your efforts. The tool quickly analyzes the URLs and reviews metadata, descriptions, titles, link errors (400/500 errors, 301 redirects), audits hreflang attributes and other cool features.
Google Analytics
This analytics tool is another one that should be old news by now. There's a lot you can do with Google Analytics. This blog post goes into some of the main features, such as analyzing the type of traffic that comes to your website, conversion (goal) tracking, eCommerce capabilities and audience behavior.
Google Search Console
Google Search Console is a free tool to help you monitor, troubleshoot and maintain your site's presence in the search results. It helps users better understand how their site looks to Google. You can see incoming links, fix indexing problems, disavow links, request re-indexing of pages, verify your domain(s) and set a preferred version (www. versus non-www.), see what queries are being searched to get to the pages on your site and much more.
Google Tag Manager
A free tool for non-developers to deploy marketing tags (such as snippets of code or pixels) without having to go into the back end and *potentially* break everything.
Optimize Google
This is another Google tool that makes it simple to A/B test different items on your site (CTAs, headlines, layout of content). It is extremely user friendly and will make your testing more efficient and measurable. It also connects to Google Analytics so your team is able to have a centralized location for all your website data.
Urlcheckr
This is a bulk URL checker that will check all the links you copy and paste into your "project" and return the response codes of all of them. Server Header Checker and HTTPStatus also do this.
Redirect Path
See what URLs have redirects and what the old link used to be.
Siteliner
This is a duplicate content checker (and is free for sites up to 250 URLs).
Free Page Speed Tools
Pingdom
Pingdom is a tool where you can test the speed of your website (or competitor sites) for free. It will list the response codes and types of content by size (images, scripts, fonts, etc.).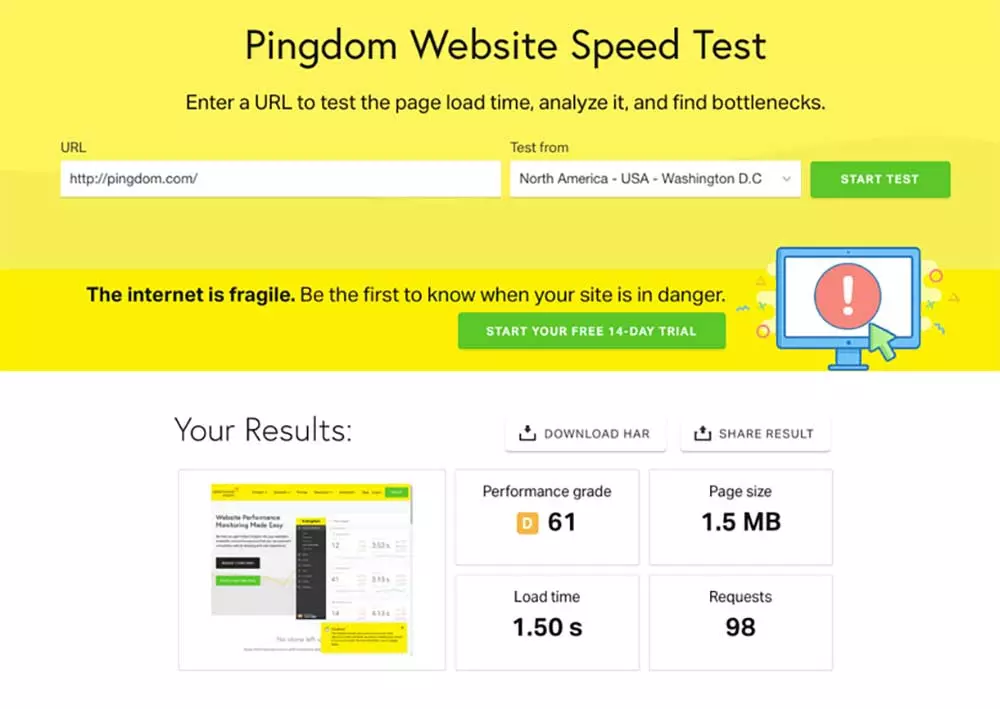 It looks like Pingdom has some work to do.
Google PageSpeed Insights
Google has a similar site speed tool, but it is not as in-depth as Pingdom. They have different grading scales, so it is good to use both and compare the results.
What's cool about the Google PageSpeed Insights is that you can view the grades from a mobile or desktop perspective (which are sometimes vastly different):

Free Link Building Tools
LinkClump
If you want to save yourself a LOT of time, I recommend using the Linkclump browser extension for Google Chrome.
When looking for link building opportunities on Google (using search queries), you can set up an "Action" on LinkClump that bulk-copies all the URLs you select from the search results (my action to do this is clicking the left mouse button and the shift key, but it can be whatever you want).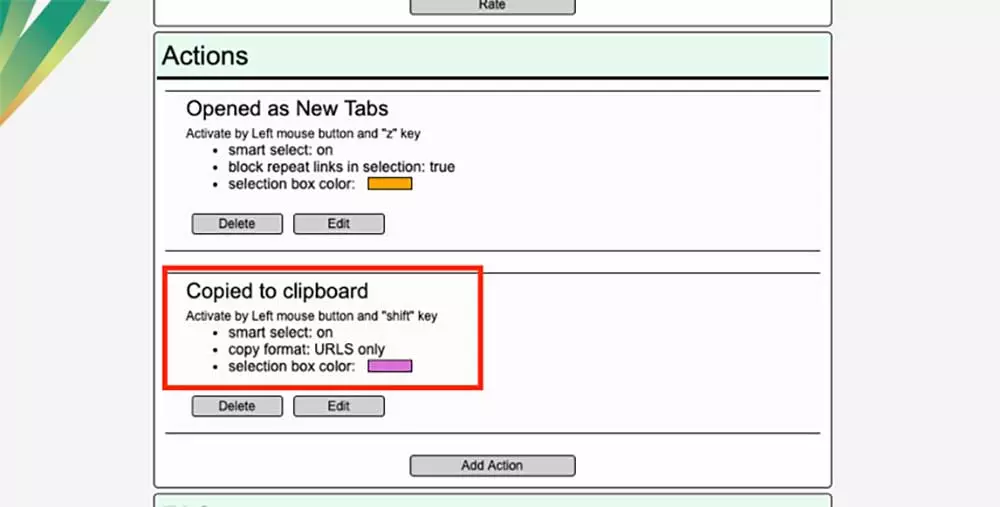 You can then paste all the URLs into an excel sheet or whatever prospecting document you use.
You can also download SEOQuake to mass review the Domain Authority, Estimated Traffic/Keywords, etc. for these URLS. (But the settings for that are very finicky and, if done incorrectly, could cause some red flags with search engines, so do not do this unless you know how to set it up properly). Another tool for this is the Ahrefs's or Majestic's bulk URL checker, but those are only available in the paid versions.
Check My Links
Check My Links is a Chrome browser extension that allows you to crawl a page and see what types of links (broken, valid, redirect) are on a page (specific link-building use-case is usually broken links).
It will highlight invalid links in red.

NoFollow Simple
NoFollow Simple is a similar tool to Check My Links, except this tool outlines which links are nofollow links in red.
This is a helpful tool when vetting websites for link-building when looking for do-follow links. It also works as a visual tool (without viewing the source code) to check that you received the do-follow link you were promised.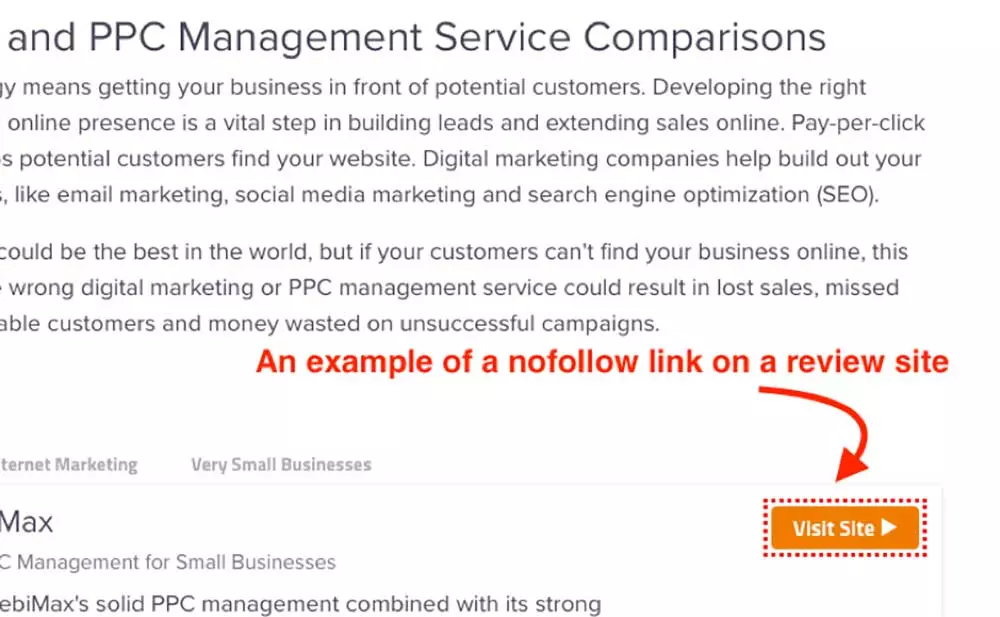 Majestic Lite
Majestic is a link analyzer. It returns a website (or specific URLs) Trust Flow and Citation Flow. You can see how many backlinks a site has and where these backlinks are coming from. There is a paid version with much more in-depth data, but this blog post goes over what you can do without paying a cent.
Hunter.io
Hunter.io helps you find email addresses for prospective opportunities. The free version gives you 50 requests a month. A request on Hunter.io is defined below:

If you search a domain for email addresses, search for email addresses using the email finder, or verify an email address's deliverability, you will be using requests.
Using the Chrome extension, you can simply click on the icon and the tool will return the email addresses for the domain you are on (one request is 10 emails).
Here is an example of the tool in action using Godfrey's website: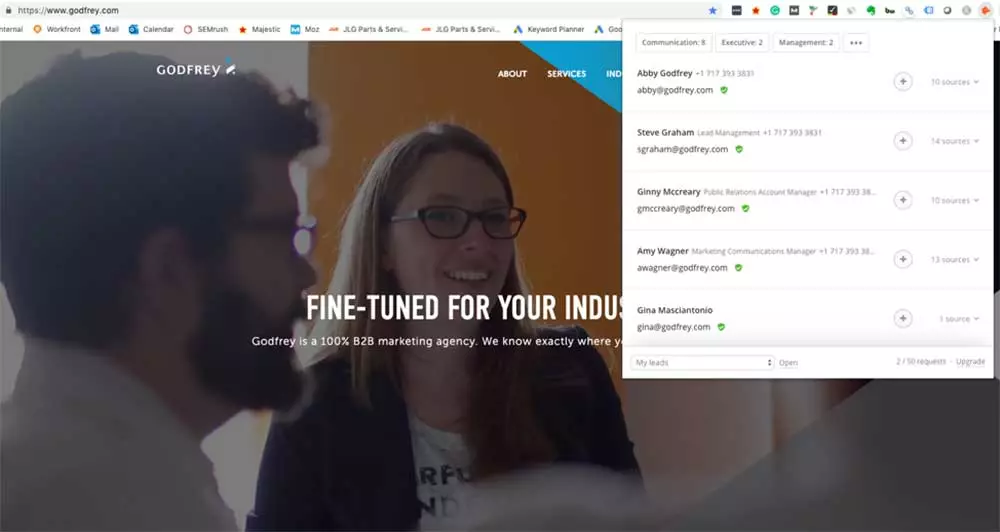 If you are doing this on a large scale, using up 50 requests a month happens fast. But if you just need it here and there for specific campaigns or posts, the free version is a great tool to have in your wheelhouse.
This page gives you answers to most of the questions you may have regarding this limit. (Example: "How are requests counted for domain searches that return thousands of email addresses?")
Custom Search Engine Queries
If you are link building, making use of search queries should be second nature by now. This might not necessarily be a "tool' per se, although Google search itself is one of my favorite all-time resources.
Using Search Engine Queries (beginner or advanced) help scale your link building efforts by assisting your search for qualified potential partnerships for guest post contributing or sponsored content (one of my personal favorites to use is, '[keyword] "write for us"').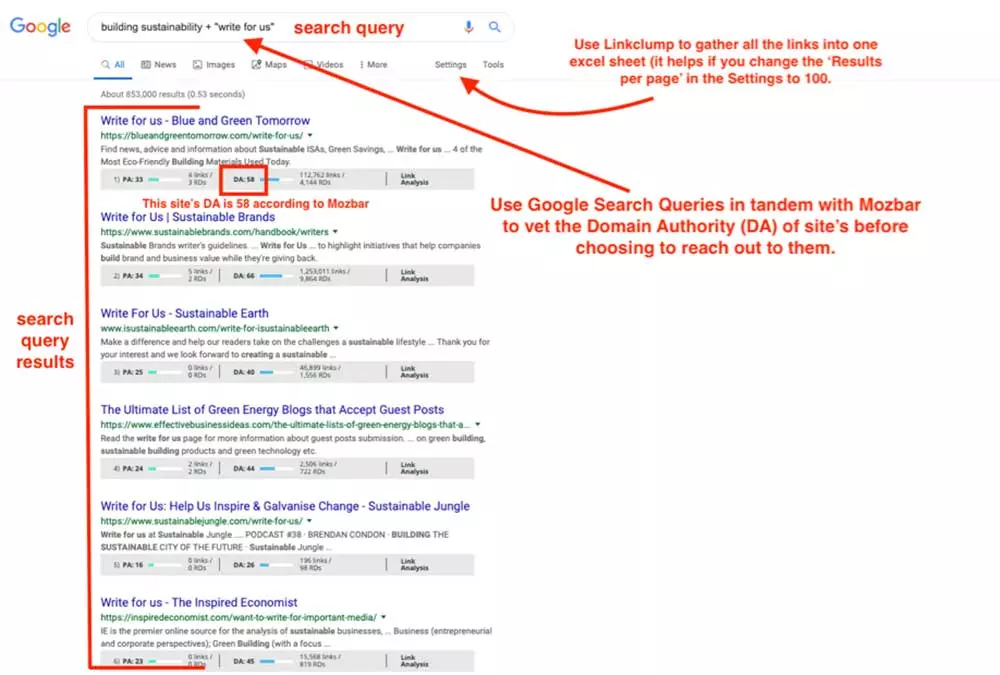 Here's a resource that contains thousands of queries that are even categorized by type of link building campaigns.
The post above also lists the variety of Google Search Operator queries you can use if you want to customize your searches (examples – "site:," "intext:," "intitle:"). If you don't like that article, there are many others you can find online with a simple Google search.
Ahrefs Backlink Checker
Get the backlink profiles of websites.
HARO
Find possible backlink opportunities from publications and journalists who need feedback from subject matter experts.
Free Social Media Tools
Canva
Canva is a wonderful tool when it comes to creating (and standardizing) social media graphics and templates. It is SUPER user-friendly and very useful if you just need pretty simple graphic design work as a non-designer.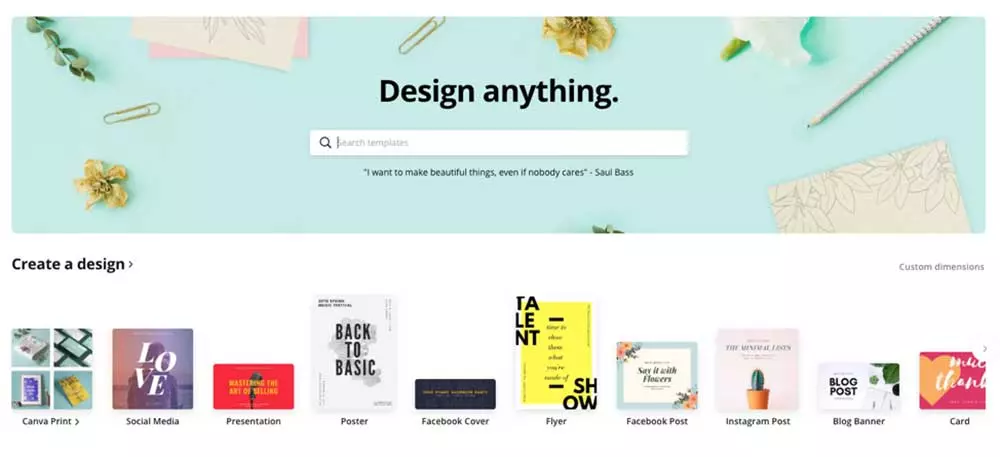 While the program offers premade sizes and templates for items such as Facebook cover photos or square Instagram posts, you can also choose a custom-dimension and start from scratch. Buffer, a social media scheduling tool, has a similar free tool specifically for graphics, called Pablo. Adobe has a free tool like this also called Adobe Spark.
Free Stock Photo Websites (For Commercial Use)
These could also be used for blog posts, but I am throwing them in the social section since they pair well with Canva integration (Canva lets you upload images to their platform to use in your creative).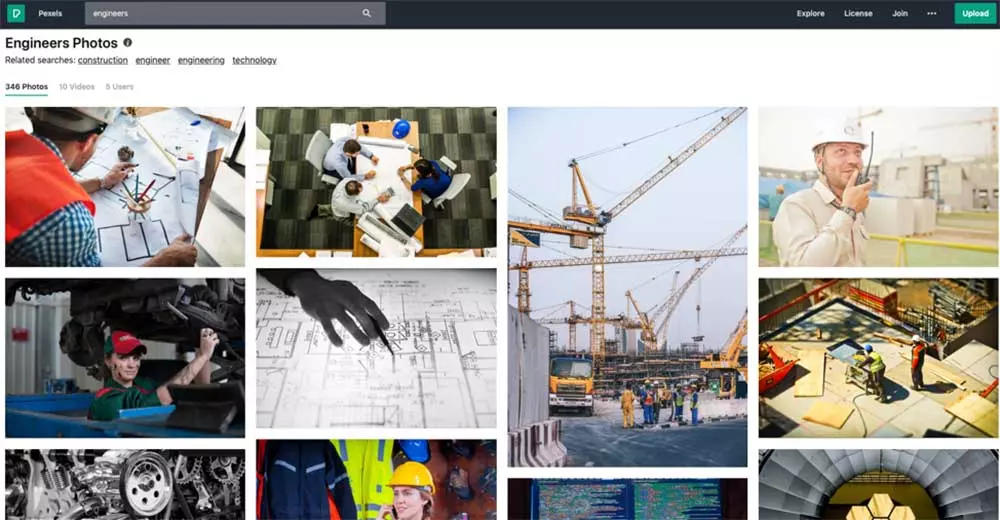 Here are the main websites I use to gather free and reusable stock images:
Some of these are labeled for reuse and modification, others just for reuse. Make sure to read the usage rights and give proper credit when required.
Buffer/Hootsuite/Later
Social scheduling and management tools.
Facebook Audience Insights
Audience targeting. A great tool to gain insight on the audience for more than just the Facebook platform. For example, if your audience seems to like a specific publication, consider running paid media in these pubs.
Facebook Text Overlay Tool
Since images and videos on paid Facebook ads can only contain 20% text, this tool takes the guesswork out for you so you can test your ad creative compatibility before ever uploading the ad and having it be disapproved.
Tip: Not sure how big your images should be for Facebook? Different ads or posts need different sizing and have approval guidelines. Bookmark this Facebook Ads Guide.
Social Media Message Optimizer
This tool from Coschedule helps you fine-tune your posts so that your social media marketing efforts don't go to waste (by increasing engagement and trust with your audience).
TweetDeck
Twitter management and optimization, monitor multiple accounts, set up various timeline views/streams in a single interface.
Bit.ly
Link shortener and tracker.
Free Email Marketing Tools
MailChimp
The free version of MailChimp is great for those who are just getting started with email marketing or automated emails. It is also useful for those who have a very small and/or niche audience to market to.
This plan includes up to 2,000 contacts and 10,000 sends per month. It allows you to have one automation sequence (but you can finagle your way through testing out different options or "triggers" by deleting the automated sequence and making another one).
There are also a few basic email templates to take advantage of (definitely tweak them). You can use their drag and drop functionality, so it's very easy to build campaigns.
They have some rules to follow as far as your email content goes and will revoke your account access if you don't follow them (speaking from personal experience … oops).
While it's user-friendly for someone who understands email marketing, it's still a little complicated if you are just beginning. Their MailChimp 101 resource can help you navigate the platform.
MailerLite
Very similar to MailChimp, this is a good option for smaller companies looking to send bulk emails. You can send 12,000 emails per month to 1,000 subscribers. They also offer email automation and A/B testing, along with email reporting and user-friendly editing.
Email Subject Line Tester
Another free tool from Coschedule aimed at optimizing your email subject lines to improve open rates. It is especially helpful when planning email newsletters and email marketing campaigns.
There's a bunch of other free email marketing software tools out there, some which are listed here.
Can I Email
Ever wonder if you can use a certain attribute or element to your email? (HTML, CSS, etc.) This site will let you know.
Free Lead Generation Tools
SUMO
To help build your email list, SUMO has a free membership to create customizable email opt-in forms. They also have an email program you can use, but I have not used this, so I cannot speak to its capabilities. I have only used it to build the list and integrated it into other programs.
They also have a great social sharing Wordpress plug-in that I like to use on sites (and you can easily make it sticky). Speaking of which, I am a big fan of WordPress (the CMS, not the hosting) for making websites. As a non-developer who also cares about search visibility, this is the way to go, although many of my developer friends will disagree with me.
Hellobar
Hellobar allows you to integrate different popup and lead gen styles onto your site. That said, the free version keeps the somewhat annoying watermark. But it is great for testing out different areas to place lead magnets on your site (middle of content, sidebar, top of the site, etc.) It allows you A/B testing capabilities and you can target by intent (like if someone is about to exit, you can have an interstitial pop-up come up, or you can wait seven seconds before showing a message, etc.).
Tip: Test out more than one call to action to see what resonates best with your audience or results in better conversion rates.
Miscellaneous Free Tools to Use
Trello
Project Management and Personal To-do List. There's also an app for your phone and integrates with a lot of other platforms, such as Google Calendar.
Flycut Plug-in Clipboard Manager
A copy-paste Mac add-on tool that saves previously copied text so you can easily access it if you end up copying something else (without having to go back and recopy). It was made for developers who have to copy and paste code over and over, but I use it for SEO-related tasks, too.
Percentage Change Calculator
I use this because sometimes I don't trust manually typing formulas into my calculator. This does the work for me so I can accurately measure increases/decreases for a given campaign.
Evernote
Great for cloud-based note-taking, to-do lists, etc. It automatically saves in real time and you can gain access from everywhere. You can also save web pages as PDFs.
Dropbox
The free account gives you 2GB of storage to share photos, docs and other files with clients in real time from any device.
Slack
Messaging app for small teams that is basically AOL Instant Messenger, but for adults. You have the ability to create different groups ("channels") and direct messaging capabilities. File sharing and fun automation integrations are included.
Zoom
Software for virtual meetings (video and/or audio). Both group meetings and one-to-one meetings available with the free version.
The Best Free Tool Ever (Last, but Not Least)
While this list is comprehensive, it only scratches the surface of what is out there for the digital and online marketer (beginners and experts alike) to use. If you are an affiliate marketer, I didn't even touch on those free tools (sorry!).
If there's a specific internet marketing tool you are looking to find, Google it.
There are SO MANY DIGITAL MARKETING LEARNING RESOURCES AND TOOLS OUT THERE. All it takes is a quick Google search or two to find what you are looking for.
I could type in "free [some-type-of-marketing] tools" or "[some-type-of-marketing-tool] reviews" and I'll find lists upon lists of information on it. (664,000,000 results to be exact, as of June 2019).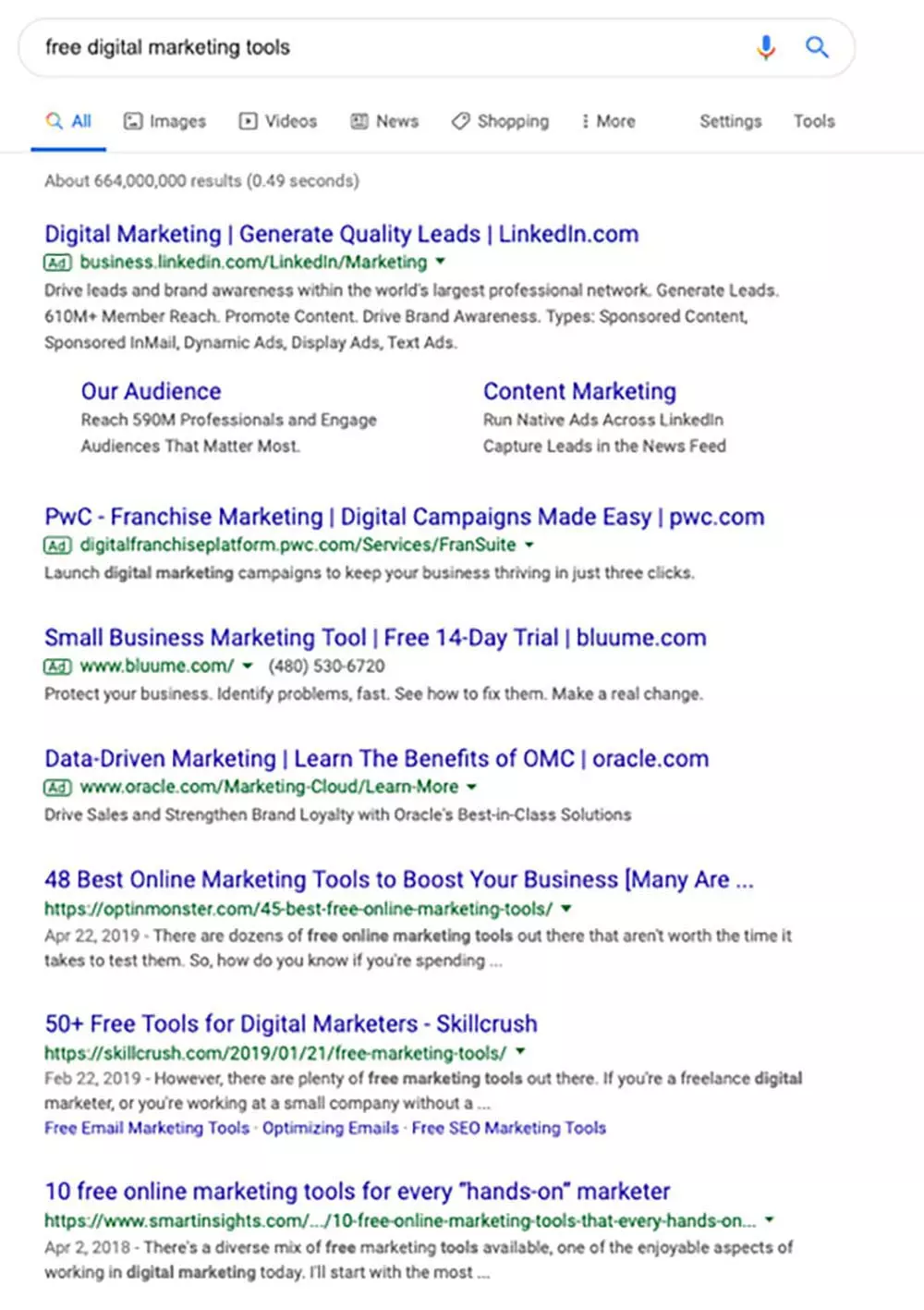 (I kept discovering additional tools, such as this in-depth infographic that lists over 100 tools to take advantage of when creating this post.)
If you have any additional resources you think should be on this list, let me know.
Don't forget to bookmark this blog so you can reference this list later!
Now, as I promised, here's the list of top digital marketing resources (that will cost you absolutely NOTHING).
Download the full list of free and essential digital marketing tools below (with links):
Download PDF
Godfrey Team
Godfrey helps complex B2B industries tell their stories in ways that delight their customers.