Blog Post
3 Actionable Content Marketing Tips from the 2016 B2B MarketingProfs Forum
Publish date: Nov 03, 2016
|
Reading time: minute

s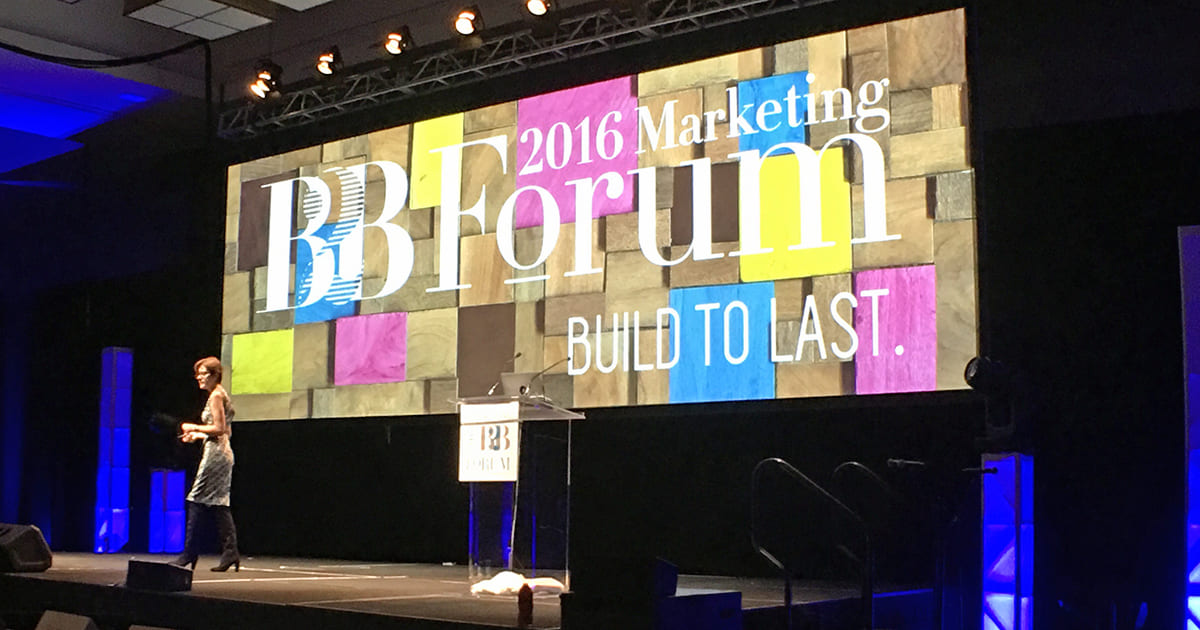 Here are some key takeaways that have even better odds of you hitting the content marketing jackpot from MarketingProfs 2016.
There's no shortage in the amount of content being created by marketers. But is it backed by a strategy? Or is your goal to hit the "gone viral" lottery? This was a topic discussed in great detail throughout the course of MarketingProfs' 2016 B2B Forum. Here are some key takeaways that have even better odds of you hitting the content marketing jackpot.
Content Marketing Approaches Must Evolve
Simply producing more content will not achieve the outcomes your business needs or provide the ROI you need to keep the program alive. You should first understand why you are embarking on a content marketing journey, and for that matter, your leaders and sales team should, too.
For most, the why is to provide buyers with the right information at the right time and through the right channels. In short, you must be relevant. Being relevant in a complex B2B buying environment means many things to many different people. In a landscape where everyone is fighting to be heard, you must be laser focused on the topics you own, who you are speaking to and how you are reaching them.
1. Bring business leaders and sales into planning discussions. Silos continue to exist and greatly impact the buy-in you receive from your organization. Marcus Sheridan from The Sales Lion challenged attendees to consider the level of involvement sales and other internal stakeholders have in planning your content marketing program. In almost all situations, business leaders and sales cannot articulate what the strategy is and why the organization is doing it. You need leaders and SMEs to be on board and actively participating in your content marketing program. From creating content to developing use cases for each stage of the buying process, it's a team effort. Marcus had a bold statement for the purpose of content marketing – "make your sales team look like geniuses."

2. Get to know your buyers. Talk to sales, talk to customers or hire someone to do it for you. Before you can create content your buyers want, you need to have a clear picture of each person you want to engage. Talk to sales about the questions customers are asking, what drives decisions and what gets in the way. If possible, visit customers and observe them (be sure to clear this with sales first). When possible, go outside your organization. Customers are more likely to open up to a 3rd party. This allows deeper insights to be developed around their most pressing needs and how they usually address them.
3. Focus on the when, not the where, for content distribution. Test and validate content with your customers and existing contact lists. When you know it will resonate and when you've exhausted your current contact list, move to social media. Gain additional traction with social, with the folks most likely to share your content, then move to paid advertising. Finally, when you can prove the topic is newsworthy, leverage your PR team to help with the final push. As Andrew Davis explained, "Avoid vomiting your content across all channels at once. This will improve the half-life of your content."
If you didn't have the chance to make it to Boston, hop onto Twitter and search for #MPB2B. You'll find a lot of slide photos and comments from the over 900 marketers in attendance.
Josh Albert - Vice President, Business Development
Josh heads up our new business efforts, working alongside teams of Godfrey subject matter experts. As director of business development, Josh combines strong leadership and business sense to help Godfrey form client relationships where we can do our very best work.