Blog Post
Creating a B2B Website? Understand Your Customers' Needs
Publish date: May 26, 2023
|
Reading time: minute

s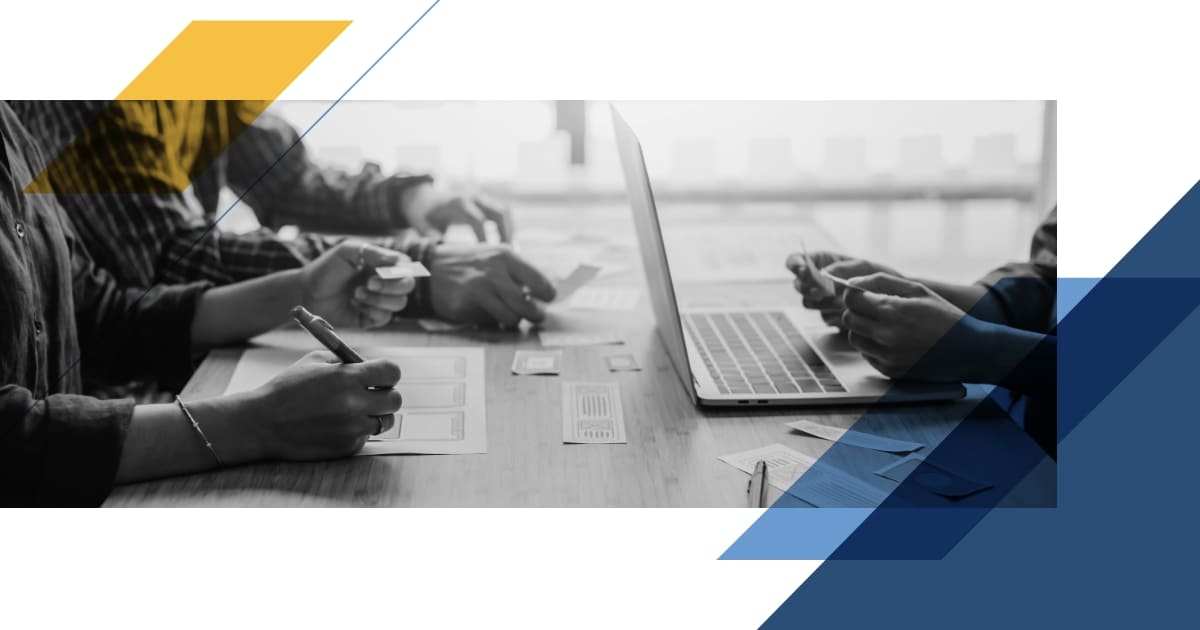 When considering the B2B buying process, do you know how much of your prospective customers' time is spent researching your products and solutions online? According to Gartner, "the ready availability of quality information through digital channels has made it far easier for buyers to gather information independently, meaning sellers have less access and fewer opportunities to influence customer decisions." And with "researching independently online" taking up the largest amount of the buying groups' time (27%), it emphasizes the importance of a customer-centric, informative, user-friendly, accessible company website.
So, how do you make sure your B2B website is meeting your customers' needs, is easy-to-use and is accessible? How do you determine the content that is helpful and important to customers? We sat down with three team members who are instrumental in website design and development processes here at Godfrey to get their thoughts on how to understand customer needs when building a B2B website: Donna Harris, director of strategy; Jim Rittle, director of web development; and Megan Heck, senior front-end designer.
Building a website can feel overwhelming at first for B2B marketing managers. How do you recommend getting started?
Donna: Website revamps and updates can be large undertakings but shouldn't feel intimidating. It's important to always remember who you are trying to reach and keep those audiences front and center throughout your project. Starting with insight for any project really helps us understand audience wants, needs and behaviors. This information provides the guidance to know what needs to happen to build a successful B2B website.
Insight for websites usually typically falls into the following categories:
Existing Site Performance: Understanding current site performance allows us to review heavily trafficked areas, identify areas we can build upon and also understand areas that need improvement. How are people arriving at and moving through the site? What types of content are they looking at? How many different pages are they visiting and for how long?

There are several tools that can help us collect site performance data. An obvious place to start is a review of data from Google Analytics (GA). GA can provide the number of users, bounce rates, average session durations, sessions by channel, page views, goal completions and more. We often employ various SEO tools that can crawl the site and audit it for common keywords, SEO issues and recommendations for improvement. We also have experience with insight tools that can provide behavior analytics and feedback data on user experience.
User Experience (UX) Research: UX research is important to the web design process because it assures you're creating an experience that's relevant to your various targeted user groups. It is important to consider various web personas and user scenarios when conducting this phase of research. Tools like Hotjar can provide us with heatmap data and user session recordings to help us understand how users are navigating the site, but they don't give us a complete picture of users. A great tool to help us understand a more qualitative perspective from users is a user intercept survey. A survey can provide us insight into why visitors are coming to the site and if they found what they were looking for and offer recommendations for additional new site content. In addition to doing up-front UX research, we also recommend conducting user testing with the new site map and site prototypes before the site is finalized and developed.
Competitor Research: We also find it helpful to review 2-3 competitor sites to get a feel for the experience and content your users may be using as a basis of comparison. We typically review competitor websites for copy, functionality, features, organization and presentation of content. This is more of a manual review process but can be helpful to identify gaps and opportunities for future sites.
The amount of insight we recommend varies for each website — timing and budget are two factors that can help determine the best approach.
At a minimum, we would recommend looking at data that is accessible, like Google Analytics and some SEO research data. Next, we would layer in an intercept survey. That survey can provide some invaluable insight into our site visitors that data alone can't provide. A third layer of data we could add is a competitive review.
If you are looking to develop a "best in class" site, we would add UX testing of the proposed site. There are numerous types of user testing that can be conducted to explore things like messaging and usability, both moderated and unmoderated.
From your perspective, Jim, how does insight help Godfrey deliver a "better" B2B website?
Jim: By analyzing user behavior, our team can make improvements to enhance the user experience, while competitor research can provide insights into trends and best practices. Understanding the target audience and its needs and preferences also informs decisions about content and messaging, resulting in a website that is user-friendly, engaging and effective in achieving our clients' business objectives. Ultimately, the research helps our team create a website that meets the target audience's needs, leading to higher engagement and better conversion rates.
In addition, we can combine the user behavior with our understanding of the tech stack of our clients. This combined data can lead to solutions for our clients that improve the overall website experience by getting users to the correct channels during lead generation and providing an optimized path to locate the data they are looking for on the website. This leads to an increase in repeat visitors, improved SEO results and more leads for our clients.
Megan, how does this information inform UX and design?
Megan: Insight and strategy work like we've mentioned above can help identify areas where the website may not be accessible to certain groups, like users with visual impairments or mobility limitations.
For example, the image shown here is displaying the color contrast ratio. The ratio is 11.94:1, and as long as it is not less than 4.5:1 or 3:1, it passes the color contrast test. Anything below these ratios does not provide sufficient contrast, making it difficult for people with certain vision impairments to read.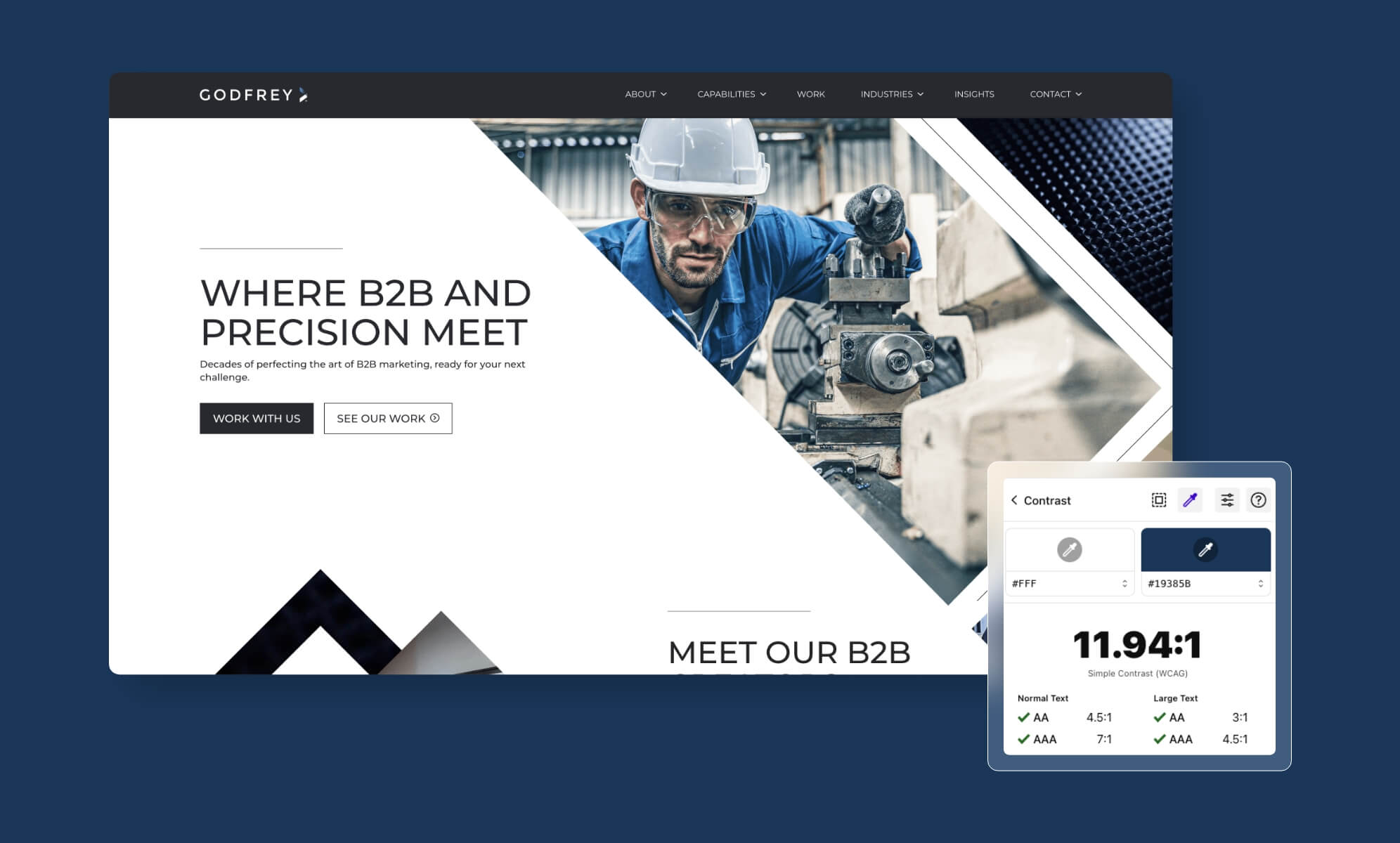 This is just one example of how we can help ensure the website is easy to use for everyone. Additionally, by conducting UX research and reviewing competitor practices, designers can gain insights into the challenges faced by users with disabilities and learn best practices for accessibility and ADA compliance. This knowledge can inform design decisions and help create a website that is accessible to all users.
How does having insight upfront impact your web development process?
Jim: Our development process revolves around the findings from our strategy and design teams. The goal is always to create a great end-user experience. We also want to make sure our clients' internal teams can easily navigate and edit the website. To help with this, we aim to develop a series of reusable design elements and templates to create an easy-to-use content management system (CMS). Having a user-friendly CMS option is very important for our clients. Without it, clients may be hesitant or just not able to update their own CMS content. If this is the case, we risk a poor delivery of content and user experience. It's very important to us that our clients feel empowered to manage their own website content and not require developer intervention for basic content maintenance.
To the earlier point about considering timing and budget, this also applies during the development process. For the more budget-friendly sites, our team has experience leaning on pre-existing, pre-tested page elements and modifying them to fit the brand look-and-feel of our clients. This allows us to provide what the client is looking for, but also integrate the strategic findings. However, the "best in class" sites push past the required and move into the realm of innovation, allowing our team to combine our various types of expertise and strategic findings to design/develop solutions that give end users the best possible user experience. Finding creative, innovative solutions is where we set ourselves apart. Godfrey doesn't just develop websites; we develop website experiences.
What metrics do you look at to determine if the new or redesigned site is delivering a better UX or has met the client's up-front objectives?
Donna: It really depends on the client's objectives. If they are primarily interested in growing awareness, we look at traffic metrics:
Growth in site sessions
Increase in session duration
Source data — increase in search volume
% increase in new visitors
If the client is more interested in moving a prospect down the funnel from consideration to conversion, we start to pay more attention to engagement metrics:
% of return visitors
% of direct traffic
PDF downloads and video plays
Form submissions
Traffic flow deeper into site content
Engagement with blog content
From a visual perspective, we like to look at user feedback and responsiveness:
User Feedback: Soliciting feedback from users through surveys or usability testing can provide valuable insights into how well the site is meeting their needs and expectations.
Mobile Responsiveness: Checking how the site looks and functions on different devices, including smartphones and tablets, is important as more people access websites on mobile devices.
The data tells a strong story of what's working and what's not, as well as where to make improvements or changes as time goes on. When designed and developed using customer insight, your resulting website will be customer-centric, informative, user-friendly, and accessible; it will meet the customers' needs. And when considering how much of the buying process is now conducted online, spending the time and money to truly understand your customer is a sound investment worth making.
Check out some of our website design examples using this approach.
Donna Harris - Director of Strategy
Donna is fascinated with industry trends and market research. She supports account teams with insight and strategic planning and thrives on conquering challenges that keep clients up at night.
Jim Rittle - Director of Web Development
With over 12 years of experience in software development, Jim implements and maintains enterprise solutions in platforms like Episerver (now Optimizely) and Sitecore. He has earned certifications with Microsoft, Optimizely, Sitecore, and Unity. He loves complex challenges and enjoys architecting new, innovative, and optimized solutions.
Megan Heck - Senior Front-End Designer
As a seasoned front-end designer, Megan focuses on delivering impactful and intuitive products that cater to all users. With a Web Accessibility certification, their expertise in creating engaging product designs that drive user action has consistently delivered exceptional results for clients, making them a valuable asset in solving problems and fostering inclusive digital experiences.