Blog Post
The Importance of Web Personas
Publish date: Jul 03, 2020
|
Reading time: minute

s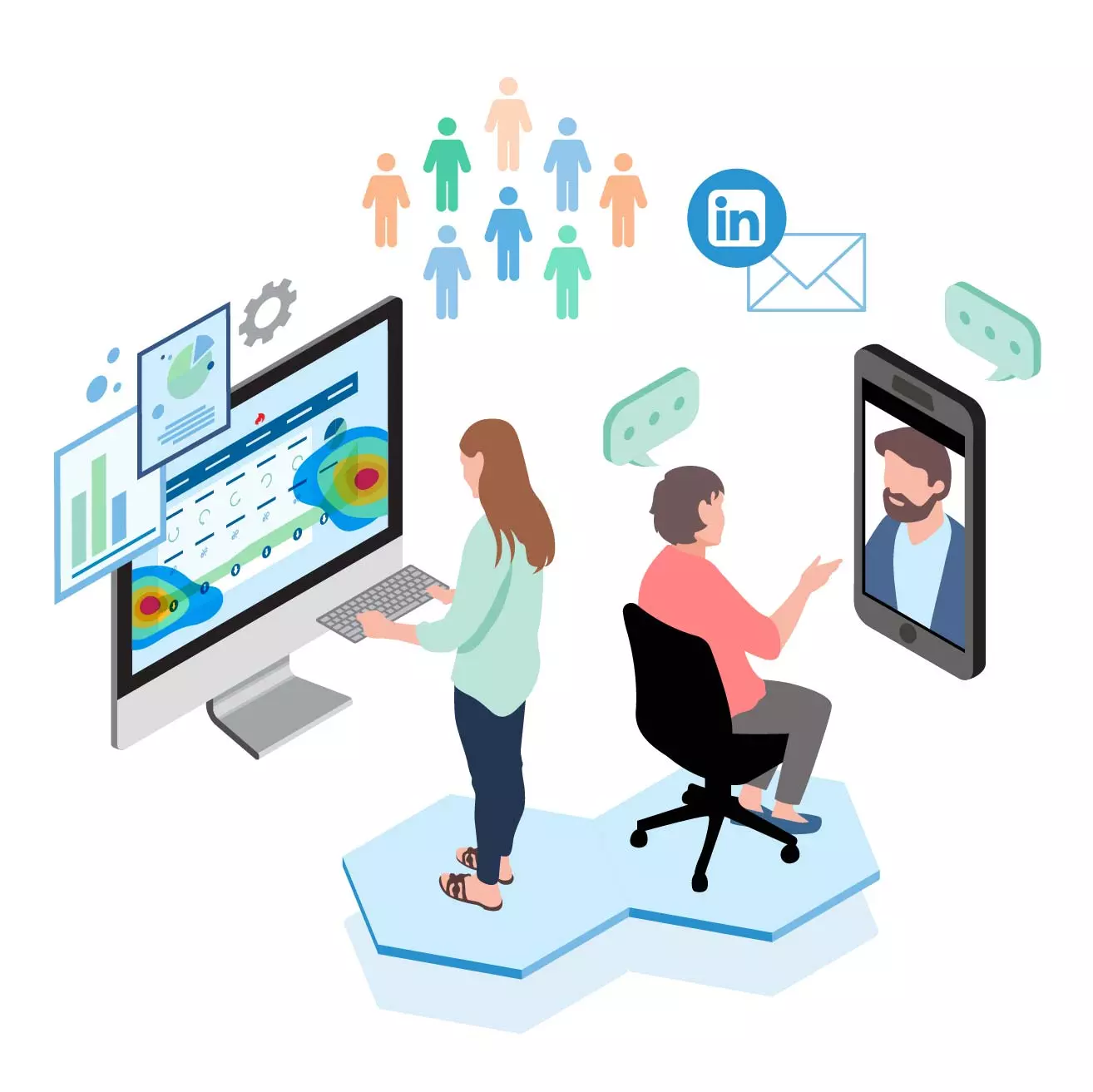 Web personas are not the same as marketing personas. Learn how to build a web persona while understanding the difference between the two. And get actionable advice from our strategists.
When it comes to developing digital products (websites, apps, tools), it's crucial to have web personas to help guide the process. Web personas offer a peek inside the minds of your target audience and help understand their behaviors so development teams can create the best digital product that's intuitive for users. Additionally, they're a great tool to reference when offering website personalization. Let's dig into the ins and outs of web personas and how you can use them to create a better user experience.
Note: For the purpose of this post, we'll use a website as our digital product.
What Are Web Personas?
Web personas focus on the specific goals and behavior patterns of target users, representing observations of real people from research. They contain information around someone's personal motivation, their ideal experience when interacting with a digital product, frustrations and even technological expertise. They differ from marketing personas, which are more general and focus on things like demographics, attitudes, perceived aspirations and tasks as they relate to their job's responsibilities.
Are They Really Necessary?
Web personas help drive user experience, design and development decisions for specific projects, such as:
Websites
Landing pages
Apps
Tools
Imagine this scenario: You've got a great idea for an app. You put it down on paper, assemble a development team and start to build it. The team works tirelessly to execute your vision. You finally launch the app and … crickets. Or, you start seeing negative reviews and receiving emails complaining about the app. The problem? You had a great idea but you didn't do any research on your target audience first. You built it based on what you thought your audience wanted without ever stopping to ask if it was something they needed.
Enter the web persona. It puts your user front and center, so when you begin creating that fabulous app, tool or website, you've got a solid understanding of who you're creating it for and some fundamental knowledge about your audience's ideal experience and how they navigate and interact with similar digital products. It's this insight that will help put the information architecture together and begin to craft the user experience and guide the dev team.
Start With a Marcomm Persona
You need a baseline understanding of who your target audience is before diving into creating a web persona. Some of the information contained in the marcomm persona can help inform your web persona. A marketing persona outlines a role's background, education, goals, responsibilities and challenges along with content preferences.
It's ideal to conduct real VOC interviews to get a firsthand perspective from your target audience. If you don't have access to actual customers, consider talking to personal friends in the field.
When you're not able to conduct actual interviews with real people, online research can be incredibly helpful. For example, LinkedIn is a great platform for researching job descriptions and organizations people are members of. You can also check out the publications people are reading.
There are some useful paid services that can help, such as Global Web Index or First Research. You can also talk to the sales team and get their perspective on customers. They're the boots-on-the-ground people who hear firsthand about these people's challenges and needs.
The point here is that there are many resources you can use to help build a persona or a prototype persona to get you started.
Build Your Web Persona
The main difference between a marcomm persona and web persona is understanding a person's behavior while using a digital product, such as a website or app. Some questions you'll want to ask are:
What are they looking for?
What kind of technology do they use currently?
What are their goals when using your product?
What are some frustrations when using the product? Information could be missing or hard to find.
What are some preferred channels?
What is their ideal experience when navigating your site?
When moving from a marcomm persona to a web persona, you may also see a difference in demographics and technology comfort. For example, an engineer just starting in their career may be more apt to begin researching online first as opposed to a more seasoned one, who would prefer to contact their representative.
Research Basics
Similar to creating marcomm personas, there's a well of resources you can use to help build your web persona.
Placing an intercept survey on your site is a great tool for understanding a person's role and what they came to your website to accomplish. Whereas Google Analytics and HotJar provide data that may guide UX, content strategy, UI and design decisions. Google Analytics is great for looking at what pages are performing well or where bounce rates are high and paths users take while navigating. HotJar uses heatmaps to display where people are clicking on a page. They've also got video recordings that show you how a person interacts with content on a page. This is all great information to harness, particularly when creating your information architecture, but it can also influence your web persona.
The best form of research are interviews with actual people — your target audience. When conducting interviews for your marcomm persona, you want to sneak in questions about their online behavior. Things like where they go for content, what types of content are most helpful, where the research process starts or what technologies they currently use. This is such an important part of the interview process, so don't leave out those questions!
Difference Between Marcomm and Web Personas
Scroll to view comparison
| Marcomm Persona | Web Persona |
| --- | --- |
| Backstory: short description of the person and their role | Backstory: short description of the person and their role |
| Profile Info: education, job title, age | Personality and Archetype: brings the person to life and helps you understand their motivations |
| Wants/Frustrations of Job | Challenges/Frustrations of the Digital Product |
| Goals: high-level as it relates to their job | Goals: what they're trying to accomplish with the digital product |
| Content Preferences: not restricted to online like trade shows | Content Preferences: strictly online |
| Activities: as they relate to job responsibilities | Motivations: as they relate to achieving work goals through personality traits |
| Influences | Online Behaviors: interest in |
| Information Resources | Technology Expertise: what programs they use |
| | Key Features: what they would like to see with the digital product |
| | Ideal Experience: with the digital product |
Example of a marcomm persona.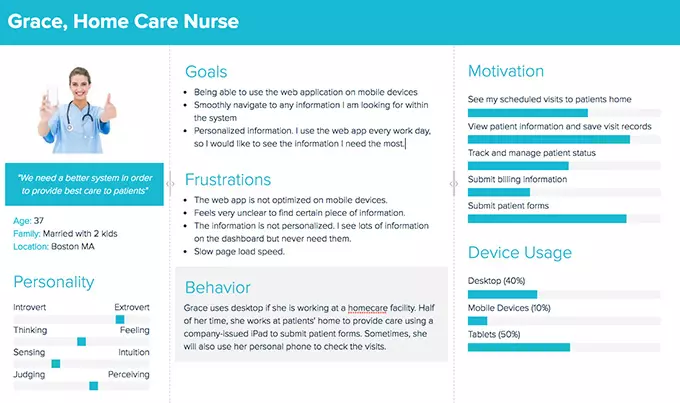 Example of a web persona.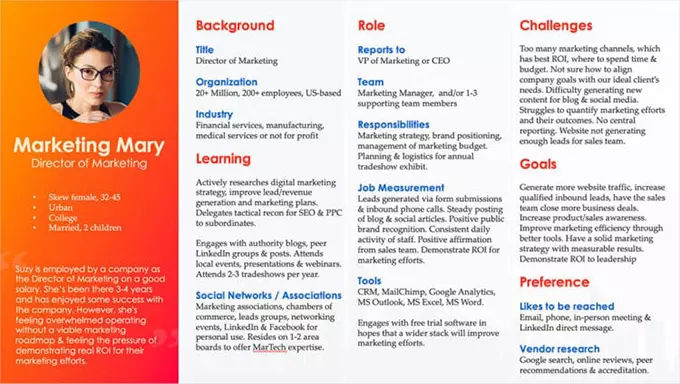 Wrap It Up!
After you've created your web persona(s), you'll use them to inform your content strategy and related UX tasks, such as developing information architecture, user scenarios, design and user testing. These are resources your entire team can refer back to time and again.
Be an advocate for creating web personas. And if you need to create them using secondary research, then dive in and do it. Your users (and your final product) will thank you for it!
Take It From Us: Insights From Our Strategists
We've called in two of our experts to talk a little about their experience using personas and get some tips.
Donna Harris, senior strategist, frequently creates and uses marketing (marcomm) personas to help inform brand strategies, messaging strategies and all facets of marketing campaigns.
Jenn Vitello, UX and content strategist, creates and uses web personas for digital products, such as websites and online tools.
Why are personas so important?
Donna: After working in B2B marketing for many years, it's easy to make assumptions based on historical data. Conducting customer interviews gives you insight into real-world challenges, as well as wants and needs from the target audience's perspective.
Jenn: They make the difference between a product that really shines versus one that could fail miserably. If you don't know who you're building something for, then how do you know you're creating the right product for that audience set?
What do you do when you've got a project with no persona and no budget or time to create one?
Donna: We have an insight library that I can use as a starting point. Then I get creative — talk to personal friends in the field, check out their LinkedIn profiles, wherever I can go to put myself in their shoes and look at things from their perspective.
Jenn: That's a tough pill to swallow, particularly if you've really made a strong case. In that instance, I would do some light recon. If a marketing persona exists, then look to see if you can expand on that. Contact friends and family who are part of your project's demographic and ask them a few questions about their online behaviors, goals and motivations.
How have they helped you?
Donna: I'm a big believer in tools like personas to help you and your team make informed decisions.
Jenn: Web personas have been tremendous during the creation of information architectures. I like to test out my draft site maps with users and prior to doing that, I need to have user scenarios and some tasks. A lot of the information that goes into those scenarios and tasks can be found within the web personas. They really help put me in the mindset of the user and think through the user journey.
Have any advice for people getting started?
Donna: There is a lot of data available at your fingertips, like analytics, keyword performance data, even competitor sites. By combining qualitative and quantitative data, you can craft informed, targeted questions when you get the opportunity to speak with your target audience.
Jenn: Crowdsource your information, especially if you're a marketing department of one. It's helpful to reach out to others and pick their brains. Record your conversations, jot down notes. It's amazing what you learn when you're able to talk to people, even just for 10 minutes, about their digital behaviors. People are usually really willing to share their experiences. At the end of the day, all you can do is the best you can with what you have — and that's absolutely better than nothing!
Donna Harris - Director of Strategy
Donna is fascinated with industry trends and market research. She supports account teams with insight and strategic planning and thrives on conquering challenges that keep clients up at night.
Godfrey Team
Godfrey helps complex B2B industries tell their stories in ways that delight their customers.