Blog Post
B2B writing doesn't have to be boring
Publish date: Dec 15, 2015
|
Reading time: minute

s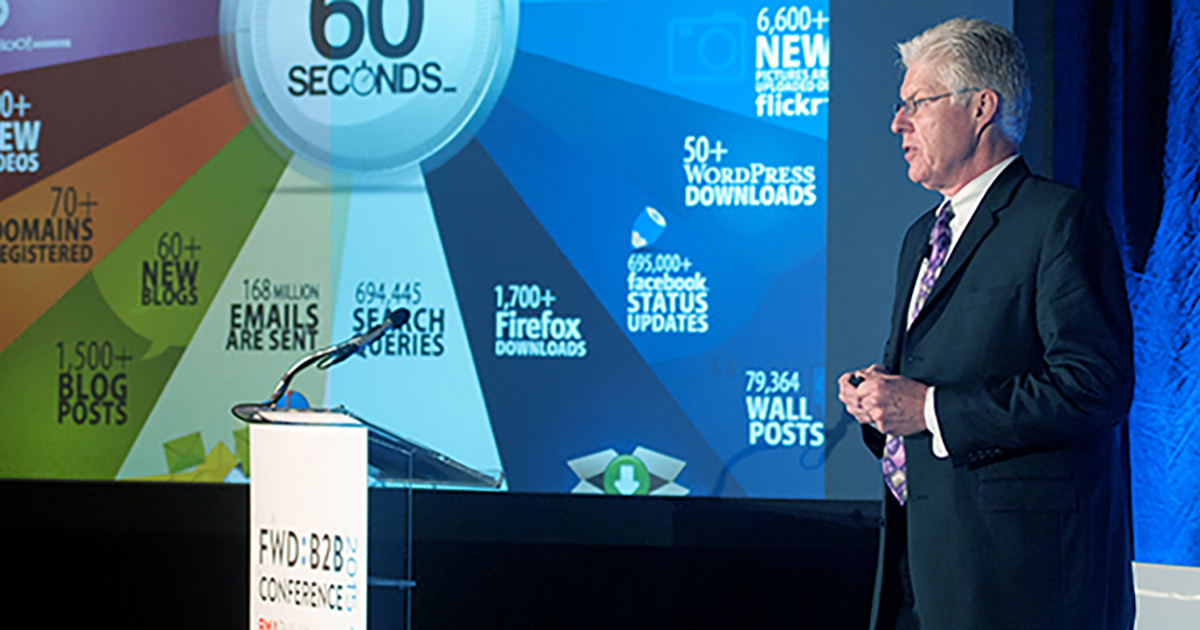 Writing is both my profession and my passion, which means I have a love/hate relationship with the Web.
On the one hand, the Internet has unleashed creativity at an unprecedented scale, giving everyone the means to publish. But it's also become an open and bottomless dumping ground for repetition, sloppiness and just plain bad writing.
At the Godfrey FWD:B2B Conference last month, I made the case for why brevity, originality and focus are even more important on the democratized Web than in print. So much content washes over us each day that only the most remarkable topics and approaches merit our audience's attention, likes and shares.
Start by understanding your audience, not just as demographic statistics but as people. Titles and budgets don't drive purchasing decisions; emotions do. Understand what motivates your reader and half your job is done.
Speak to your readers as people, not as job titles. Write in first person, let personality come through and empathize with their problems.
Adopt these six techniques to customize your message for social media:
Write in the language your readers use, and speak to the problems that keep them awake at night. Talk about solving their problems, raising their status and getting them home earlier from work.
Vary your angle. This image shows 20 different approaches you can take to writing about any topic. You should never run out of ideas.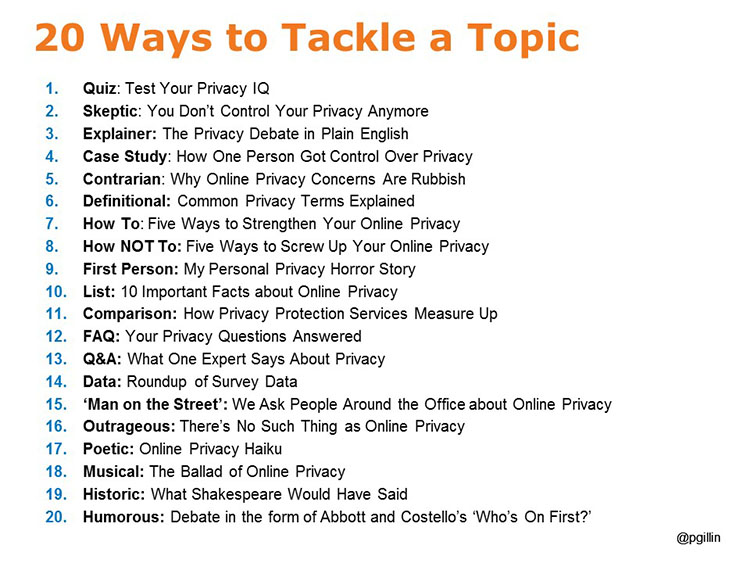 Write for the platform. Cross-posting identical content is lazy and insults the audience. Hash tags and @usernames have their place, but not in LinkedIn groups. Know the culture of the community you're addressing.
Write short. Just because there are no length limits on the Web doesn't mean you can't have your own. Delete empty words. Make a New Year's Resolution to expunge "innovative," "industry-leading" and "groundbreaking" from your vocabulary. You do your readers a favor when you save them time by using only words that mean something.
Write in pictures. Two-thirds of people are visual learners, so give them words that connote images. Use active voice and seek out offbeat words that surprise and delight. Make it a goal to use prose that stops readers in their tracks or makes them laugh out loud.
Read Cosmo. It does so much right. Women's magazines have competed for years for the attention of distracted audiences. They've learned a few things along the way about how to provoke readers to invest time and money in reading what they have to say. Learn from them.
B2C marketers get all the glory, but B2B writing can be fun and provocative, too. Share some examples here of words that made you stop and take notice.
Godfrey Team
Godfrey helps complex B2B industries tell their stories in ways that delight their customers.