Blog Post
Set Your Content Free with Intelligent Content
Publish date: Mar 31, 2016
|
Reading time: minute

s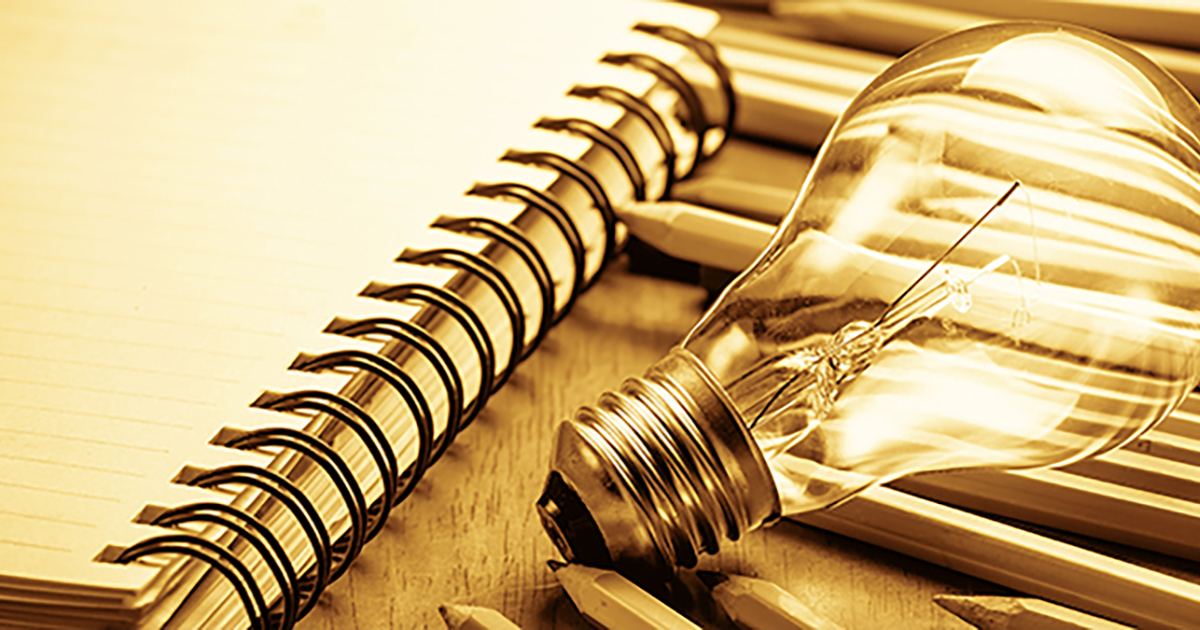 Treating content as a business asset. Creating new content from one original source. Maximizing the effort you put into creating one piece of content so you see returns long after it's been created. This concept, my friends, is content efficiency at its finest. Or, more formally, and as some of you may have come to know it – intelligent content.
Treating content as a business asset. Creating new content from one original source. Maximizing the effort you put into creating one piece of content so you see returns long after it's been created. This concept, my friends, is content efficiency at its finest. Or, more formally, and as some of you may have come to know it – intelligent content.
Ann Rockley, along with The Rockley Group, coined the term and the practice. Rockley defines intelligent content as content that's designed to be modular, structured, reusable, format-free and semantically rich and, as a consequence, discoverable, reconfigurable and adaptable. (The Rockley Group has even created an entire conference around the subject. The Intelligent Content Conference (ICC) is a 3-day event dedicated to educating marketers on better ways to create, manage and deliver content. This year's event, which took place a few weeks ago, did not disappoint!)
Intelligent Content 101
It's not uncommon to hear that companies let content sit stagnant, either never seeing the light of day or just getting a one-time use. It's also not uncommon to hear that most companies don't have a documented content strategy to assist in the development of content. So where does the practice of intelligent content fit into the equation?
The intelligent content approach is about stripping content down to its barest form – think about it as pieces of information that can be reassembled and reconfigured for any purpose or platform. It works seamlessly in conjunction with your (hopefully by this point) documented content strategy and content marketing plan.
While it's crucial to know who you're talking to, what topics are important to your target audience(s), what types of content are relevant and where you're promoting it, you need to think about assigning structure to the actual content you're creating.
When you start to integrate intelligent content into your marketing efforts, you're opening the doors to content nirvana. (And who doesn't want to achieve that?!)
You're allowing your audience to more easily find content.
You're able to customize, personalize and deliver it via multiple channels.
And best of all, you're making the most out of each piece you create.
However, I don't want to get ahead of myself. Let's take a step back and really examine the meaning behind the practice of intelligent content by breaking down Rockley's definition.
Deciphering the Intelligent Content Definition
The first half of Rockley's definition describes the characteristics and how to think about content in its purest form when you start to apply intelligence to it.
Modular content is flexible. Think of each paragraph as a chunk of information. You can take that chunk and reuse it independent of its original form.
Structured content serves a dual purpose. You want your content to be easily readable for your audience, but also for machines because it's the technology that's going to make the most of your content. The structure is there to help the authors write. And it helps machines push it out in different formats and to different channels.
For example, when you assign a white paper some structure, you're looking at the content and identifying what's a teaser, introduction, pull quote, etc. Then, you can create new pieces of content from that original piece (like a case study, blog post or infographic). It all depends on what makes sense for your target audience and your content marketing plan. But, the fact that you've set yourself up to reuse that original piece of content also means you're reducing costs to create multiple pieces of content and making the most out of your resources. Do you see where I'm going here? The possibilities are endless!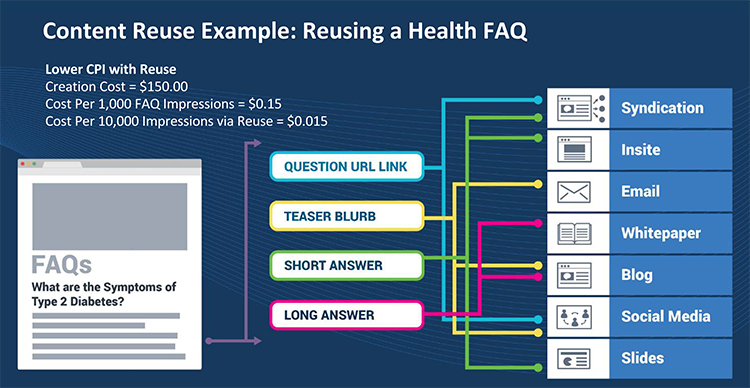 When you take an original piece of content, like these FAQs, and assign it with structure—the teaser blurb, short answer and long answer—you can see how that structure can be applied to create new pieces of content like an email, white paper, blog post, etc.
Photo credit: Cruce Saunders, Founder & CEO,
Simple A
Reuse takes the structure you've created and allows you to develop new pieces of content. When reusing content, it's important to be consistent with what you're developing and where you're placing it, so be sure to have an internal process in place.
Format-free content doesn't have any embedded formatting. Remember the part about structured content needing to be readable by machines? It's for this reason. When your content is format-free, your chosen technology solution (like a digital-asset management system, which provides a central location for you to store, manage and share files) can automatically prep your content for any device or channel.
Semantically rich content includes metadata that describes what the content is and what it's about. It's what helps machines decipher the structure you've put in place, enabling the content to be accessible and reusable.
The second half of Rockley's definition speaks to the implementation side of intelligent content.
Discoverable content means that technology utilizes the semantics you've assigned to your content to deliver exactly what your audience is looking for, whether it's on your website or for internal purposes, like your intranet. So, if you're using Epicurious' app and want to find vegetarian recipes because you're having company over with dietary restrictions, you can return results specific to appetizers or entrees meeting that search criteria.
Reconfigurable content takes your content modules and allows users to display it according to the way they want to see it. For example, if you're searching for women's handbags, you may want to display a certain style, like a tote so you have the ability to filter out other options like crossbody bags. And if you've found the tote that you like, you may want to narrow the results even more by color or size. When you've structured your content, it gives you the ability to reconfigure it to meet the user's needs.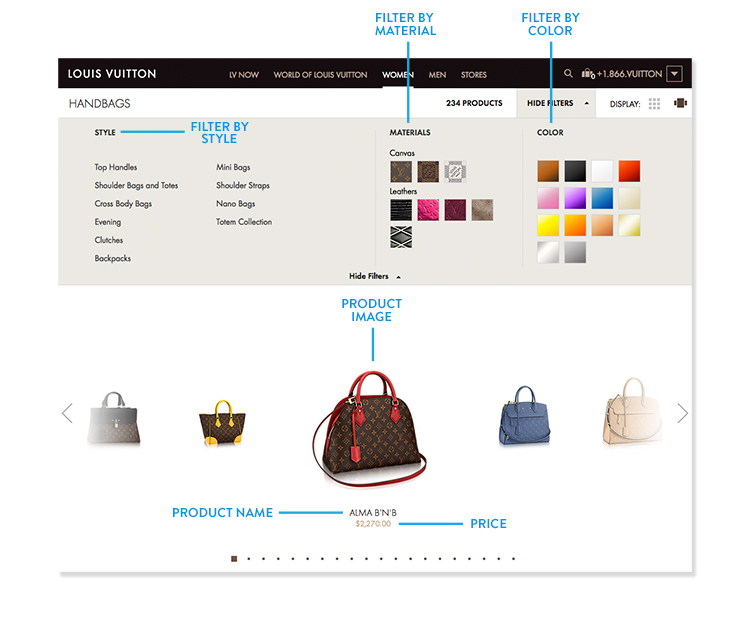 When content is tagged with specific metadata, as shown in this Louis Vuitton handbag example, users are able to filter and sort with ease, based on exactly what they're looking for to make a purchase. The content is easily reconfigurable based on the parameters the user is setting, thanks to well-structured content.
Photo credit:
LouisVuitton.com
Adaptable content is ensuring that your content is flexible, adjusts to any device and takes other factors into consideration, such as location or time. The point being, when your content has structure and metadata, it's ready, willing and able to give the user what they need, when they need it and where they need it.
Now that you've got a better understanding of intelligent content, it's time to start thinking bigger. Consider your own assets. According to the B2B Content Marketing 2016: Benchmarks, Budgets, and Trends – North America report from Content Marketing Institute, 72 percent of B2B marketers are focused on creating engaging content and 76 percent plan on producing more this year. Are you one of those marketers? How are those efforts going so far? How can you begin to take steps to treat your content as a business asset?
Intelligent content is all about future-proofing your content. As technologies continue to grow (think wearables and VR and beyond), you want to make sure you're setting your company and its assets up to move with the times – in a very seamless, efficient manner. Intelligent content can help you along the way. Are you ready for it? You can't afford not to be.
Godfrey Team
Godfrey helps complex B2B industries tell their stories in ways that delight their customers.