Blog Post
Five Megatrends Impacted by COVID-19
Publish date: Jul 17, 2020
|
Reading time: minute

s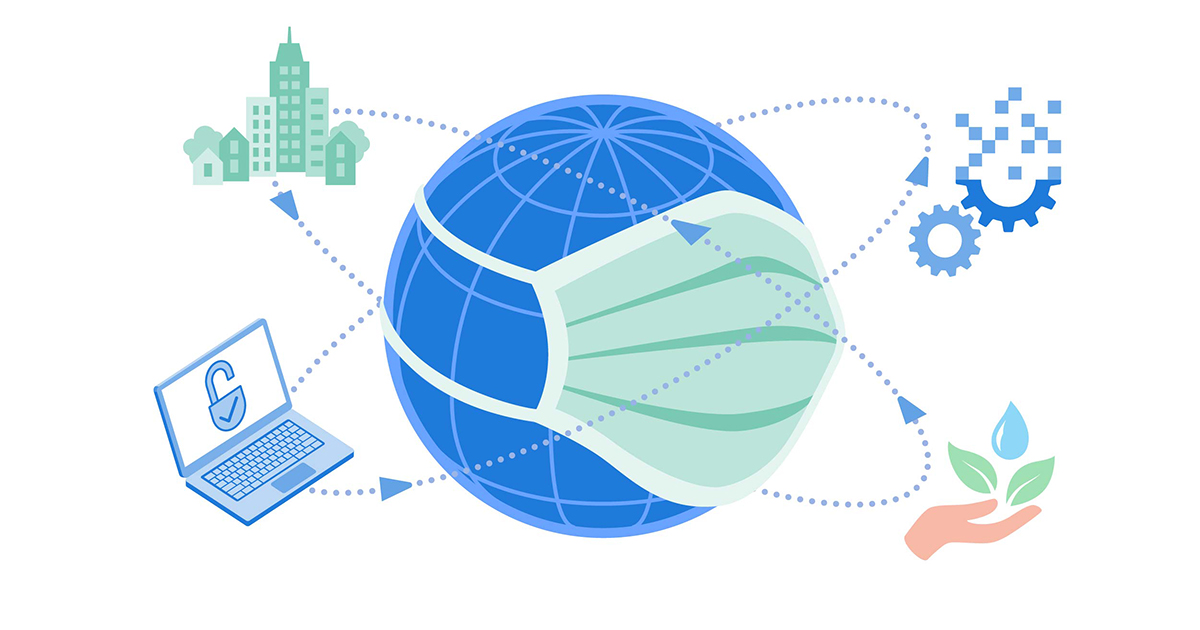 In this unprecedented year of change and uncertainty, it's time to take a closer look at how B2B companies can capitalize on the new normal.
In just a few months, the world has become an entirely different place. Predictions from analysts and futurists for the global economy in early 2020 have become completely dismantled. The COVID-19 pandemic has businesses scrambling to remain relevant and sustainable as the entire world struggles to adapt to our new normal.
Not to be overlooked is the impact COVID-19 has made on global megatrends. This article will review five industry megatrends — globalization, urbanization, digital transformation, cybersecurity and sustainability — and how their relevance has and will change in the wake of this unprecedented crisis.
Globalism vs. Anti-Globalism
The pandemic has prompted a new wave of "globalization obituaries," forcing many international companies to go dark — either temporarily or permanently. However, new forecasts predict a world that gives both globalization and anti-globalization a place in the new business environment.
With the fear of international travel and the disruption of supply chains, some brands are shifting to anti-globalism by vertically integrating local supply chains and ensuring products that are "Made in the USA" are also made from domestic parts. As a short-term solution, this may provide a positive spin on boosting the national economy, but business must also ensure it is both sustainable and profitable.
On the flip side, a pandemic-induced shift could also strengthen globalization — as long as companies are not thwarted by protectionist policies. Cross-border e-commerce can help expand export opportunities — especially for smaller companies. In addition, new work-from-home policies could spur the need for outsourcing additional products and services.
Rethinking Urbanization
The COVID-19 pandemic has already significantly altered urban life. The number of people commuting and traveling for business has dropped to astonishingly low levels. Working from home is the new normal for non-essential businesses and companies who can sustain it. These changes have sparked a debate about how cities should be built or rebuilt and — perhaps more importantly — how they can better respond to current and future crises.
Post-COVID-19 urban planning will need to focus on both new construction and retrofitting to support essential needs, including:
Access to Core Services - Today, many cities lack access to basic services, such as water, housing and health care, to keep citizens healthy and productive. Cities must invest in closing this urban divide by providing equal access to these vital services.
More City/Regional Collaboration - The economic effect of this crisis impacted supply and production chains in both cities and regions, which then rippled out into global networks. A push for more integrated city/regional planning around economies, energy reserves, transportation and food production will bring both a broader and different set of stakeholders to the table and help create a stronger coalition for change.
Integrated Infrastructure - Cities should embrace a more holistic approach to planning, combining gray, green and blue zones that support a healthier lifestyle, better water management, climate adaptation and mitigation strategies.
These efforts will require collaboration between government officials as well as industry partners in construction, energy and transportation to help create smarter cities that offer a healthier, more sustainable solution for urban spaces.
Accelerating the Inevitable
Even before COVID-19 struck, traditional supply chains were already viewed as antiquated. The pandemic is forcing manufacturers to move quickly towards an integrated digital solution that is more agile and adaptable.
This fast-tracked transformation will take a multipronged approach. According to Forbes.com, there are five keys to digital transformation:
Creating a digital thread at the very beginning of the innovation process and maintaining it to the end of the product's life cycle.
Finding supply chain partners that are digitally native and can offer the choice, agility and resilience manufacturers need.
Ensuring companies have the right digital tools to manage their unique supply chain.
Requiring both the manufacturer and its suppliers to have a digital transformation strategy in place.
Embracing the digital twin, automation, robotics, additive manufacturing and artificial intelligence as technology building blocks.
Regardless of the motivation for selecting a specific supply chain or manufacturing solution, it has to be digital. Companies that are quick to adopt digital practices will find themselves ahead of the curve as the global economy begins to reopen.
Next-Level Cybersecurity
According to Security Magazine, 70% of organizations plan to increase cybersecurity spending following the COVID-19 pandemic. With nearly half of Americans now working from home — and many companies, including Facebook and Google, planning to keep it that way — the increase of online threats is forcing companies to take a closer look at their cybersecurity plans. This creates new opportunities for the security market to protect businesses from a growing number of cybercriminals targeting homeworkers with phishing attacks.
The effectiveness of cybersecurity is the common denominator for industries that rely on universal connectivity. In other words, cybersecurity is the lynchpin that will determine the pace of deployment and proliferation of connected technologies in the wake of COVID-19.
In addition to cybersecurity, building automation will also play a key role in helping workers safely return to their businesses. In addition to providing contactless security through remote access controls, building automation systems can also help enhance ventilation by controlling IAQ based on occupancy levels.
Greater Focus on Sustainability
With all the dark clouds of uncertainty hanging over the pandemic, one ray of light is the significant reduction in global NO2 and CO2 emissions, offering a glimpse into what even a short-term reversal in climate change can look like.
In the aftermath of the pandemic, it is predicted that climate agenda and policies will continue to move forward. The shift to a low-carbon economy, alongside the rise of digitalization and the Internet of Things, will impact a variety of industries, including oil and gas, mining, automobile, agriculture and infrastructure.
Global sustainability efforts will continue to move the needle towards a healthier planet. Organizations such as the Ellen MacArthur Foundation are calling for a more resilient, circular economy to help reduce human exposure to a variety of environmental risks in the wake of this global pandemic.
Keeping a Watchful Eye
While it may be too early to predict what the future holds in a post-COVID-19 world, these industry megatrends remain as relevant as they were prior to the pandemic. Some have been modified, amplified or accelerated in an effort to get the global economy back on track as we reimagine how to conduct business safer, smarter and with greater confidence.
Godfrey Team
Godfrey helps complex B2B industries tell their stories in ways that delight their customers.