Blog Post
A Focus on Building Materials and Systems
Publish date: May 05, 2015
|
Reading time: minute

s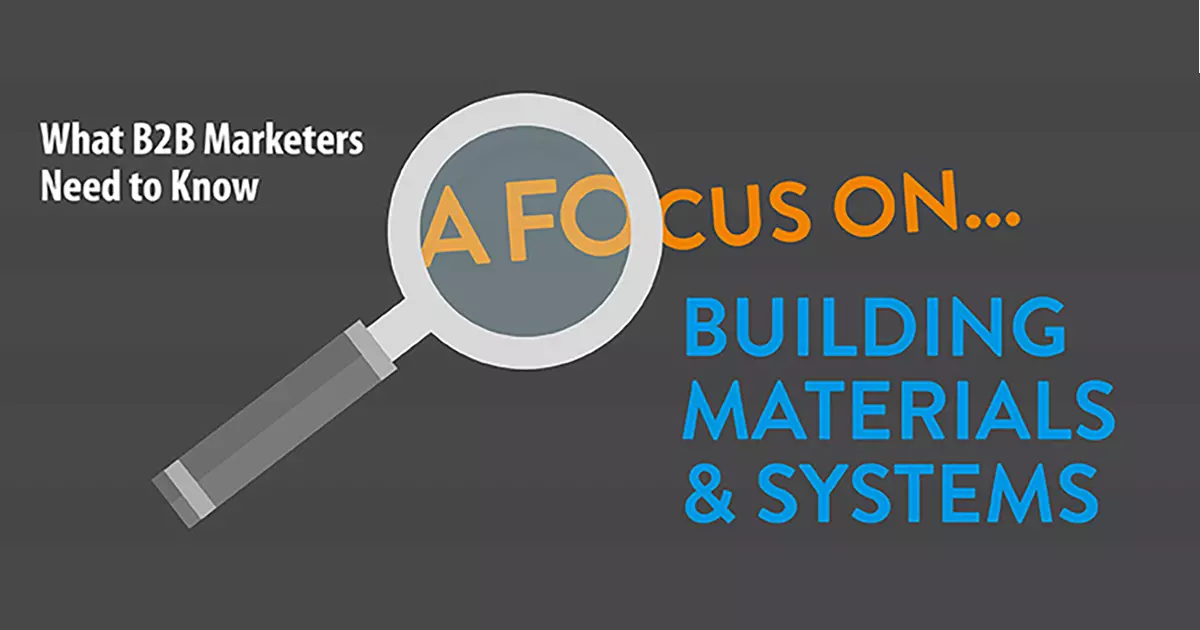 Welcome to our next installment of the industry series called "A Focus on … What B2B Marketers Need to Know." In it, we'll delve into trends within specific industries we serve and our thoughts on how these trends could impact marketing strategies.
In this edition, account planner Donna Harris shares her insights on how companies can market their building materials and systems. With over 25 years' experience in both agency and client side marketing, she uncovers key insights from major trends, competitor actions and voice of customer interviews to help develop effective marketing communications strategies.
Q. The concept of design-build continues to grow within the construction industry. How does that trend affect marketers of commercial building products?
A. Whether you're selling exterior wall panels or flooring materials, you're probably acutely aware of the design-build process which creates a streamlined, unified flow of work from initial concept through completed construction. The design-build team works under a single contract with the project owner to provide both design and construction services.
If you're the marketer of manufacturing building materials or systems, you'll want to start using the language of design-build in your marketing materials so that your message resonates with your intended target audience. Ultimately, you're going to want to build trusted partnerships with design-build contractors and/or design-build architectural firms to have your products spec'd into the bid.
Q. Speaking of audience, architects are often the ones who can get certain products specified. What's the best way to reach this group of professionals?
A. Successful marketing is all about getting the right message in front of the right people at the right time. With architects, the key is knowing what they are looking for: knowledge. The more you can educate them about your product, the more successful you'll be. According to a recent white paper by Architizer, "When architects are ready to specify a product, nearly 75 percent of them say they turn to the web over magazines or trade shows to seek out what they need." In another report, McGraw Hill Construction Special SpecReport cites that the top two information requests are for recommended uses and applications, and guide specifications. 
To move them forward in the buying journey, you'll want to employ a more hands-on approach. Whether through lunch-and-learns, visits to their offices or going to trade shows, these types of one-on-one sessions are most effective.
Q. Has the demand for environmentally friendly building materials peaked?
A. No, in fact, it's still growing. Between government regulations, the 2030 Challenge to lower greenhouse gases and the desire to earn LEED certification, demand for green products is forecasted to grow 11 percent a year to reach $86.6 billion by 2017.
Q. How can a marketer of building materials capitalize on this continued trend?
A. If you offer a green product, make sure it's part of your packaging, spec sheets and related collateral. Be transparent in what ingredients you use and manufacturing processes you follow to make your products. Also, knowing how your product contributes to LEED points is key—make sure you share that information in your literature and on your website.
Q. It seems as if more and more natural disasters are occurring each year and total reported losses are growing. How can manufacturers of building materials address this concern?
A. First of all, be knowledgeable about what's called "resilient design." This is the intentional design of buildings, landscapes, communities and regions in response to vulnerabilities, usually in larger urban areas. Familiarizing yourself with these principles and strategies will aid in your understanding of resilient design. And then you can start using appropriate language in your case studies and other collateral materials.
Q. Another type of design buzz phrase that's been around is "evidence-based design." Is this only applicable to the healthcare industry?
A. Evidence-based design definitely came to life within the healthcare environment. Studies have found that the physical environment can influence well-being, promote healing and reduce stress. More recently the philosophy behind this type of design is expanding into non-healthcare facilities such as education and retail spaces.
If you're marketing products for these verticals, understanding the principles of evidence-based design and using that language in your messaging can put you at the forefront of this movement in non-traditional spaces.
Godfrey Team
Godfrey helps complex B2B industries tell their stories in ways that delight their customers.