Blog Post
A Focus on Lubricants and Metalworking
Publish date: Mar 10, 2015
|
Reading time: minute

s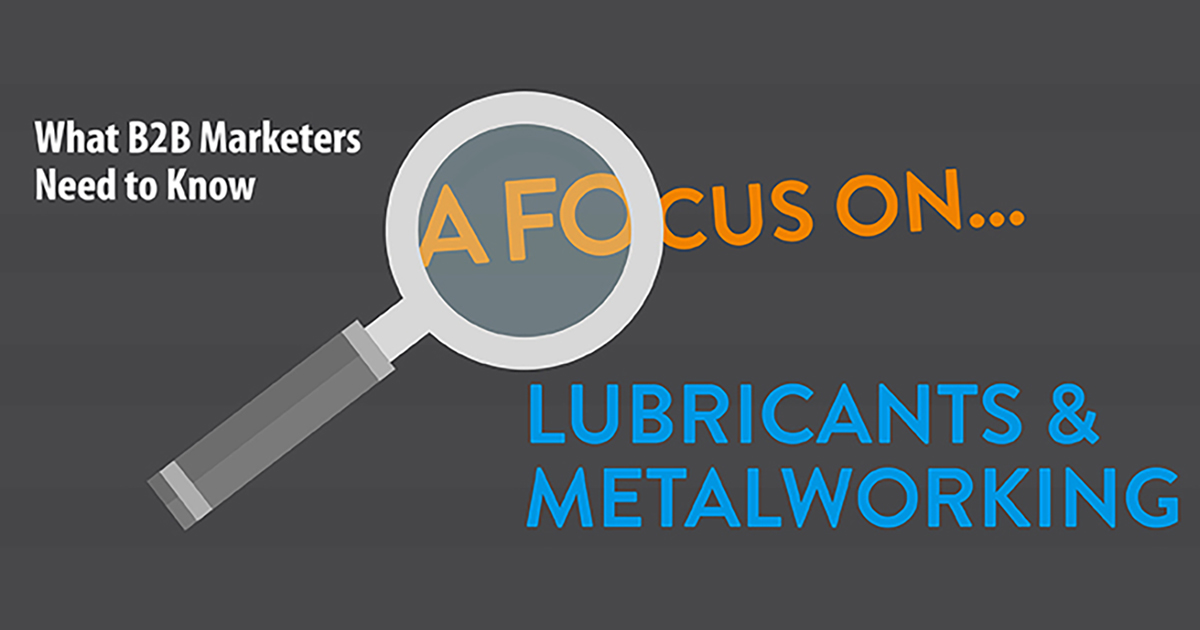 Welcome to our next installment of the industry series called "A Focus on...What B2B Marketers Need to Know." In it, we'll delve into trends within specific industries we serve and our thoughts on how these trends could impact marketing strategies.
In this edition, account group manager at Godfrey, Erin Michalak, shares her perspective on the lubricants and metalworking industries. With seven years' experience in these specialized industries, Erin directs highly relevant, strategy-driven programs.
Q. What's the current state of the lubricants industry and where do you see growth opportunities?
A. Overall in recent years, the industry is seeing a slow rebound. The areas with the greatest growth potential seem to be in industrial oil/metalworking fluid applications. Though the lubrication market is dominated globally by a few major companies, there is opportunity for smaller players—whether suppliers of base oils or additives—to gain market share. To cultivate new business as a supplier, you'll want to stay current on the latest government regulations and take the time to immerse yourself in the industries you're looking to serve—what the pain points are, where future opportunities are and how your products will help make their operations run more efficiently.
Q. How can marketers work to engage prospective customers?
A. It's important to understand your audience. Generally, they and their companies don't want to be the pioneer when it comes to, for example, using a new base oil. The potential risk of a new formulation not performing as planned can have significant consequences. Downtime is to be avoided at all costs. Therefore, formulators/blenders want every assurance possible that you'll be able to consistently meet their supply demands and that your product will help them achieve their desired results.
Industry-specific application data is key. Customers want to know your product will work as you claim within their unique processes. Case studies that clearly illustrate the challenge, the solution and positive results are highly impactful and can help get you to an initial dialogue.
If your product is not currently being used in a specific application and you don't have industry-specific success you can point to, immerse yourself in understanding the market. Uncover what's going on and pay attention to the voice of the customer. In the absence of hard data, you can use this knowledge to demonstrate your commitment to understanding the customer's business. Then you can work collaboratively with them to find effective solutions. We've seen one of our clients in the lubrication business use this approach very successfully to break into the textile industry, a new market for them.
Q. Is there a recommended messaging strategy for talking about product performance?
A. It all depends on the industry and application, but today's lubricants need to offer a range of performance qualities—from corrosion protection and oxidative stability to viscosity index and lubricity. In addition to providing data regarding these properties, it could be beneficial to turn the conversation toward the additional value your products offer such as reducing formulation costs and/or increasing productivity.
If your product costs more than what formulators are currently using, frame your message around "life cost" vs. "first cost." Then you can address issues such as reduced insurance costs if your product reduces the health risks over a currently used lubricant. Or talk about how your product reduces unplanned equipment downtime. Researching and understanding your customers' challenges and your products' unique benefits will help you develop the right message.
Erin Michalak - Senior Vice President, Partner
Erin leads a team of account managers and strategists in directing highly relevant, strategy driven programs. With years of client-side experience, Erin naturally understands the challenges our clients face and the results they expect and need.