Blog Post
A Focus on Material Handling & Logistics
Publish date: Jan 30, 2015
|
Reading time: minute

s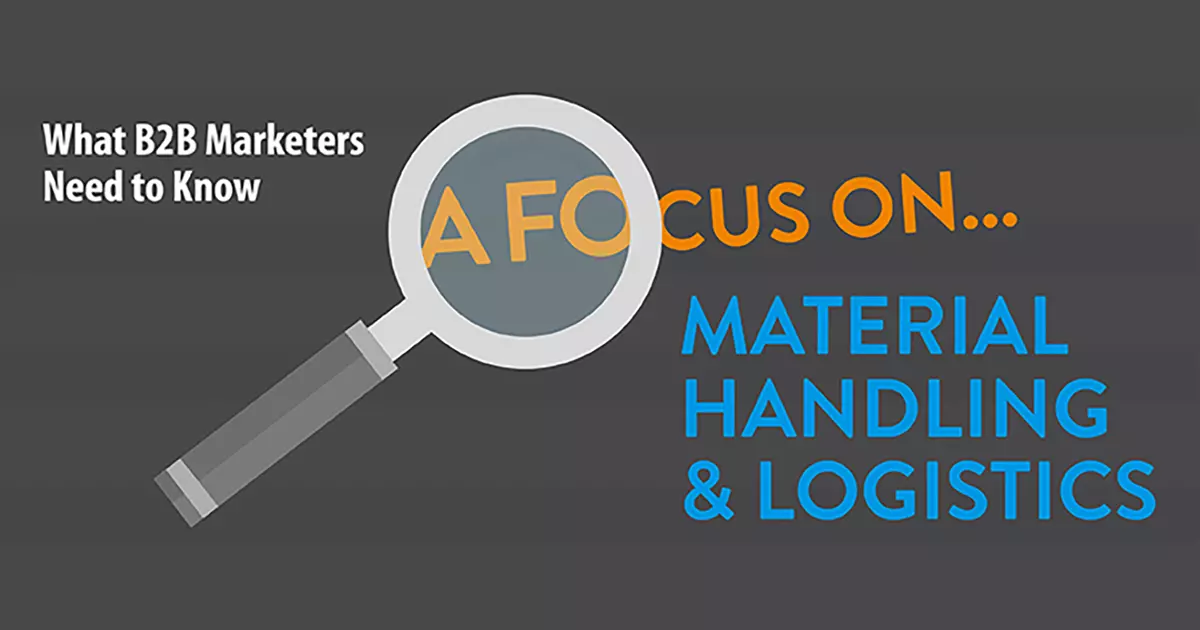 This is the first post of our new industry series called A Focus on...What B2B Marketers Need to Know." In it, we'll delve into trends within specific industries we serve and our thoughts on how these trends could impact marketing strategies."
In this edition, executive vice president and partner at Godfrey, Russ Green, shares his perspective on the material handling and logistics market. With 30 years' experience helping marketers within these industries reach their target audiences, he explains how industry advances are shaping the way companies should speak to their potential customers.
Q. Automation. Interoperability. Mobility. What's driving these technology trends?
A. When it comes to shopping and shipments, today's consumers want it all. And they want it delivered on a specific day, sometimes at a specific hour. These consumer demands are driving supply chain innovation in the B2B world, making this an exciting and challenging time to be in the business.
The expansion of automation, interoperability and mobility within the material handling and logistics industries allows businesses to harness the power of information. Now workforces can know what they need to know, whenever they need it, wherever they are.
While some associated technologies including barcoding, RFID and image scanning have been around for a while, historically they were only employed by leaders in the industry. But now automation and mobile supply chain applications are becoming increasingly common at companies of every shape and size. 
Q. How do these advanced technologies impact the marketer?
A. Though more common, mobile and machine-to-machine (M2M) technologies are still in the early stages of supply chain adoption. Because of this, there is an overall shortage of qualified talent. If your business is on the M2M or mobility forefront, you have the opportunity to position yourself as an expert. Move beyond product-only messaging to one that communicates a total solution—whether that includes application and maintenance support or training and ongoing consulting.
Q. Speaking of technology, how is "big data" impacting the industry?
A. In the supply chain, data is everything. Businesses that invest in the latest analytic tools and techniques are able to process information from a wide range of internal and external sources. This information produces actionable insights that help reduce costs and risk while improving operational agility and service quality.
Per MHI's U.S. Roadmap for Material Handling & Logistics, analytics is the top strategic priority for supply chain executives. Nearly 80 percent view it as "very important" or "moderately important," with most companies planning to increase their analytics investments.
Q. When it comes to analytics, where is the marketing opportunity?
A. If you're a provider of such products or services, the opportunity is obvious. But even if your products or services only partially contribute to data collection, you have the opportunity to further tout the benefits of your technology in this way. For example, one of our clients is an industry leader at the device level but their contribution of data to the enterprise is beginning to take precedence in the decision-making process. By crafting your message to address how you help further data collection, you'll move ahead of the competition.
Q. So from hard-and-fast data to something a little less tangible: sustainability. It's been a hot topic in many industries for a number of years, what about in material handling?
A. It used to be that companies thought about sustainability strictly in terms of how it offered a return on investment for particular processes. Now more companies are seeing sustainability efforts as helping to increase overall brand value. That's good news for marketers. 
However, there are barriers to implementing sustainability programs in the material handling and logistics industry. Primarily these deterrents are financially driven—from an industry-wide focus on cost reduction to the difficulty in measuring the benefits of such programs.
Q. How can a company position itself with sustainability messaging? 
A. If your products or services address reduced energy usage, less environmental impact or other sustainability goals, you have a unique opportunity to position your business this way. Even more so if you can measure tangible cost-savings or operational efficiencies, given the cost sensitivities of this market.
Just as important is knowing which audience you're trying to reach. Generally, messaging around "sustainability" is most compelling to management-level audiences whether it's for brand-building, investor relations or community citizenship. But audiences at the manufacturing or technical level will want to hear more about practical goals such as reducing energy or raw material usage.
Q. With the pressure for businesses within the material handling and logistics markets to control costs, how can marketers demonstrate the value of their companies' products and services?
A. Though your potential customers are feeling the pressure to keep costs down, they also realize that they need to stay competitive by meeting consumer demands—and that means investing in products and services that move product more efficiently.
Think of it this way: Is buying your product a "cost" or "investment"? Is there an opportunity for you to demonstrate how your products or services improve performance enough to justify the investment? Phrases such as "lower total cost of ownership" or "lower lifecycle cost" could make your audience more receptive to talking with you by demonstrating the value of your products or services.
Godfrey Team
Godfrey helps complex B2B industries tell their stories in ways that delight their customers.