Blog Post
Branding Comes to B2B
Publish date: May 11, 2015
|
Reading time: minute

s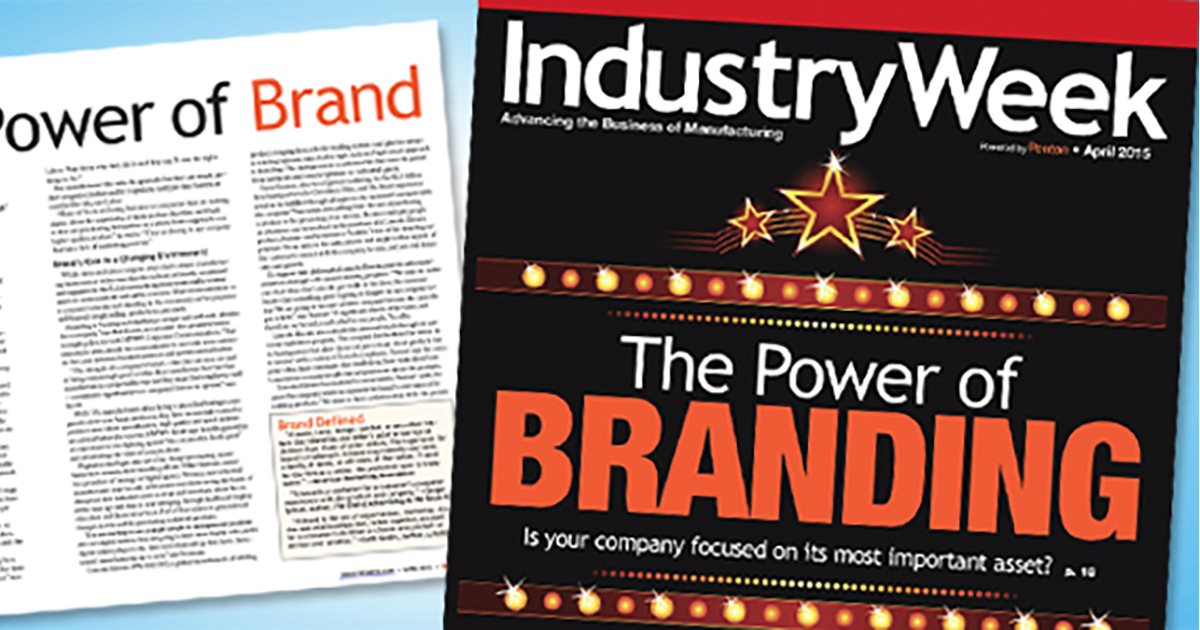 When B2B marketers apply the power of branding to their companies and products, the results can be amazing.
The cover of the April issue of IndustryWeek says it all: "The Power of Branding: Is your company focused on its most important asset?"
For an idea like branding to make the cover of this industry trade publication is proof that its time has come. In fact, its time came a few years ago; we've been doing a lot of B2B branding work recently.
But the world of B2B marketing was slow to embrace the concept of branding. Why?
Quite possibly because "branding" is so strongly associated with the B2C world, where there can be 80 brands of toothpaste with little or no difference in their ingredients, functionality or benefits and perceived differences are created by advertising showing attractive models and lifestyle imagery. In B2B, our products are real, with specific features and attributes, and they provide real, tangible benefits in real applications … why do we need fluffy stuff like branding?
But the power of branding is real. And if B2B marketers – and their managements – apply its power to B2B companies and products that are also real, the results can be amazing.
The IW article touches on several important topics, including:
The value of B2B brands (and the importance of applying branding methodology to them)
Why manufacturers and their marketing people may not be focused on branding
The importance of making branding a senior leadership concern
The view that the brand encompasses every part of the customer's interaction (experience) with the company and product
The role of internal communications so that every employee understands and reflects the brand
We go a little deeper on these topics in our on-demand webinar about B2B branding, along with how to build your brand starting with the customer and a look at typical B2B brand strategies ("branded house" and "house of brands"). Check it out. And if you like the overview, we'll be happy to dig in deeper with you.
Godfrey Team
Godfrey helps complex B2B industries tell their stories in ways that delight their customers.