Blog Post
Video: How to Choose the Right B2B Social Media Platforms
Publish date: May 24, 2019
|
Reading time: minute

s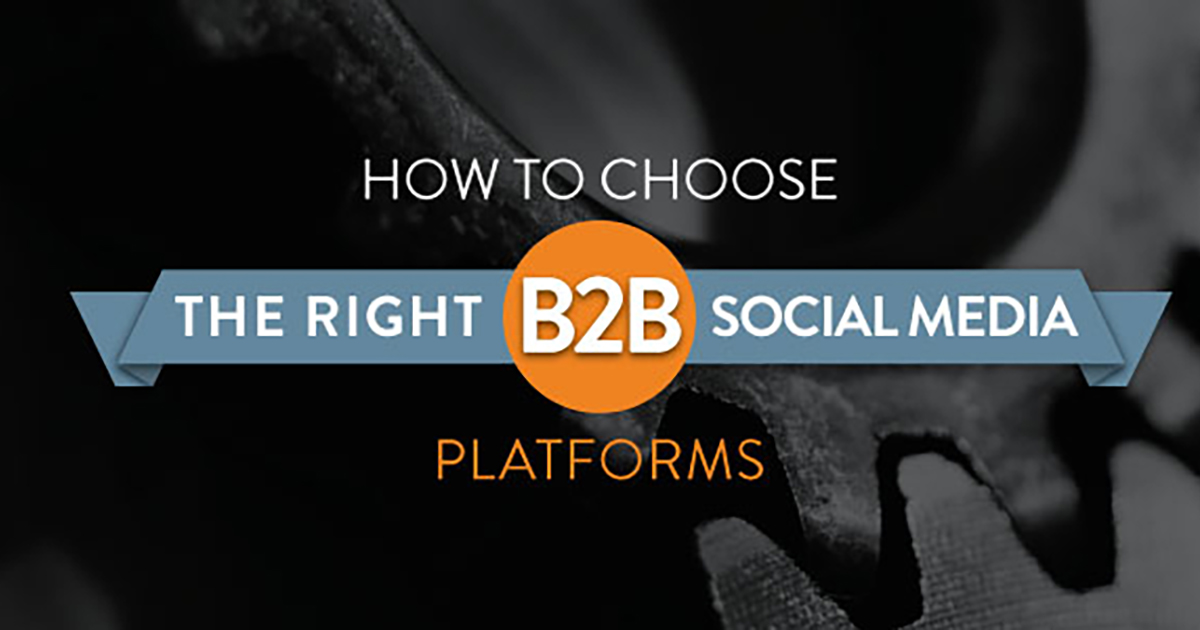 Not every social platform is useful or necessary for your business. Follow these simple steps to choose the right ones.
Facebook, LinkedIn, Snapchat, Twitter—how many other social media platforms can you name? New social platforms are born every day, but that doesn't mean they're useful or necessary for your business. When choosing a platform, the most important thing to remember is that B2B social media doesn't work the same as other media. Each platform has a unique audience that expects a certain type of experience. For you, that means different advantages, disadvantages, outcomes and metrics.
From tweets to links, shares to likes, social media doesn't have to be complicated to be successful. Download our guide for quick tips and key insights on making the most of your B2B social media presence.
Meet Your Customers Where They Are

The simplest way to decide which platforms are the right platforms is to understand the social media habits of your customers and prospects. But that doesn't mean just knowing the social platforms they use in their work lives. It means understanding their needs.
Ask yourself:
What information do they consider to be absolutely essential to their jobs?
Where (and how) do they obtain that information now?
What format do they prefer?
What new information would they consider useful?
Analyze the Competition

Studying your competitors is another way to choose a platform that will jumpstart your social media program. You may not need a full audit, but check out their pages to get a basic idea of what's working for them and what's not. See how many followers they've got so you can compare against your own channels. This will help you establish realistic goals and benchmarks. And while imitation is the purest form of flattery, it's not a good idea to simply rip off what a competitor is doing. Marketers are quick to recognize copycats.
Ask yourself:
How do their followers interact with their posts?
Which posts receive more likes, comments and shares?
Which posts perform poorly, with very few interactions?
What types of campaigns (hashtags, photo contests, etc.) do your competitors use?
Make the Most of Each Platform

Though each platform's content should follow platform-specific best practices, there are seven basic guidelines that are shared among them all. When creating your social media strategy, start with these rules.
Clearly identify the audience: Know who you're talking to and what they want.
Create at least one buyer persona: Reference this while creating posts to ensure your content is relevant.
Outline your objectives: Add a call-to-action that answers the question, "What do I want my audience to do because of this post?"
Develop a content strategy: Ensure your content aligns with the customer journey.
Make sure you have a content hub: Point followers to a website or blog where they can learn more from you and about you.
Identify your major pieces of content: Know what you have and what you'll need to develop from scratch.
Measure success: Identify key metrics, whether it's more followers, increased engagement, new leads or something else.
Want more helpful tips like these? Download our B2B Marketer's Ultimate Guide to Social Media and get started today.
Godfrey Team
Godfrey helps complex B2B industries tell their stories in ways that delight their customers.