Blog Post
Considerations for Planning a Virtual Editor Webinar
Publish date: Oct 02, 2020
|
Reading time: minute

s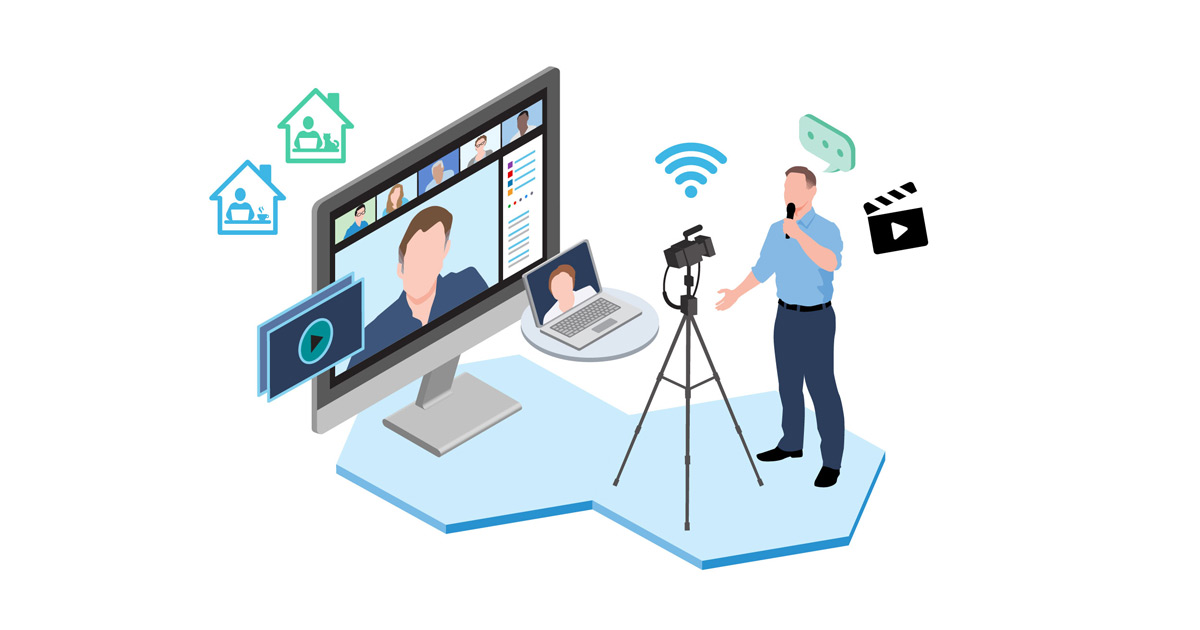 Use webinars as a tool to interact with your targeted audience, and build ongoing relationships with key trade media — virtually. Here's how.
Hosting webinars isn't new. In fact, according to MarketingProfs, 75% of B2B buyers consumed webinar content last year. Webinars have always been a great tool to interact with your target audience, build ongoing relationships with key trade media and position your company as a marketplace thought leader.
But during these unprecedented times, with more in-person events being canceled or postponed, it has never been a better opportunity to add webinars into the mix as a way to reach your audience, and editors, virtually.
Despite event cancellations, there is still a need to personally connect with your key editors. Journalists and companies have to weigh the risk of traveling, and with tighter budgets and smaller staffs, traveling to in-person events becomes harder and harder.
At the same time, new technology platforms have made it easier and more efficient than ever before to host and attend a virtual event. A webinar allows your company to reach a wider audience at a lower cost vs. a formal, in-person media tour.
Below are considerations to keep in mind when determining if a webinar is a right fit for your communications strategy:
Establish Goals. Know your desired outcome for the event and define clear goals before choosing the right format and approach. Is the event introducing a new product, addressing a crisis or announcing a new initiative? What outcome would you consider a success? Knowing what you want to achieve as an outcome of the event will be important to establish at the beginning and will help drive the planning process.
Consider Format. When choosing to host a virtual webinar, consider how large the announcement is and the desired outcome. For example, for a larger announcement, consider presenting live and on camera in a staged environment with access to more props and technology, versus presenting traditionally over a teleconference with a PowerPoint. Presenting live, using prerecorded material or a mix of both are all options to consider.
Consider Paid Versus Owned Webinars. Consider the pros and cons of hosting your own webinar versus participating in a paid webinar hosted by a media outlet. The benefits of a paid webinar include reaching a niche targeted and engaged audience, generating sales leads and having the media outlet handle the technology and promotional coordination. However, paid webinars can be expensive, spots sell out quickly and only make sense when reaching out to targeted customers — not for a press event for multiple journalists.
Evaluate Platforms. When choosing a platform, consider the goals of the event. At a minimum, include a chat tool to engage with editors for a Q&A session. Does the platform have the option to play back prerecorded content? Does the platform deliver the best experience across a range of Wi-Fi connection speeds? Will you need a platform that includes breakout rooms or games for the audience to interact with?
Consider the Editor Experience. Consider having an MC for the event to introduce the context of the topic in the beginning of the event and set the agenda and expectations ahead of time. Keep it short. Webinar presentations should be around 20 to 30 minutes for content and 15 minutes for Q&A. Editors are pressed for time, so a shorter event will help keep editors more engaged.
Promote the Event. When promoting the event, consider inviting editors through a video message to stand out, instead of a traditional press release. When sending details for the event, make sure the registration process is seamless. Include the login link for the webinar in an automatic calendar invite so your event is top of mind for editors on the day of the webinar. Make sure to send reminder emails to editors leading up to the event.
Practice. Allow yourself time to rehearse beforehand with the script and the technology. How you deliver your content can be the most important factor in hosting a successful webinar. Whether you are presenting your webinar live or prerecording it, practice makes perfect. Don't forget to anticipate questions at the end — this is a great way to engage with your editors. Consider being media-trained leading up to the event.
Host It Live. Whether hosting an on-camera event or a teleconference with PPT slides, it is recommended to host the event live to allow interaction and engagement with the journalists in real time. Including prerecorded content into the mix can be another option that works well. It is also recommended for a moderator to host the live event and to monitor the Q&A session.
Share Press Materials. Prepare to share press kit materials with journalists after the event and provide a CTA to a linked landing page to track traffic resulting from the event.
Record the Event. By recording the event, you can repurpose it later by sharing with anyone who missed the event, hosting it on a website or social channels, or turning the webinar presentation into a thought-leadership article for editorial content.
Not only can webinars be an affordable alternative to hosting an in-person event, they often allow you to reach a larger targeted audience for instant engagement.
At Godfrey, we can help you determine if hosting a webinar is the right fit for your organization and help you through the planning process — every step of the way. Reach out and get started today!
Gina Mudie - Senior Public Relations Manager
Gina leads the strategic direction for high-impact PR programs and projects, ensuring those efforts align with integrated B2B marketing programs. A Millersville University graduate, Gina is a member of the Public Relations Society of America (PRSA) and the Pennsylvania Public Relations Society (PPRS).