Blog Post
Demand Generation for Complex Industrial Companies
Publish date: Mar 20, 2020
|
Reading time: minute

s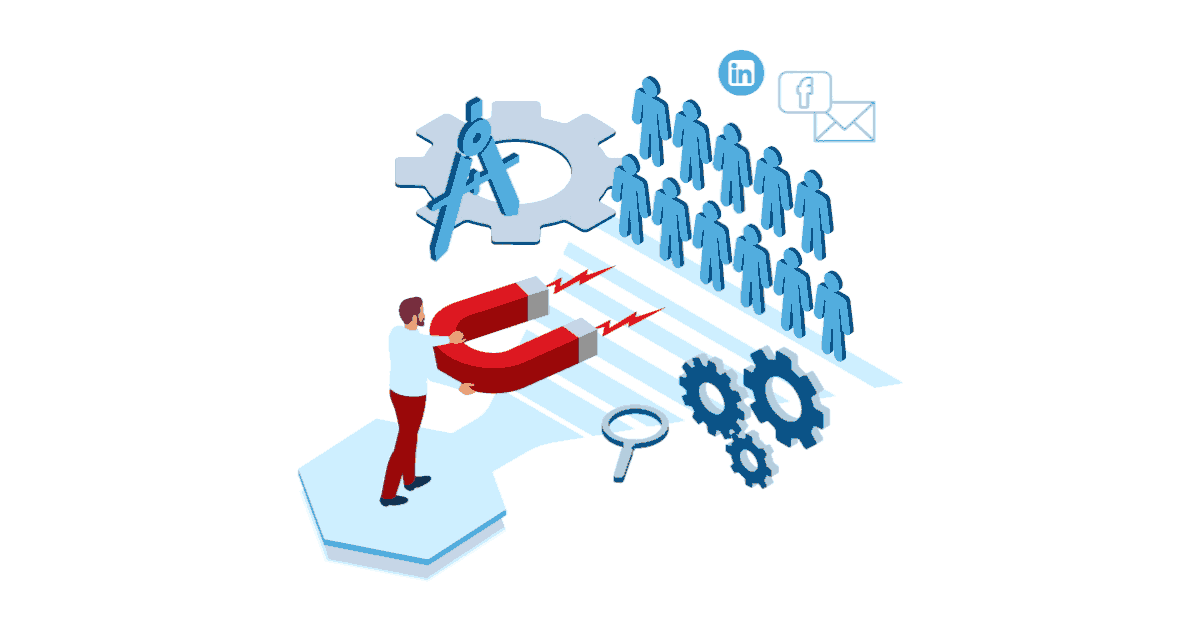 Improve B2B demand generation for complex industrial companies with these insights and tips.
Industrial B2B Marketers Struggle With Demand Generation
Complex products and services, technical buyers, long sales cycles, distribution and channel partners, disconnected technologies, the list of challenges goes on and on.
We know the unique challenges this industry faces because we work with dozens of complex industrial brands to develop and execute demand generation programs. We've seen the challenges, successes and failures firsthand.
We've drawn on our experiences to outline several considerations and things you can do to improve your demand generation marketing program. This post will cover:
Factors impacting your demand generation program
Aligning marketing and sales before planning your program
How to begin planning your demand generation program
Structuring and executing your demand generation program
Final thoughts
Factors Impacting Your Demand Generation Program
A study by Act-On Software found that 75% of the 244 participants said improving lead quality is one of their most important goals in their marketing and sales strategy.
Sounds simple, but also a little surprising. How could something so important and so critical to marketing's success continue to cause so much confusion?
Factor No. 1: A Cast of Thousands
The process of taking an interested prospect and turning them into a sales lead typically involves many different parts of the typical B2B company:
The average prospect comes in through a company's marketing efforts: through completing a search inquiry, attending an event or seeing a mention in an online publication or ad.
Information from that customer contact often passes through the company's website, involving IT and the global marketing team.
The data is captured in your marketing automation system which can vary by business unit or region and not be fully utilized or even understood. Regional marketing teams own these systems.
Based on predefined routing and scoring rules, the lead is ultimately followed up by your sales organization and their notes are entered into your customer relationship management, or CRM, system (like Salesforce.com).
The prospect may need help from your engineering or R&D operations which could create a task in another system.
If the customer buys, the lead may be touched by accounting, manufacturing, warehousing and shipping which takes place in your ERP system.
And post-sale, it may involve customer service.
All of these departments may be involved at one point or another in the process of converting an interested prospect into a paying customer. So, for a B2B demand generation program to be successful, all of them have to agree on the proper way to handle a prospect at various stages of the process. If not, the experience can be disruptive and turn potential customers away.
Factor No. 2: Confusion Over Technology
Technology has improved and streamlined the process significantly. But it really hasn't changed the essentials: While lead scoring and marketing automation have made it easier to manage leads, it is always a good idea to keep communicating with a prospect after they ask for a sales call. And it is NEVER a good idea to send an unqualified lead to sales.
Unfortunately, many B2B marketers confuse these new technologies with the process of lead generation itself. And most of the time, adding technology to a broken lead-gen program really doesn't fix the original problem. It just costs more.
Align Marketing and Sales Before Planning Your Program
Another challenge is the lack of cooperation between marketing and sales. Creating alignment across these teams is the single most important activity to consider when planning your demand generation program. Here are some common questions and helpful tips to support bridging this oft-divided gap.
What does marketing consider a lead to be?
Marketing leads are commonly referred to as MQLs and, in most cases, the prospect has demonstrated some level of interest or engagement that tells marketing this is a genuine lead. This could be as basic as a web download or form submission. However, remember that downloading content or signing up for a newsletter doesn't mean they are sales-ready. This activity is simply a signal. Marketing's job at this stage is to filter out the leads that ARE sales-ready, forward them to sales and then nurture the rest.
Most industrial B2B companies are selling to multiple buyers over an extended period of time. This means, to be successful, marketing must create a series of touchpoints that help the prospect identify and solve a problem. Then position your company as the best resource to help.
Tip: Look at historical lead data, find out what sources are producing the highest win rates and talk about why. You may find additional ideas by examining what is already working. Either way, when you approach business leaders with data about where sales opportunities are originating from, they tend to listen.
What does sales consider a lead to be?
Have you ever heard your sales team say, "You call these leads?" This is because you lack a documented and agreed-upon definition of a sales-qualified lead, or SQL. SQLs typically have passed qualification criteria set by your sales team and are progressing toward the opportunity stage, the point at which a need is uncovered for which your company can provide a solution.
The benefit of customers self-servicing their needs online is that salespeople can spend time doing the activities that will have a greater impact on the business. For instance, selling to customers who have an immediate need and are ready to buy. This only works if you really listen and understand how and where your sales team is adding value. Evaluating the buyer's journey and selecting the appropriate time to insert the salesperson will not only help marketing and sales, but it will create a better experience for your customer.
Tip: Maybe your marketing technology stack is limiting you from experimenting with lead scoring or providing real-time insights into visitor activities. Don't let that discourage you. A simple exercise is mapping your content assets to your buyer's journey. For instance, signing up for a newsletter indicates awareness, and sales should not call them; however, if you can prove that downloading a new case study indicates an increased level of interest, sales would be more likely to act. It's the story these actions create that is important to understand.
When and how would the lead be handed off from marketing to sales?
So, you have attracted a visitor, captured a lead, qualified that lead and now you are ready to notify sales of your success. When passing along the lead to your salesperson, make sure to include all relevant information to ensure their success. Let's assume you have your lead sources integrated with a CRM and that distributing them isn't a problem. Instead, focus on the trigger that causes you to determine this lead is qualified and provide context around their interest.
Buyers are completing 50 to 80% of the journey to a purchase before reaching out. Providing sales with an understanding of prospect activity, like pages visited, assets downloaded and videos watched, will help your colleagues prepare for the first call.
Tip: Use third-party data like ZoomInfo to build out a complete profile before passing off SQLs. We want to reduce friction with forms and these third-party companies can help take a visitor's email address and automatically append details, like industry, company revenue, address and more, to provide enhanced data for lead scoring and can better inform your sales team.
What is sales going to do with the lead once they have it?
SQLs don't turn into revenue on their own unless they're eCommerce transactions. Whether it's demonstrating value, developing a solution or facilitating an order, sales are interacting with leads for weeks, months or years after you pass them off. If you have marketing automation software in place and are using it as intended, then you likely have more awareness of what happens after a lead is passed to sales. Technology itself will not help here; as stated earlier, collaboration is the most important step.
I would encourage marketing and sales leaders to review pipeline reports together to address what is and isn't working. Does the sales cycle need to be shortened? Are salespeople losing a measurable amount of leads at the same stage? What happens when sales deem a lead as unqualified? Are the deal sizes too small? Are the wrong products/services being pushed? Are salespeople doing anything repetitive that could be automated? All of these questions influence what can or should be done after handoff.
Tip: Develop sales playbooks to arm your team with the right information. Sales playbooks are an inside view of how your company should be messaging your buyer from initial contact through their life cycle as a customer. Whether you have fully developed sales playbooks or not, talk about ways to include market insights by segment or product interest.
The benefits of achieving marketing and sales alignment.
According to Forrester Research, aligned organizations achieved an average of 32% annual revenue growth while less aligned companies reported an average of 7% decline in revenue. The people, processes and technologies exist to make marketing and sales alignment a reality. I've never heard a client say, "My goal is to drive a decline in revenue." To keep this from happening to you, I recommend you find your allies (internal and external) and start driving change within your organization.
How to Begin Planning Your Demand Generation Program
At this point, you've inventoried your own challenges and started a dialogue with your sales team. The next step would be to start planning your demand generation program. This is less about how to generate demand and execute the program and more about knowing your audience, their journey, how your company helps and what technologies you may want to consider. Here are a few places to explore:
Start with your prospect or customer. We know that you want a lead. But what do they want? We've created a guide on How to Conduct Your Own B2B Research.
Consider your buyer's journey. What do they want to know at various stages of the process? Do they want specs? Or would they be convinced by a case study?
Look at your next steps and offers. Are the next steps clear? Does your offer go right to the heart of the problems your audience is having? If you're not sure, see point No. 1.
Handle carefully. Make sure you know how you want to handle a lead. Should it be followed up by an internal sales rep? A channel partner? Do you want to qualify or cultivate those leads, to make sure they're ready for sales? (Hint: The answer should be yes.)
Look for technology last. Make sure your process is mapped out clearly and the infrastructure is in place. Then, and only then, look at ways technology can help.
Structuring and Executing Your Demand Generation Program
Now it's time to begin thinking about the core elements of your program. We won't cover what your offers should be or how you should strategically generate demand; that's unique to each business and what we help our clients do.
Producing high-quality leads that turn into revenue (relatively) quickly is one of the most important functions in B2B marketing. It will win you friends in the sales department, not to mention the C-suite. It will enable your marketing organization to be viewed less as a cost center and more as a viable part of the revenue team.
For most clients, it is the single most important measure of success of their marketing efforts: How many leads were handed over to sales?
There are three key high-level activities B2B companies should follow to produce leads:
First, there is lead generation, or the process of getting prospects interested enough to ask for more information. The outcome of the lead-generation process is an MQL.
Second, there is lead management, which are the steps you follow to turn that MQL into an SQL.
And finally, there is the tracking and optimization of the process, where outcomes are measured and the return on investment – in both marketing and sales – can be evaluated.
Within each of these steps are several specialized functions, each with a wide variety of proponents.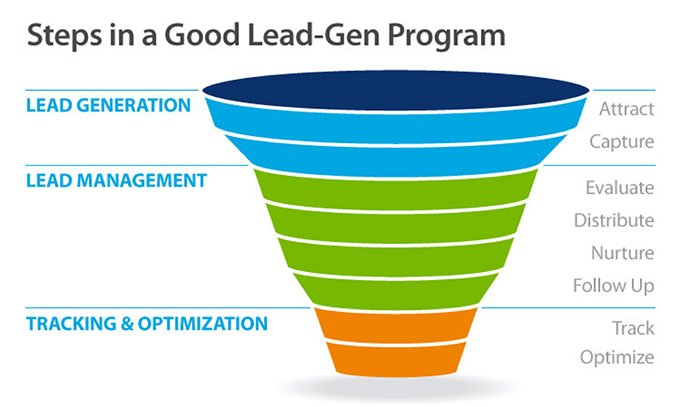 Lead Generation
The entire marketing communications effort in some companies would be considered part of the lead generation process. In most programs today, prospects are attracted by search traffic, ads, public relations, social media activity or e-mail, and are sent to a company's website or targeted landing page.
There, they are provided with information designed to pique their interest and get them to ask for more information – something of value that is not available to the general public, like a download, a white paper, a calculator.
Many content management systems or marketing automation systems allow for personalization and scoring, assigning a value to users as they go through levels of content, allowing you to personalize content that is shown and extend relevant offers to those who seem the most promising.
The second part of the lead-gen process is capturing a prospect's contact information so you can continue to communicate with them. These are MQLs.
The MQLs then go into the lead management stage, where they are evaluated and passed on to sales when they are ready.
Lead Management
Lead management has four distinct parts:
Evaluation. While we mentioned scoring in the lead generation stage through the marketing automation system, it happens most often after an MQL is created. In addition to website behavior or expressed interest, systems can compare the prospects' information to all kinds of additional third-party data, like company news and events, that signal buying triggers, Dun & Bradstreet ratings, SIC codes and much more. The goal is to make sure an MQL is a serious prospect, not a competitor, college student or information collector, before forwarding to sales.
Nurturing. This stage simply formalizes the understanding that MQLs are not SQLs. In other words, not everyone who requests more information is sales-ready. So, the nurturing step allows your company to keep communicating with an MQL until they're ready for a sales call. This step is guided by your understanding of the customers' needs and pain points, your content strategy and overall communications strategy.
Distribution. Although it might seem fairly simple to send a lead to sales, there have been many instances where distribution can be a stumbling block. Getting your content management system to talk to your CRM system can require IT involvement. And additional complications can occur when you are selling through distribution, especially when there are no exclusive territories.
Follow-up. Studies from Forbes and MarketingSherpa indicate that only about 27% of marketing leads are ever contacted by sales. The reasons vary, of course, but no matter what the specifics, the low number simply documents the lack of coordination between marketing and sales.
Tracking and Optimization
The last and perhaps the most overlooked part of the process is tracking and optimization. At the very least, marketing should be supplied with the classification sales gives to the prospect, depending on what selling system is used. The best data to track would be the disposition and sales totals, if applicable.
While it may require some additional time for sales to provide that kind of information, the tracking information is absolutely essential if the process is to be optimized and improved. The optimization process involves using analytics, usually from a web analytics program, to measure the results from various elements of the program, then make changes to improve the outcome.
Final Thoughts
You're all on the same team. Communicate with other functions, especially sales, and make sure you're on the same page.
Respect your prospects. Only ask for the information you need – your web forms will be most effective if they are four fields or less. And don't ask for the same information twice.
Keep communicating. Develop a regular process of communicating with prospects and customers. Given the long selling cycles in some industries, conversion of a prospect to a customer could take several years. Therefore, a lead nurturing program could be highly beneficial in the long run.
Respect your salespeople. Don't waste time (and discredit the process) by sending out unqualified leads.
Celebrate wins together. You can use small wins to sell your team's success internally, whether it's converting a key account through a social campaign or hearing from sales about the impact a particular piece of content had on the sales process. It's important to communicate success regularly with your team.
Josh Albert - Vice President, Business Development
Josh heads up our new business efforts, working alongside teams of Godfrey subject matter experts. As director of business development, Josh combines strong leadership and business sense to help Godfrey form client relationships where we can do our very best work.