Event
B2B Ignite USA 2022 – HOW SOLENIS PUT ESG AT THE HEART OF ITS BRAND VISION TO DRIVE A NEW ERA OF GROWTH
Publish date: Jun 03, 2022
|
Reading time: minute

s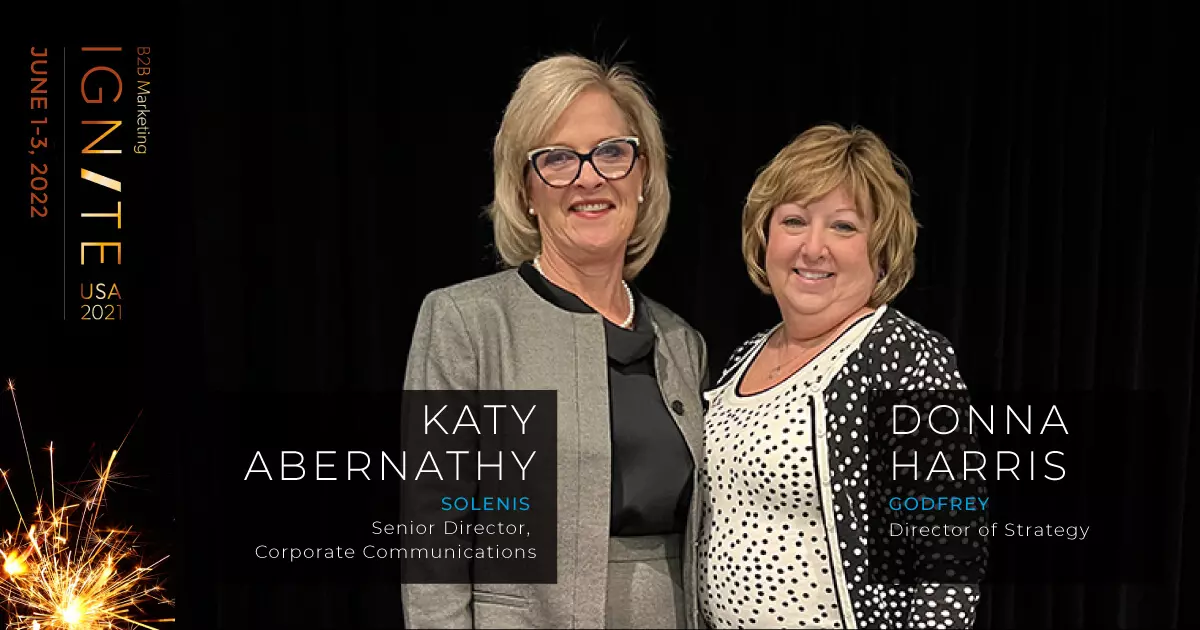 During B2B Ignite USA 2022, Katy Abernathy, Senior Director, Corporate Communications at Solenis, and Donna Harris, Director of Strategy here at Godfrey, presented "How Solenis put ESG at the heart of its brand vision to drive a new era of growth."
During the hybrid session, Katy and Donna provided firsthand insight into Solenis' ESG journey, what they learned along the way — and revealed why ESG is something all B2B brands must consider without delay to engage today's stakeholders.
During the video presentation of this session, you'll learn:
How the brand evolution supported the company's business growth objectives
How the right processes — from insight and strategy to branding and tactical execution — ensure you're creating an impactful brand story that generates results
The link between ESG and risk management
Why robust ESG programs and communications matter and how to make the most of your ESG metrics
How sales and marketing can work together as brand champions to ensure communications accurately reflect company and customer success
Katy Abernathy - Senior Director, Corporate Communications at Solenis
At Solenis, a leading global producer of specialty chemicals, Katy leads a global team responsible for PR and marketing communications, employee and business communications and crisis communications. 
With a 40-year career in B2B, she joined Betz PaperChem in 1989 and never left. For the past 32 years, she has had the privilege to lead and manage communications through numerous acquisitions and divestitures that have led to the creation of Solenis. Now responsible for building the Solenis brand, she led Solenis' first sustainability report development and website redesign.
Donna Harris - Director of Strategy
Donna is fascinated with industry trends and market research. She supports account teams with insight and strategic planning and thrives on conquering challenges that keep clients up at night.