Blog Post
Influencers: Don't Try Marketing to Complex Industries Without Them
Publish date: Apr 12, 2021
|
Reading time: minute

s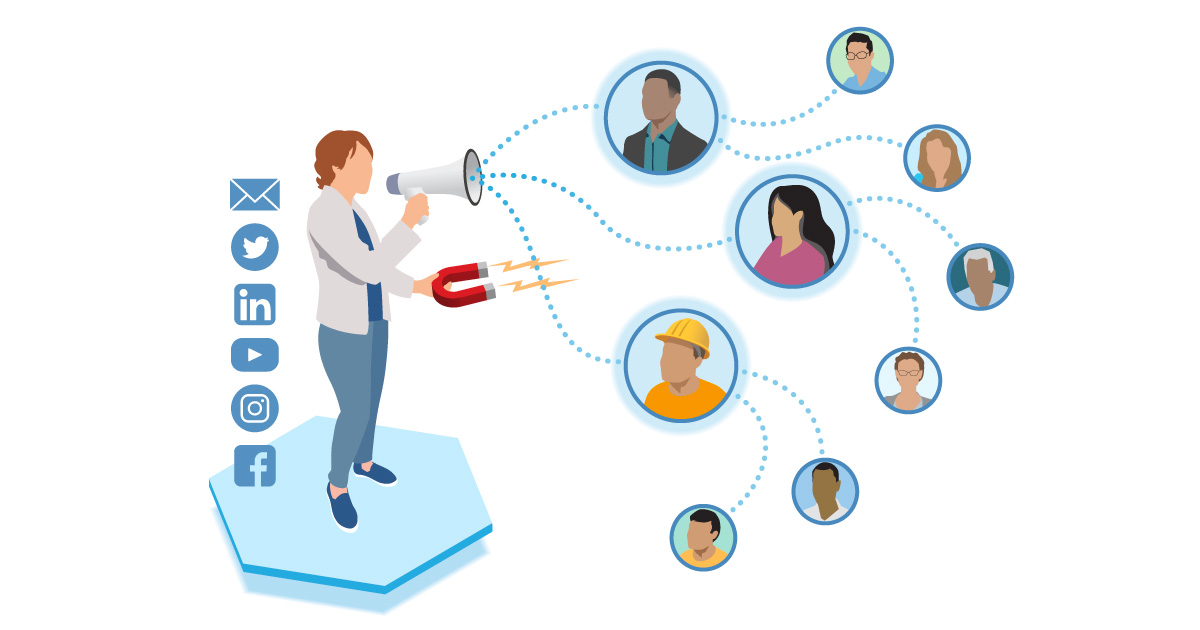 Marketing to complex industries is challenging — but influencers can help. Find out why you shouldn't ignore this important segment of your audience.
When talking about audiences in B2B industries, everyone immediately thinks of customers, prospects, end users and, in some cases, IT directors. Those are, of course, the mainstays in many B2B marketing efforts. But you shouldn't forget an extremely important segment of your audience: influencers.
So, what's an influencer? HubSpot provides the following definition of influencer marketing: "Influencer marketing is designed to tap into an existing community of engaged followers on social media. Influencers are specialists in their niches. These individuals have influence over an audience you might be trying to reach and can be helpful for marketing to those buyers."
An influencer is a person with the ability to influence potential buyers of a product or service by promoting those items. In the B2B world, trade editors are influencers because their coverage of a product or service can greatly influence your customers and prospects.
Influencers also include industry experts who are well known and respected for their knowledge and experience. These people could work in the industry as a contractor or a distributor, or perhaps they are a university professor, researcher or analyst. If they have an audience and are a respected third-party influencer, then they can help increase brand awareness for your product or service in the marketplace.
Let's take a closer look at influencers and why you need to start building relationships with them.
The Role of Industry Experts
Industry leaders want to know what's new, trends that are occurring in the marketplace, if your company has a breakthrough product or service and how it's impacting the industry. They may run review sites and want to review a new product for their audience, or perhaps they would welcome a Q&A discussion with one of your subject matter experts on their podcast. Either way, they are a part of the 24/7 world of digital communications, constantly looking for ways to beat their competitors to the punch with the latest news, commentary and insights. They are different than trade editors, though, in that, while they may want to evaluate new products and technologies, they aren't bashful about praising, criticizing or feeling indifferent about products. Therefore, you will want to build relationships with them first before "selling" them on your product. This is key in making sure it's a win-win situation for both parties.
In fact, according to a report recently published by B2B Marketing, influencers and marketers alike believe influencer marketing should be a collaborative effort. Influencers prefer to be contacted by a company's senior executives and subject matter experts, highlighting the power of connecting influencer marketing and employee advocacy.
What's more, the majority of influencers (79%) are willing to do free work if they believe in a brand's product or cause. For influencers, identification is key. They want to be recognized and highly regarded for their knowledge, experience and expertise. According to the B2B Marketing report, 68% enjoy speaking at events and 58% like participating in panels and online chats. They also enjoy writing articles and posting social media content.
These industry experts can have tremendous influence on your customers and prospects, who seek third-party validation and unbiased information throughout the buying and decision-making process. According to findings from ZoomInfo, there is a heightened influence of third-party sources and outside input on the path to purchase. In fact:
40% of people say they have purchased an item online after seeing it used by an influencer
74% of people trust social networks to guide them to purchase decisions
49% of people say they rely on recommendations from influencers when making purchase decisions
90% of business decision-makers initiate their purchasing process by researching opinions from industry experts and peers
That's why it's more important than ever to consider an influencer relations program as part of your marketing mix. You'll need to identify and build relationships with influencers through various tactics. You'll need to know where your customers and prospects are looking for information and why so you can plan your strategy accordingly. And you'll need to execute and measure the results of the program to maximize effectiveness.
According to a recent Cision white paper called The Earned Media Opportunity, "Influencers can self-select and have a multiplier effect, influencing many others to convert at higher rates than paid media. This makes earned media especially effective in increasing prequalification of prospects and increasing engagement with the right prospects."
To use this tactic successfully, influencers must be found strategically. It's the right person coupled with the right targeted message, platform and audience that gets the job done — not the messenger or content alone.
Another way customers get their information is through Google searches. Many times, that will lead them to articles they find online that appear in industry publications. That's why it's important not to neglect reaching out to trade editors. Typically considered micro-influencers, or opinion leaders with less of a social following (ranging from 1,000–100,000) but a lot of engagement, trade editors provide unbiased information that appears in their online and print media outlets as well as social media channels. They care about content and focus on ensuring that their readers have the most up-to-date information. They put their eagle eye on content that appears in their news, product, technology, business management and opinion sections. Their success in meeting the informational needs of their readers can spell the difference between success or failure of their media outlets and even their larger publishing company.
The informational needs of their audience are demanding in the extreme. Editors need to cover important trends in technology that impact their industry. They need to report and interpret regulatory changes as well as economic factors, like trade wars, resource availability and pricing, that will affect their readers. This year, in particular, they have needed to stay on top of current events, such as the global pandemic, the economy and how their industry is being impacted. And, of course, they need to report on companies, people and products.
B2B marketers who understand those factors can gain coverage in these outlets. This is important because it's unbiased and objective, and therefore more trusted than paid media.
So, how do you accomplish that? It's all about research, identifying goals and building the right relationships. For more information on how to start a B2B influencer relations program, check out this blog.
A Win-Win for Everyone
Marketers win when they give influencers — trade editors and industry experts alike — killer content, insightful commentary and access to your executives and subject matter experts. And influencers win, too, when they provide their audience and followers with information that is timely, useful and informative. It's a world of push and pull, give and take. But when everybody does their job, everyone benefits. It all begins with thinking of influencers as a critical piece of your B2B audience.
Hear more about influencer relations in our Marketing to Complex Industries podcast – "Let's Talk Public Relations."
Godfrey Team
Godfrey helps complex B2B industries tell their stories in ways that delight their customers.