Blog Post
Lessons Learned in B2B Global Marketing
Publish date: Oct 22, 2019
|
Reading time: minute

s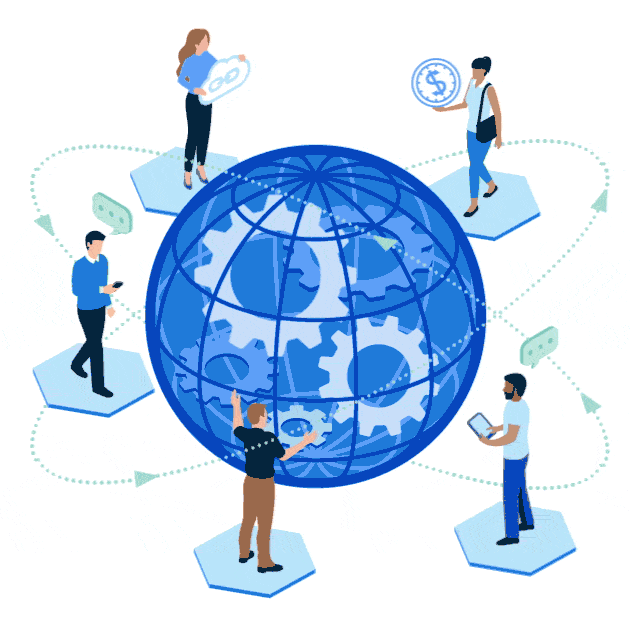 Here we share a few of the lessons we have learned that help set the foundation for successful global B2B marketing efforts.
B2B Marketers are faced with plenty of challenges. When you add responsibilities for global marketing to the mix, complexity increases. At Godfrey, we have helped many companies tackle the difficult task of developing global marketing strategies and plans that can be executed locally. The B2B organizations we have worked with are not alone. A recent report produced by Worldwide Partners and the CMO Council found that Chief Marketing Officers are struggling to implement global marketing initiatives.
82% of CMOs say their local market intelligence is just "okay."
57% of CMOS believe a lack of localized intelligence has had a negative impact on their success.
42% of CMOS admit their strategies and campaigns are often out of touch with the local consumer.
We have helped B2B Marketers navigate some of these global challenges over the last 20 years, but today's connected customers have expectations that are higher than ever. They are looking for transparent, personalized and on-demand experiences. Many brands fall short in meeting those expectations. The report mentioned above examines how marketing operational structures may be contributing to the misalignment between brands and customers. The two structures that most organizations tend to adopt are either centralized or decentralized.

There are also hybrid models, which this report advocates as a modern and effective approach. Hybrid structures can be built to take advantage of efficiencies and leverage local resources and intelligence.
But, to operate in today's global marketplace, it is not as simple as choosing a centralized, decentralized or hybrid model. Here we share a few of the lessons we have learned that help set the foundation for successful global B2B marketing efforts.
1. Clearly define your brand, including visual and messaging elements.
Whether your marketing team will operate from a central location or as independent teams across the globe, having established brand guidelines can ensure everyone understands how to consistently reflect the brand. The amount of flexibility you allow within those guidelines can vary. Putting parameters in place to ensure brand consistency is necessary, but depending on your needs, those controls may allow for some regional interpretation. It is a good idea to create tools that make global execution easy and efficient — things like templates, design systems or an internal wiki with samples of brand language and tone. Putting together a system to track and review the creation of brand assets is another important step in ensuring consistency. Once you have created a brand standards document or resource, it is important to keep it updated and even more helpful for teams to include the newest executions.
2. Find and build relationships with regional partners.
Many organizations have built in-house teams in recent years, especially those that skew towards a centralized structure. But, to acquire unbiased, localized input, brands should build relationships with regional partners who can share customer perspectives and channel expertise. We have found it very helpful to pick up the phone and speak with our partners across the globe to get a gut check. We use global partners to understand if the imagery we are proposing would resonate or how various social media channels are used among a target audience.
3. Do your research — locally.
As the statistics from this report indicate, despite the customer's preference to have localized experiences reflective of culture and language, CMOs feel their organizations miss the mark. At a bare minimum, B2B marketers should be gathering insight from their in-country resources, whether it is the sales team or local distributors. One example could be to use local intelligence to update your target audience personas that account for nuances by country. In addition to what your organizational contacts can provide, making room in the budget for more formal research on regional customer needs can ensure you are not missing out on opportunities.
4. Go beyond translation.
A lot of progress has been made in this area in recent years. Savvy B2B marketers understand that in the age of content-driven marketing, we must go beyond basic literal translation. Transcreation is today's best practice. Transcreation works to adapt content so that it reaches local markets with the same emotional impact as the original.
At Godfrey, we have avoided potential gaffes by deploying transcreation efforts in the early stages of marketing campaigns. In one instance we had developed an ad campaign in the healthcare sector that used a symbol that is widely recognized throughout North America, but our transcreation partner quickly pointed out that it would not be understood by the target countries in South America.
5. Be prepared to invest time and budget.
There is no way around it, executing a global campaign will cost more. Some organizations approach global marketing with the belief that things will cost less in emerging markets. While, labor and media costs can be less expensive, the time investment to properly plan and execute a localized campaign is often underestimated. If you don't have the right partners in place, identifying and vetting will need to take place. This process can take several weeks and plenty of back and forth. Another time investment is ensuring that the local partners have a clear scope of work, paired with adequate background on your brand, products and goals. And even when you have solid partners in place, aligning expectations for communication and deliverables takes intentional management.
These are just a few of the lessons we have learned in working with global B2B companies. We know it is complex, from determining your marketing team structure to actual campaign execution – many organizations are still in the early stages of working through the best approach.
Godfrey is a member of Worldwide Partners and are happy to bring you access to the full report. Learn more about how others are optimizing their global marketing initiatives by downloading the report here.
Stacy Whisel - President
Stacy serves as Godfrey's president and also oversees the channels and operations side of the agency. Her background in research and media is a key driver for ensuring Godfrey implements audience-focused programs.