Blog Post
What to Consider When Rebranding
Publish date: Oct 07, 2019
|
Reading time: minute

s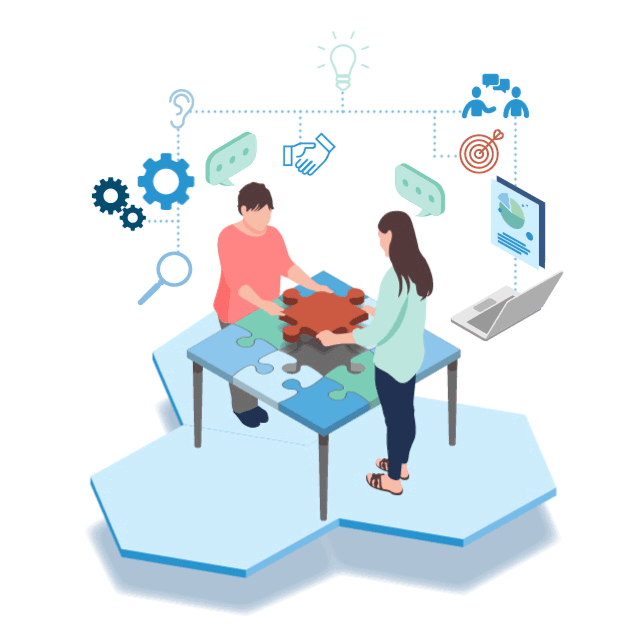 Your brand communicates who you are and what you stand for to customers and employees alike. Remember these factors to control the conversation and keep those relationships strong.
What to Consider When Rebranding
Your brand is so important because it communicates to people who you are and what you stand for. Your brand builds loyalty, emotional connections and helps customers solve problems. It should make customers feel secure in their decision to do business with you and keep them returning, and telling others about you, too.
So, when your company decides it needs a brand refresh or a complete rebrand, there are many factors to be considered. Whether it's a merger, change in leadership or a change in strategic direction or product mix, it's crucial to have a strategy in place for your rebrand. Your brand sets the tone with your customers, but also with your employees. Being proactive, having foresight and a solid plan of attack will set you up for success.
Situations for a Rebrand or Brand Refresh
Merger or acquisitions
It's not uncommon for companies to be acquired. If yours is the one doing the acquiring, there are multiple factors to consider, one of which is that you may likely be merging two cultures and two offers. Communicating what that means to employees is paramount, as I'm sure they will have many questions with the primary one being, "How does this affect me?"
In addition to how it affects employees, other internal factors may need to be determined, such as:
Company name — How much equity is there to a brand name? Does one brand have more affinity and awareness than another? Is it worth changing the name altogether or do you keep one and sunset the other?
Budget — How much are you willing to invest in rolling out a new brand? Rebranding can be quite costly. It's not just company name – it's also email addresses, your website, signage, social media channels. It's a huge marketing communications undertaking. Make sure you've got a plan in place that addresses all of these factors.
Change in Leadership
When there's a churn in leadership — people exiting the company or switching roles, and it seems to be happening on a frequent basis — that impacts the trust and confidence both customers and employees have in a company. So, if there's a leadership shift, there needs to be a plan in place communicating a strategic vision for the company and what it means for employees and customers. A communications strategy is critical. It's helpful for everyone to have a roadmap so they can identify what it means for each particular person.
Adding a Market or Shift in the Business, Like a New Product Line
You're now going into a market where you're an unknown entity. Issues and challenges specific to that market may be new to you, so from a brand level it's important to address that. Dig in and understand the conversations taking place and how trends are impacting those target audiences. Take the topic of sustainability, for example. It's a key driver in a lot of markets — companies alter how they're doing business because of the demands their customers place on them to adhere to certain practices and principles. As a company entering a new market or adopting a new philosophy, you want to tell people you understand their challenges and pain points and what you'll do to address them.
Tips for Getting Started
Conduct competitor research: Whether you're merging or entering a new market, there may be competitors you're not familiar with. Take a look at their websites, their media, review how they're talking about trends and understand what the landscape looks like. After you've taken a look at what your competitors are doing, consider how you're talking about those trends (if at all) and how it's different from what competitors are saying. That will help you determine your stance on topics so you can have meaningful conversations with your audience, too.
Conduct a leadership workshop: Explore the "what, how and why" of what you do as an organization and what products/services you provide, how you do it (especially how you differentiate yourself) and, at a brand level, talk about why you do what you do — your driving purpose. For a lot of B2B brands, their why is wanting to have a positive impact on the world — whether it's coming up with more sustainable ways to do business or helping to drive life-changing products and solutions . Get your leadership team in a room and talk through these elements and gain consensus. From there, you can start talking about your brand pillars — the values and attributes that support your branding, marketing and culture.
Tip: Think about who the emerging decision makers are. Most likely, they're millennials. They want to feel as if they're part of an organization that's contributing to that positive impact for change. It's also about recruiting the right type of employee to take your brand to the next level. These are all components that can be included in a leadership workshop.
Review Your Messaging: Now that you've done your homework, it's important to revisit your positioning statement, reasons to believe and proof points. (Note: A lot of those elements shouldn't shift drastically because when you make these decisions, they should be core to who your brand is.) You'll start to see the shift, however, with the proof points and how you start to talk about those reasons to believe. It may be that you talk about them in a different way, looking at things through a new lens, or perhaps it's enhancing an element of your positioning statement or coming up with a new reason to believe … but the fundamentals/framework shouldn't change.
Interview Customers and Internal Associates. Talk to people beyond leadership to gain broader insight into the perception of the company. Find out what attracted them to the company — as a customer or an employee. Do they feel the company is still delivering on that? What can the company do better? Where are opportunities and challenges? Identify what's really important. Ask them about your messaging and see if what you've come up with resonates both internally and externally. For example, if there's a culture shift, would internal employees be on board with the new direction?  Check out our webinar for even more tips: How to Capitalize On Your Most Important Asset.
Delivering on Your New Brand Promise
Identify gaps, possible obstacles and barriers. Part of that is detecting shortcomings like operational barriers. What can you change to deliver on the new brand persona? Operational barriers could be technology and consistent access to data, customer support and response times. It's one thing to set a strategy, do a SWOT analysis, develop a strategic business plan and then align your brand. It's another thing to operationalize so you can deliver on it.
When you pull it all together, you should end up with a messaging framework for the brand that is relevant, resonates and delivers on its promise, because you've taken internal and external factors and applied them.
Moving Forward
It's crucial to develop a launch plan — whether it's a name change, logo refresh or how you talk about the brand. There are pieces you'll need to pull together to complete the puzzle.
Internal Brand launch: Get buy in and support from your people first. It's how you energize the brand. Get people excited and help them learn how to talk about the brand. Swag always helps! Provide context behind why you're making the shift and instill a sense of pride, because they need to be the ones to deliver on this shift. The brand is only as good as the employee advocates when representing the brand.
External launch: Start with existing customers. It could be a combination of email, direct mail or your sales team paying visits to customers. Use your messaging platform to help put together those communication points. If an IPO is involved, consider investors and communications to that audience. You may also want some paid media or public relations efforts to broaden reach. For prospective customers, an effective way to do that is if you have targeted lists. One example is a paid LinkedIn ad where you can identify prospective companies and hyper target by role with the new message. Public relations can play an important role because it provides a third-party endorsement you wouldn't get via other channels.
Update language on your website. Revisit sections of your website and update messaging. This will most likely be in your "About" section or, if you're entering a new market, your "Products," "Industries" or "Solutions" areas. Additionally, evaluate your social platforms to ensure your social strategy is in line with the brand. This may mean introducing some platforms and sunsetting others.
Conduct a brand study. Benchmark brand awareness of the existing brand and after launch, test if you've had an impact on brand awareness and affinity via ad studies or conduct a brand study with customers. If you're doing an IPO, you especially want to see if your brand equity has increased as a result of the work you've done.
Whether you're going through a brand refresh or a major rebrand, the most important thing to remember is that your brand is out there for the world to see. Don't let others control the conversation. Be proactive, do your research and communicate the messages you want your audiences to hear. After all, it's your story to tell.
If you need help with your branding, then you've come to the right place! Connect Godfrey to find out how we can help you.
Donna Harris - Director of Strategy
Donna is fascinated with industry trends and market research. She supports account teams with insight and strategic planning and thrives on conquering challenges that keep clients up at night.
Godfrey Team
Godfrey helps complex B2B industries tell their stories in ways that delight their customers.