Blog Post
4 Key Trends Shaping The Building Materials Industry
Publish date: Apr 16, 2018
|
Reading time: minute

s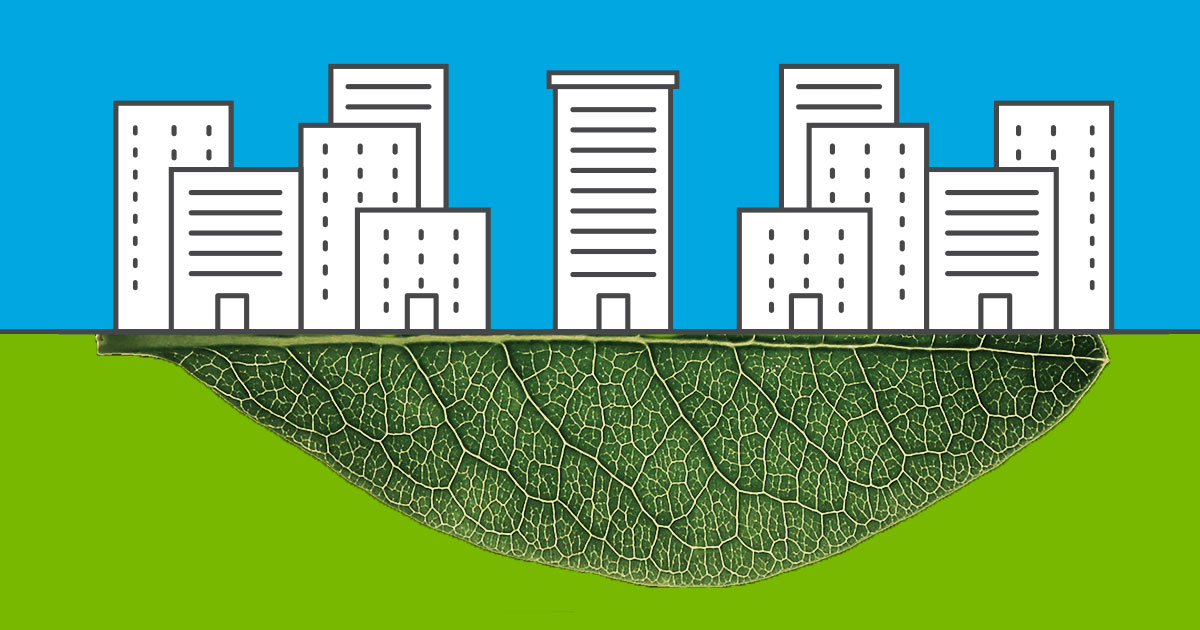 Standards for well buildings, resiliency, labor shortages and connectivity are shaping the building materials market. Read our take on these key trends!
New standards for building safety.
Building automation platforms integrating all a structure's systems.
Hardened, more resilient products to resist damages, both natural and manmade.
Better training and installation instructions, coupled with increased reliance on offsite construction to deal with continued shortages of skilled labor.
Manufacturers of building materials will see a host of changes over the next few years resulting from these four major trends.
EVOLUTION OF BUILDING CERTIFICATIONS
It used to be all about you: how did you manufacture your products? What was the environmental impact, both in the resources consumed and in the pollution that resulted? Those considerations are not going away.
But they are being superseded by a new emphasis on a different environmental concern: How are your products and materials affecting the building's occupants? The American Institute of Architects (AIA), U.S. Green Building Council (USGBC) and the International WELL Building Institute (IWBI) have led the charge, reflecting the growing concerns about impact of the indoor environment on workers and other users of a building. Even the LEED certification process is beginning to incorporate the WELL Building Standard (WELL) in its requirements.
Architects and contractors are becoming more engaged, as are building owners. Normally focused largely on the financials, property owners have begun to pay attention to materials decisions. The reason? More and more of their buildings are occupied by health-conscious millennials who are more informed and more demanding about health concerns.
For the tenant companies, there's not just the employee satisfaction measure but a financial incentive as well. Not only will happy employees stay in their jobs longer, but healthy employees have lower healthcare costs.
A Dodge Data & Analytics report, The Drive Toward Healthier Buildings 2016, predicted that investments in healthier buildings would become a transformative trend in the design and construction industry.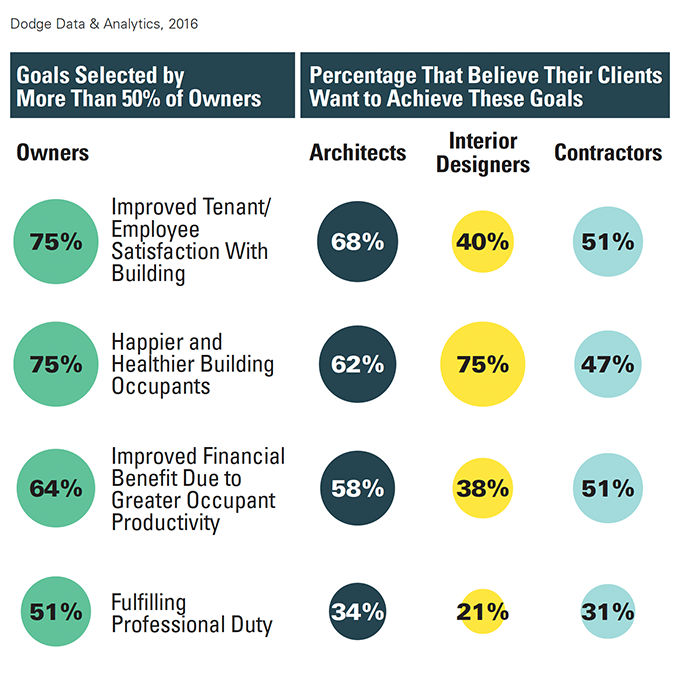 One indicator of this trend is the creation of Fitwel, a program developed jointly by the U.S. Centers for Disease Control and Prevention (CDC) and the General Services Administration (GSA). Fitwel describes itself as "a high impact building certification designed to support healthier workplace environments and improve occupant health and productivity.
While control of the program has passed to the Center for Active Design (CfAD), both of the federal agencies remain involved, putting the financial support and credibility of the federal government behind the program. CDC will remain Fitwel's research and evaluation lead, and GSA is currently using Fitwel to certify buildings from all 11 regions of its portfolio.
Several leading companies in the built environment have applied Fitwel's design and operation strategies to all or a portion of their workplace portfolios.
RESILIENCY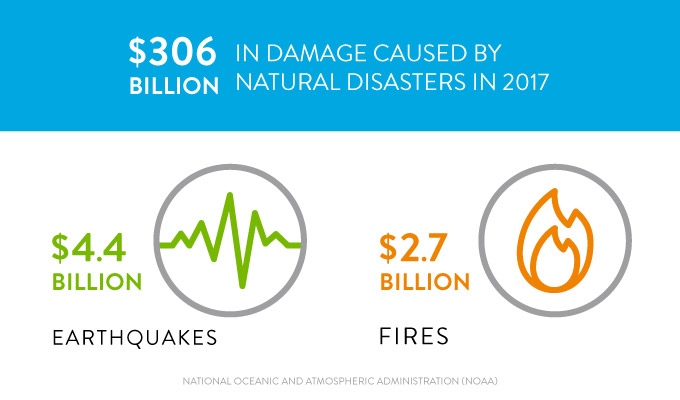 Natural disasters caused $306 billion damage in the U.S. in 2017, according to the National Oceanic and Atmospheric Administration (NOAA). Earthquakes caused $4.4 billion in damage, and fires caused another $2.7 billion in loss, according to the Federal Emergency Management Agency (FEMA).
All these disasters have forced building owners to become more aware of the durability of building materials. And it's not just extreme weather. There are also concerns about terrorism and other manmade hazards.
The Resilient Design Institute (RDI) has created a set of Resilient Design Strategies that direct the industry to "design and construct (or renovate) buildings to handle severe storms, flooding, wildfire, and other impacts that are expected to result from a warming climate.
The pressure is on building materials manufacturers to demonstrate the strength, durability and reliability of their materials. And prove they meet applicable building standards and codes.
At the same time, the U.S. Congress is considering an initiative to replace and revitalize the nation's aging infrastructure. We can only hope that this new round of infrastructure improvements will benefit from resilient design concepts and mitigate some of these challenges in the future.
EASY BUTTON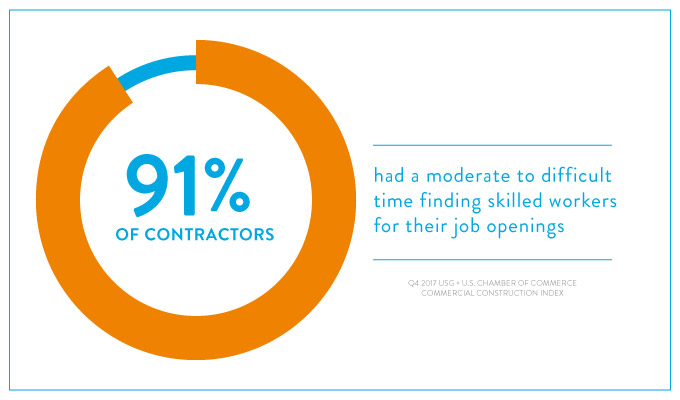 91% of contractors had a moderate to difficult time finding skilled workers for their job openings, according to the Q4 2017 USG + U.S. Chamber of Commerce Commercial Construction Index. Smaller contractors were having the most difficulty.
Rory DeJohn, a senior vice president at Turner Construction, one on the largest construction management companies in the U.S., told a Congressional committee that, while construction activity has finally returned to the level attained in the previous peak year of 2007, the industry is employing 100,000 fewer workers. Younger people, he said, simply aren't choosing careers in the industry.
As contractors find it harder and harder to hire skilled workers, they're looking to manufacturers to make building materials easier to install. Whether it's modular construction, new tools, better materials, training videos or other techniques, contractors are looking for help.
Another key indicator: the National Institute of Building Science said that 93% of respondents to its survey of the Architect-Engineering-Construction audience had used offsite construction methods. And Marriott said 50 of its motel construction projects in 2017 would use offsite construction methods.
CONNECTED
As consumers' lives become ever-more connected, they are looking for smart systems in homes and buildings to automate everything from entertainment and HVAC systems to lighting and security.
The pressure is even greater on building owners, who are looking for a single system to replace the standalone hardware, software and apps they might have accumulated over the years. Integration of all these siloed systems into a single building automation package would offer them a level of simplicity.
The global building automation systems (BAS) market is poised for healthy growth in the next five years. The key driving factors are growing use of internet of things (IoT) technology, the rising popularity of LED lights for efficient utilization of energy, increased reliance on wireless technology and concern for overall energy consumption in buildings. Distributors and system integrators will continue to dominate the sales distribution channels for BAS globally.
According to the research report published by Transparency Market Research, the global market for commercial building automation reached $78 billion in the year 2016 and is expected to grow to $108 billion by 2024, with a combined annual growth rate above four percent.
The growth of this market is driven by the increase in demand for energy-efficient systems, the growing need for the automation of security systems in buildings, and the advancement of IoT in BAS.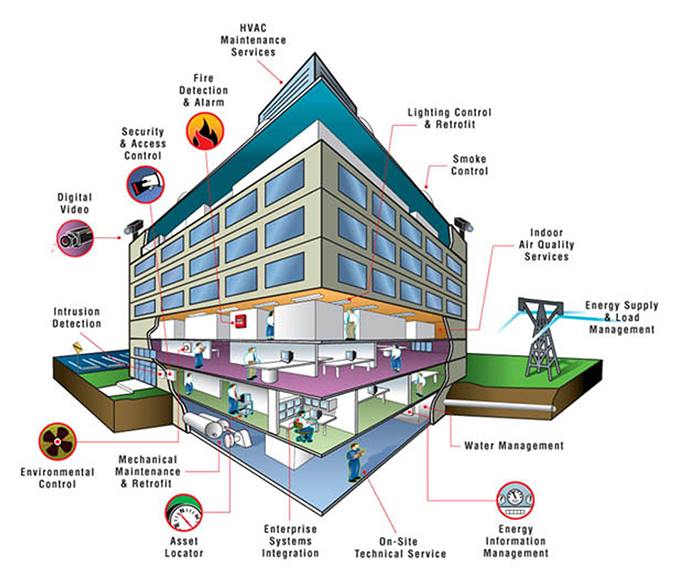 NO LONGER GETTING BY ON GOOD LOOKS
It's no longer enough for building materials to be only about design and aesthetic appeal. These industry trends are here to stay. And they increase the pressure on the building materials manufacturers to create strong products that are easy to install and improve the health and safety of building occupants. And that connect with and/or support a connected building's information management structure.
Donna Harris - Director of Strategy
Donna is fascinated with industry trends and market research. She supports account teams with insight and strategic planning and thrives on conquering challenges that keep clients up at night.