Blog Post
Four Things B2B Marketers Learned at Adobe Summit
Publish date: Apr 15, 2019
|
Reading time: minute

s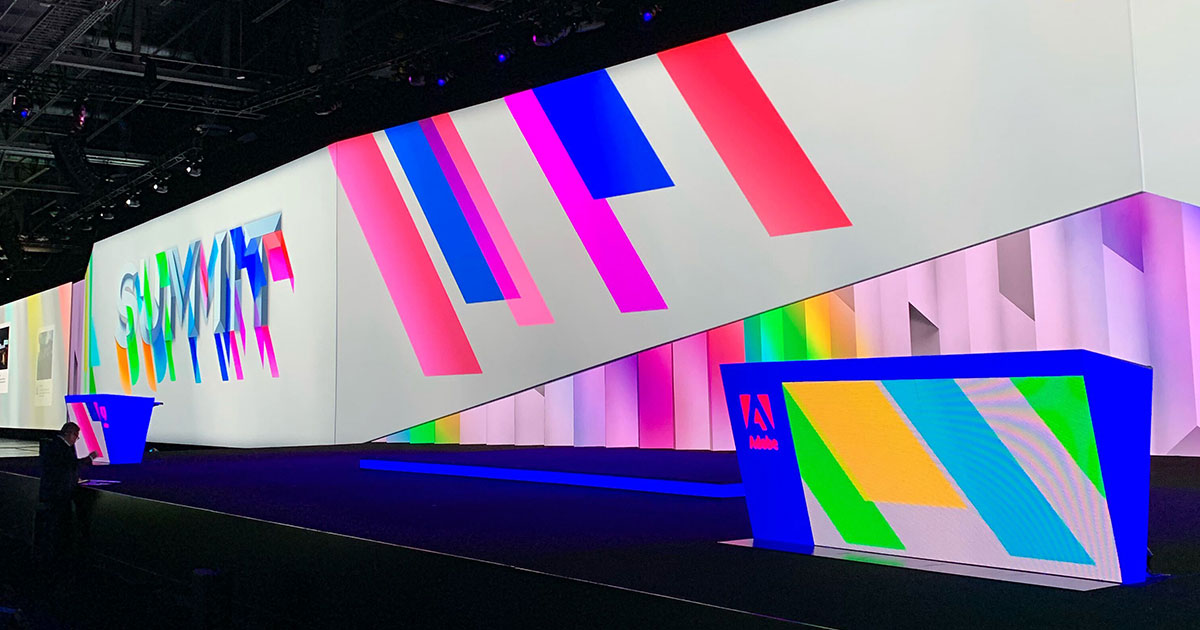 Here are four key takeaways for B2B marketers from the 2019 Adobe Summit. Bonus Points: Our conference notes!
Adobe Summit wasn't just 20,000 practitioners converging to hear the latest from Adobe; it was a rallying cry for organizations to focus on customer experience above all.
We just wrapped up four days in Las Vegas for the 2019 Adobe Summit, one the largest gatherings of marketing communication and operations, design and customer experience, with industry leaders and practitioners from around the globe. Originally started by Omniture before it was acquired by Adobe, Summit aims to blend inspirational and hands-on content from a cross-section of Adobe products focused on marketing and commerce.
This year was no different. Keynote sessions included product announcements for Adobe's Analytics, Advertising, Marketing and Commerce Clouds and inspirational conversations with President and Chief Executive Officer at Adobe Shantanu Narayen, Chief Executive Officer at Microsoft Satya Nadella, entrepreneur and actress Reese Witherspoon, philanthropist and NFL quarterback Drew Brees, Executive Vice President and Chief Marketing Officer at Adobe Ann Lewnes and VP of Digital Experience at Adobe Steve Lucas.
Beyond the keynotes, attendees had access to over 300 breakout and lab sessions covering 11 different content tracks from advertising to analytics and data management to B2B marketing automation with Marketo to personalization. The lineup was expansive and included speakers from brands including Dropbox, Roku, Workfront and Publicis Sapient.
Our team attended a cross-section of those sessions—18 in all. Here's what we learned between those sessions, along with conversations with other B2B marketers in attendance.
Experience above all.
"To win in today's world, every business has to transform themselves to be maniacally focused on the customer experience."
—Shantanu Narayen, President and Chief Executive Officer at Adobe
The biggest takeaway from this year's Summit: Experience above all.
While that is an easy thing to pen, it is unequivocally harder to execute, but Adobe is on a mission to deliver the platform to help businesses ensure they can deliver the best experience possible for their customers. And while that mission might not have been as clear before last year, the recent acquisitions of Magento (one of the world's most popular ecommerce platforms) and Marketo (easily one of the best B2B marketing automation platforms), along with the updates on Adobe's Advertising, Analytics, Marketing and Commerce Clouds, that mission became increasingly closer to reality with the announcement of the Adobe Experience Platform.
The platform will allow a business with the ability to deliver real-time personalization at scale to rapidly innovate on customer experiences, dictate or automatically leverage AI to deliver improvements across any channel and provide relevant experiences through those channels.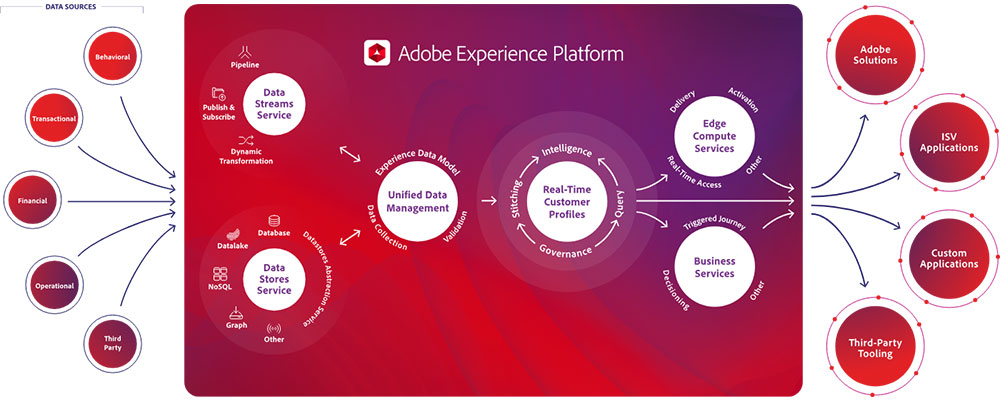 Adobe Experience Platform.
As David Armano so deftly described in his Summit insights post on Forbes.com, "Adobe's ambitions are clear—a single platform (Adobe Experience Platform) that doesn't merely integrate the many products Adobe offers, but can bring together for a large business the ability to fully capitalize on its relationship with customers while simultaneously improving the customer experience by reducing friction.
Data silos begone.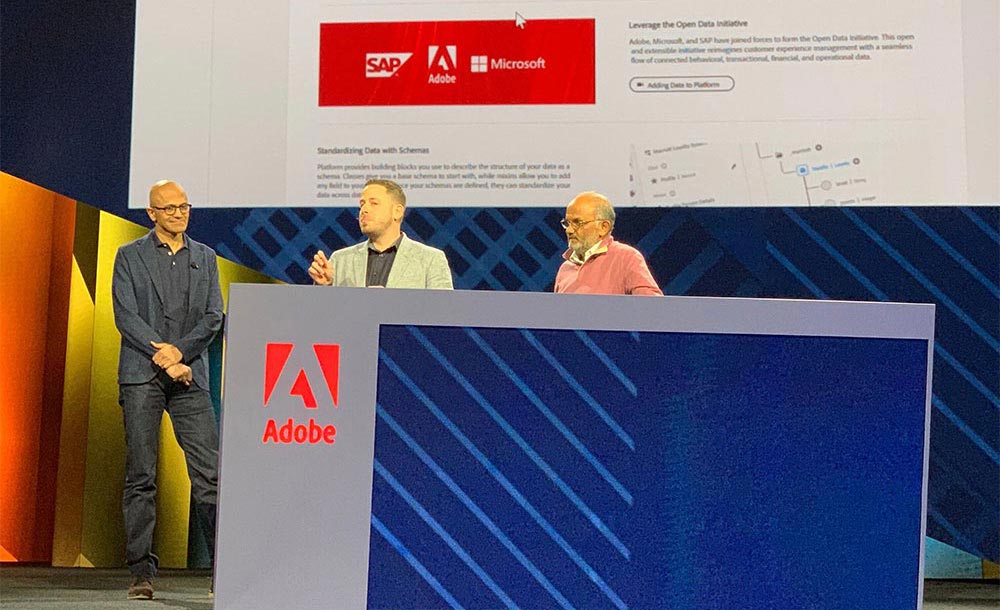 L-R: Satya Nadella, CEO at Microsoft, Adobe employee demoing Unilever's dashboard, Shantanu Narayen, President and CEO at Adobe.
The data you have around your customers is super rich, but most of your data is trapped in silos. For example, mobile/web data, transactional data and IoT data is often siloed internally, while social, advertising and third-party marketplace data is also often siloed, albeit externally. Late last year, Adobe, Microsoft and SAP partnered up to help solve this challenge and together they created the Open Data Initiative (ODI). The initiative is built on three key principles:
Customers own and control their data
Connected data will power AI-drive business outcomes
The initiative is open and extensible
ODI aims to connect the data across internal and external silos, uniting behavioral, transactional and operational data together, and allowing organizations to deliver a seamless customer experience within a single view of the customer. At the same time, ODI will allow customers to access and own their data and will give businesses the ability to feed real-time data into customer profiles.
In partnership with Adobe, Unilever demoed how they have leveraged ODI, and it's fascinating. Take a read...
Unilever wanted to create a campaign for their recycled packaging targeted to eco-conscious customers. By marrying their back- and front-end data, using a single data model provided by the Open Data Initiative, they are able to understand data patterns and deliver personalized marketing while simultaneously eliminating food and plastics waste.
To do this, they used Adobe Experience Platform to identify an eco-conscious audience segment and SAP C/4Hana to assess their plastics and food inventory with Microsoft Azure Cognitive Services to analyze that inventory. With those data sets now organized using the single data model from the Open Data Initiative, and while their marketing team was setting up the campaign in Adobe Advertising Cloud, they were alerted to a surplus of avocados at one of their farms. With the help of Adobe Sensei, they can reallocate advertising to match the adjusted supply of Avocado Oil Dressing and target it to an audience of already-identified high-likelihood buyers, eliminating food and plastics waste in their inventory by more precisely generating demand where there is strong supply.
By optimizing and acting on their owned data, Unilever is able to use AI-driven insights to meet and exceed customer expectations around recycling and food waste and deliver the right products to a receptive audience. By focusing on customer experiences, they saved more than just food and plastic, they built a relationship with their customers, increasing brand loyalty and facilitating a successful future roadmap of eco-conscious initiatives and products.
Big data has often been an allusive term that many B2B marketers have struggled with since its infancy. ODI and similar efforts will not only allow B2B marketers to better understand internal and external sources of big data sets, but pool them together to create a single view of the customer and activate that data for better experiences.
Talent required everywhere.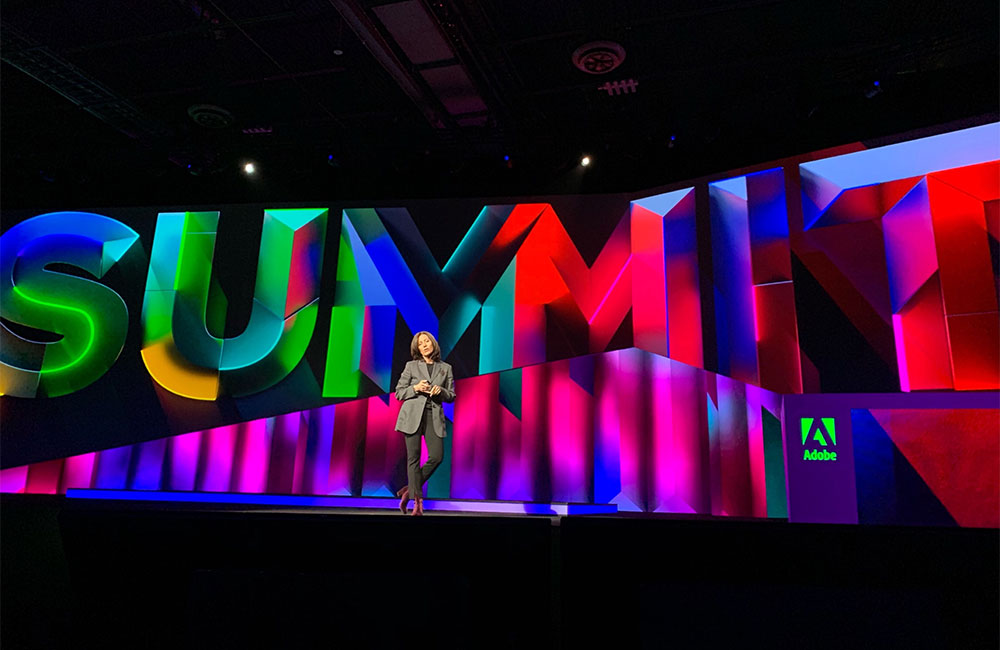 Ann Lewnes, Chief Marketing Officer at Adobe.
You need the right people to make a transformation to be truly successful," she asserted. "You need right- and left-brainers and the in-betweeners. We re-skilled where we could and brought in new skills when we need to."
—Ann Lewnes, Chief Marketing Officer at Adobe
Yes, the Adobe Summit was a parade of tech announcements and jargon, but unlike similar conferences, Adobe's team also recognized the monumental importance of talent. From the pre-conference workshops to the keynotes to the breakouts, there were any number of examples of executives, thought leaders and session speakers discussing the impact of having the right talent required to move organizations forward. While they all acknowledged that we are in an area of unprecedented technological advancement, so too did they acknowledge the need for the right interaction of organizational culture and talent to take advantage of what the tools can provide.
As B2B marketers, we would be wise to understand that to re-imagine your customer journey and experience requires not only the right platforms, but also putting the right people and process in place. This will require new roles and honest assessments of what our current teams can and cannot accomplish.
The B2C and B2B lines aren't blurred—they simply don't exist.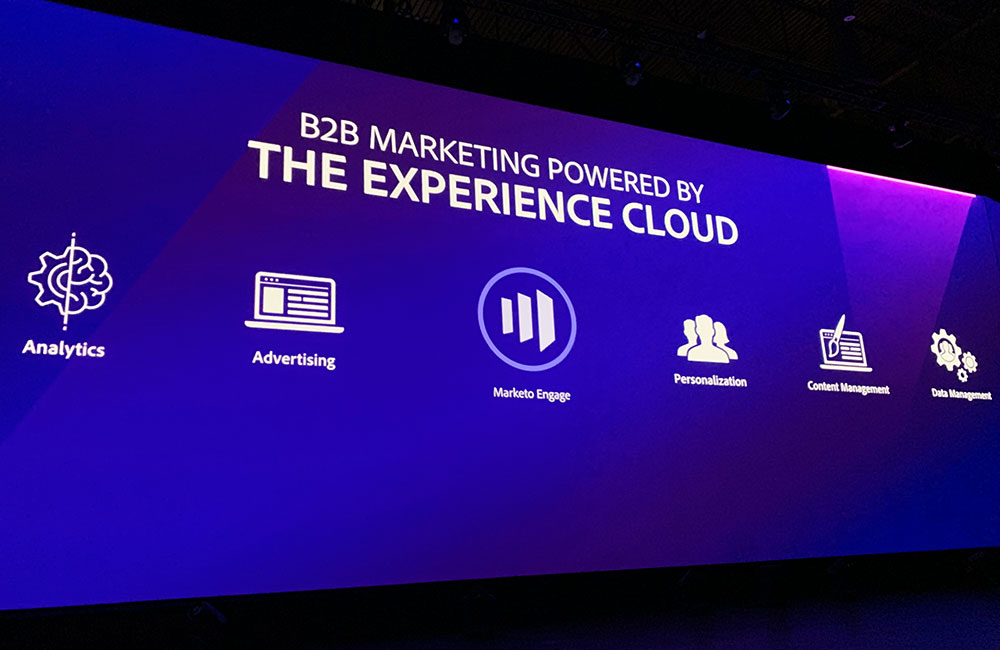 Marketo Engage Platform.
"Account-based experiences will change the game. This is one of the new and massive focus areas for Marketo as part of Adobe. It's an entirely new way to identify, engage with and deliver new experiences to account-based buying teams. It's more than one product; it's not just a feature. And it's certainly not just the tagline. This is a commitment from Adobe — that we will deliver end-to-end account-based experiences for you and your customers and come back time and time again."
—Steve Lucas, Senior VP of Digital Experience at Adobe (former CEO at Marketo)
If you've attended Marketo's Marketing Nation in past, you know that Marketo (now an Adobe company) has been bullish on the blurring lines of B2C and B2B. That isn't to say that Marketo doesn't believe that B2B marketing or the products that serve them don't deserve a focus, just that the idea that people/end users should expect different experiences from the two is utterly false.
Every time one of your customers has a better experience with any brand—consumer or business—their expectations of enterprise experiences don't just adjust themselves back down. Often those expectations even level up. The idea that people's expectations change based on the business or consumer brand they are interacting with is simply untrue. Humans continually reevaluate our experiences through virtually every encounter with a business or otherwise.
Adobe and Marketo fundamentally understand this and are working to make it a reality for enterprises via the launch of the Adobe Experience Platform, along with further integrations of Marketo into that platform and ongoing partnerships with Microsoft and LinkedIn. And that does't just stop at the individual level. Marketo is also aiming to extend better experiences beyond just individual stakeholders and into account-based decision teams. They are dubbing this effort Account-based Experiences aka ABX. Yes, we have another acronym to add to our vernacular, B2B marketers. ;)
Last Thoughts + a Bonus for You
Adobe has definitely laid the groundwork to become the customer experience conference. From the breakouts to workshops to the keynotes, this year's Summit delivered content for everyone from the C-suite to the day-to-day marketing and technology leaders developing strategy and executing the work to deliver incredible customer experiences.
Bonus: If you have read this far, you deserve an award. You'll find our detailed notes and takeaways from the conference available right here. Enjoy!
Godfrey Team
Godfrey helps complex B2B industries tell their stories in ways that delight their customers.