Blog Post
A Focus on Automation and Control
Publish date: Feb 10, 2015
|
Reading time: minute

s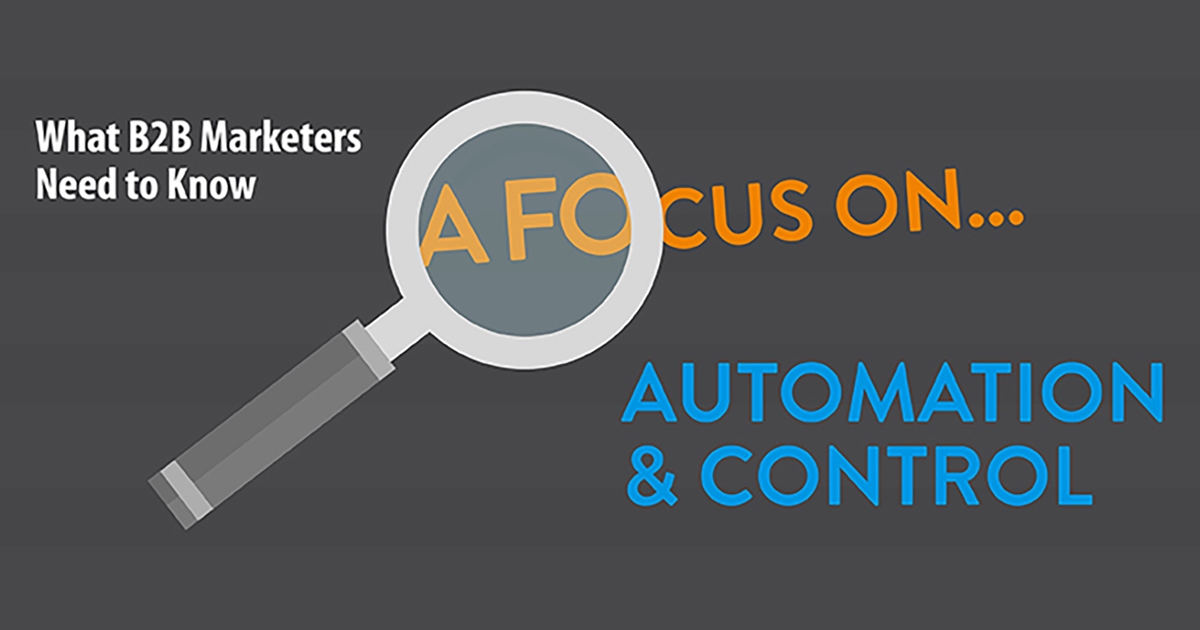 Welcome to our next installment of the industry series called "A Focus on … What B2B Marketers Need to Know." In it, we'll delve into trends within specific industries we serve and our thoughts on how these trends could impact marketing strategies.
In this edition, senior public relations account manager at Godfrey, Todd Walter, shares his perspective on the automation and control marketplace. Todd interacts with trade media professionals, and our clients' customers and their end users through attending trade shows and proactive media relations. With more than 10 years' immersion in this market, he understands how to craft messages that resonate with all audiences.
Godfrey partnered with AMG Research to study an emerging segment of your audience. Download the full report and view slides from the presentation we delivered at CFE Media's 2017 Marketing to Engineers® event.
Q. Consumer demands around the globe are different—from the actual products wanted to the speed of their delivery. What's your take on automation and control globally?

A. There's no doubt that manufacturing is changing within different regions. You have emerging markets such as the BRIC nations (Brazil, Russia, India and China) that will continue to be a source of growth. And since manufacturing of certain types of products tends to be located in the consuming region—think of food processing—expanding consumption will fuel manufacturing investment. At the same time in developed regions like North America and Western Europe, opportunities exist for the modernization of old infrastructure and the introduction of more flexible manufacturing operations. There's also been an ongoing trend of "reshoring" that is bringing manufacturing back to the U.S. from markets such as China due to increased labor costs, and transportation and energy costs.
Q. How do you think marketers can capitalize on these opportunities?

A. The key is agility. You must be responsive to the situation of each market. Obviously, the more markets you focus on, the more agile your marketing needs to be. From key messages to your actual solutions, it's important to note that a winning approach to marketing is going to be quite different depending on the specific industry and region of the world you're targeting. For example, messages centered on energy efficiency as a primary selling point may carry more impact in the decision-making process in Europe than they do in the U.S.
Q. How do you see automation and control businesses evolving?

A. Transformation is quite common in this sector. You'll either see a vertical-market-oriented company "go horizontal" by venturing into new industries. Or the horizontal-focused business deciding to "go vertical" and deepen or broaden their footprint in an existing customer's operation. Each offers its challenges but can be navigated successfully with the right foundation in place. That includes understanding the details of that industry, the buyers involved and how your solutions align with their goals.
Q. Technology has a huge impact in every industry but it's the lifeblood of automation and control. What technological advances do you see in this market?

A. Factories of the future or the "smart factory" revolution, will likely leverage "megatrends" such as cloud computing, cyber-security and mobile communication technologies to increase productivity and efficiency. Manufacturers know it's imperative to effectively interact between the factory floor and the enterprise to serve all their end users.Other innovations like 3D printing (or additive manufacturing) and the use of data-gathering sensors in production machinery and logistics (aka the Internet of Things) are also gaining momentum. There's also an interesting dynamic going on with robotics. You'll see more advanced robotics but also robotic technology being used in "mom-and-pop" manufacturing shops due to a lower cost of entry. This is opening up the world of automation to more and more product areas.
Q. How can marketers leverage their technological advances to prospective buyers?

A. If you're a manufacturer of automation components, you'll want to demonstrate with real data how you can solve engineers' technical problems such as improving productivity. You'll also want to address how you can alleviate customers' pain points such as lowering total cost of ownership and reducing their time to market.
If you're a machine builder marketing to manufacturers, you'll want to show a deep understanding of their industry and processes. Demonstrate how your solutions can be applied to their unique situation. You'll also want to, as appropriate, focus messaging around your equipment's ease of use, adaptability to different production requirements and machine-to-machine connectivity.
Todd Walter - Senior Public Relations Manager
During his 25+ year career in public relations and marketing, Todd has worked in both the corporate and agency environments. He has worked with leading consumer brands, as well as many B2B companies in automation, component manufacturing, chemicals, HVAC, biopharmaceuticals and more.