Blog Post
Q&A: New Godfrey VPs Discuss Digital-First, Data-Driven Evolution in B2B Marketing
Publish date: Feb 23, 2022
|
Reading time: minute

s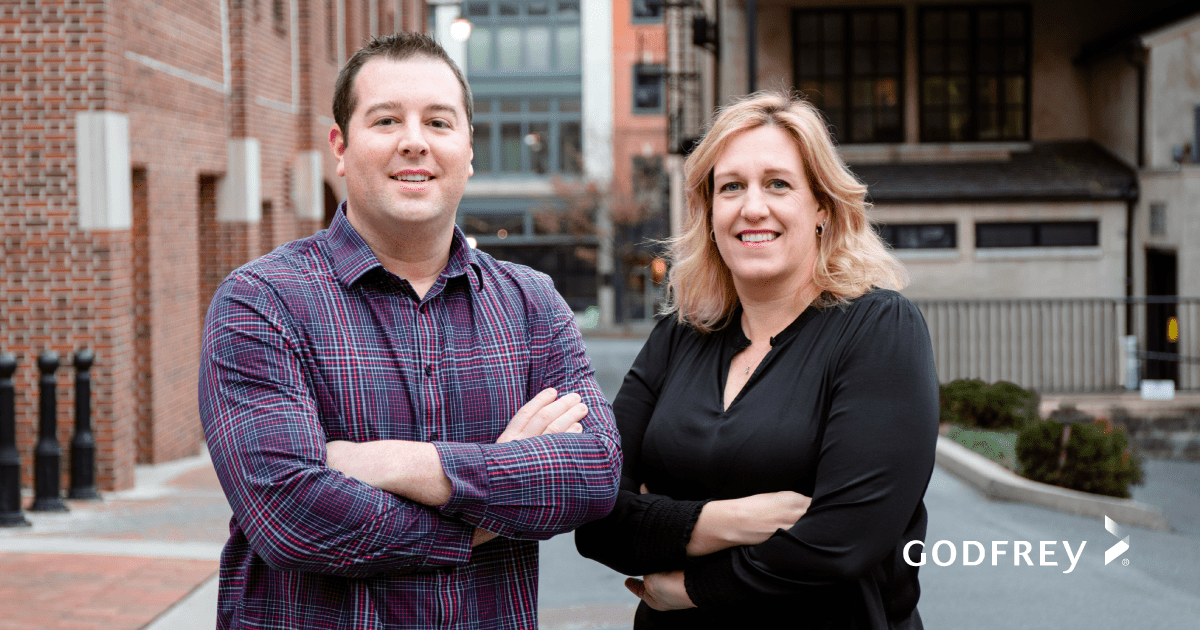 Get an insider's view on how to develop data-driven strategies and implement analytics in 2022 with Matt Boaman, VP, marketing channels, and Alison Fetterman, VP, strategy and analytics.
We sat down with two of our experts to talk about trends, transitions and opportunities that will impact marketing efforts. Godfrey's newest vice presidents, Matt Boaman, VP, marketing channels, and Alison Fetterman, VP, strategy and analytics, share insights on:
How the role of B2B marketers is changing
The way B2B marketing strategy has evolved over the last few years
How advancements in digital tools help marketers add value to their programs
The challenge of connecting the dots across digital channels
The biggest opportunities for marketers in 2022
Read on to learn more about how Matt and Alison help our team evolve Godfrey's strategy, analytics and channel offerings to get measurable results for our clients.
What do you do at Godfrey and what will your new roles involve?
Alison: I have led the strategy team and served as a strategist for a few years — primarily responsible for research and insights into audiences and industries, translating them into personas, messaging platforms and plan and measurement strategies for programs and campaigns. In my new role, I also now lead our analytics group and the evolution of our offer there as well. Working with our director of analytics, I help to shape the vision and goals of the team, working to push forward our systems, analysis and overall value for both our internal teams and client programs. Overall, I am focused on driving insightful and innovative ways to connect with clients' audiences and clearly show a strong ROI for Godfrey's B2B marketing programs.
Matt: For the last few years I have led our digital team, responsible for the strategy, execution and optimization of all of our clients' digital marketing campaigns, including SEO, PPC, social media and email marketing. In my new role, I'm also overseeing our public relations and media teams, helping to unify the channels teams and ensure we're delivering integrated cohesive messaging for our clients across all marketing channels. Together, Alison and I work with cross-functional teams to develop data-driven strategies and implement marketing programs that drive results for our clients.
How have B2B marketing approaches evolved; how are B2B marketers' roles evolving?
Alison: There has been a lot of change in recent years, marketing in the midst of a pandemic. A lot of shifts were accelerated that may have taken longer to see take hold. E-commerce, personalization and virtual and hybrid events are just a few of the areas of focus that have benefitted by changing audience demands. And they are likely here to stay. But at the end, it is still a balance of brand building and lead gen — continuing to focus on driving the awareness and market perceptions and adoption while serving to fill the pipeline in however that looks for your organization.
As much as agencies are being asked to change to shifting demands, our clients are as well. We are seeing marketing teams called to support needs across new areas of the organization — in typical engagements like brand definition and evolution, product promotion, sales enablement, etc., but now also with HR with aggressive recruitment efforts and external campaigns to promote the values, culture and benefits that will appeal to potential applicants.
Matt: As Alison mentioned, there has been a big shift in the mindset of marketers because of the pandemic. The way people seek out information and the targeting of how to reach those people has changed. What used to be trade shows and face-to-face sales meetings have now become Google searches, Zoom meetings and endless hours scrolling through social media platforms like Facebook, LinkedIn and Twitter.
In order to continue to reach those audiences, we've had to help our clients pivot. Many brands still had a heavy traditional marketing approach, and they were quickly forced to change their marketing strategy to reach their audiences in a digital way. Additionally, most of those companies also saw a decrease in their overall marketing budget and needed to show digital campaign performance and prove the results in order to maintain their budgets. As a result, we've seen some stellar results.
Alison, how has strategy evolved over the last few years?
Alison: It has gone from more traditional research, messaging and plans (which we absolutely still do) and moved to encompass greater digital solutions. We are continually learning, applying and measuring opportunities from increasingly digital channels — which have grown tremendously and are constantly changing. We work to understand the technology landscape that is always shifting, not only in the industries and solutions our clients are in, but in marketing. We understand the need from our clients to make sure that strategy drives even very tactical, granular approaches, to justify decisions and budgets and prove ROI. We also serve as the integrators across various teams within our clients' organizations; where there may have been siloed programs and channels in the past with different contacts managing different areas, we work to make sure all programs are aligned and working together toward the same goals.
When it comes to proving ROI, let's talk about data. Digital formats and channels open greater opportunities for data insights than we've ever had. How have things changed/evolved?
Alison: Everything is measured, evaluated, optimized and evaluated again. At Godfrey, we are going through our own evolution to some degree, in terms of migrating to a new dashboard platform and redefining our offer in terms of dashboards, reporting and training. We know the importance of having reliable, easy-to-understand data to help guide decisions. We have made a lot of great advances with the tools we have and are excited about the value we will be able to add in the coming year. We also realize that determining ROI and evaluating data is something that everyone must have a hand in — to be able to access the information and provide proactive recommendations, or at least ask questions to drive new solutions.
There is very little that we cannot measure in this digital-first environment, so we are constantly considering benchmarks, setting aggressive growth goals and providing strong recommendations to reach them.
Matt, we've certainly seen the increasing desire and need to leverage digital channels — what have you seen as the greatest challenges B2B marketers are facing? How are you working on helping to support our teams/clients?
Matt: I believe the biggest hurdle for B2B marketers right now is the struggle to connect the dots and demonstrate results of marketing efforts. There are a lot of reasons why. First, most marketing and sales teams aren't in alignment to properly track leads that come through, where they are routed and whether the opportunity results in a sale or not. Second, it can be a challenge with brands that route their leads to a dealer network. In most cases, there is a lack of follow-through to understand what happened with the leads. Lastly, brands are struggling with marketing technology. Either they don't have a marketing automation and CRM system set up to track the customer journey or the tech stack they do have is disconnected or implemented improperly. Without this type of technology in place, it's near impossible to understand what your marketing efforts are resulting in.
We've helped our clients from a consulting perspective, providing workshops to align marketing and sales teams, and helped embed marketing technology into their processes. Often, we have developed pilot programs, where we work with the marketing and sales leaders to create and execute campaigns in a platform where we can close the loop. The lead is directed to the designated salesperson, and we can track if the opportunity closes. This gives us the ability to look back at all the marketing touch points to determine which marketing channels are most effective. We can provide guidance on better allocating the marketing mix to invest in the channels that are working and stop those that are not delivering results.
Tactically, are there key focus areas that do factor into conversations cross-functionally and help with greater integration?
Matt: The website or landing page is really the heart of all digital marketing campaigns. While you can run lead gen or content syndication programs on third-party platforms, the website is usually the destination or hub for all of the most important information. Now more than ever, potential customers are seeking out knowledge and are educating themselves before they even consider reaching out to sales. It's critical that the website contains detailed information necessary for each stage of the buyer journey.
From an awareness perspective, it's critical that your website is highly visible in search engines for the relevant keywords for your business, products, services and solutions. Studies have shown that 80% of buyers today are starting their research with a search on Google. If your website is not ranking for those keywords, then you are losing out on potential customers and your competitors are getting that business.
In the consideration stage, it's critical that your website contains white papers, e-books, videos, brochures, infographics and other downloadable assets so your prospects can self-educate themselves.
And finally, in the decision stage, it's critical that your website contains clear CTAs and easy-to-find contact information so that your prospects can quickly reach you. At this point, a prospect should expect to be contacted by the sales team for a demo or sales presentation.
Throughout each stage of the journey, the campaign messaging is key, so that users arriving to the website know what to expect. What you're broadcasting on social should align with what you're communicating in email campaigns, which should align with what you're saying in your digital ads.
What do you see as the greatest opportunity for B2B marketers over the next year?
Alison: During COVID, a lot of teams and programs have made some necessary shifts and there were some bumps and learning curves with that. Now, there is an opportunity to take what was learned, with a sense of what worked/what didn't, and drive forward with solid, forward-thinking strategies in place.
B2B companies are making strong investments in marketing, with teams understanding the value of having a leading presence on digital channels and of being a resource for customers throughout the online customer journey. They are investing in and integrating new technology platforms to support e-commerce and ongoing nurture to drive demand. They know the value of an ongoing commitment to brand awareness to drive preference.
Matt: Going back to the importance of websites, I think this will be the year that brands have the opportunity to turn their focus on their website. In the past, many marketing teams haven't had the capacity or ability to update their website, but with reduced marketing budgets, internal teams are now looking for organic ways to drive more leads. What happens, though, is that they find out the site runs on an archaic content management system and it can't be updated, or corporate has put a lot of red tape in place to make updates. It's critical the site be fast, mobile-friendly, ADA-compliant, easy to update and optimized for search engines. The C-suite has finally wakened up to the notion that, to stay competitive and cutting edge, the site needs a face-lift. We've been working with a lot of clients recently to find ways to cut through that red tape, redesigning their website from scratch so that they have better control of making their own updates while still adhering to brand guidelines and corporate policies.
Final question — of course, we have to ask! — what is your favorite part of working in B2B marketing at Godfrey?
Alison: I choose to work at an agency, and Godfrey specifically, because of the limitless variety and the daily challenges. There is always something to evaluate, to plan, to discuss, to move forward. I actually started my career on the account side and was able to make the move to become a strategist and help lead that team, so it's not a straight path and I love those possibilities. Through my time at Godfrey, I have had the opportunity to continually learn, contribute and help advance myself, my teams and the agency.
And I get to work with some wonderful clients — for our legacy clients and for our newer ones, there is always a new solution, technology, industry or audience to learn about. We get to dig in, collaborate and make a difference for our clients and their business — building meaningful relationships and being invested in their success.
Matt: Godfrey is an agency built with people that truly care about making an impact in the world. Our team members are driven, fascinated and transparent and thrive on collaboration to help our clients tell unique stories that generate results. Godfrey has a legacy dating back to 1947, which is really cool. We have decades of experience and have helped hundreds of companies achieve their goals. It's nice to be a part of a company that stays ahead of trends, offers opportunities for growth and truly provides a work-life balance.
Thank you, Matt and Alison, for sharing your perspectives!
Godfrey Team
Godfrey helps complex B2B industries tell their stories in ways that delight their customers.