Blog Post
Build Your Most Effective B2B Marketing Team
Publish date: Jun 28, 2019
|
Reading time: minute

s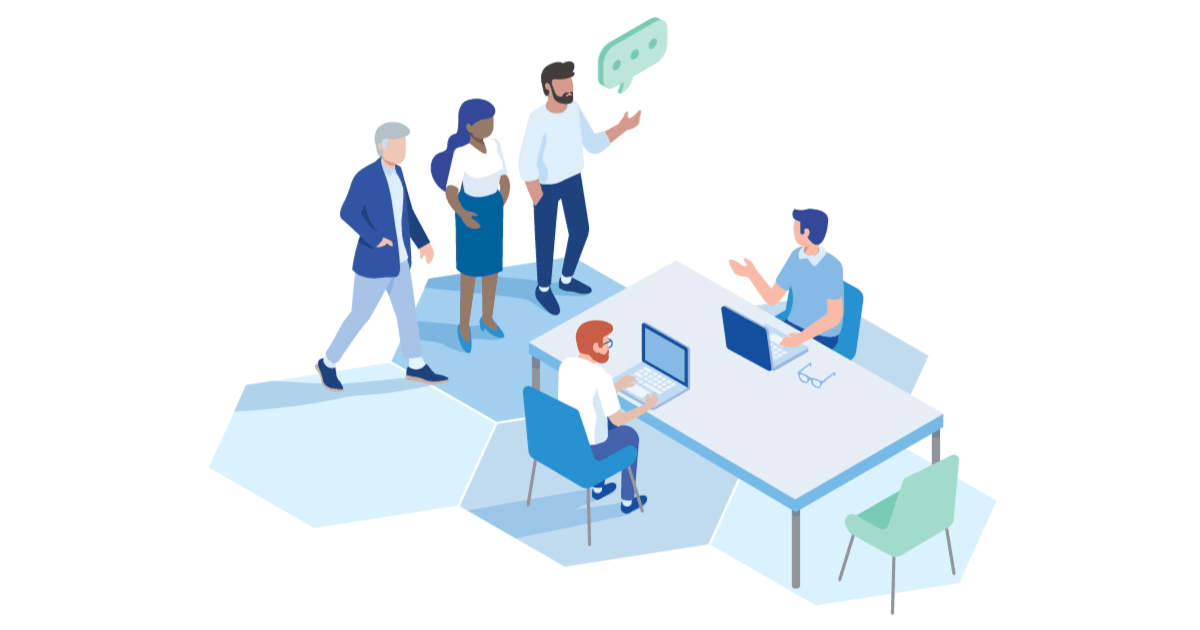 Designing an optimal marketing team structure starts with knowing which skills are essential to achieving your goals.
Modern marketing organizations look very different than they did a few years ago. The marketing leaders within B2B organizations have to preserve and promote the brand but are also responsible for a range of other priorities from demand generation to the customer experience. Both on the client side and within agencies, the skills needed to drive the full range of B2B marketing results are diverse.
At Godfrey, we certainly look for team members who align with our cultural values. After that baseline has been established, we assess whether an individual has the necessary knowledge, experience and overall talent to market complex products. We look for people with the following skills when building our team.
Informs decisions with data
When it comes to assessing the performance of marketing campaigns, data is relatively easy to find. Metrics like impressions, clicks, conversions, etc. are readily available. You want to have team members who enjoy digging into that data, going beyond the surface to look for patterns and anomalies. These are the team members who can be tasked with making sense of the data ⁠— coming to conclusions and making recommendations for how to improve the results. This type of marketing team member is not just someone who is "good with numbers" ⁠— they are analytical and decisive.
The hype around organizations becoming more data-driven is not a trend or a fad. In many cases, marketing data is plentiful, but pulling it all together is certainly not easy. This is especially true in large organizations where data sources are disjointed and far from integrated. The ability to provide true ROI is challenging for most B2B marketers. Making the connection between marketing and impactful business results takes more effort. Having marketing staff who are inquisitive and willing to looking beyond the readily available marketing data will help with cross-department collaboration (even the sales team!).
Likes to experiment and tinker
Another important skill to have within your marketing team is the ability to form a hypothesis. This takes the data-driven approach a step further. You want individuals who like to explore how certain activities may perform and who are willing to test those possibilities. This means having team members who aren't afraid to experiment and are comfortable with trial and error. Individuals with this skill can run A/B tests to determine what works best for your specific efforts. With this type of mindset, A/B testing can apply to different channels, landing page designs, headlines and keyword strategies. And having a team who is committed to continuous optimization will push your organization to try new things. Not all of them will be successful, but you will learn what works and what doesn't for your activities.
Backs up certifications with expertise
There are a lot of certifications that marketing professionals can pursue these days. Companies like Google and Hootsuite have developed curriculum and exams that are designed to demonstrate proficiency in a skill or with a platform. But having a certification from one of these organizations is only as valuable as the ability to implement those skills. We see a lot of resumes with these certifications listed, but that doesn't always mean proficiency. If you are trying to determine if someone has actually managed campaigns using what they learned during the certification process, ask them to share their most successful and least successful projects. You will also want to ensure the marketing team stays current with the latest developments in an area of certification, and in some cases, like Google Analytics there is a requirement to pass an exam annually.
Tells a good story
A well-rounded marketing department needs to have team members who can go deep within the organization to find the good stories. A good storyteller goes beyond a basic understanding of the product or service. They will look to uncover the nuggets that are more than surface-level features and benefits. In B2B, this could mean asking questions that uncover the motivations and challenges of the engineers who developed the latest product. It can also apply to customer case studies. Case studies are some of the most commonly used types of B2B content, and a storyteller is someone who is able to craft them so they are useful and compelling. It is a balance between understanding the brand voice and the needs and expectations of the customer, but it is an important skill to have on your team. You want team members who find the stories and bring them to life.
Thinks digital
A well-rounded digital marketer is someone who knows a decent amount about search, social, email, online advertising and landing page design. It is not necessary for marketing staff to have expertise in all those subjects. However, today's B2B marketers should have a strong foundational, or even intermediate, knowledge in those core areas. A wider mix of digital knowledge will ensure campaigns are better integrated. The digital skills mentioned above can support most programs that range from branding campaigns to demand generation.
It is also important to have team members who understand your organization's marketing technology stack. The last time Chief Martec released their landscape of marketing technology solutions, there were close to 7,000 possible platforms. That is an impossible number to navigate, but the category types they outline provide a solid framework for the tools and systems a marketing team may need. Be sure your team understands what martech solutions your organization already has access to, and how they fit into your overall marketing strategy.
This is certainly not a comprehensive list of everything that is needed to structure a B2B marketing team. Other growing skill sets in B2B marketing include account-based marketing (ABM), marketing automation and video. These are areas that you will want to ensure your team has some general knowledge of or have a strong partner in place.
Designing an optimal marketing team structure starts with understanding your short- and long-term goals and building from there. If you are able to find people who are not afraid of the numbers, like to experiment, are storytellers, have more than a list of certifications and have well-rounded digital skills, you are well on your way to building an ideal team of B2B marketers.
Stacy Whisel - President
Stacy serves as Godfrey's president and also oversees the channels and operations side of the agency. Her background in research and media is a key driver for ensuring Godfrey implements audience-focused programs.