Blog Post
Getting Started with Account-Based Marketing
Publish date: Apr 18, 2016
|
Reading time: minute

s
There are a lot of acronyms flying around in the marketing world, and recently, you may have noticed a new one – ABM. Account-based marketing (ABM) starts with the account, not the offer. Each account is treated like an individual campaign.
There are a lot of acronyms flying around in the marketing world, and recently, you may have noticed a new one – ABM. Account-based marketing (ABM) starts with the account, not the offer. Each account is treated like an individual campaign. ABM targets key individuals at strategic or named accounts with a more personalized marketing approach. While that sounds a lot like what a typical account manager in a B2B company may already do, SiriusDecisions' recent 2015 State of Account-based Marketing Study shows that 92 percent of companies acknowledge account-based marketing as something that helps the bottom line, yet we find very few – around 20 percent – who are actually choosing to participate in this new approach.
So, why aren't more companies integrating ABM into their sales and marketing plan?
If ABM targets the highest quality accounts and uses the latest technological advances to make the approach much more effective and efficient, where is the road block for the marketer?
Is it the perception?
You might believe you have to be an enterprise marketer with a ton of marketing dollars to build a successful program. It's actually quite the opposite. Consider those few strategic accounts – you know, the ones sales really wants. It's these accounts that could greatly increase your company's revenue. By making an investment in just a small number of accounts you could demonstrate better ROI. A little caution: You do have to ensure your product and go-to-market strategy could benefit from this approach. Typically, ABM is best for companies with extended and collaborative buying cycles and those that deal with high revenue potential.
Is it the technology involved?
Like any other marketing program, you need to evaluate your technology stack. Be sure to clearly define your plan first or researching the many different technologies will become a barrier. Jon Miller, CEO of Engagio, shared some great insights at our last FWD:B2B Conference. Using Jon's ABM Market Map will help you more easily identify gaps in your technology stack.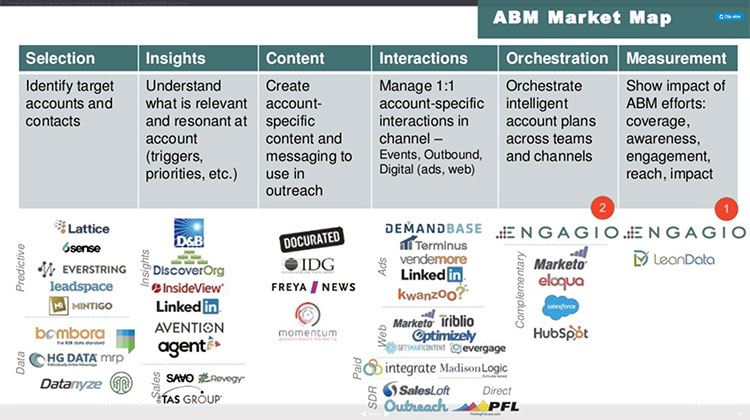 Are there alignment issues between marketing and sales?
Marketing and sales alignment may very well be a barrier because it's a common challenge for B2B organizations. Neither can achieve measurable results without the other. But what does alignment really mean for ABM? Alignment means having a common language, developing shared goals and objectives, and collaborating. Consider having someone from marketing at sales meetings, especially with high-value accounts. If the marketing and sales collaboration is a big concern, tackle the root of the problem before proceeding with ABM.
Here are some basic tips for getting started with ABM:
Define your criteria and build your list. It's important to define the right accounts for ABM. Work with sales to identify your target segments and create a short list of potential accounts. Deepen your knowledge while building the list – this is where marketing can add a lot of value. You'll want to identify the organizational structure, company priorities and industry trends. Summarize all of your findings with a detailed account profile.
Look at attributes, not just personas. Target different stakeholders within an account. Just like in all marketing ventures, this will mean developing various types of strategies to ensure you are speaking directly to those key stakeholders. Use account knowledge and insights to speak to your audience's challenges. What is it that your company can do to help? How have you helped others, even a competitor or a partner?
Personalize the experience. ABM relies heavily on personalizing the message and providing areas for the prospect to locate that information. Custom copy, images, offers and forms are important components in delivering that experience. Events, direct mail and targeted display advertising are great tactics to consider, but you must understand their needs for it to be relevant.
Demonstrate success. Measure, optimize, measure, optimize. And do it again. As with all marketing dollars, you need to show ROI to keep and procure more budget for your future programs. Starting small and not biting off more than you can chew may prove easier to measure in the long run. Consider the following metrics:


Account coverage: the number of contacts for each target account.
Awareness: which target accounts know you exist?
Marketing's influence: what actions are the contacts taking?
Sales influence: how much time and with whom is sales spending time with?
What is the business impact of ABM efforts, such as the deal size, length of the sales cycle, win rates and customer retention?
Like many new marketing approaches and techniques, ABM could be labeled as another fad. But because this is based on solid research, strategy, targeting and automation, ABM is most likely here to stay.
Learn more about ABM and how it can best help you. Do some research and figure out the right approach. It's marketing. Plain and simple. And when you do marketing correctly, it always benefits the overall goals of the business.
Josh Albert - Vice President, Business Development
Josh heads up our new business efforts, working alongside teams of Godfrey subject matter experts. As director of business development, Josh combines strong leadership and business sense to help Godfrey form client relationships where we can do our very best work.