Blog Post
Is the Internet of Things Coming to a Warehouse Near You?
Publish date: Jul 26, 2019
|
Reading time: minute

s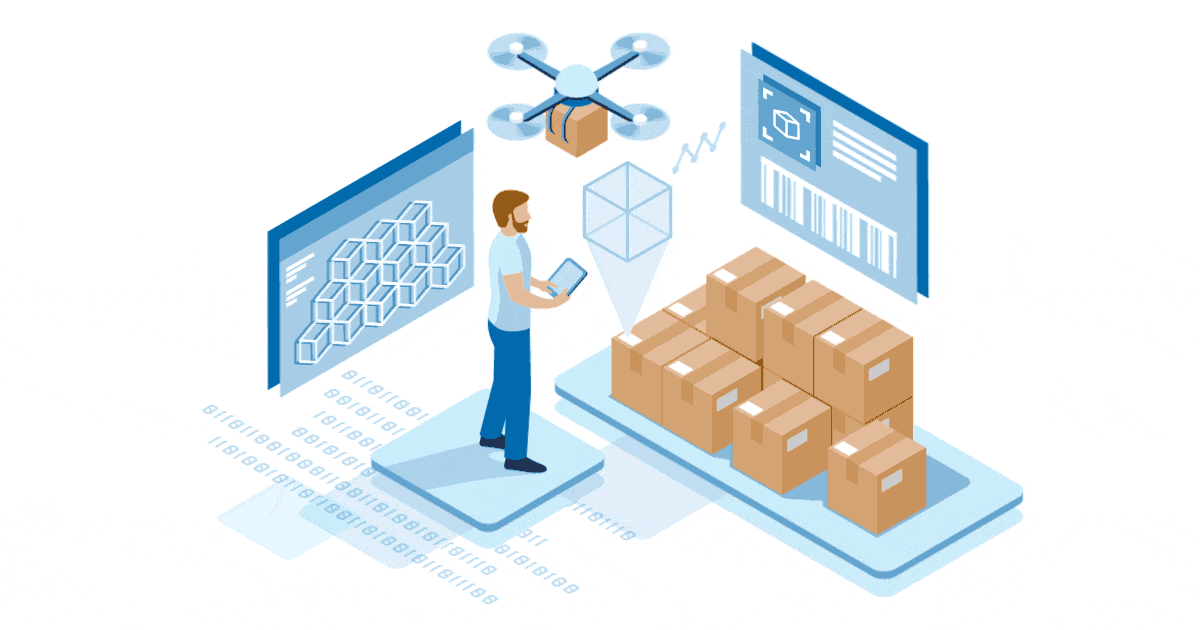 While the adoption of the IoT has been slower than some may have expected, material handling is increasingly a focus. In fact, the Connected Warehouse is here — and getting stronger every day.
The Internet of Things (IoT) is a popular topic throughout industrial America and for good reason. The Combined Annual Growth Rate (CAGR) of IoT-related products and services is projected to be more than 24% through 2026, according to a report from Transparent Market Research. Major players like IBM, Amazon, Intel, Schneider Electric, Accenture, Honeywell, Cisco and Dematic are involved and more companies are emerging almost daily.
In this gold-rush atmosphere, the material handling space is increasingly becoming a focus. The promise, of course, is significant. Proponents hope to speed up processes, make workers more efficient, avoid downtime and manage entire industrial ecosystems from product development and manufacturing to sales and deployment. They believe IoT-based predictive analytics can help companies anticipate disruptions in their supply chains. They even hope to reduce picking errors by using the weights of the included items to ensure that each box or carton contains the right items.
While the embrace of IoT-related techniques has been slower than some may have expected, material handling, in many ways, lends itself to the new technology. The hallmark of the IoT ⁠— the use of sensor data to make better, more informed decisions is already well established in the warehouse. A high level of connectivity is already happening in the warehouse on a large scale: RFID and barcode scanners have been deployed for years, providing real-time location data on everything from cases and pallets to vehicles and workers.
So, the Connected Warehouse is already here and coming on strong. Typical applications of the Internet of Things in material handling and warehouse management include the following:
Fleet Management
IoT technology can help you determine the locations of fleet assets, including trucks, robots and lift trucks, as well as people. And, as you gain experience with information, it can help with right-sizing your fleet.
For instance, you might use load-sensing data to determine if a lift truck is operating with a full load of materials or products or is simply being used as a transport vehicle.
Resource Utilization
The goal of IoT systems is to improve the utilization of all the resources at your command: human, physical and fiscal. A "smart" forklift, for example, could integrate with your warehouse management system to process orders more efficiently.
Sensors on your shipping and loading area could measure dock activity, including truck arrivals and truck departures. They could determine, for instance, that a truck was docked for an hour but that loading took only 20 minutes.
Using proposed IoT technology, you could also improve stock picking, either by bringing the shelves to the worker (Amazon's Kiva robots) or by having a robot follow the worker and tell them what to pick.
Inventory Management
Sensor-based IoT systems could help you track the movement of products from warehouse to sale. As a matter of fact, some freight carriers already use IoT technologies, like GPS and connected scanners, to track the status of packages.
IoT systems could provide accurate counts and help ensure you are rotating your stock. They could even do automated reordering.
In a critical application for perishable products, they could also do condition monitoring for temperature-sensitive materials, ensuring that they stay within a certain temperature range.
Predictive Maintenance
Rather than relying on traditional measures like time intervals or hours of operation, IoT-based systems could monitor actual sensor data, like temperature or vibration, for critical warehouse assets. You could determine when a battery needs to be replaced, learn that a piece of equipment needs lubrication or find out a more serious repair is required for a conveyor. Our mythical "smart" forklift, once again, could diagnose when it needs service.
The result is less labor and parts inventory because you're not completing a service before it is required. Best of all, there are actually fewer downtime-producing failures.
Safety
IoT-based systems can also help you improve safety in the warehouse. Using telematics built into lift trucks (mostly for utilization and availability), you could detect and track safety incidents, adding notations or uploading pictures in case of an impact.
Systems can also require operators to follow a safety checklist, take additional training if needed or determine if safety restraints are being bypassed.
And your "smart" forklift could limit its speed in congested areas while its telematics can sense oncoming traffic and prevent collisions.
Remaining Challenges
In many cases, the greatest implementation challenge is coordinating among the various systems that may be in place in today's typical manufacturing enterprise. These programs may include supply chain management software, Warehouse Control Systems (WCS), Enterprise Resources Planning (ERP), Warehouse Execution Systems (WES), Computerized Maintenance Management Systems (CMMS) and even Supervisory Control and Data Acquisition (SCADA) systems.
For the most part, these legacy systems connect to the enterprise and each other, but not through the IoT. And, as with so many other applications of the sensor-driven Internet of Things data stream, the amount of possible data may prove to be overwhelming for these systems. Too much information can be even worse than not enough if we're not careful. However, many vendors of these systems are scrambling to adapt.
There are alternatives, however. Some companies are finding that the providers of material handling equipment (and the sensors on that equipment) can provide the data they need, which is then fed into cloud-based systems for analysis and alerts if need be.
That's why there really aren't out-of-the-box solutions. For the most part, systems need to be customized for each company and each application.
More Evolution Than Revolution
The embrace of IoT technologies in material handling practice will continue. But look for the state-of-the-art to lean toward pragmatic, day-to-day improvements rather than earth-shattering, technical breakthroughs. And for manufacturers of sensors and material handling equipment to market their product by promoting IoT connectivity, as well as talking not only to plant engineers, but also to Information Technology (IT) people.
Because IoT is having an important impact in marketing as well as material handling, Godfrey partnered with AMG Research to learn more about how the buying process is changing as a result of the Internet of Things. Download the full report.
Godfrey Team
Godfrey helps complex B2B industries tell their stories in ways that delight their customers.