Blog Post
Industry Insight: Q&A With ASSEMBLY — Robots and Cobots, Artificial Intelligence and More
Publish date: Jun 03, 2021
|
Reading time: minute

s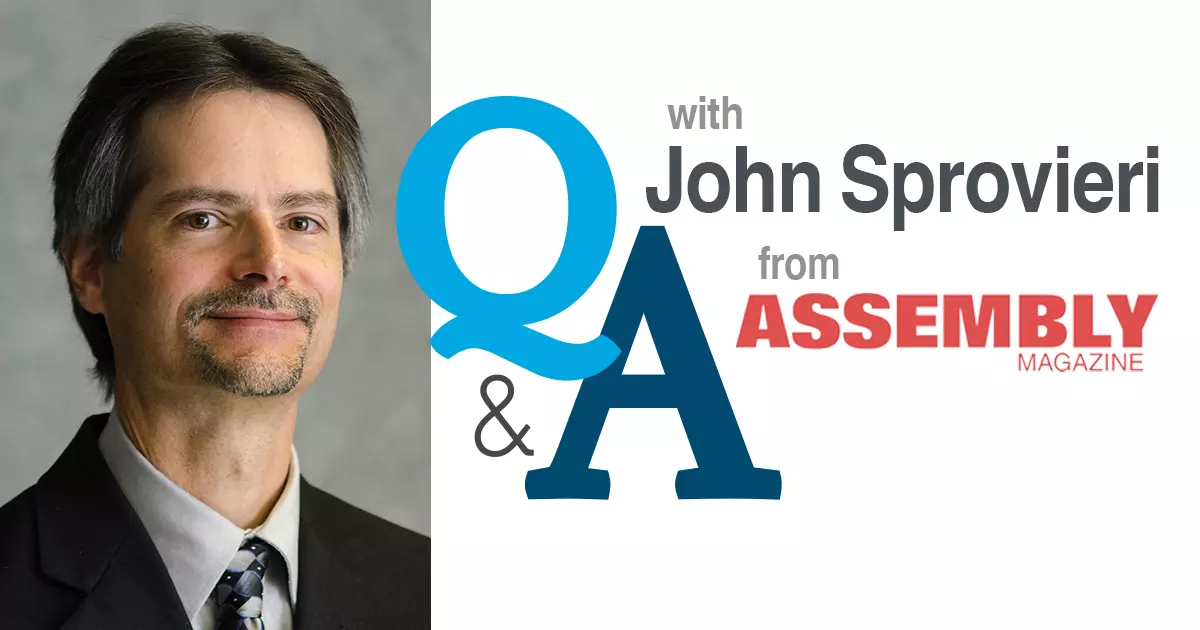 ASSEMBLY Editor-in-Chief John Sprovieri shares insights on manufacturing's top trends, plus examples of companies already leveraging these trends.
The future of manufacturing is already being shaped by the trends of today. We asked John Sprovieri, editor-in-chief of ASSEMBLY, about the trends impacting manufacturers now, as well as the challenges and opportunities that are on the industry's horizon. Here's what John had to say:
1. What is the top manufacturing industry trend you think cannot be ignored over the next year and why?
Automation. Robots are capable of things today that I could not imagine when I joined ASSEMBLY magazine 24 years ago. For example, Ford Motor Co. has equipped six-axis robots with force control and artificial intelligence (AI) so they can assemble torque converters for automotive transmissions. Assembling gears and other parts that mesh together would be difficult for a person to do, much less a typical robot, which doesn't have a sense of sight or touch. And yet now, thanks to AI, the robot learns from previous attempts how to wiggle the pieces into place most efficiently. The more parts it assembles, the better it gets at the job. With the AI-enabled robot, Ford improved cycle time by 15 percent and changeover time by 50 percent. Toyota and Nissan are using the same technology to improve the efficiency of their assembly lines.
2. Your recent editorial, 'The Robot Made Me Do It,' discussed how a recent study by the University of Southampton in England "found that robots can encourage people to take greater risks." We know workplace safety and compliance remains top of mind for manufacturers. Can you speak to this and other challenges presented by the use of robotics?
There's no question that robots are becoming more ubiquitous in assembly plants. Robots are less expensive and easier to use than ever. The technology is well within the reach of even small and midsized manufacturers. According to the International Federation of Robotics, there are 228 robots for every 10,000 manufacturing workers in the U.S. That's more than twice the global average. The advent of collaborative robots, or cobots, will only increase that trend.
Workers and managers can't take the technology for granted, however. A standard industrial robot is dumb. It only goes where it's programmed to go, and if someone gets in its way, that person could get seriously hurt. That's why standard robots must be set off from workers with protective barriers.
The increasing popularity of cobots represents both a benefit and a risk for manufacturers. Yes, cobots are designed to work safely next to people on assembly lines without traditional safety guarding. But that doesn't mean every application is inherently safe. Every application needs to be assessed for risks. First-time users of robots or cobots are well-advised to consult with an expert.
3. Digital transformation can increase efficiency and transparency in manufacturing, but it can also boost resiliency. Did manufacturers that were already using "smart factory" technology have an advantage during the COVID-19 pandemic? And how can manufacturers who haven't leveraged that technology yet take the first steps toward using it for resiliency?
I think that's true. Early adopters of "smart factory" technology have enjoyed greater transparency in the supply chain and greater insight on capacity utilization, and that certainly helped them to readjust priorities during the height of the pandemic.
A 2019 study conducted by Deloitte and the Manufacturer's Alliance for Productivity and Innovation found that manufacturers reported gains of 10 to 12 percent in manufacturing output, factory utilization and labor productivity after investing in smart factory technologies.
Moving forward, smart factory initiatives could enable U.S. manufacturers to triple the labor productivity growth rate during this decade compared to last decade. Using the study data and Deloitte's forecasting model, the researchers determined that labor productivity will likely grow at a compound annual rate of 2.3 percent from 2025 to 2030, closer to the level last seen in the 1990s.
Manufacturers that want to adopt this technology should start slow. Pick the right project, make incremental investments, gather data and grow from there. As with any manufacturing project, management buy-in and a solid change-management strategy are critical.
4. In what ways are manufacturers using technology to save energy, reduce their carbon footprint and become more sustainable?
Manufacturers are going green in a lot of ways, and they don't get enough credit for it.
Smart building technologies are enabling assembly plants to control and optimize lighting, HVAC and other systems used in the facility. Just switching to more energy-efficient lighting can make a huge difference. For example, GE's jet engine factory in Madisonville, KY, has been able to save more than $200,000 annually just by installing better lighting.
A lot of manufacturers are evaluating their product designs and supply chains with an eye on sustainability. Crown Equipment Corp., a manufacturer of forklifts and other material handling equipment, is a good example. Its design teams work with manufacturing and purchasing to identify opportunities to minimize the amount of resources needed to make and use the company's products. The company's factories are also "landfill-free" facilities. That means all the waste generated from their normal operations is reused, recycled or converted to energy.
Manufacturers are also looking at alternative energy. For example, Johnson Controls' assembly plant in Wichita, KS, which makes residential heating and air conditioning equipment, now gets all of its electricity from wind energy. Toyota's engine and transmission assembly plant in Buffalo, WV, is the site of the largest solar panel array in the state. The project will reduce CO2 emissions at the plant by 1,822 metric tons annually.
5. What do you view as the greatest challenge for manufacturing? What do you view as the greatest opportunity? (What excites you most about the future of manufacturing?)
The greatest challenge and the greatest opportunity are two sides of the same coin.
The greatest challenge is a lack of skilled labor. Since the end of the Great Recession, U.S. manufacturing jobs increased steadily, from 11.5 million in December 2009 to 12.9 million in November 2019. Then came the COVID-19 pandemic. In just five months, U.S. manufacturing lost nearly 1.4 million jobs. Fortunately, that trend began reversing last May, and the sector has recovered two-thirds of those jobs through April of this year. Manufacturing employment is now just 3 percent less than what it was in March of last year.
That's the good news. The bad news is: manufacturers are having difficulty finding skilled workers, and that's a trend that predates the pandemic. There are many reasons for that. Certainly, this country has an ongoing skills gap: a difference between the types of workers manufacturers need and the available workforce. There's also a misperception that manufacturing can't offer good and rewarding careers. The pandemic has exacerbated the problem, in that there may be a reluctance to work in a factory. But you can't make stuff from home.
I don't mean to beat a dead horse, but manufacturing's greatest opportunity actually solves the labor shortage problem, and that's automation. I once visited an assembly line that makes small electric motors. For optimum performance, the rotors are balanced, just like the wheels of a car. In the past, this was done manually. An instrument spun the rotors and indicated where they were out of balance. But the process of adding or removing small amounts of weight from each rotor was done manually. The factory employed a dozen workers just for that task.
Then, the company automated the process. The fully automated line produces rotors faster, more repeatably and at a higher level of quality than the manual operation. One person now tends the line, and the remaining 11 work elsewhere in the factory. Automating enabled the company to keep motor production — and, indeed, the entire factory — in the United States. That's a good thing.
6. Is there anything else you see as an emerging trend or key industry consideration that hasn't been covered?
If there's a silver lining to the COVID pandemic, it might be that it encourages U.S. manufacturers to consider reshoring production — to make more goods domestically and import less. Last year's shortages of personal protective equipment, ventilators, pharmaceutical ingredients and other medical products opened a lot of eyes in boardrooms and in Washington.
Since 2010, more than 4,700 companies have brought back some or all of their manufacturing operations and sourcing to the U.S. Despite COVID-19, reshoring was up in 2020. U.S. manufacturers reshored approximately 110,000 jobs last year, which will bring the total to more than 1 million U.S. manufacturing jobs added from offshore since 2010. Sixty percent of those companies that reshored since March 2020 mentioned COVID-19 as the reason for coming here.
Now, a shortage of computer chips — most of which are imported — is shutting down automotive and appliance factories nationwide. A healthy domestic manufacturing sector isn't just good economics; it's a national security issue.
7. We would love to learn something about you that we wouldn't read in your bio — is there anything you are really proud of or anything unique you could share?
I'm an avid birdwatcher. When I'm not writing articles about robots and rivets, I'm roaming woods, prairies and wetlands in search of birds. Two years ago, I was elected president of the local Audubon society, and I volunteer on several bird-related research projects. Earlier this month, I led a team conducting an annual census of the local bird population. In eight hours, my team recorded 148 different species of birds! It never ceases to amaze me what you can see when you stop and look.
Thank you, John, for sharing your expertise!
To read more about trends in manufacturing, check out 5 Industrial Manufacturing Trends Impacting Your Operations from our Director of Strategy, Alison Fetterman.
John Sprovieri - Editor-in-Chief, ASSEMBLY Magazine
John has been with ASSEMBLY magazine since February 1997. John was formerly with a national medical news magazine and has written for Pathology Today and the Green Bay Press-Gazette. John holds a B.A. in journalism from Northwestern University, Medill School of Journalism.
Godfrey Team
Godfrey helps complex B2B industries tell their stories in ways that delight their customers.