Blog Post
Industry Spotlight: Keeping up With the Built Environment
Publish date: May 10, 2019
|
Reading time: minute

s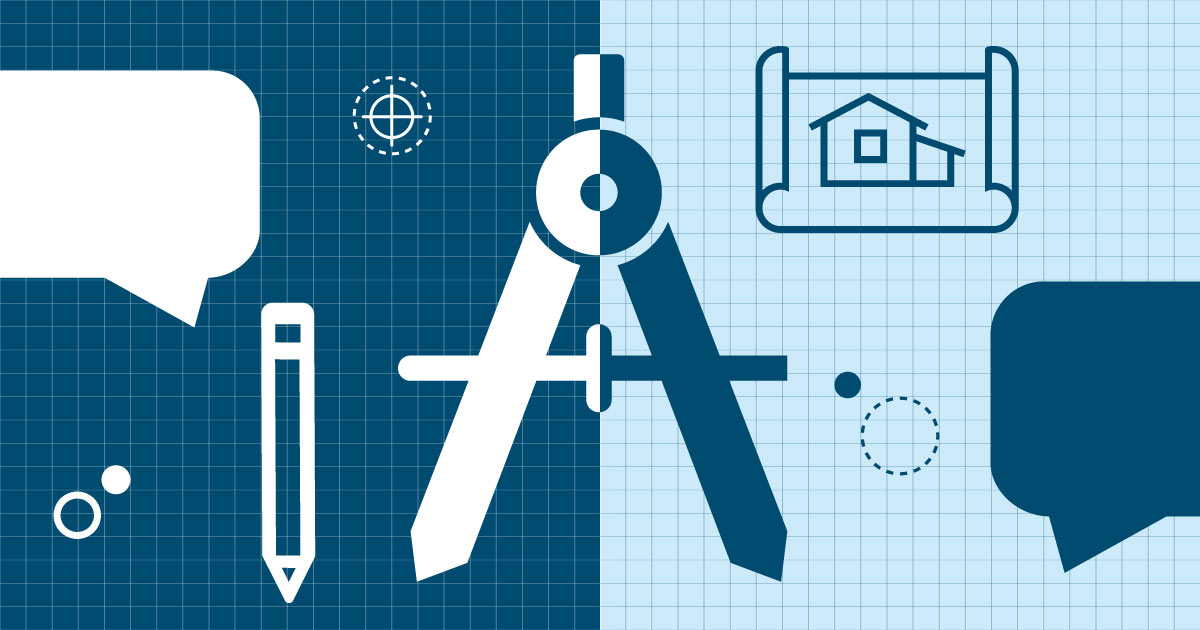 This is the first post in our new series, "Industry Spotlights," about industry trends and how they impact marketing strategies. We'll delve into the specific industries we serve and share what B2B marketers need to know.
As a senior strategist at Godfrey, I spend part of my day diving into the trends and challenges that keep our clients up at night. Many of our clients work in the built environment or building materials industry. In this post, I share some of my observations for this complex, ever-evolving category and discuss three areas marketing should cover to reach target audiences.
Q: What are some challenges in this market?
A: One challenge that we're hearing about from many of our clients is keeping up with changes in sales and distribution. Some examples include:
eCommerce in the Built Space:

Manufacturers and contractors are currently navigating the "Amazon effect", with shifts to online sales changing at an unprecedented rate thanks to companies like Amazon, Grainger and Home Depot. Building material companies are struggling to manage the changes within sales and distribution.

Skilled Labor Gaps for Construction Jobs and Related Industries:

Additionally, a challenge to watch for includes the shortage of skilled labor. This is a problem that will continue to plague construction firms. Hopefully we'll see a renewed interest in vocational schools and building trades over the next few years. I think it would be wise for companies within this category to beef up their efforts and entice talent by showcasing how rewarding a career in this industry can be.

Architectural Responses to the Impact of Climate Change:

Another noteworthy challenge that may come as a bit of a surprise is extreme weather patterns, which are driving demand for more durable and resilient building materials. I believe the proliferation of building certifications and organizations like the Resilient Design Institute are outcomes related to some of these challenges.
Q: What Are Some of the Top Trends the Building Industry is Seeing?
A: Not surprisingly, many of the industry trends for the built world have a direct correlation to industry challenges. Some of the top emerging trends in response to these challenges include:
Design-build Systems

This growing movement encourages collaborative project development in all phases of design and construction. This collaboration can result in significant cost and schedule savings, as well as increased quality.

Modular Construction

Modular components can be built offsite in a factory or warehouse and then transported and placed onsite. Advancements in modular technology allow for more durable structures, while enhancing speed and efficiency.

Resilient Design and Design for Carbon Reduction

These are two trends related to social and environmental changes that I would anticipate continuing to impact choices related to the built environment. According to Gensler, "nearly half of greenhouse gas emissions come from the built environment. We cannot address climate change without putting the built environment at the center of the conversation.
Q: What are Some Industry Opportunities?
A: Several years ago, everyone was talking about green and sustainability as it related to the built environment and elements used in building materials. Today those conversations have evolved to also encompass the impact on building occupants (such as physical and mental health). This shift is an opportunity for building owners to attract and retain occupants. However, we are seeing a proliferation of voluntary green and well building certifications. Some of the top green certification programs include:
BOMA 360 Performance Program
BREEAM
ENERGY STAR for Buildings
Fitwel
Green Globes
LEED: Leadership in Energy & Environmental Design
Living Building Challenge
Net Zero Energy Building
Passive House
WELL Building Standard
Each program has its own process, cost and criteria for certification, making it difficult to know which program will be most beneficial. This presents an opportunity for manufacturers to educate engineers, architects, contractors and building owners on how their products help achieve various certifications.
Q: How Will These Factors Affect Marketing to Target Audiences in This Industry?
A: Of course, everyone is transitioning to digital marketing, improving their social media presence or using a CRM, but in general I would say marketing needs to cover three key points:
Education

Contractors, architects and engineers continue to rely on manufacturers for education on product-related information. From hands-on lunch and learns to webinars and videos, manufacturers need to make education a marketing priority. Installation and demo videos are also important to help ensure proper product installation. Contractors rely on manufacturers to keep them informed.

Marketing tip: Contractors are typically accessing this information on a mobile device from the construction site, so this needs to be considered when developing and posting the content. Think outside the box: Consider using a QR code directly on the product that a contractor can scan for installation tips when installing the product.

Application

Architects, engineers and building owners are typically reluctant to be the first ones to try a new product. Application stories and case studies are great tools to help move a potential customer along the buyer journey to purchase.

Marketing tip: Make case studies easy for potential customers to find online, with relevant project details, products used and photographs.

Visualization

Architects are becoming accustomed to having access to tools that help them visualize building products in use.

Marketing tip: Be creative. Think of ways to use virtual reality, augmented reality or online design software. These tools are great ways to engage prospects online and at trade shows.
Donna Harris - Director of Strategy
Donna is fascinated with industry trends and market research. She supports account teams with insight and strategic planning and thrives on conquering challenges that keep clients up at night.