Blog Post
B2B Programmatic Advertising: Reach Your Complex Target Audiences
Publish date: Feb 03, 2021
|
Reading time: minute

s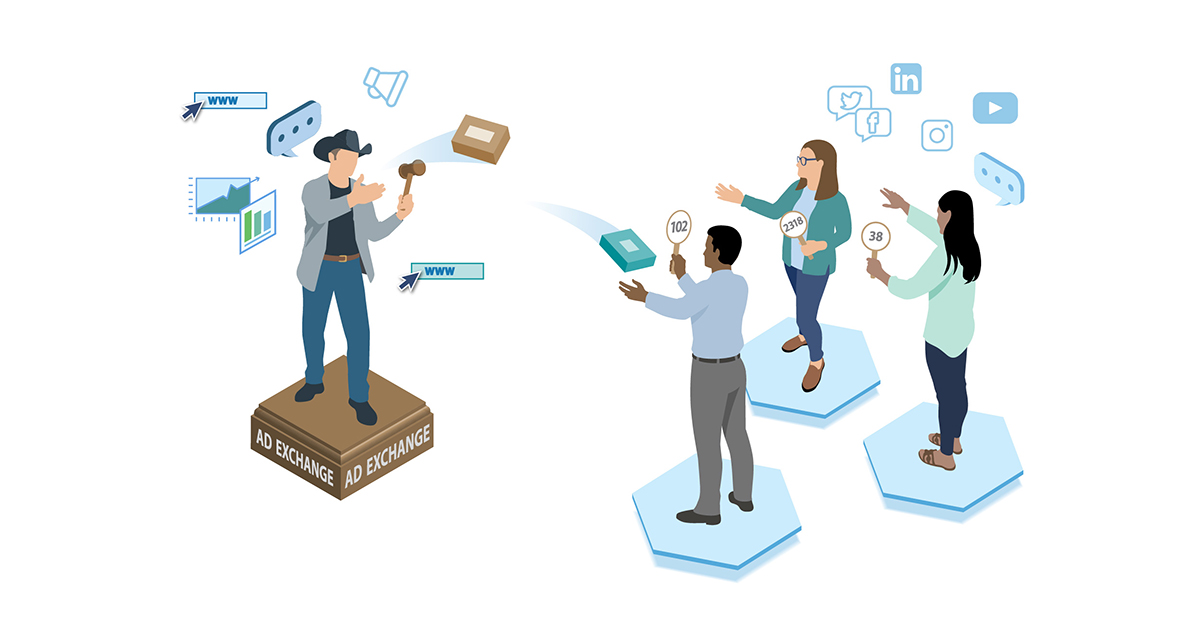 Programmatic advertising now has the targeting capabilities you need to reach your elusive B2B audiences. Find out how it can help you market to complex B2B industries.
There's been a lot of talk recently about programmatic advertising in marketing to complex B2B industries. Not because it's new, but because it only recently started to gain the targeting capabilities B2B advertisers need to reach their elusive target audiences.
It's been common in the business-to-consumer world for at least a decade. You might have been able to target a 35- to 38-year-old woman with two kids, an annual household income of $100,000, an interest in astronomy and a passion for running marathons. But finding a purchasing exec in a Fortune 100 mining or steel company? Not so much.
With new technology in place, however, programmatic advertising has changed B2B marketing significantly. We can serve our ads to much more difficult-to-reach audience segments, like VPs of engineering, medical device design engineers and even millennial architects designing imaging centers at suburban health campuses.
But first, a definition.
PROGRAMMATIC ADVERTISING DEFINED
"Programmatic" refers to buying and selling ad space through an automated system or platform. It revolves around an exchange where advertising space is auctioned off to the highest bidder. Specifically, buyers on a demand-side platform (DSP) purchase ad space from sellers operating on a supply-side platform (SSP) in a real-time bidding (RTB) environment. Yes, you read that correctly: real time. That means it's dynamic, changing and constantly reacting to new bids and space availability. And it's global, with millions of dollars in ad revenue changing hands every hour.
This can take many different forms. Programmatic advertising can show up as banner ads on websites or as sponsored content. You might be catching up on the news in the New York Times, Reuters, CNET or wherever, and suddenly there's an article about split spherical roller bearings. Perhaps, while browsing videos about the news of the day, you might spot a case study on lubrication for conveyors. It might be on Facebook or LinkedIn or anywhere that's part of your natural habitat on the web.
HOW PROGRAMMATIC ADVERTISING WORKS
Delivering programmatic advertising can be complex, and it's possible to go through dozens of networks just to buy the space. In addition, you could find yourself working with a number of DSPs.
It's important to only bid on spaces that meet your criteria. For example, it might not be enough to simply accept people who are engineers, or even people who are mechanical engineers. It may be more effective to look for design engineers with purchasing responsibilities for hydraulics at one of 50 targeted companies. Or you might start with 15 million available impressions and settle on the 750,000 that match your criteria.

Source: Centro
This model works so well for B2B because it allows companies like Dunn & Bradstreet and BPA to slice and dice an audience any way you want. Companies publishing trade journals — publications that have been the mainstay of B2B marketing for decades — have been transformed into technology companies with detailed lists of subscribers or, more specifically, lists of the people who buy or influence the purchases and services in a thin sliver of the market. In fact, these lists of audience segments are the most valuable assets these trade publishers own and are more important than even their publishing resources or physical plant. It is their success in reaching a highly qualified audience that sets them apart.
Unfortunately, there is a caveat to that. If they don't scrub their list, it becomes worthless. You don't want a list full of bots and contacts who have already unsubscribed. You can always tell when you have one of those lists because the engagement will be terribly low.
PROGRAMMATIC ON SOCIAL MEDIA
When it comes to programmatic advertising on social media, consider buying directly from platforms like LinkedIn, Facebook, Instagram or Twitter. They have more data about their userbase than you can get from anyone else, so they have become very powerful. They have the keys to the kingdom in that sense, so they charge more. And on the Internet, you get what you pay for.
It comes down to the quality of the data. Social platforms have first-party data — it's their own data where people have personally identified themselves — as opposed to third-party data in which people are categorized based on the actions they take. It's the difference between you stating you're interested in something versus being labeled because you spent time researching specific solutions.
INCORPORATING YOUR OWN LIST
You can even use your own list to create an audience segment and advertise to those people. Before programmatic, for instance, you could send an email or a printed mailer to your list. But that was it. Now, you can reach them anonymously as they surf the web.
You can even do an "extension" of your target audience. Working with technical partners, you can ask them to build a lookalike listing—a collection of people who share key attributes with your existing list. Obviously, they have to make a number of assumptions that need to be tested. If they don't work, you can go back in and make a different set of choices.
While some of these capabilities may be limited as more platforms implement tighter privacy policies, some are developing alternative targeting tools. Chrome, for example, will be rolling out a change that will eliminate third party cookies while implementing cohort groupings which would allow you to target groups of people, rather than specific people.
PROGRAMMATIC'S KEY ADVANTAGE
One of the huge advantages of a programmatic campaign is that it's not limited to a single publisher or page. Marketers can now run ads next to the most relevant content found almost anywhere on the web. Admittedly, not every trade publication will accept programmatic ads. They may have a small but intensely loyal audience, in which case they may feel that programmatic would not work to their advantage. But those cases are rare.
When dealing with complex targeting that B2B clients often require, every additional layer (or targeting criterion) reduces the available inventory and the available number of impressions you can serve. In some cases, a target might be so specific that there are fewer available impressions than the budget allows. It's also possible that by applying overly specific layers—for example, targeting one type of engineer in a defined vertical within a specific geography—you could eliminate virtually every potential target.
As a result, programmatic targeting is part art and part science. It's not just a matter of pulling a list of industry codes. Consider what people are doing and what they are interested in. Some people want to target an office building. Granted, your audience spends a lot of time there, but they don't just exist there. This concept is easy to forget when you're talking at a conceptual level about targeting, but it's essential when you're actually deploying tactics to reach those people. Because ultimately, we're advertising to real people in the real world. That's what programmatic advertising helps us do.
Programmatic advertising is quite possibly one of the most powerful reach tools available to B2B marketers. Understanding how to deploy it efficiently and strategically can help you leverage its power to generate better results and a higher ROI.
Seth Mariscal - Media Director
Seth leads the development and execution of paid media plans that drive results for our diverse range of industrial manufacturers.