Blog Post
Preparing for the Future of Programmatic Advertising
Publish date: Sep 09, 2021
|
Reading time: minute

s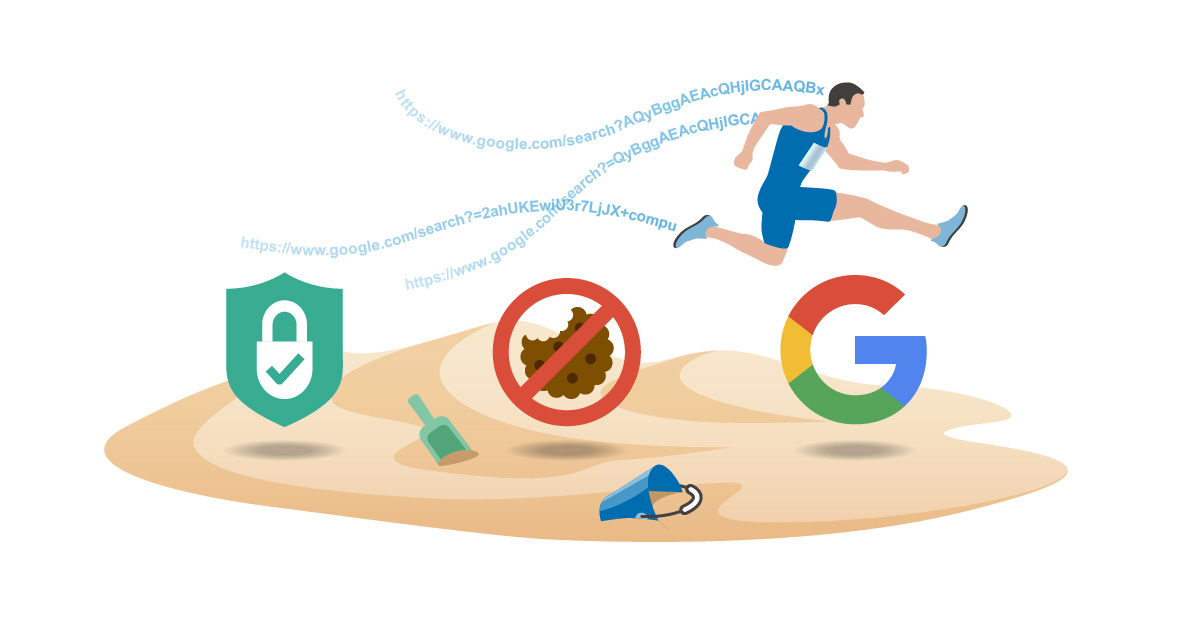 Despite the moving timeline for Google's Privacy Sandbox, you can still prepare. Find out what will — and won't — change for B2B marketing.
To quote English Author Douglas Adams, "Don't Panic."
In 2019, Google announced its intent to create the Privacy Sandbox — "a secure environment for personalization that also protects user privacy." This has sparked much debate and consternation around the future of programmatic advertising, website functionality and conversion tracking.
Google's most recent announcement that they are pushing this change back to 2023 should not dissuade you from preparing for the Privacy Sandbox; rather, it should motivate you to prepare and start to test compatible technologies.
There is no doubt things will change, but running a solid programmatic campaign will not become impossible. We will just have to make some small changes to how we deploy them. In this blog post, we will break down what will change, what won't change, what we need to watch for and what B2B marketers need to know.
What Will Change
Certain data segments currently use third-party cookies to track user behavior on the internet to develop interests, purchasing habits and behavioral characteristics. These will be the hardest hit, as they extract information in a way that this shift is specifically designed to block.
Do you ever wonder why you start seeing car ads when you're thinking about buying a car? There are activities that trends have identified as indicators in the path to purchase, which can be concerning, from a privacy perspective. This is what is driving the push toward privacy protection — not that you won't be tracked but that you will be notified of what is being tracked, rather than it just happening in the background.
Another tactic that will need to change is remarketing or retargeting ads. The way they work currently, a snippet of code is placed on a website that will ideally trigger on a specific action, which we label a quality indicator. That snippet places a cookie in the browser when that action is taken. For 30 days or less, the browser will carry that cookie identifying that browser profile as being of interest to be served a retargeting ad.
There are several ways for this to continue working in the Privacy Sandbox, including the Trusted Server model, which would provide the possibility of allowing actions such as retargeting, frequency capping and budget management.
At this point, the only sure thing is that Google is stating we will be able to continue using remarketing/retargeting of known users in some capacity, but exactly how has not been resolved.
What Won't Change
That leads us to things that won't change, and there are a few of these:
Contextual Targeting: This old school/new school tactic is making a big resurgence with new capabilities surfacing as it becomes more important. Using technology like Machine Learning and Artificial Intelligence (AI), tech companies are developing better contextual targeting capabilities. Where we used to rely on a domain-level identifier for types of content, we are now able to scan individual pages for keywords, content differentiators, quality scores and relevance.
First-Party Data: Many people provide their data and log in to say "Hey! This is me." We estimate about 70% of the data layers that we use at Godfrey to target B2B audiences fall under this category. These are high-quality targeting criteria that are more expensive but much more reliable. For comparison, about 80% of web traffic contains third-party cookies — which will be eliminated in Google's Sandbox.
Cohort Targeting: We currently do use some cohort or group targeting for certain campaigns, and this is the main direction Google is planning to go in. They have been developing their capacity to recognize groups based on similar interests. Ad Exchanger breaks it down like this: "The proposal, dubbed FLoC — aka 'federated learning of cohorts' — calls for using on-device machine learning to group people based on their common browsing behavior as an alternative to third-party cookies." Imagine cohorts of scientists, design engineers or procurement, for example, labeled with random alphanumeric strings. Advertisers could bid on impressions associated with a particular FLoC label on exchanges or in DSPs. While it's being scrutinized due to its anti-competitive nature, reminiscent of Microsoft bundling IE with Windows, it will be an effective tool regardless of how it is ultimately implemented.
Direct Buy: A lot of advertising is done direct to publishers because they have the B2B audiences we're looking for. This works well for targeting vertical B2B audiences. It usually comes with a heftier price tag but does not rely on any ID targeting and therefore will not be impacted by Privacy Sandbox.
What to Watch For
Rolling out a massive effort like this will certainly have quite a few bumps. Here are some things Google — and users — will have to watch out for:
Regulatory Hurdles: While there is a definite argument for privacy and the elimination of third-party cookies in favor of other technology with fewer exploits, there is also the issue of Google relying on FLoC — a Google dataset used to replace third-party targeting audience segments — creating antitrust regulation concerns.
Last Touch Attribution: While already a severely outdated way of tracking conversions, it's still easy and therefore frequently used. Privacy Sandbox will likely make this type of conversion tracking even less reliable, as attribution will likely be limited to a single session.
Unique ID Networks: Most ad tech companies are unlikely to sit by and let Google be the only source for targeting. Companies like theTradeDesk are already working hard to create an alternative to FLoC while still maintaining privacy standards.
Cross-Platform First-Party Data: One of the biggest bridges to cross is when people navigate a single experience across multiple pages or country-specific domains. So, if you're on a .com portion of the website and get taken to a .it or .uk portion, you don't want to have to re-enter information you already told the website earlier.
What do B2B marketers need to know?
Third-party cookies have long been a vulnerability that have worried the security- and privacy-conscious among us. This is a problem that needs to be solved, and the major tech players are taking strides to force a change.
This will change the back end of how we customize the internet experience and will force new, and hopefully better, ways to interact with audiences.
Much like Flash, third-party cookies are destined to fade away as we transition to new tech. For advertisers, this can mean contextual targeting, cohort targeting and, most importantly, first-party data.
The exact timeline is up in the air right now, but we're expecting it to start rolling out in 2023. (See here for the most updated timeline.) The best thing you can do is start to prepare for the inevitable changes:
1. Develop First-Party Data: Make sure you start to prioritize developing first-party data you can use for advertising. Since first-party data is the information you collect from customers directly, whether from your website, CRM or social media (just to name a few), this is the most valuable and useful dataset you have, and it will just become more important as time goes on. You can read more about first-party data in our recent blog around data privacy.
2. Evaluate Your Goals: Start thinking about your goals and how they will be impacted by these changes and ensure you are measuring and tracking the right key performance indicators (KPIs). Look for ROI on specific things. If you know the value of a conversion, and know the percentage of traffic that converts, you can backtrack an ROI on clicks.
3. Test Your Assumptions: Testing is something you should never stop doing. The internet is like a desert, an eternally shifting landscape. The moment you stop testing your assumptions is likely the moment things will change. By looking past last-touch attribution and focusing on ROI generating KPIs, you should get a better handle on what actions actually make an impact on your goals.
And the most important thing you can do is take a deep breath and not panic. Things are changing and the technology landscape is always evolving. But, as long as your partners (like us!) are paying attention and testing new approaches, it will all work out and may even work out for the better.
Seth Mariscal - Media Director
Seth leads the development and execution of paid media plans that drive results for our diverse range of industrial manufacturers.