Blog Post
The "Smart Factory" Revolution: What's in a name?
Publish date: Jan 29, 2016
|
Reading time: minute

s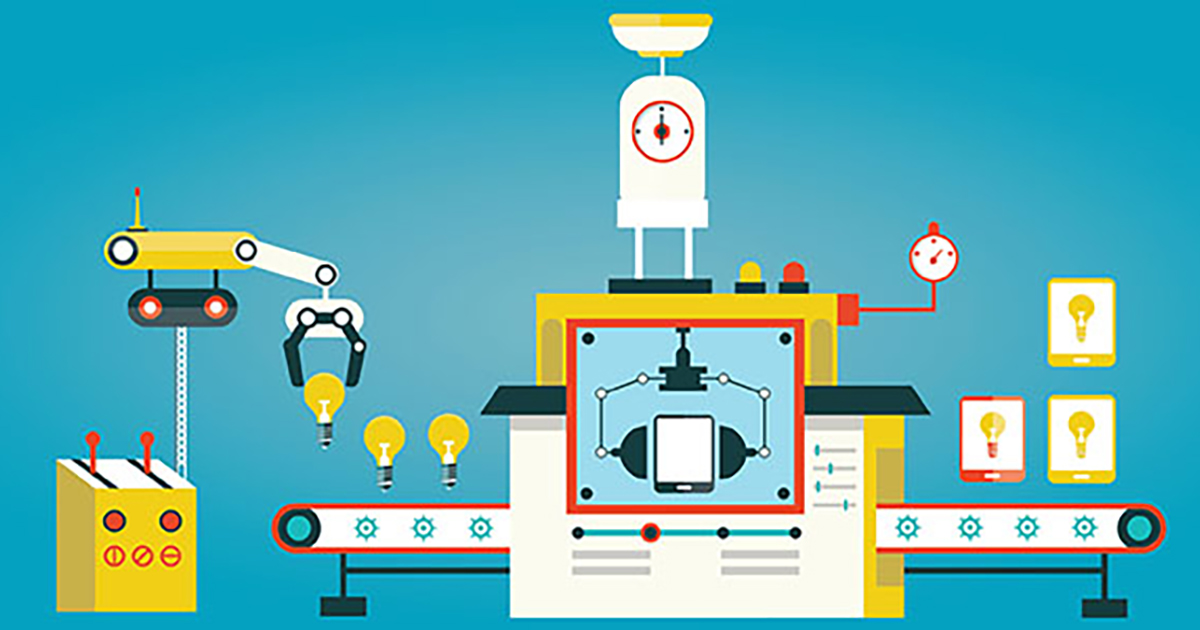 B2B marketers in the automation and controls market segments have many terms for referring to the "smart factory" revolution - which one is best?
The recent gathering of global movers and shakers at the World Economic Forum in Davos, Switzerland, met under the overall theme of "Mastering the Fourth Industrial Revolution." The "Fourth Industrial Revolution" is the term used in Davos to describe the fundamental changes underway in today's global manufacturing technologies and the broader world of digital technology.
As B2B marketers focus on creating relevant content for the automation and controls OEM and end user audiences, it's important that these topics are relevant, timely and also search optimized. With tons of buzz words flying around, it's easy to get caught up in the frenzy.
Right now, along with "fourth industrial revolution," terms in use include "Smart Factory," "Connected Industry," "Industry 4.0" and "Industrial Internet of Things," to just name a few. So let's ground ourselves in the content that's truly valuable to audiences. We'll do that by taking a look at some commonly used search terms being applied to the changes underway in the automation industry and see how they stack up.
Godfrey partnered with AMG Research to study an emerging segment of your audience. Download the full report and view slides from the presentation we delivered at CFE Media's 2017 Marketing to Engineers® event.
What's in a name?
One thing I noticed in general news coverage of the Davos conference – mention of the theme was often followed by an explanation of what "fourth industrial revolution" is supposed to mean.
Finding the right term will help B2B marketers get past the setup – "what it is we're talking about" – and enable us to focus on what matters: effectively telling stories and communicating the advantages that our clients' technology offer.
We recently analyzed average monthly U.S. search volumes for a host of terms on this topic; some of the results included:
internet of things – 49,500
iot – 27,100
m2m (machine to machine) – 9,900
industry 4.0 – 1,900
industrial internet of things – 720
smart factory - 260
"Internet of things" had the most volume, but that has generally been accepted as a term encompassing virtually everything that has internet-enabled technologies embedded in them – not just manufacturing technology, which is where our focus lies.
Most terms were only in the hundreds of searches per month, and none really demonstrated the kind of volume that really settles the issue.
It's also important to remember that you need content to back up your keyword, not just in a generic way where you "stuff" the term onto a page that doesn't really talk about the term at all.
For a little more perspective, we reached out to some trade magazine editors in the industrial automation space. Not surprisingly, there was no consensus on what to call the changes now gaining momentum in the industry. One editor had this to say: "When we refer to it, we say Industry 4.0 and we say Industrial Internet of Things. There's also the Internet of Things, which is broader."
"Smart" move: Focus on clarity
At Godfrey, we've chosen to use the term "smart factory" – even though other terms have more volume. Smart factory is clear, simple and self-explanatory… and we will be able to generate strong and effective content about changes and opportunities in smart factory technology, applications and developments in the near future.
Smart factory is the right term to start telling that story well:
It focuses on the specific market – the factory
"Smart" is a benefit and forward-thinking
It is present tense, clearly implying something that is going on here and now
This last point is important: Smart factory tells you, more directly than other terms, where this change is happening, that it will make the factory a smarter, more sophisticated and productive enterprise.
Let's try a little test. Which term works better?
"Packaging systems with Internet of Things-enabled PLCs and HMIs will have faster changeovers and greater flexibility…"
or
"Packaging systems with smart factory PLCs and HMIs will have faster changeovers and greater flexibility…"
For B2B marketers, this clarity and focus is the best first step toward helping tell good, strong stories to the audiences we target – technology and software providers, design engineers, automation OEMs, discrete machine builders and manufacturing end users.
And there are good stories to tell. In our next post, we'll dig into the following question:
Is the "smart factory" already here? Although it may appear that many smart factory concepts are still off in the future, some of the technology that's needed is already in place. What's the best way to communicate this to your specific audiences – and how do you separate hype about what's possible from what's actual and real?
Brian Moore - Content Director
A storyteller with three decades of B2B writing and content development experience, Brian loves talking to engineers and technology-oriented professionals. He knows they have great stories to tell.