Blog Post
New Technologies Revolutionizing B2B Experiential Marketing
Publish date: Jan 19, 2018
|
Reading time: minute

s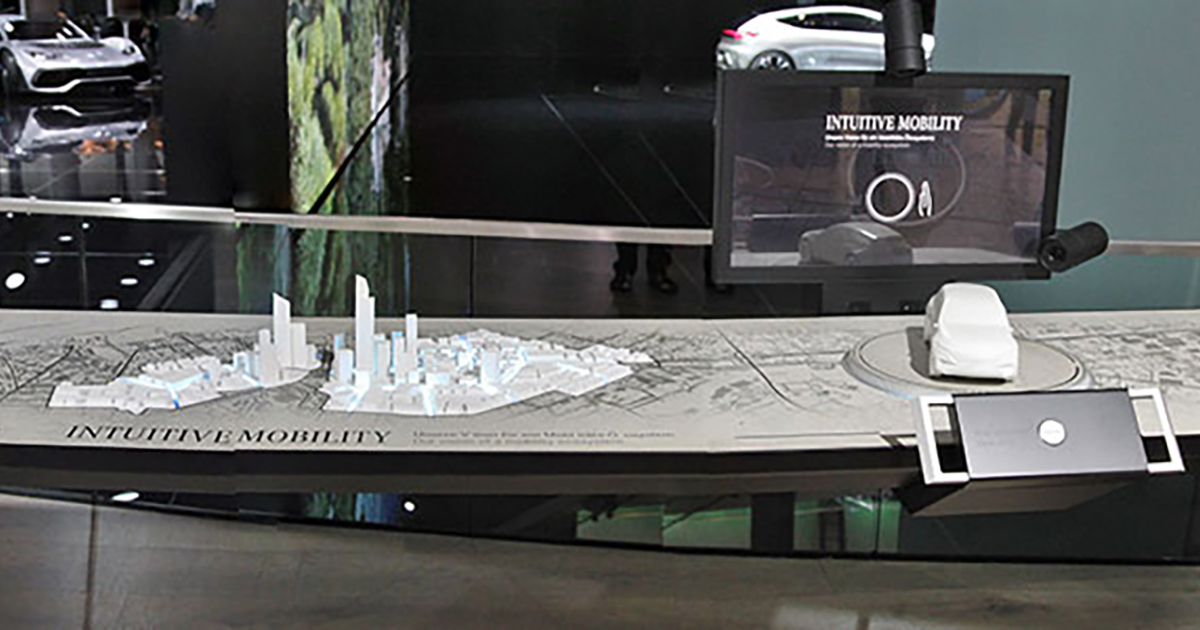 New technologies like virtual, augmented and mixed reality are driving a revolution in experiential marketing for B2B, continuing to evolve storytelling into an emotionally powerful brand expression.
New technologies like virtual, augmented, and mixed reality and engineering vision are driving a revolution in experiential marketing for B2B. This renaissance promises to reshape the way brands communicate to their customers, transforming dry, 2-D displays into exciting, multimedia, multidimensional experiences.
The result will be a continuation of B2B's journey into brand storytelling, creating resonant, on-brand experiences that connect customers and brands in an emotionally powerful way.
I recently had the opportunity to see the future of B2B marketing at the Frankfurt Auto Show in Germany. Auto makers, especially the premium manufacturers, have always created brands that are highly personal and identity-defining for their customers. And they have always used technology effectively in telling their brand stories.
What I saw there convinced me that B2B marketers are on the right path, using cutting-edge exhibits to show off the technological advances they are making with their products. Showing, if you will, not simply telling.
Virtual Reality
Virtual reality (VR) is one of the leading platforms that will make B2B experiences as exciting as anything in the consumer world. Imagine transporting attendees inside a new facility halfway around the world to demonstrate an innovative manufacturing process. If you've ever been on a site visit or plant tour, you know how impressive and memorable these events can be.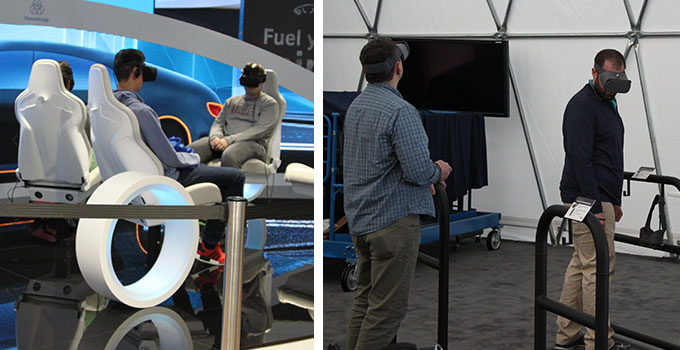 LEFT: Virtual reality in use at the thyssenkrupp booth. Right: A virtual reality experience at the JLG booth at CONEXPO 2017.
B2B often involves specialized operating conditions that are unique to a limited set of end users. With VR, we can safely place anyone in nearly any situation from the confines of a show floor or conference room. Product demonstrations can become as lifelike and relatable as real-world situations.
Auto manufacturers at the show used several different forms of virtual reality (VR), from passive viewing of content to fully immersive, seated simulators. In fact, VR was almost expected. Short of actual test drives, which generally aren't always practical, VR allows the largest audience possible to enjoy the thrill of driving. And as the thrill of driving is often a linchpin for manufacturers, VR is a perfect experiential tactic.
Mixed and Augmented Reality
Imagine being able to put on a headset (like a HoloLens device) and see a hologram of a product appear in space right in front of you. Then, using your hands, you would be able to spin the system around and see it from different angles or pull it apart and inspect the individual components. Now think of doing that with a large piece of industrial equipment or a process. That's why mixed and augmented reality offers lots of advantages for B2B marketing.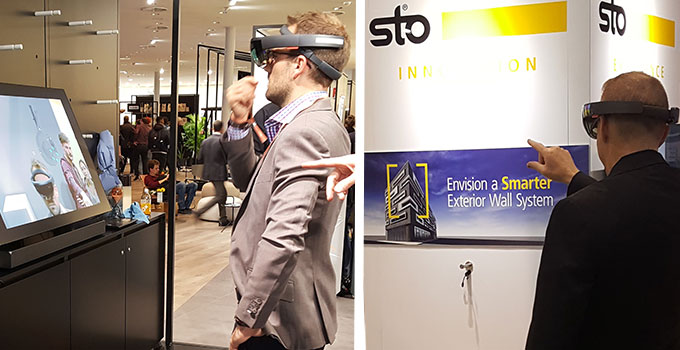 Left: Mercedes-Benz using mixed reality to teach visitors about their braking system. Right: Sto allowing visitors to take apart a wall system at the AIA 2017 show.
Dissecting a wall system or taking a deep dive into an automation system would be much easier than it would be in real life. Not to mention safer. Mixed and augmented reality allow nearly any talking point, feature or benefit to be easily communicated.
"Other" realities were used frequently at the Auto Show. Users were given hands-free, mixed-reality devices, like headsets (rather than tablets or phones), enabling them to see digital information layered over the real world. These displays gave attendees a greater level of interaction than they could have experienced with static displays.
For example, one manufacturer showcased their approach to next-generation safety systems, specifically, a new braking system. Visitors were able to rotate and view the system as a complete unit in 360-degrees from any angle. Or, if they preferred, explode it out into its components and take a closer look at individual parts.
Engineering Vision
Engineering vision uses transparent computer interfaces comparable to those used in movies like Iron Man or Minority Report.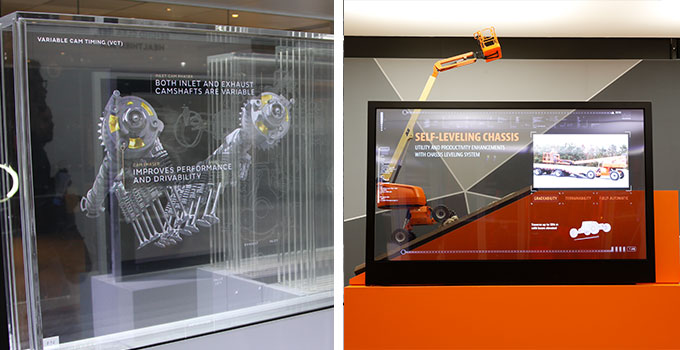 Left: A look inside an engine at the Land Rover booth. Right: A look inside a new chassis system from JLG at CONEXPO 2017.
The best implementations allow a user to see inside a marketer's product and interact with the engineering details that make the product unique. The user simply taps an icon on a transparent screen, and the insides of the equipment come to life through technical animations.
In a typical B2B application, you can effectively demonstrate the engineering prowess that goes into a new design, say, for example, of a hybrid drive system. It's an exciting new way to give your audience the engineer's view of the system. The interface itself provides the wow factor and the experience establishes an empathic connection.
Quite a few examples of engineering vision were on display at the show. Through it, visitors could interact with equipment on the floor as they would in a next-generation engineering department, peering inside technical information.
The Future
And that's not all. Other advanced technologies, like artificial intelligence, connected infrastructures and manufacturers such as service providers were all discussed at the show.
These technologies are going to enable marketing, sales and engineering teams to work together like never before, creating incredible customer experiences. They will allow us to defy expectations about what is possible and build captivating brand affinity.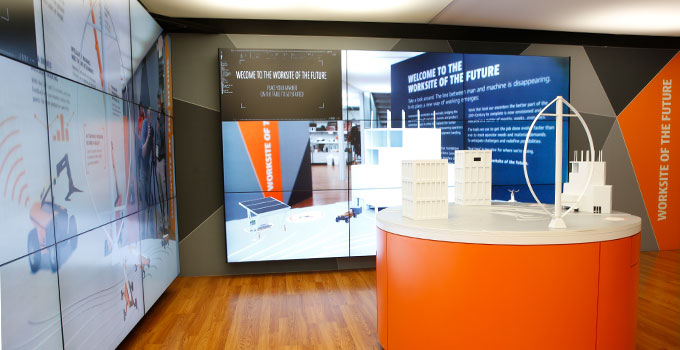 A hands-on augmented reality experience using 3-D PRINTED models at the JLG booth at CONEXPO 2017.
If you would like to learn more about how you can leverage these exciting technologies, please contact us.
Godfrey Team
Godfrey helps complex B2B industries tell their stories in ways that delight their customers.