Blog Post
How the Next Industrial Revolution Will Impact Marketing
Publish date: Oct 15, 2018
|
Reading time: minute

s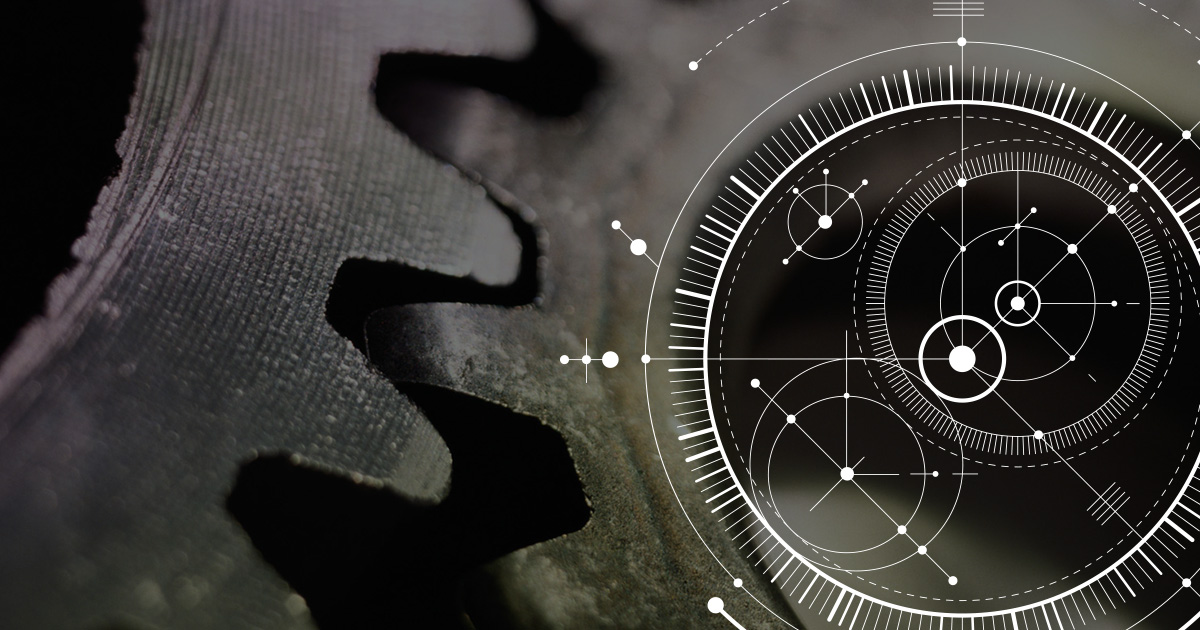 A host of advances – like the internet of things, robotics, 3-D printing and data analytics – are converging in ways that will radically change both manufacturing. and marketing.
What an exciting time to be in manufacturing.
The Internet of Things, of course, is getting the most publicity. But a host of additional advances – including robotics, digital fabrication (or 3-D printing) and data analytics – are converging in ways that will radically change manufacturing as we know it.
We've blogged about the changing manufacturing environment before. Alison Fetterman wrote a recent blog post entitled, "A Bold, New Vision for the Factory of the Future," summarizing Frost & Sullivan's vision of a manufacturing future with self-healing supply chains, smart manufacturing platforms and even smarter machines.
A new view of this sea change is outlined in a thought-provoking article in PwC's Strategy+Business, "10 Principles for Leading the Next Industrial Revolution."
"It isn't often that the broad infrastructure that underlies industrial civilization undergoes a dramatic transformation," the piece begins. "But just such a change appears to be happening now."
Not surprisingly, considering the source, PwC's ten principles are less about technology and more about strategy. Not so much about how to apply a principle like the Internet of Things, but more about the long-term impact the IoT will have on companies who manufacture things. PwC believes all this activity offers "unprecedented potential gains for companies that claim leadership roles.
The key points are summarized in the graphic below.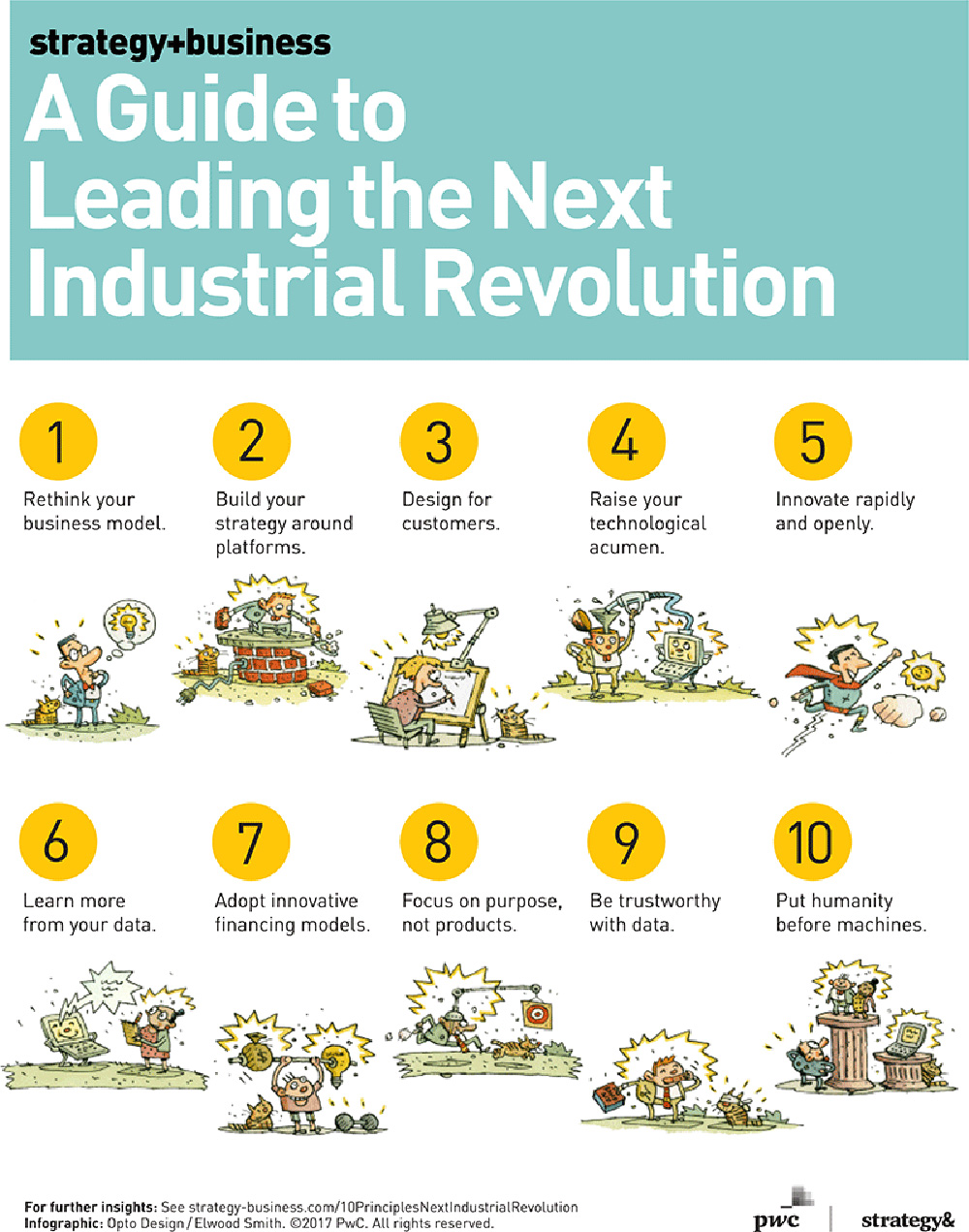 SOURCE: strategy+business: Corporate Strategies and News Articles on Global Business, Management, Competition and Marketing
All of these principles are relevant, in one way or another, to B2B marketing. A few, however, seemed especially worth commenting on. They lead to a number of conclusions that promise to revolutionize industrial marketing in much the same way as they are transforming the world of manufacturing.
Principle No. 1: Your Company's Business Model
At the most obvious level, as a company's business model changes, its marketing needs to evolve as well. Does the new model change the way you go to market or the positioning of your products in the marketplace? If so, your marketing should change too. Maybe even your branding as well.
Perhaps more importantly, marketing is in a unique position to help a company reevaluate its role in the marketplace. Market research, and the insight it produces, can provide important guidance on the changing landscape, both competitively and technologically. Answering questions like:
How will the new market ecosystems PwC describes change your industry? Will it even exist in a decade?
Will your products change? Will they, too, be absorbed into other business or industry approaches? Or bundled into a broader offering from companies you don't even consider to be competitors?
What new market challenges and opportunities will present themselves? And how can your company take advantage of these opportunities?
Marketers are uniquely positioned to address these questions. But we'll definitely need to up our game and show the C-suite the value we can bring to these discussions.
Principle No. 3: The Customer
For most B2B marketers, it has always been about customers. But the flood of new information will enable us to learn even more. Reaching out and engaging customers in new ways.
User experience, long a concern on the web, will soon extend to the entire enterprise. Your company should look, feel and act the same to your customers, no matter how or where they interact with you. On your Facebook page. On the web. In person. Via email.
Principle No. 5: Innovation
Given the importance PwC describes, will innovation continue to be a differentiator? Or will it be assumed that everyone is an innovator?
And will that spirit of innovation transcend the product suite and encompass innovation in other areas, like customer service, sales support, aftermarket resources, financing, training and the like? (See how we broadened innovation for our client JLG.)
Principle No. 6. Data
To be honest, marketers historically lag behind most of their companies in their embrace of data. Our inability to connect with the financial realities of our companies, for instance, is one reason why 80 percent of CEOs don't really trust marketing, according to research by Fournaise Marketing Group. That's something we're going to have to change, and quickly, to remain relevant in this new age.
Our corporate masters are demanding ROI, proof that they are getting a good return on their marketing investment. Our progress toward that goal, however, is uncertain at best.
The strange thing is that we're already drowning in data. But we're still struggling to turn it into actionable intelligence.
Perhaps there are some artificial intelligence tools that can help us better organize and parse the information that is inundating us. And go well beyond today's limited dashboards and reporting of ordinary traffic data to develop insights and actionable information that can guide our future actions and customize responses to individual customers.
Principle No. 8: Purpose
In another passage that should warm the hearts of marketers around the world, PwC lays down the challenge for the new generation of marketing:
"To differentiate your company, you need to develop a clear purpose: a value proposition, more effective than anyone else's, that applies to everything you do. This means looking closely at the reasons people come to your company, the outcomes they expect, and the ways you can deliver. When you are clear about what your company is, and why you sell what you sell, people will trust you to deliver what you promise."
As car companies redefine themselves as "facilitators of mobility," marketers need to follow a similar path. Focusing not on our own "products," which might be described as ways to send marketing information to a target audience. But on our purpose – creating interest in, and demand for, our company's products. Or is that, for our company's "purpose"?
And as companies hone their value propositions, there's nothing better than a branding campaign to announce a new or revised value proposition to the world. One that shows what's changed. And what is staying the same. That part of marketing not only will remain. It will continue to flourish.
Perhaps more importantly, this new world requires something more from companies who would lead this new industrial revolution:
"Trustworthiness and a clear articulation of purpose will become more important to business. An enterprise that is continually changing must balance that turbulence with purpose and trust, or people — including employees, suppliers, customers, and regulators — will not be able to make the full commitments that businesses need."
Day-to-Day Impact on Marketing
How will all these changes in manufacturing impact how marketers do their jobs day-to-day? Obviously, that has yet to be determined. But a few patterns are starting to emerge.
First, we need to be more agile. If our companies change their distribution channels or product mixes, we marketers need to be able to respond quickly.
Second, we need to embrace continuous improvement in the same way our manufacturing counterparts do. We're still locked in the fix-it-and-forget-it mode of thinking that comes from the creation of physical assets like ads, brochures and direct mail. We need to shift our focus to the always-on, easy-to-revise virtual world of digital marketing.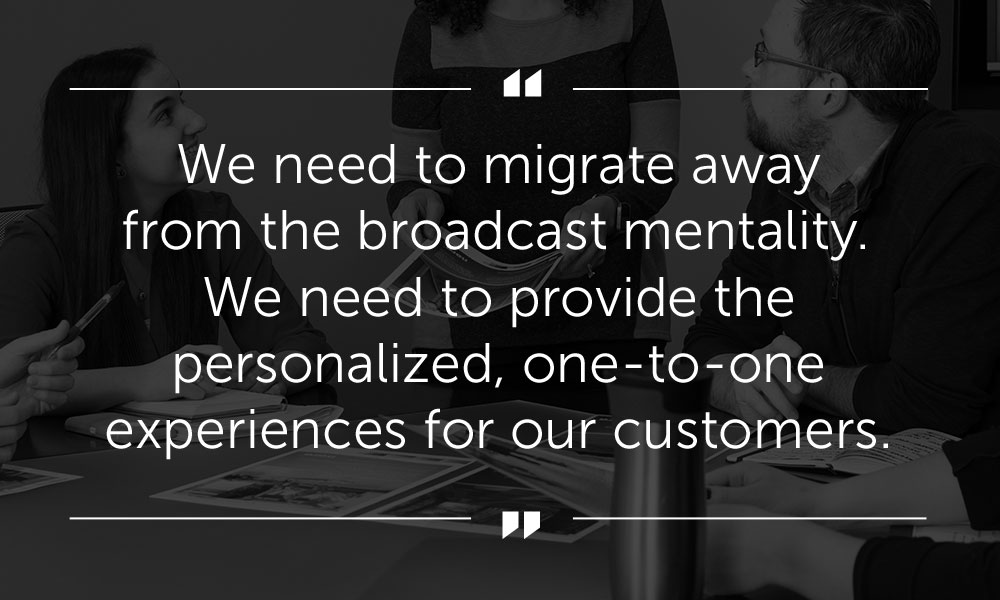 And that means getting past our fear of failure, which is more dangerous than failure itself. Better to make mistakes more rapidly.
We need to migrate away from the broadcast mentality. We need to provide personalized, one-to-one experiences. Clearly, our customers are beginning to expect it.
Third, in the same way that manufacturing is being transformed by technologies whose impacts are mutually supporting and reinforcing, marketing is facing the same phenomenon. Disruptive technologies, for example, like Account-Based Marketing and Marketing Automation are demanding more and better content, increasing the importance of content strategy and content marketing. And the explosion of media alternatives and channels makes it more important than ever that companies protect and nurture their brands with integrated, or perhaps even unified, marketing programs.
How the Buying Process Is Changing in Manufacturing
Because the emerging revolution in marketing is of vital interest to us, Godfrey partnered with AMG Research to learn more about how the buying process is changing as a result of the Internet of Things. Download the full report and view slides from the presentation we delivered at CFE Media's 2017 Marketing to Engineers® event.
Godfrey Team
Godfrey helps complex B2B industries tell their stories in ways that delight their customers.