Blog Post
A Bold, New Vision for the Factory of the Future
Publish date: Jun 30, 2017
|
Reading time: minute

s
Self-healing supply chains. Smart manufacturing platforms. Even smarter machines. That's the Factory of the Future. See our quick summary of Frost & Sullivan's must-read white paper.
Self-healing supply chains. Cognitive manufacturing platforms. Sentient machines collaborating with workers. The Internet of Manufacturing. Even an anticipatory Internet of Life Cycle.
Those are just a few of the elements released in Frost & Sullivan's mind-blowing white paper, "Vision 2030: The Factory of the Future."
Well Beyond Internet of Things
The revolutionary changes outlined in the 26-page white paper go well beyond the Internet of Things and Industry 4.0 concepts laid out in our recent Marketing to Engineers® presentation. And that is understandable. IOT and Industry 4.0 are much more about the changes anticipated over the next three to five years.
The Frost & Sullivan document takes many of those ideas and extends them into the future: the next 10-15 years.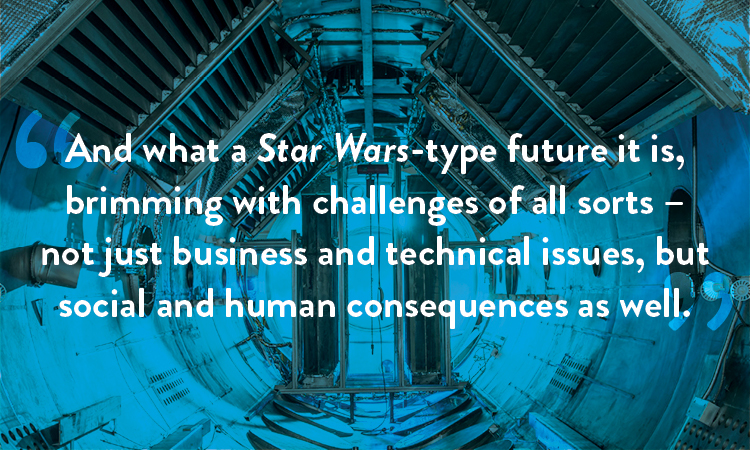 A few of the things it envisions:
Networks of small, nimble factories will replace today's large, centralized plants.
Factories will be strategically located to customize their output for specific regions and customers.
Manufacturing will transition from making parts to "as-a-service" business models.
End products will be designed to achieve outcomes rather than meet specifications.
Digital Twins
Those smarter products will not only gather data about their condition and performance, but will share that data with a "digital twin" or model that can predict wear or the need for maintenance. And even more importantly, that model can anticipate when the product will have to be replaced by a next-generation product better designed to meet customer need.
Raw materials and products will enter the Factory of the Future through autonomous supply chains that will automatically manage purchases and can "heal themselves" when problems occur.
Innovation Will Get Smarter
Innovation itself will have to get smarter, spanning not only a company's internal resources, but its entire ecosystem of partners, customers and other institutions. And using advanced analytical tools, crowd-sourcing and even automating the innovation process itself.
Lest we forget the human element, workers in the Factory of the Future will need to be much more digitally savvy. They'll need to be comfortable interacting, and even collaborating, with machines. And they will sometimes need to defer to the machine's "judgment," even in situations that seem counterproductive.
Every Aspect to Be Affected
In short, "Every functional aspect of the enterprise is likely to be affected," the report says. And it will require significant organizational and cultural shifts to achieve.
So not only is Information Technology (IT) becoming more important in the industrial buying process, as noted in my blog post on the rise of the CIO in the B2B buying process, the entire process itself is being retooled and automated, data-driven and digitized — with major implications for marketers.
And while we may not think such a space age future is possible by 2030, Frost & Sullivan see these changes as unavoidable. And gaining momentum every day.
Most Important Requirement: Trust
Interestingly, the white paper concludes with an ironic note on the most important requirement for success in the digital factory: trust. Companies will have to trust that the information they're relying on is accurate and secure. That it can be shared across their ecosystems without fear of theft or loss of intellectual property. And workers will have to be confident that their companies will help them with the training they need to transition into this bold new future.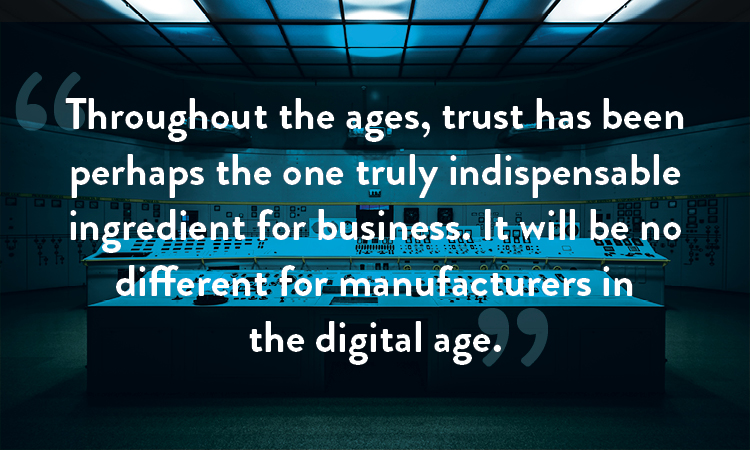 For some insight into the steps B2B marketers should take to adapt to the near-term challenges of the Internet of Things and Industry 4.0, see our blog post: "New B2B Buyers for Industry 4.0: What You Need to Know."
Alison Fetterman - Vice President, Strategy & Analytics
Alison leads the strategy and analytics teams, focused on driving insightful and innovative ways to connect with clients' audiences and clearly show a strong ROI for Godfrey's B2B marketing programs.