Blog Post
Underutilized B2B Marketing Strategies That Deserve Attention
Publish date: Sep 04, 2020
|
Reading time: minute

s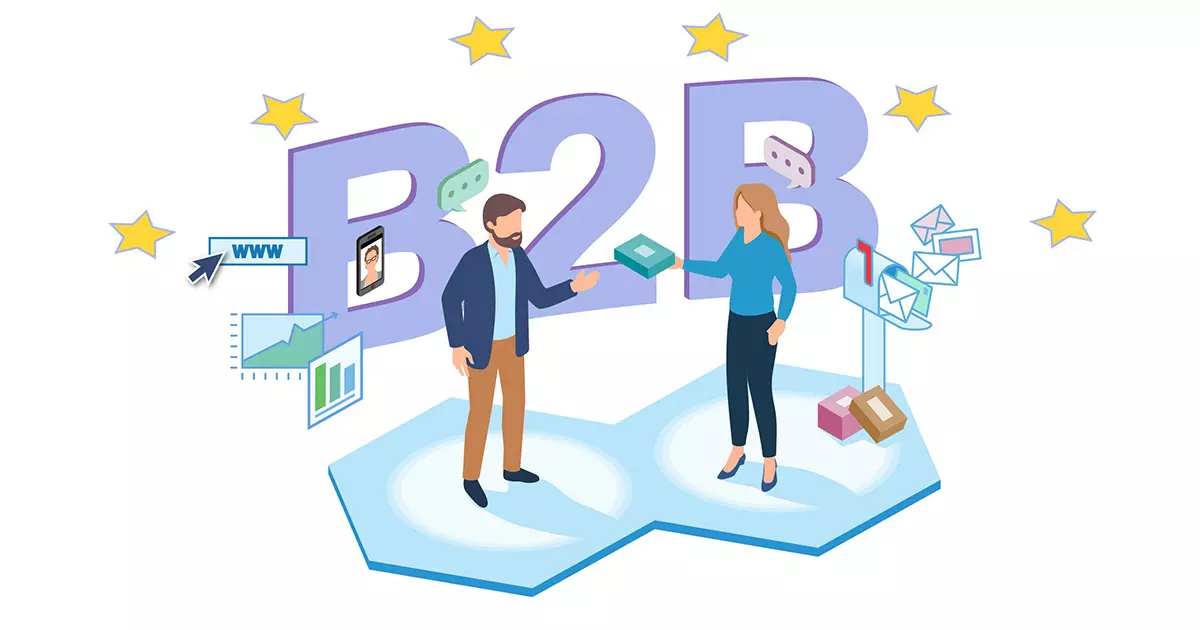 Basic but successful marketing strategies are often overlooked. These are some common marketing tactics that are as reliable as they are effective.
Marketing is a fast-paced industry that is ever-changing. One day, companies reach target audiences through full-page magazine ads and the next, they participate in the latest social media trends, splashing their message across every platform. However, for companies whose target audiences are other companies, their marketing approach may look a little different. Business-to-business (B2B) outreach is centered around establishing strong professional relationships.
While some traditional marketing strategies remain reliable, companies can find themselves caught up in exploring the boundaries of their comfort zone and venturing to new marketing tactics – often overlooking the core strategies that are tried and true.
B2B businesses can look to these approaches to enhance their engagement with their clients.
1. Send Snail Mail
When it comes to B2B marketing, there is something to be said about going back to basics. In a digitally driven world, emails and online ads have become mundane and can easily be overlooked, ignored or quickly make their way to the spam folder with one click. In a twist of events, direct mailers have become unique, gaining the desired attention from clients. The key to sending direct mail to another business is to ensure that the mail is distinctive. Chicago-based business owner Michele Kapustka advises companies to provide prospective clients with a quirky or unusual item that is tactile.
Creativity is key when it comes to direct mailers. It is not enough to send a personalized flyer or postcard to an existing or potential client. Creative mailers are not only a way to gain attention from a B2B perspective, but they also serve as a great way to showcase the company's niche. Sending a tangible promotional item is a great way to make your brand stand out and ensure you are remembered by your audience.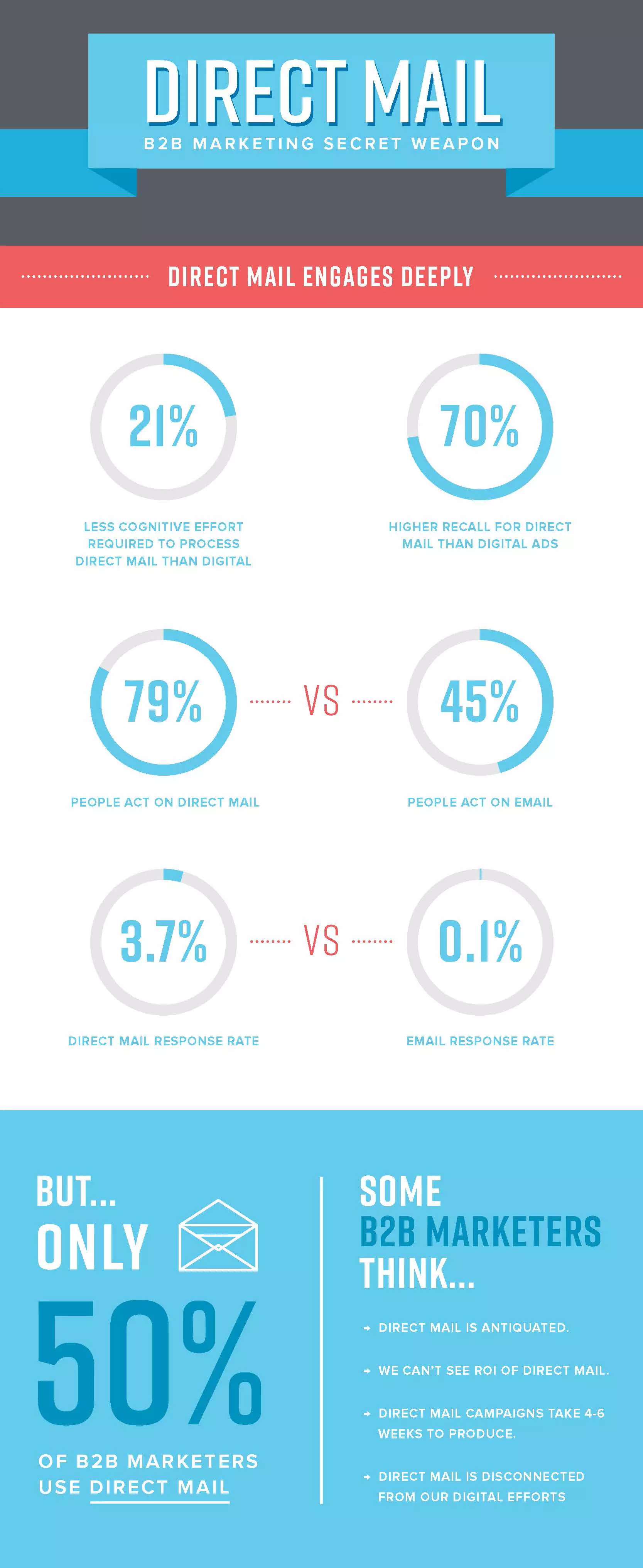 Source
2. Deploy Data From Case Studies
Every business wants to be successful and ultimately seeks to provide a common issue with a solution within the industry they operate. They want to work with companies that help them achieve this. Utilizing successful case studies within the marketing plan is a great way to showcase your company's expertise to potential clients.
Like consumers read reviews on a product before they purchase it, B2B-focused companies are wise to research another business when generating a working relationship. Sharing results and examples of success in selling a solution to their problem will appeal more to a business than flashy headlines and catchy theme songs.
3. Develop Thought Leaders
B2B interaction is extremely common and can become highly impersonal. Companies work together in many aspects but rarely do companies put a face to the name of another business they are cultivating a partnership with. A unique way to stand out is to spotlight the executives and employees who are vital to the business relationship. Developing a brand around executive-level employees will help to build a connection and a sense of trust between B2B partners.
Developing an executive brand can happen through many creative and efficient tactics, like thought-leadership articles, podcasts and interviews to name just a few. Not only will these strategies pose your business as a trustworthy and educated leader within the industry, but it also adds a personal touch of empathy that is often overlooked and desired. Creating an emotional connection nurtures trust and loyalty within a B2B environment.
4. Focus on Humanized Marketing
While B2B marketing is sold around the concept of being a solution to a common problem, often the organization does not utilize a personalized touch. To understand the issue at its core, the target audience must be understood as individual consumers. B2B marketing can take a B2C approach when refining and understanding the market they will target.
First, discover the audience the business is selling to by becoming hypersensitive to customer feedback. This will help the company understand the root of the issue their consumers face. From there, think of what your company can offer as an efficient and logical resolution to this issue. Take it a step further and consider any work or company-related problems that may be a pain point within the company. Businesses are still comprised of human beings, many of which respond well to human interaction.
5. Continuously Update Websites
Businesses spend several months or even years developing the perfect website. So much so that when it's finally complete, it's not often monitored for updates and improvements. Thanks to the always-changing environment of search engine optimization (SEO), the internet is consistently updating algorithms. These SEO updates and changes will directly affect any website traffic that a business hopes to receive.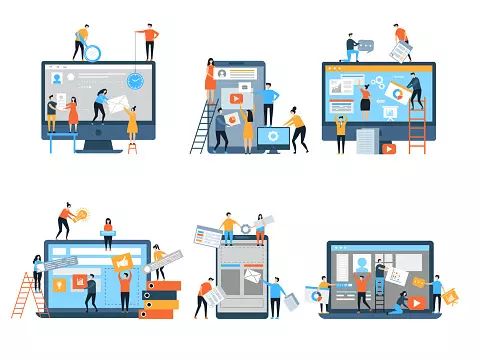 When audiences do make their way to a business's website, the user experience should be a top priority. Users need the ability to find and access the information they seek in a way that's as efficient and seamless as possible. In addition, a website should be entirely mobile-friendly. That includes testing the accessibility and ease of use of every page, functionality and aspect across multiple platforms. What may seem like a mundane step that's easy to skip could cost much more in missed sales.
When it comes to B2B marketing, overthinking can be overkill. Smart tactics that have been around for ages all have one thing in common – they work. Word to the wise – don't underutilize basics strategies in search of something new.
Kelly Junkin - Senior Account Manager
Kelly drives B2B programs in the life sciences and paper manufacturing industries. She spent a semester in Queensland, Australia, studying international marketing at the University of the Sunshine Coast before graduating from Millersville University.