Blog Post
Data Privacy: What B2B Marketers Need to Know
Publish date: Mar 16, 2021
|
Reading time: minute

s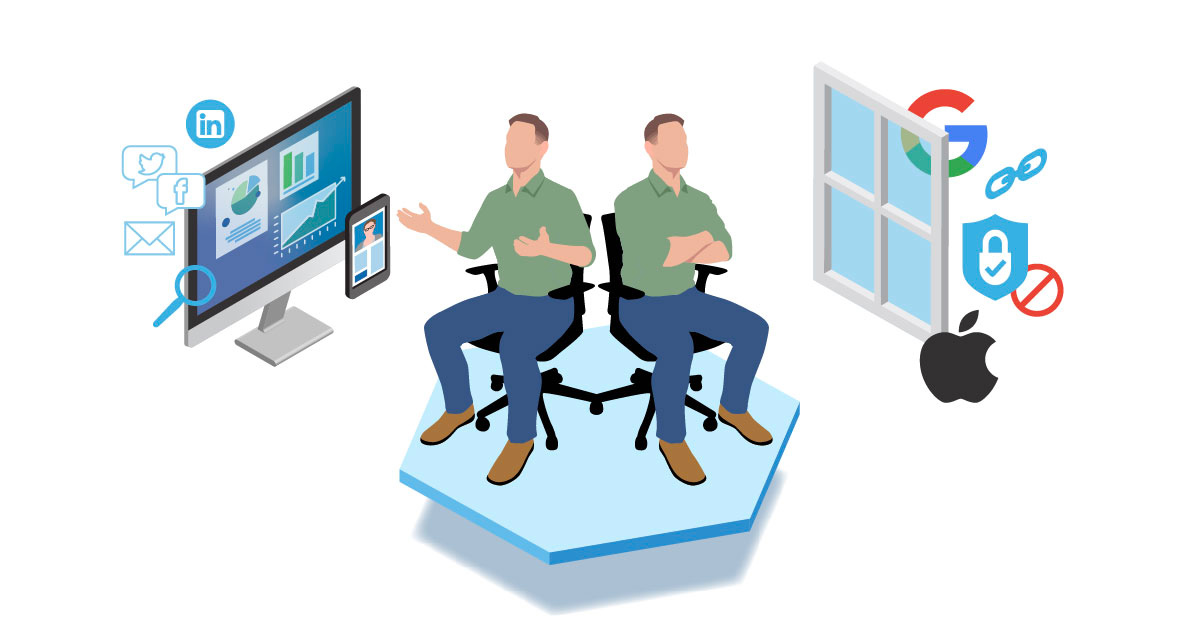 Data privacy laws are causing B2B marketers to look inward at zero- and first-party data strategies and to revisit more strategic ways to provide great digital experiences for customers.
Why is data privacy such a "hot topic" right now?
The topic of data privacy has been a discussion point for some time but came to the forefront with General Data Protection Regulation (GDPR) in the European Union in 2018. More recently, the California Consumer Privacy Act (CCPA) and GDPR compliance in Latin America came into effect. And now Apple and Google are making plays to limit data collection by rolling out new data privacy features in the coming year. For Apple, changes to its latest operating system will go into effect that impact the cross-channel tracking Identifier for Advertisers (IDFA). With Google Chrome, new browser privacy laws are continuing to change consent requirements, which means an end to third-party cookies. And federal privacy legislation in the United States is probably not far behind.
What exactly does this mean for B2B marketers?
Some B2B marketers hear about data privacy laws and initially panic, but these laws aren't "inherently bad." Put simply, it means end users have more control over their data. The implications of the new data privacy laws and browser cookie-tracking changes mean the foundational structure for digital ads is rapidly changing.
It's important to keep in mind that the regulated data is primarily third-party data. Third-party data is the information collected and sold by organizations that have no relationship with the end user. It has often been used for certain types of ad targeting. But there are more "powerful" – more accurate – forms of data in zero-party data and first-party data. Salesforce.com does a nice job of breaking down zero-party data and first-party data:
Zero-party data: Data that a customer intentionally and proactively shares with a brand. It can include preference center data, purchase intentions, personal context and how the individual wants the brand to recognize [them].
First-party data: First-party data encompasses an individual's sitewide, appwide and on-page behaviors. This also includes the person's clicks and in-depth behavior (such as hovering, scrolling and active time spent), session context and how that person engages with personalized experiences. With first-party data, you glean valuable indicators into an individual's interests and intent. Transactional data, such as purchases and downloads, is considered first-party data, too.
Zero-party and first-party data are the gold standard – the types of data B2B marketers really want – since they involve the end user willingly sharing information directly with your organization in return for products, services or information from your company. B2B customer relationships are often complex and multifaceted. The more user-generated information you have from your customer, the more tailored a user experience you can provide. Furthermore, zero- and first-party data are becoming very common with the prevalence of mobile devices, as they are driving a new revolution in personalized user experiences. COVID-19 and a lack of in-person sales interactions have also driven this growth in data coming in from your company's various digital channels.
Great, personalized user experiences are exactly what we, as marketers, strive to provide. And those great experiences will result in more customers who are willing to share their information – that zero- and first-party data that are so powerful. So, yes, the privacy laws mean we need to triple check and think differently about the data we have and where it came from/how we are obtaining it – to ensure we are getting and using the information we have responsibly. But, ultimately, these privacy laws will result in stronger, more strategic marketing in reaching end users who have "opted in" for information.
For a more in-depth discussion around zero-/first-/second-/third-party data, listen to my recent podcast discussion with Scott Trobaugh.
What are steps B2B marketers can take to "wrangle" their data?
Data – which has always been important in marketing but is sometimes overlooked – can be acquired and nurtured in a few ways, including gathering it yourself through digital analytics platforms or reaching out to internal teams in your company, like sales or even product fulfillment. The best place to start is to reevaluate the data you already have and maximize it to provide that great customer experience. Consider the following steps to help establish a strategic data road map:
Define your outputs and outcomes for your business and marketing strategies: Take a step back and think about what you are trying to accomplish. Based on your goals, what is important to track?
Audit your data sources: As marketers, we have a lot of data at our disposal. Think about how you are currently collecting that zero- or first-party data. It may be difficult to find, or difficult to get to, based on how your organization is set up. According to Forrester Research and Adweek, 32% of B2B marketers have cited "siloed or inaccessible customer data" as a major obstacle in their marketing efforts. But sales and marketing teams likely have a fair amount of first-party data readily available through a CRM system/CDP and in a larger business process and financial sense through ERP systems. Consider places in your company's digital footprint where end users have "opted in" to receive information. Think about the variety of marketing tools at your disposal to better understand your customers, including your:

Website: Your brand's website may provide data on site visitors – names, email addresses, visitor behaviors and transactions. This includes SEO and heat mapping tools on your site.
Email/Marketing Automation Campaigns: Email marketing can provide behavioral data like open rates, click rates and bounce rates. Granular data about who is opening emails allows marketers to segment audiences and run specific campaigns targeted to different levels of engagement.
Social Platforms: Consider the individuals who have chosen to follow and engage with you on any of your social platforms – LinkedIn, Twitter, Facebook, Instagram, to name a few.
Mobile Apps: Define what matters in your brand's app; track and measure end user activity.
Based on your data audit, fill any data gaps: Take stock and start to see where you might be missing out on collecting additional data that supports your business/marketing efforts. Remember, first-party data is direct feedback and information about your customers. Use it to build a holistic view of your customer across all digital channels. Consider the following questions:

Are there gaps where you could connect technologies to better create a holistic view of the end user? Is it a Marketing Automation or CRM platform?.
How do other parts of your business get data to make decisions related to sales?
Is there data in other parts of your business that you are not considering but could leverage to target for your marketing?
Use data to create meaningful customer experiences: Based on your data, continue with what's working but also identify friction points in the experience and discover how to remove those. For example, review your website analytics to see what type of traffic you are getting to your contact form versus actual submissions. Are you seeing a very low conversion rate? Is this a case of too many form fields that are adding friction to the contact process? If you removed fields, could you still get the information you need to provide service for the contact request AND make it easier for the end user to contact?
Continue to monitor, collect and analyze data: Data can help signal when something is working or when it might not be working and it might help to try something new.
It's important to keep in mind that data should be combined with other insights (including feedback from sales/end users) when making marketing decisions and not everything can be tracked. But, when used correctly, data can be used to help enhance end user experiences and can help give marketers visibility into what's working. As CMO Magazine said, "Deeper insights into customers increases targeting abilities to provide greater accuracy and more personalized customer engagement. This can help to drive smarter marketing, increased growth and better overall user experiences."
Hear more in our recent Marketing to Complex Industries podcast – "Let's Talk Data Privacy: Importance of a Data Strategy in a Changing Digital World."
Godfrey Team
Godfrey helps complex B2B industries tell their stories in ways that delight their customers.