Blog Post
5 Ways to Retrofit Your B2B Product Demos for the Age of Social Distancing
Publish date: Apr 10, 2020
|
Reading time: minute

s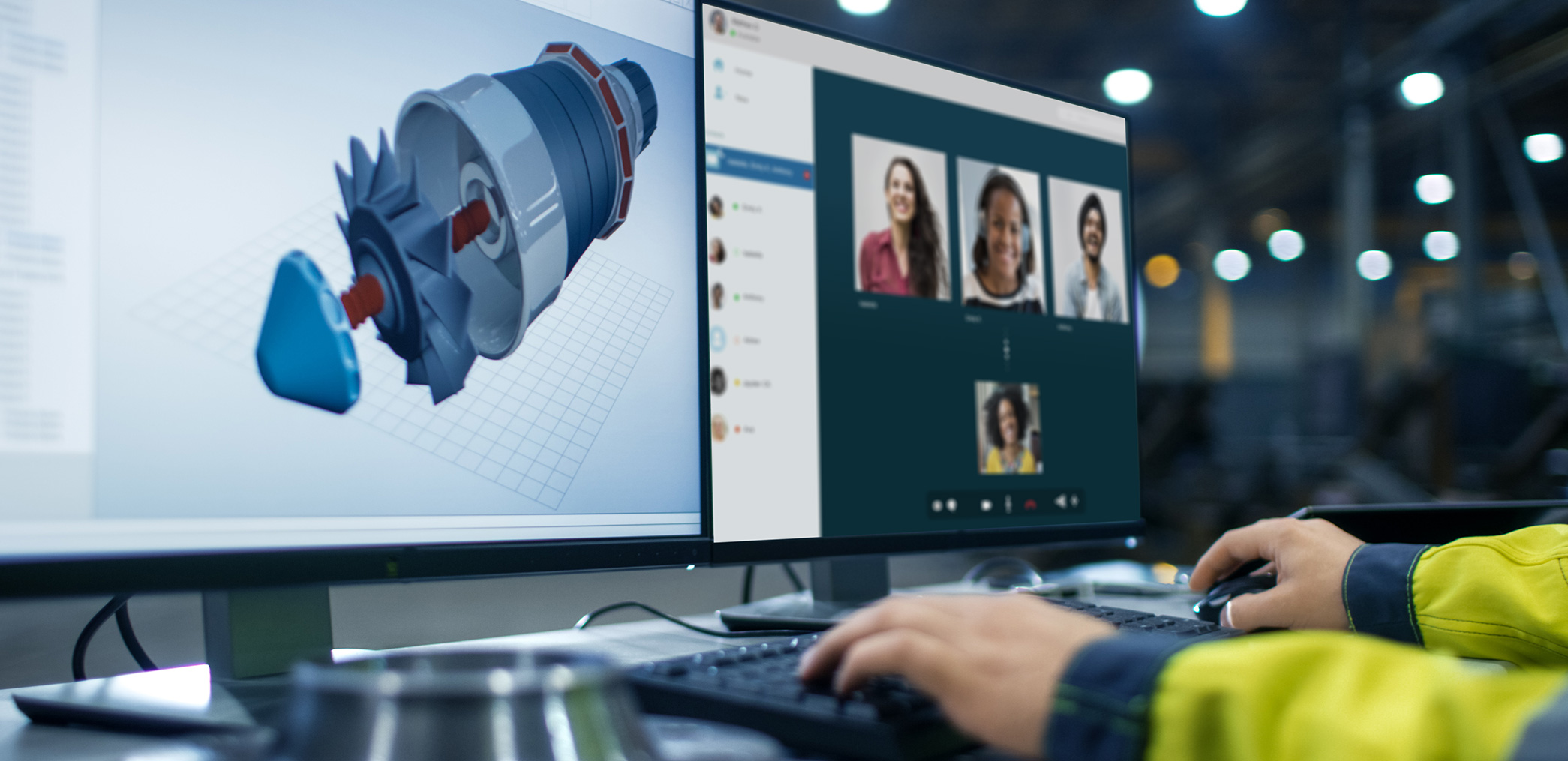 Here's how B2B marketing tech can reinvent your demos for today's era of remote interaction.
The last few weeks not have been easy for B2B sales and marketing folks. For most of us, the phrase "business as usual" has taken on a whole new meaning, and is less about the humdrum routine of everyday life and more about our collective longing to get back to work. But if you'd like to keep a positive outlook on the current state of business, just imagine what a global lockdown like this would've done to your B2B product demos 10 or 20 years ago. Hint: They wouldn't have happened.
But in 2020, we're much better equipped to connect in the face of disruption. The showcase must go on — and it can. The last 10 years have yielded so many advances in B2B marketing technology that we can now replicate the traditional in-person demo while maintaining social distancing. Here are five of the ways that B2B digital marketing can reinvent demos for this new era of remote interaction:
1. Pre-recorded video demos keep your people in the spotlight.
One of the simplest ways to retrofit an in-person product walk-through for remote engagement is to capture it on camera. Imagine a succinct video segment less than two minutes long where a salesperson or SME unpacks the features and benefits of your product.
The production value for this type of demo video can range from bare bones (no music, single camera, home-grown talent) to broadcast quality (branded set, multi-camera, hired talent). The simplicity and flexibility of this format let you prioritize your spending based on your budget and the number of videos you'd like to produce. Since this is an inherently no-frills medium, feel free to err on the side of quantity. Start by determining the number of videos you'd like to produce and figure out what level of polish you can achieve with your budget.
Brands promoting more technical consumer products have mastered this tactic, often producing a fleet of short videos to showcase entire product lines. For example, the random orbit sander example above comes from a 17-video catalog of Bosch Woodworking Tools.
2. Live video facilitates a robust conversation.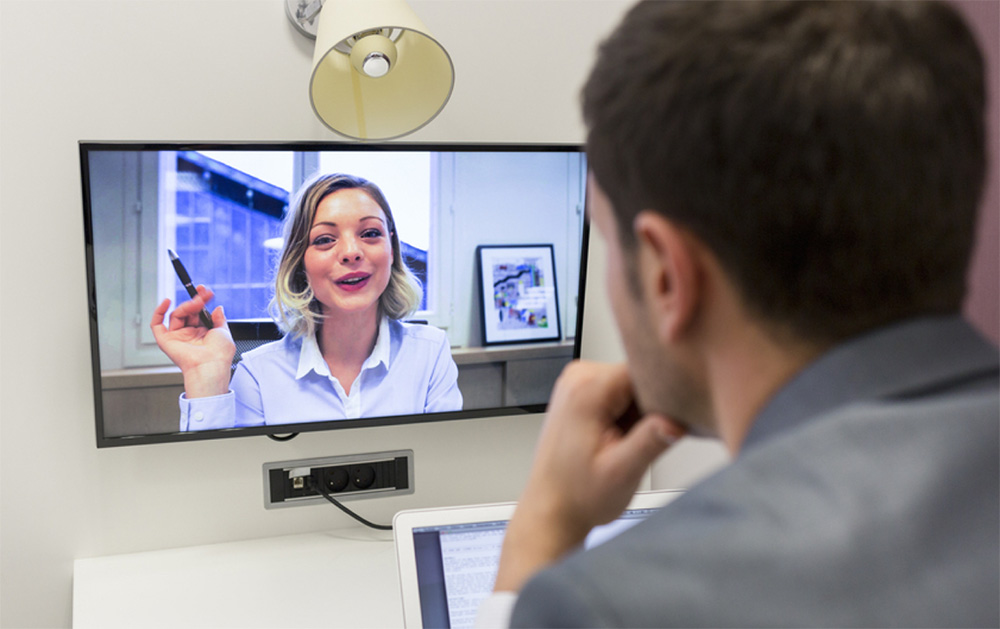 This can be so much more than a video conference. With the right presentation materials and staging elements, you can transform a Zoom or Skype chat into a highly engaging, live video product demo. Using the screen-share function, your salesperson can use a well-branded presentation deck to walk prospects through all of the key product highlights.
After a short presentation, your team can switch to video-only to deliver a live product demonstration with plenty of room for Q&A. The content of such a walk-through would be similar to those prerecorded video demos, except 100% live and interactive — just like the real thing.
3. Interactive 3D models allow your prospect to explore.
Prerecorded and live video demos (described above) help showcase products in a way that only experts can accomplish. But these experiences could leave your prospects lacking one all-important dimension of the in-person demo: the ability to explore the product on their own terms. Video allows your team to put on a great show, but without additional modes of interaction, your prospective customer is merely a spectator.
Interactive 3D models provide an easy way for your prospects to engage with your product and kick the proverbial tires — even if they can't experience the product firsthand. When Johnson Controls launched their innovative YORK® YZ chiller, they built a detailed 3D schematic that users could manipulate and explore with pop-up features and specs.
A 3D model like this performs well as a companion to your video-based demo experience, either as an interactive visual aid or a highly engaging leave-behind.
4. Augmented reality places the product in your prospect's world.
If you've already developed a working 3D model, you may not be too far from bringing that model to life in your prospect's own environment using augmented reality (AR). AR isn't just for online furniture shopping or flowery Instagram filters. It's the power to virtually place a 3D object (your product) into whatever space the user observes through their smartphone camera. AR can place a machine component onto the tabletop of an engineer or a heavy machine onto the outdoor lot of a rental company manager.
With AR, you'll get the same 360 exploration and pop-up detail of a standard 3D model. But it's more than that. AR deepens the experience by bringing that model into your prospect's own workplace. Maybe you can't visit your prospect in person but, thanks to AR, your products can.
5. Virtual reality invites the prospect into your world.
Remember that thing people say whenever their funny anecdote falls flat? "I guess you just had to be there." No salesperson wants to find themselves in that position when describing a product. But some products just can't be effectively showcased without a truly immersive experience. For example, imagine selling a piece of heavy machinery without a test-drive or promoting an aesthetic building material without an installation. Sometimes "you just have to be there." Fortunately, virtual reality (VR) can get your audience pretty close to "there."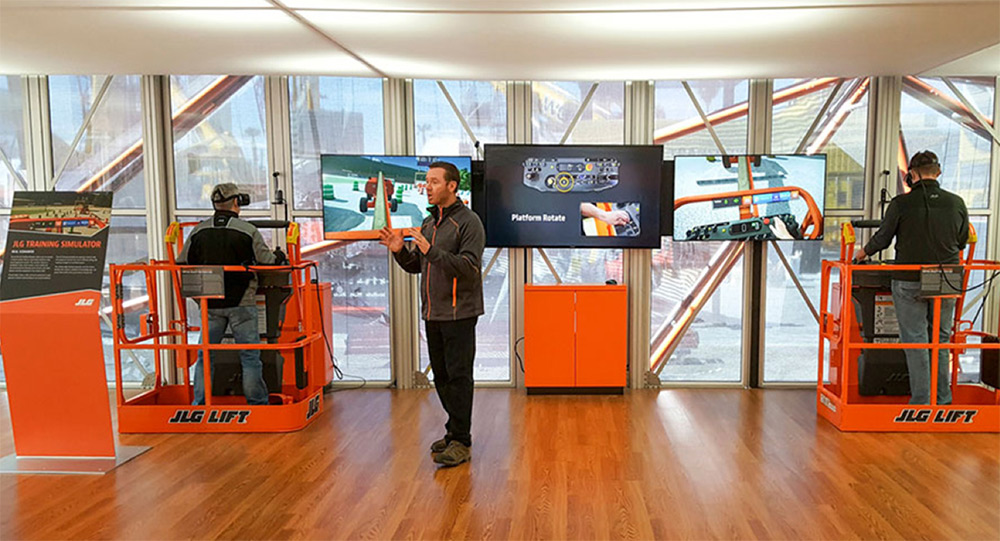 Recently our client JLG adopted VR as a tool for training simulations but they've also used similar tech as a way to engage with conference attendees at CONEXPO.
Although some VR hardware can cost hundreds of dollars per unit, your customers can step inside a virtual demo with little more than the phone in their pocket. Google Cardboard viewers easily transform any smartphone into a functioning VR headset. And, best of all, you can purchase these mailable devices at wholesale for mere dollars per unit.
Bringing people together however we can
It'll take a while for the world to resume "business as usual." These are unusual times, after all. Most public gatherings around the world have been curtailed indefinitely. But people haven't stopped finding ways to get together — even if it has to be remote. Family reunions are moving to Zoom. Stadium tours are evolving into livestreamed living room concerts. And, in the world of B2B sales and marketing, we're finding our own ways to bridge the gap.
Nothing will perfectly replace those person-to-person interactions and demos most salespeople are wired to crave but advances in marketing tech can go a long way toward holding us over while we keep our businesses in motion.
Learn more about how Godfrey can help you adapt your B2B marketing to social distancing.
Godfrey Team
Godfrey helps complex B2B industries tell their stories in ways that delight their customers.