Blog Post
Adapt & Thrive: B2B Marketing Tactics in the Age of COVID-19
Publish date: Jul 31, 2020
|
Reading time: minute

s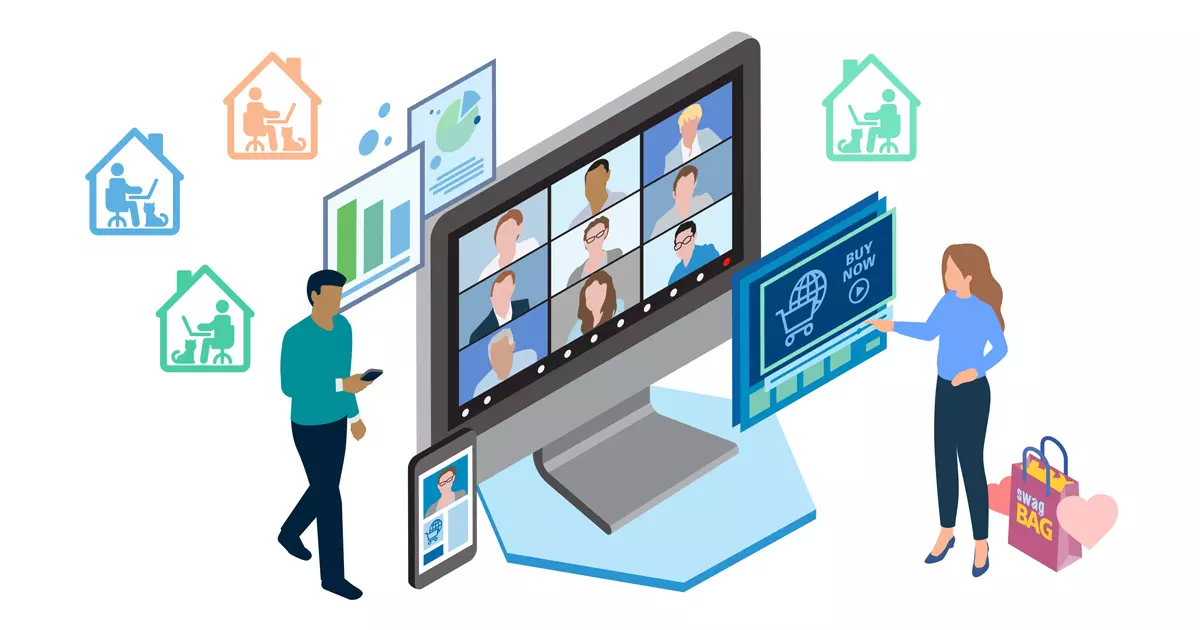 Forget "new normal" — this is new marketing. Focus on these key tactics to help your B2B marketing team adapt to emerging challenges and shifting expectations as a result of the coronavirus.
The coronavirus. Flattening the curve. Social distancing. Until several months ago, these terms meant nothing to the average person. Now, you can't turn on the TV or read the news without encountering them. COVID-19 has changed the way we live and work, and it has also fundamentally changed the B2B marketing landscape.
Since the onset of the pandemic, there's been a widespread, rapid shift to what many call the "new normal," and this "new normal" has given rise to something else: new marketing. Consumers' media habits are changing, publishers are focusing their efforts online, virtual meetings are replacing in-person ones and adaptability has proven to be one of the most valuable aspects of modern marketing.
Given these shifts, we need to look at tactical planning and execution through a different lens. We've always considered tactics from both a traditional and digital perspective, asking: How can we most effectively target our audience? Where do they go for information? How do we meet them there?
However, where the B2B audience went for information in early 2020 is different now. Because of the coronavirus, it shifted overnight. And our strategic approach to planning must shift as well. We've identified four ways the coronavirus has disrupted our day-to-day work, and we've outlined what changes marketers can make to minimize this disruption for our customers and coworkers.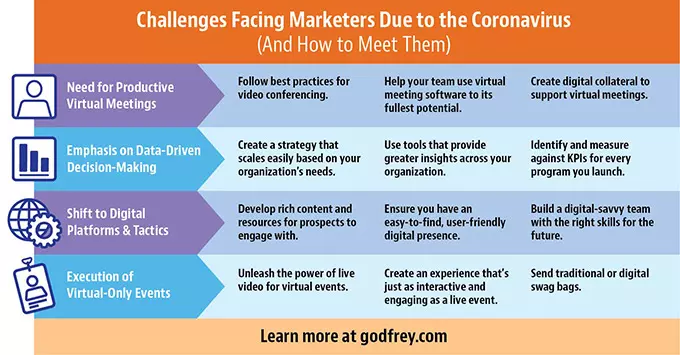 Challenge #1: Meetings will be virtual for the foreseeable future — and maybe even longer.
When possible, many companies have mandated that employees telework, and an increase in remote workers means an increase in virtual meetings. As marketers, we have a unique opportunity to help not only our marketing team but also our sales, customer solutions and other team members make virtual meetings just as productive as on-site meetings.
Understand (and follow) best practices for video conferencing. This includes obvious things, like dressing appropriately and speaking clearly, as well as less-obvious things, like muting yourself when you aren't speaking and positioning your camera properly. Consider creating a best practices guide to help your organization look as polished as possible in virtual meetings.
Help your team use virtual meeting software to its fullest potential. Some video conferencing platforms, like Zoom, have built-in polls, breakout rooms, and other features that can take your virtual meeting to the next level. As marketers, we can recommend ways to use these features that will help sales engage customers.
Create digital collateral to support virtual meetings. Without an on-site meeting, we can't leave behind a one-sheeter or a whiteboard full of ideas. However, we can take items our team would typically leave behind and create digital versions. Whether it's a virtual business card, PDF sales sheet or a landing page, it's important to have a touch point for participants once a meeting is over.
Challenge #2: Data insights will drive decision-making unlike ever before.
Anyone with a budget knows how important it is to prove ROI through solid analytics and data. So, with many companies cutting back due to uncertain futures, it's critical for marketers to prove the worth of every new campaign.
Create a strategy that scales easily based on your organization's needs. Now more than ever, marketers must focus on agility and adaptability. This means understanding what works and repurposing every content piece into as many formats as possible. This might not be the best time to try something new — other than adapting your messaging in light of the COVID-19 situation.
Implement tools that provide greater insights at all levels of your organization. If you have tools at your disposal that can draw the dotted line from marketing to sales to revenue, now is the time to ensure you're using them to their fullest potential.
Identify and measure against KPIs for every program you launch. And just a hint—they might not be the same as they were in a pre-COVID world. Selecting the right KPIs not only allows you to show the value of your efforts, it also helps you better understand your target audience.
Challenge #3: Customers will do even more research online before reaching out to you.
With people staying home, companies must now leverage technology to connect with customers. Even before the coronavirus, research showed that B2B companies who focused on digital transformation experienced 8% more shareholder returns and five times more revenue growth than other organizations. Now, it's essential for B2B marketers to make a quick transition to digital tactics if they want to stay ahead of the modern consumer.
Create rich content and resources for prospects to engage with. The more online research potential customers do, the less they interface with your sales team. This means online reviews, interactive product demos and educational content have taken on new importance.
Ensure you have an easy-to-find, user-friendly digital presence. If your website hasn't been refreshed in the past five years, it may be time for an upgrade. You want customers to be able to access information about your brand quickly and easily from all their devices, so pay special attention to optimizing all digital content for mobile as well as desktop.
Build a digital-savvy team with the right skills for the future. As businesses shift toward digital tactics, it may create a need for new team members with highly demanded skills. Web developers, content creators, digital project managers, SEO specialists — these are all roles that will be essential to marketing in a post-COVID-19 world.
Challenge #4: Every event will have some type of virtual component.
Initially, many trade shows and events were canceled due to the coronavirus. This hit our industry especially hard because trade shows are typically a B2B salesperson's primary lead driver. However, we're now seeing many events move forward as scheduled in a virtual-only format, and though many hope to get back to in-person events soon, we believe that the event of the future will incorporate some kind of virtual component.
Learn how video can be a powerful tool for virtual events. Whether you want to create a video using existing footage or simply leverage higher quality video during your live event, there are plenty of ways to incorporate impactful B2B video content.
Create a virtual event just as engaging as an in-person event. First, don't skimp on promotion — create a landing page and offer incentives for registering. Also, provide pre-conference how-tos and agendas to make connecting to your event easy. Increase engagement by polling the audience, creating quick quizzes and designating a host who interacts with participants in real time.
Send traditional or digital "swag bags." This might be branded swag that's sent to participants before the event (so they can wear it or use it during the event), or it could be a digital-only kit that helps them get the most out of the content you're presenting.
So, while no one can be 100% sure what challenges we may face as a result of the coronavirus or how B2B marketers may need to adapt, we can be sure of one thing — new marketing is here. And the tactics in this post are just a few ways you can position your team for success.
Erin Michalak - Senior Vice President, Partner
Erin leads a team of account managers and strategists in directing highly relevant, strategy driven programs. With years of client-side experience, Erin naturally understands the challenges our clients face and the results they expect and need.
Jenell Bakey - Strategist
Jenell is an experienced content marketer who immerses herself in our clients' industries to deliver content and strategic recommendations that feel authentic to their brands.