Blog Post
Entering New Markets? Don't Forget Promotion.
Publish date: May 16, 2022
|
Reading time: minute

s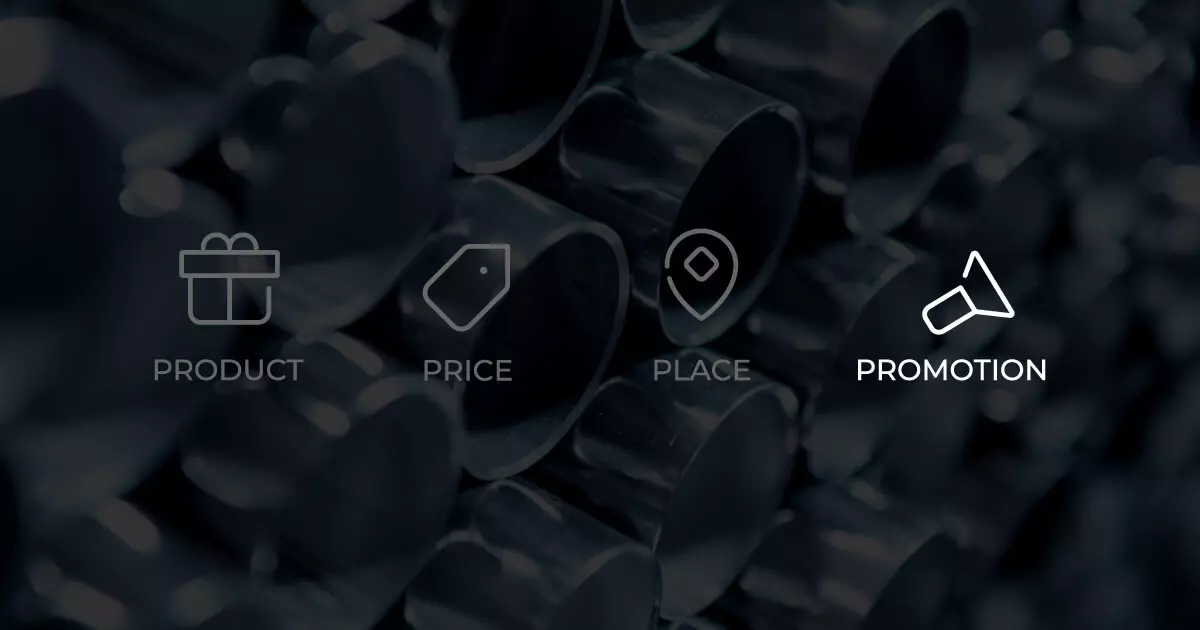 Consider these 8 steps to achieve successful promotion in your marketing communications research and planning.
Industrial companies looking to grow have many options to consider but also key decisions to make about how to pursue the growth. While the world around us is changing rapidly, opportunities arise for companies to develop new products and services to help businesses and consumers adapt to or overcome larger macro challenges. But those things take time, and when you finally launch the new offering, it could fail without adequate planning.
Maybe you have an exciting product or industry-leading technology that is being introduced in new or adjacent markets. You're expanding globally, opening a new manufacturing or distribution presence. Maybe a recent merger or acquisition is opening up new go-to-market strategies. Regardless of the opportunity, marketing communications research and planning should be a key part of your business plan.
Industrial companies usually conduct market research to build the business case and secure funding. These growth opportunities can require serious capital, especially if your new product development (NPD) process takes several months to years or would require building or retooling an existing manufacturing line. Traditional market research is great for quantifying the opportunity, as well as identifying features and benefits the market may need, competitor offerings, go-to-market options and more. Most of the market research we've seen covers product, price and place but neglects promotion. Yes, I'm bringing back the 4 P's of Marketing, because it's a foundational element any new offering needs to follow.
When we say promotion, we mean the marketing communications strategy being developed. This extends far beyond how you'll advertise the offering. When considering how you'll communicate with your stakeholders, there are a few challenges you should consider:
Challenges
Long new product development road map: Some companies want to have first mover advantage and get their offering to market before any competitor. In other cases, a company may want to wait and see how the market reacts to another competitor taking the first steps. In either case, as a marketer you will have to work with a long NPD cycle, and that can create challenges when trying to outline your plans.
Brand awareness: You will need to determine what level of brand awareness you have within the new market segment. In most cases, when entering a new market, you may have little to no brand awareness. New regions and new audiences will require an investment and time to build awareness and trust for your brand.
New competitors: In many cases, expanding your business is going to create an entirely new competitor set. Your market research should have identified who they are, as well as background on their offering, advantages and disadvantages. When planning for the launch, you'll want to look at how these companies are communicating, how the products are being positioned, where they are communicating and how their audiences are reacting. Not understanding the industry language, trends and overall dynamics can be a huge disadvantage for any newcomer.
Limited marketing capabilities and resources: Industrial companies looking to grow may be doing so because their current business is slowly going away. Where they were once a big player, the market is changing and many new competitors have moved in around them. Their brand name and sales channels were once a strength and very little marketing communications work had to be done in order to compete. Whether you are a newer company or a well-known one, if you have limited experience with developing and launching new products in a competitive market environment, you will need to take an assessment of internal capabilities, available budgets and identify partners needed to support the launch.
8 Steps You Must Take To Achieve Success
Conduct market research. This is the foundation that will inform all decisions. Define the market drivers, market size, key competitors and product or service requirements. In addition, you'll need to talk with your audiences to gain their perspective and help inform your marketing communications strategy. You may even be able to do some of the research yourself—see how in our guide "How To Conduct Your Own B2B Research."
Work closely with your internal teams. Be sure to include executive leaders, engineering, finance, marketing and sales, operations and customer service, because each department can provide valuable customer and operational insights to help form a strong perspective on what's needed to achieve a successful launch.
Set financial goals. You'll also want to understand the market size and work with your finance and sales team to develop realistic sales goals. A timeline on when the product will be launched and the length of the sales cycle will impact how quickly revenue can be realized.
Start communicating early. Brainstorm ways you can begin to communicate with the new audience ahead of the launch to tease the product introduction (see one of our examples). You don't have to give away the product or even hint at it, unless that's part of your overall strategy. The longer you wait to begin building awareness, the longer it will take to achieve your goals.
Determine brand equity. Unless this is a new brand entirely, you may have the ability to leverage brand strength from other markets to help speed up your entry into the new market. The right brand strategy could have a big impact on your success.
Get creative. Breaking through in a crowded market is difficult. Having the right strategy is key, but flexing your creative muscle and trying something new with a product launch can be exciting and lead to a successful launch. See how we helped a specialty paper manufacturer turns heads with a boldly branded product launch and eye-catching marketing campaign.
Create a detailed communication plan. Your research can help determine what channels and content preferences the audiences have. Using your strategy and understanding of the audience, you can begin to outline the details of your communication plans. Let's not forget, B2B marketers have to market to multiple audiences throughout the entire customer journey.
Establish KPIs. In addition to the revenue goals outlined above, you'll need to breakdown key metrics to help determine if you are making progress toward the larger revenue goals. Long sales cycles, reaching multiple audiences and complex distribution channels can make this really difficult. In some cases, you won't know your plans are off track until it's too late. Take the time to break down the marketing and sales process to select the right KPIs.
You can find more information on the topics above throughout our blog, Marketing to Complex Industries podcast and work examples. When you are ready, reach out to discuss your needs and see how Godfrey can help.
Josh Albert - Vice President, Business Development
Josh heads up our new business efforts, working alongside teams of Godfrey subject matter experts. Josh combines strong leadership and business sense to help Godfrey form client relationships where we can do our very best work.