Blog Post
Industry Insight: Q&A With Floor Covering News
Publish date: Feb 24, 2021
|
Reading time: minute

s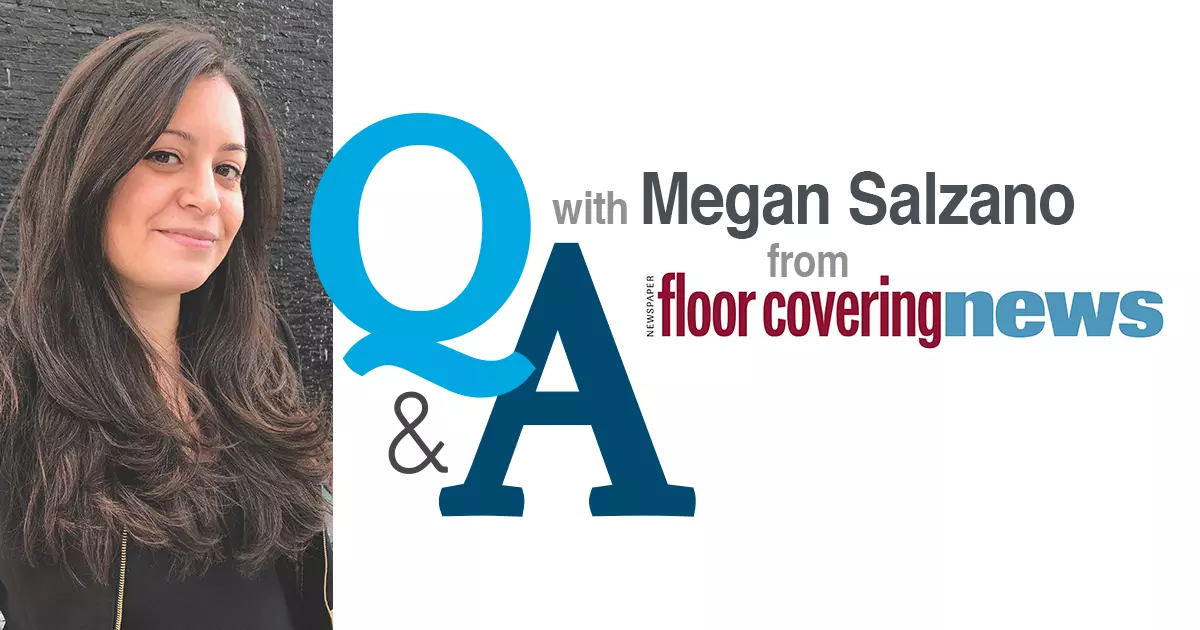 Megan Salzano, senior editor and digital director of Floor Covering News, shares her insights on flooring industry trends that could impact B2B marketing.
We asked Megan Salzano, senior editor and digital director from Floor Covering News, five questions about shifting trends in the flooring industry. Here's what she had to say:
1. Considering market shifts and sales strategies, are you noticing more commercial flooring manufacturers offering their products for residential applications? What are the key attributes that commercial flooring products could offer in homes?
I don't think flooring suppliers are shifting their go-to-market intentions by offering residential products that weren't already in their portfolios or expected to be in the near future. What I have noticed is a shift toward developing and marketing key attributes that are often found in commercial flooring, such as advanced durability, cleanability and sound control.
2. What is the top retail flooring trend you think can't be ignored over the next year?
When it comes to what's selling, there's no question the hot trend is rigid core. The resilient category has led the growth of the flooring industry overall for a couple of years now, and that growth itself is driven almost exclusively by rigid core products such as Luxury Vinyl Tile (LVT), Stone Plastic Composite (SPC) and Wood Plastic Composite (WPC).
When it comes to design trends, there is an interesting shift toward antimicrobial/hygienic flooring products, such as whole flooring collections with built-in Microban technology or other disinfecting features. This can absolutely be attributed to the events of 2020 and the ongoing coronavirus pandemic. Consumers today are not only living in their homes more — due to things like new work-from-home routines, remote learning and general restrictions on gatherings and events — they are extremely aware of the cleanliness of that home. Therefore, even when it comes to flooring, cleanability and hygiene are imperative to today's consumer.
3. How has the pandemic impacted the way consumers choose flooring for their new construction and/or renovations?
The pandemic has impacted how consumers shop in several ways. First, it's changed the way consumers are able to shop. From mobile showrooms and curbside pickup, to at-home design appointments and even virtual experiences, flooring retailers really stepped it up in 2020 to provide a shopping experience that would not only allow their businesses to thrive but give the consumer the flexibility to shop safely and conveniently. It's been great to see the flooring industry embrace technology over the last year in order to innovate in that way.
Next, as I mentioned previously, it has changed what features consumers are looking for in their flooring products. Cleanability has moved up the list of must-haves right alongside style/design and price. I've also noticed a growing demand for sustainable products and materials. While the idea of sustainability was somewhat important to consumers in the past, consumers today — especially younger consumers — are placing a greater importance on their own impacts on the environment, and that relates to the products they choose to buy and the companies they choose to buy from. The shutdowns in 2020 allowed us to see in a very short time the kind of impact our emissions have on our environment unlike any other event in history. It's brought the issue of sustainability to the forefront again.
4. Do you anticipate any upcoming legislation or policies might impact home design (particularly around sustainability, but feel free to share other potential shifts as well)?
I think the new administration will prioritize the environment. Sustainable practices should be developed within all aspects of the built environment, and I think new legislation will help support that.
5. You recently shared perspectives about Gen Z — extremely tech savvy; best educated and most diverse generation yet. Could you expand on your thoughts around the implications that has on the future of marketing and sales in the flooring industry?
Marketing and sales strategies have already gone through an evolution in the last five years (thanks in large part to us Millennials), and I think that will only continue as Generation Z comes into its spending power. I think we've already seen some shifts occurring. For example, Gen Z is poised to become the most diverse generation, which means we need greater representation when it comes to marketing our products and even within the brands behind those products. This is not a new issue but one that this generation will not ignore. They may even hold it against you if your brand is not diversified and inclusive. And diversity is not limited to races or ethnicities. Today, diversity is characterized by a number of different factors, such as gender, sexual orientation, physical disability and even age. Marketing and sales strategies will have to adapt.
Gen Z is also the first "tech-native" generation to exist. Meaning they are the only generation that was born with access to the internet and never experienced life without the technology we have today — high-speed internet, smart phones, global communication applications, etc. This gives them the unique ability to quickly sort through the "noise" and find the messages they want to absorb and the brands they want to interact with, and they can do it with a speed and precision unlike any generation before them. The days of telling consumers what they want to buy are over. Today, it's about telling your brand story, offering transparency and letting the consumers decide if it's worth their time or not.
Thank you, Megan, for sharing your expertise!
To read more about trends in the flooring industry, check out "Flooring Industry Trends: 4 Shifts That Could Impact How You Sell" from Godfrey Strategist Donna Harris.
Learn more about how we are engineered to help navigate the rapidly changing flooring market for real results.
Megan Salzano - Senior editor and digital director, Floor Covering News
Megan Salzano has been a journalist in the flooring industry for more than seven years. She is currently the senior editor and digital director of Floor Covering News, where she tackles myriad topics, including generational influences on the industry and hot trends across categories.
Godfrey Team
Godfrey helps complex B2B industries tell their stories in ways that delight their customers.