Blog Post
How to Plan a Virtual Event for Your B2B Audience
Publish date: Aug 21, 2020
|
Reading time: minute

s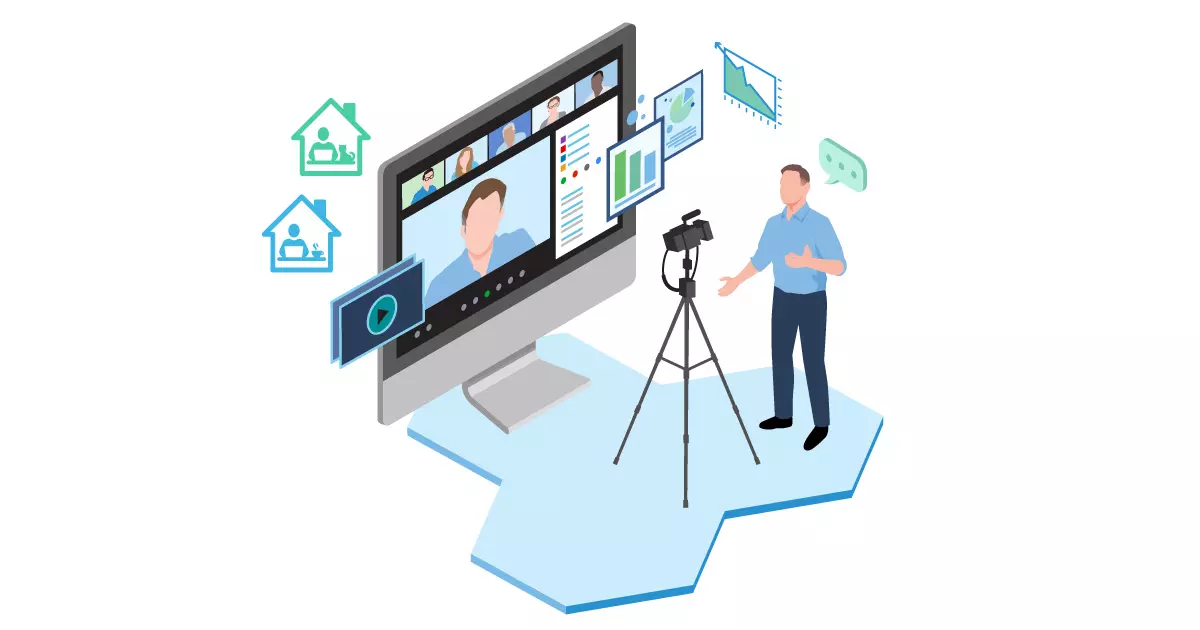 Taking your in-person event online? Consider these factors when planning a virtual event.
Virtual Events for B2B
In our current situation (read: global pandemic), in-person conferences, trade shows and meetings have taken a huge hit. Rescheduling events is tricky; quarantine, travel restrictions and the uncertainty around the reopening of cities present unique challenges. Some businesses are choosing to cancel in-person events and use that budget elsewhere, while others are exploring virtual events as a way to keep those event audiences engaged.
In B2B, we're familiar with virtual events. We may have even invented the concept. In fact, we have a name for it: webinar.
Not the most exciting option for replacing an in-person event, right? Brings back memories of eating your lunch in a conference room with a group of people who are checking email or having quiet conversations about the weekend while a voice on the phone walks you through a slide deck.
Webinars can work well when you need a budget-friendly way to mass-communicate information on a single topic. But if you try to wedge your three-day international sales conference into an online PowerPoint presentation, you're going to lose your audience's attention.
So, if a webinar isn't the right solution for you, how do you pivot? How can B2B reimagine the virtual event?
It's important to state the obvious: Not all physical events are the same. That matters, because your reasons for having an in-person event and the desired outcomes will ultimately drive your virtual event's format.
Maybe one of your outcomes is to generate leads. Or a goal could be to create dialogue and interaction among your audience. Some of you may need to test your audience so they leave with a certification. There are different formats for virtual events that can help you achieve the same goals as your in-person event. But, before we can talk about format, we need to talk about content.
But First, Content
Content will inform the rest of the decisions around your virtual event. Identify what you want to tell your audience and what their key takeaways will be.
Some factors to consider around your content:
Do you have existing content (videos, presentation materials, case studies, etc.) to share or will it need to be created for your event?
o Consider how that content could be leveraged and repurposed for an online event experience. This will help drive your format and platform decision.
Will there be multiple presenters with their own content?
o Do you need to unify this content (i.e., brand it for the event)?
Should any of your content be downloadable during the event?
How much content do you need to fill the desired length of your event?
Are translations and subtitles required?
Keep Your Audience Engaged
If there's one thing we all know about an event audience, it's that they're expert multitaskers. Don't expect to have everyone's full attention. It's the same challenge with a virtual event. That means part of your content planning should be around keeping folks engaged. There are many ways to do this, but two easy ways are: don't be boring and give away stuff.
Some ideas for engagement:
Event merchandise giveaways
Prizes
Interactive polls
Live Q&A with the presenters
Gamification
Sessions designed as a shared experience, like a yoga class or happy hour
Determine the Best Format for Your Event
As mentioned already, your event format is largely dependent upon your goals and content. Once you've determined the type of content you have (video, slide deck, quizzes, giveaways, etc.) there are several options for how to communicate that content to your audience.
Some format options for your event:
Audio (i.e., webinar, podcast)
Video conference
Live
Prerecorded
You could also combine any of these options. For example, you could leverage that tried-and-true B2B webinar format but also add a live breakout session over video conference to create some audience interaction. Or take a cue from the evening news and have a portion of your event broadcasted/streamed live with prerecorded segments in between the live segments.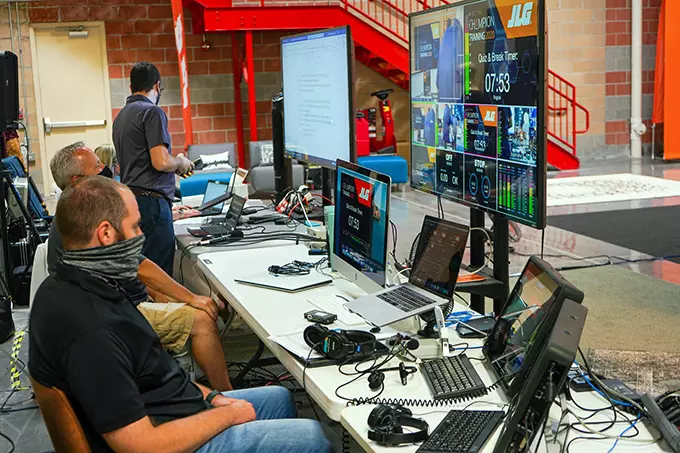 For those of you already adding up the dollars, a completely live virtual event requires the most coordination and real-time support. Typically, anything more robust than a webinar should contain a combination of live and prerecorded content for the biggest impact on your audience.
Choose the Right Platform
When the conversation of a virtual event begins, we tend to rush to the platform conversation first. We've all been indoctrinated into the Zoom way of life. Facebook Live is more widely used in B2B these days. We already have ideas around how to use those familiar platforms to broadcast our event. But when you think through your content, and the format you need, the decision becomes more complex.
Some options for platforms:
Video conference tools (i.e., WebEx, Zoom)
Social media livestreaming (i.e., Facebook Live, YouTube Live)
Online/virtual event platforms
Custom solution (i.e., an in-house A/V production team)
Joint event with association or publication
Now, let's say you were leaning toward the combination of live and prerecorded content format. You'll want to choose a platform that supports the best quality in the playback of that prerecorded content. Some video conferencing tools are choppy or lag when sharing video, but social livestream platforms allow for better quality in video playback.
If you were hoping to create audience interaction, you may want a platform with a chat tool. Or you could be looking for more robust options for audience participation, including breakout rooms for focused conversations. A virtual event platform, which is designed for all types of event scenarios, has more options than a video conferencing tool.
Nowadays, more people than ever are getting familiar and comfortable with conferencing tools. Audiences and businesses alike are more receptive to virtual events. When we've worked with clients on shifting to this format, many have begun to rethink formats for future events and have considered adding new events in a virtual format, especially for their global audiences.
Contact us to learn more about how Godfrey can help you adapt your B2B marketing to social distancing.
Bridey Orth - Vice President, Creative
Bridey has over 25 years of experience in content development and marketing communications for industries that have included small business, higher education, healthcare, publishing and B2B. She immerses herself in our clients' businesses to provide strategic solutions and ensure strong creative and brand unification across all channels.